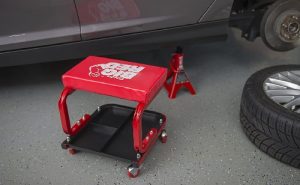 While working on your car, if you have needed to do some bodywork, or replace the brake pad, then you're already aware of this common scenario: having to slide under to reach a remote part of the car.
As you already know, this can put undue pressure on your body. So it's important to find cushioning for your bottom without sacrificing your ability to get to hard-to-reach spots under the car.
The best mechanic stools (also called creeper seats, for obvious reasons) can do just that. Not only will they keep you comfortable while on the job, but they can also bolster your mobility with their integrated castor wheels.
So, keep reading to see what the ideal creeper seats look like.
Top 5 Best Mechanic Stools for the Money
| Image | Model | Speciality | Price |
| --- | --- | --- | --- |
| | Traxion 2-700 ProGear Mobile Rolling Gear Seat Mechanic Stool | Best Overall | Check on Amazon |
| | Sunex 8514 300-Pound Capacity Swivel Shop/Mechanic Seat | Runners Up | Check on Amazon |
| | ATD Tools 81010 Hydraulic Creeper Seat | Budget Option | Check on Amazon |
| | BIG RED TR6350 Torin Rolling Pneumatic Creeper Garage/mechanic stool | Top-rated | Check on Amazon |
| | Torin TR6300 Red Rolling Creeper Garage/Shop Seat: | Budget Option | Check on Amazon |
After much research, analysis, and discussion, we now present our top 5 picks of mechanic stools currently on the market. After you've gone through these mechanic seats, you'll know which creeper seat is the right one for you.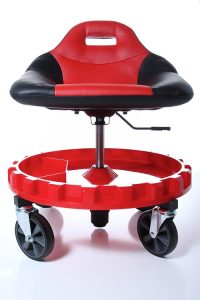 The first product we've selected from you is Traxion, and it combines all of the features one might expect from a proper mechanic stool: mobility, comfort, utility, and finally, even aesthetic appeal!
With a weight capacity of 400 pounds (wow!), every component of this chair is built from the most durable, highest-quality materials. The seat is designed to resemble a racer's seat, and it undoubtedly provides unmatched comfort.
Mobility will be no concern when you're sitting on this thing. You can easily adjust the height of this heavy-duty chair to go as low as you need it to, thanks to the integrated drop sleeve. And thanks to the large 5-inch caster wheels, made from hard-wearing TPR synthetic rubber, you'll be able to slide around with ease.
This chair has a lot to offer in terms of functionality, as well. It comes equipped with a revolving storage tray right underneath the seat, where you can effortlessly reach in and grab your required tools. Furthermore, the seat has a carry handle cut into its back, so carrying it is also super easy.
We don't like to play favorites when we're choosing the best rolling shop stool, but we think this might just be it!
Pros
Integrated gear tray has the ability to revolve
Equipped with large and durably built 5-inch caster wheels
The seat comes with a convenient carry handle for even more mobility
Comfortable backrest and made for your convenience
High durability
Cons
Relatively expensive compared to other seats
---
This next garage creeper seat from Sunex is quite popular amongst professional and DIY car mechanics, despite the fact that it's marketed as a "tractor seat." Worry not—they don't literally mean a seat for a tractor, but rather one with a close resemblance.
The reason people love this seat is thanks to its wonderful ergonomic design. It makes use of an air cylinder for height adjustments made to the comfortable seat measuring 16 inches in width. One thing is for sure: this seat will allow you to sit comfortably for long periods of time. That means there will be less pressure on your knees as you are working on the vehicles.
But a rolling mechanic stool is only as good as its wheels, and Sunex does not fail to deliver on that front. The 3.5-inch rubber-tread casters on this seat are a reasonable height for medium- to large-sized garages, and come with a chrome finish for longevity.
You're also bound to appreciate the tool tray, which measures 1 inch in-depth, allowing you to store the majority of your necessary equipment, such as wrenches. In sum, this is a chair you can depend on to keep you comfortable while on the job.
Pros
Ergonomic seat design is extremely comfortable and durable
Integrated 1-inch deep tool tray allows you to store and access essentials
Has a large weight capacity of 300 pounds
Nice gear tray
Cons
The caster wheels are somewhat disproportionate to the chair's body
---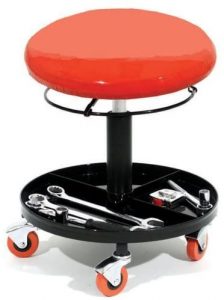 The product on the third position of our list is a creeper seat from ADT Tools, which is a popular choice for those looking for a reasonably priced garage chair with wheels. What we love most about this chair is its comfortable padding, adjustable height, and easy assembly, all available at a great price. So, overall, it's a great option for your home garage.
The seat is made to be very comfortable—you can sit down on this thing for hours without it wearing you out; it'll sink slowly inwards and conform to the shape of your bottom. You'll also be able to adjust the seat height between 16 and 21 inches.
Each of the mechanic's casters is said to be able to hold up to 150 pounds of weight; plus, thanks to the steel and ball-bearing construction, moving around on this heavy-duty creeper seat is quite easy. However, do note that the casters aren't the most durable, and you might sooner or later have to replace them with store-bought casters.
While it's true that this isn't the most durable rolling mechanic stool out there, it still performs quite well, can be turned towards any direction, and the fact remains that it's still one of the most reasonably priced professional mechanic's rolling seat. So if you're on a budget, we'd definitely recommend this rolling stool as it's one of the best shop stool with wheels.
Pros
Each of the casters is able to hold up to 150 pounds of weight
Comes with a well-built and comfortable seat
Equipped with steel and ball-bearing construction
Very affordable price range
Cons
The casters might need replacing sooner rather than later
---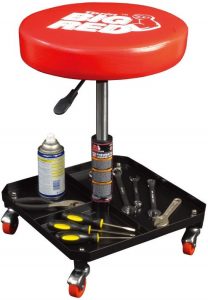 For those of you who really don't want to have to spend a lot on your mechanic stool, Torin is the brand to turn to. The TR6350 comes equipped with all of the required features of a great rolling mechanic stool, at a nearly unbeatable price.
This mechanic seat comes with a seat that has been fully padded for optimal comfort while on the job. And thanks to the steel construction, the seat is able to accommodate up to 250 pounds of weight while rolling around effortlessly on its 360-degree caster wheels.
Furthermore, the rolling stool comes with a pneumatic lever, which makes height adjustments on this thing much easier to make. And speaking of functionality, you'll definitely benefit from the spacious tool tray, which has a segmented design for easier storage of tools.
Finally, as the name suggests, this pneumatic rolling mechanic stool is big, and it's red: its presence in your workshop is bound to suffuse it with an air of professionalism. And to think you can have all this at such a great price! This is a mechanic shop chair l truly worth considering for your workspace and can certainly be termed as the best workshop stool out there.
Pros
Comes with four 360-degree swivel casters for smooth mobility
Pneumatic seats can be adjusted for different heights
The fully padded seat provides optimal comfort
High versatility
Maneuverability is commendable
Cons
The weight capacity might be too low for bigger users
---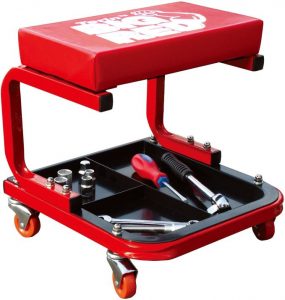 Our final pick is also from Torin, and for very good reason! This little guy is a rolling creeper, meaning it's been designed specifically for those tasks that require you to slide under your car.
Accordingly, the height of this mechanics creeper seat is not adjustable, but don't let that deter you from reading the rest of this review, because you'll be missing out.
Made from high-quality tubular steel, this step stool is definitely meant to last you a while. And of course, its seat is fully padded to give you reliable comfort while on the job.
This mobile gear seat comes with four separate 360-degree caster wheels, which come equipped with a swiveling ability to allow for precise and fluid movements on the shop floor.
And of course, the item also comes with a storage tray, which has a segmented design to allow you to compartmentalize your tools, gear, and hardware. Space is more than enough.
The only drawback is that the height of this seat is not adjustable. However, since it's so short, it's definitely going to come in handy when you need to slide under. And of course, it also helps that this is the cheapest mechanic stool on our list!
Pros
The seat is fully padded for maximum comfort
Tool tray comes with a segmented design for easier organization and storage
Made from high-quality and durable tubular steel
Extremely affordable
Cons
The height is not adjustable
---
Buying Guide For Mechanic Stools
Before selecting the best rolling garage stool from our mechanic stools reviews, remember to keep the following factors in mind. These factors will help you make the right purchase.
Construction Material
While the frames of some products are made from wood, others can be made from metal. Obviously, the latter is a more durable option. You can also choose plastic, although if it's low-quality plastic, it is at risk of getting warped. But the best creeper seats should have a steel frame. Also, you need to give attention the the base of the creeper before purchasing.
Also, consider the material used in forming the seat padding. You need it to be comfortable yet sturdy to maintain your balance while working with Pex crimp tools. Overall, the construction material will give you an idea about the build quality.
Wheels
One of the best things about creeper/mechanic chair is that they come with castor wheels to bolster your mobility while working. However, if the wheels aren't made from good-quality materials, they can lose their smoothness (or even traction) over time and will hamper wour work.
The size of the wheels is also important. If, for example, the floor of your workshop is relatively rough, you'll want bigger wheels on your mechanic stool. That way working on your motorcycle with tool kit will be easier. Our first recommendation Traxion 2-700 is one of the best garage stool with wheels.
Storage
Having shelves and storage compartments in your shop stool can make a huge difference in your work, especially if you don't own a tool chest. You'll be able to set down your tools like, combination wrench set,  Allen key set, screws, and angle gauge for torque wrench during work, or store them at a convenient distance for when you need them again.
Furthermore, you need to be able to put away your rolling mechanic stool when you're done with it. Accordingly, the one you buy should be foldable and easy to store. So, if the product aspires to be the best mechanic chair, it must have storage space.
Frequently Asked Questions For Mechanic Stools
1. What is a rolling mechanic stool?
A small chair/stool that comes with padding and, more importantly, wheels. These allow you to move freely when working on your car.  Make sure the wheels are able to work on rough surfaces easily.
2. What is the difference between a creeper and a mechanic stool?
Creepers are usually flat, allowing one to lay on them, while stools are usually meant only for sitting.
3. Why do some creepers come with trays?
They allow you to store your tools, greatly improving efficiency and saving time.
4. What is the best mechanics chair with wheels at a low price?
We'd have to go with the Torin TR6350 Big Red Rolling Shop Seat for this one.
Final Words
So now that you know what the best mechanic stools look like, hopefully, it'll be easier for you to choose one from the creeper seat reviews. Whichever one you end up buying, though, we hope that you are always comfortable and that your projects run smoothly. Good luck!