Suppose you are out on the road, driving your motorcycle at full speed, enjoying the wind to the fullest.
Suddenly, your bike breaks down. There are no people, let alone any mechanic shops at sight, and you have all your tools stored in the garage, which is a few hundred miles away.
If this is a situation you have faced, or are in the danger of facing, then you definitely need a tool kit.
If you are still confused as to how that would help, then read our article about the best motorcycle tool kits – where we have reviewed some top quality models and made a buying guide just for you.
Best Motorcycle Tool Kit Reviews 2020
Finding the best tool kit for your motorcycle is not an easy thing to do, especially with so many options at hand. So, to help you out, we have made a list of the best 5 models of all time to limit your choices and facilitate your decision making.
1. CruzTOOLS RoadTech H3 Standard Tool Kit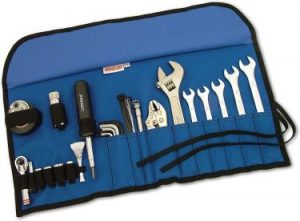 The first tool set we are going to review is the CruzTech RTH3 kit. This model is quite popular among motorcycle riders for its minimal and compact design, and high portability.
Since it is quite compact and not heavy at all, it can be easily stored in your motorcycle tank so you can carry it around for sudden roadside repair needs.
What we love about this model is that although it does not have a lot of tools like some other alternatives in the market, it does include the basic tools you need for maintenance.
A mini ratchet and socket set, an adjustable wrench, locking pliers, screwdriver, tire gauge, hex and star keys – all of these are included in the tool kit.
All the tools are made from high-quality materials and can keep doing their jobs for years. If you need to add some more tools, there is enough space for that in the rolling pouch the tools come in. Just add the tools of your choice, then fasten the drawstrings around the pouch, and you are done.
Highlighted Features
Quite small and compact in size
Comes with all the necessary tools to repair and maintain your bike
The tools are of good quality and rank high on durability.
Organized in a drawstring tied, weatherproof pouch
Can be easily carried and stored in the motorcycle tank
Has enough space to carry some extra tools of our choice
---
2. Biker's Choice Roll-Up Tool Kit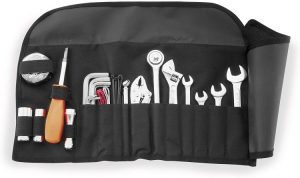 Next up, we have a people's favorite – the Biker's Choice roll up tool kit. This model features almost all the tools that you might need if you get stuck at the roadside, or even if you are at home and need to do some basic maintenance done on your bike.
It is good enough to be used as a standalone tool kit, and the equipment inside is sturdy and of excellent quality.
This tool kit features a drive ratchet, locking pliers, spark plug socket, hex key set, different kinds of wires, a 6-inch adjustable wrench, a 10 mm combination wrench, and cable ties.
You can also find a flashlight, a spark plug gap gauge, and a 6-in-1 screwdriver included in these kit. All these tools are enough for some basic repair and maintenance.
One of the best things about this model is that its tools come equipped in a rolling pouch. The pouch is known to be weatherproof, so it can withstand heavy rain and snow without damaging the tools inside.
Besides, the whole model is really lightweight despite so many equipment inside it, which definitely makes carrying it easier. Lastly, it is quite affordable.
Highlighted Features
Compatible with any Harley Davidson Motorcycles
Great for use at both home and emergency roadside situations
Includes almost everything you would need for a basic repair job
The tools are durable and of excellent quality
Very lightweight despite having quite a few tolls inside
Comes in a weatherproof rolling pouch
Affordable than other alternatives containing the same set of tools
---
3. WindZone Essenti-Economy Tool Kit
If you do not want to invest in one tool kit that has all the necessary equipment for complicated repair procedures, and another small one for roadside emergency uses, then this is the right toolkit to invest in.
Although this model is a bit pricier than other alternatives, it has enough tools inside it to finish around 99% of your repair jobs successfully.
Staying on the road for a long time in harsh weather often gives rise to some small problems in your bike, for which you would need to take your tool kit out.
To make sure that the kit does not get damaged in the bad weather as well, it comes in a small nylon pouch which is very easy to store and carry, and which is covered by a vinyl moisture sheath outside.
You can zip up the bag, and the sheath above will protect all the tools inside from getting damaged, no matter how bad the environment condition is.
The tools inside are mainly some hand wrenches, spark plug sockets, Torx head wrenches, ratchet tools, a 6-in-1 ratcheting screwdriver, zip ties, locking pliers, air pressure gauge and a flashlight.
Highlighted Features
Can be successful in fulfilling 99% of your roadside and garage repair needs
Contains enough tools to be used as your only tool kit
The equipped tools are sturdy and durable in construction
Offers great value for the money
Stored in a zip-up nylon pouch for ease of organization and transfer
The pouch is covered in a vinyl moisture sheath to protect the tools inside from harsh weather conditions
---
4. Cruztools RTTD1 RoadTech Tool Kit
Our next model is another one from Cruztools – and it is undoubtedly one of the best motorcycle travel tool kits out there. This tool kit contains all the tools you might need to do some repair work on your bike, whether you are at home or outside on the road.
This ensures that you do not need to spend your time getting one tool after another from the garage.
One thing worth noting about this tool kit is that all the tools it contains are of quite high quality.
You usually cannot expect much durability in terms of tool kits, as most of them stop working like they used to after a few years. But this one stays in its prime condition for just enough time to make it a great investment indeed.
This kit includes all the necessary tools like the combination and adjustable wrenches, locking pliers, hex and star wrenches, tire gauge, screwdrivers, mini ratchet, and socket sets. However, you would still like to add some of your favorite equipment or some complementary tools to the kit; there is enough storage space in the pouch for that as well.
Highlighted Features
Can be used with Harley Davidson Motorcycles
Contains good quality tools that will last you for quite a lot of years
Has all the necessary equipment included so that you would not need to go to the garage to get your tools again and again
Has enough storage space in the pouch for additional equipment if needed
---
5. Stockdon Motorcycle Tool Roll Kit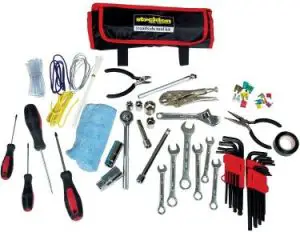 Tired of looking for a tool kit that will fit easily into your saddlebag? Well then, this model is just right for you. This Stockdon tool kit comes in a pouch that is equipped with a lot of pockets and Velcro closures. These pockets make it very easy to roll up and store easily in most places – including saddlebags.
Besides being very convenient to store, this model is super efficient. It includes all the tools that you should carry with you in case any emergency repair situation arises on the road.
Therefore, you do not have to carry a whole bunch of tools individually and risk them falling out. The pouch it comes in makes keeping tools organized and transporting them so much easier.
In case you are wondering, the tools in this kit include locking pliers, electrical wire, zips, snip ties, screwdriver, needle nose pliers, towels and fuel line hose.
All the equipment is of top-notch quality and provides great value for the money. You can be all set to repair your bike for the next few years without needing any additional tools if you buy this.
Highlighted Features
Fits effortlessly in a biker's saddlebag
Features the necessary tools you might need for an emergency repair
Offers good value for the money
The tools are made from quality materials and last for years
Equipped with many pockets and Velcro closures for ease of organization and storage
Compatible with Metric bikes
---
Buying Guide For Motorcycle Tool Kit
A motorcycle tool kit is not something that you can decide to buy in just one glance. Instead, you need to have a basic idea about what factors you need in such a product. To help you that, we have listed the factors you should consider while choosing a tool kit below-
Types
There are mainly two types of motorcycle tool kits –
These kits already contain a variety of tools that are needed for basic repair jobs, so you do not have to buy them separately. The products we have reviewed in this article are all ready-made tool kits.
One of the biggest advantages of these kinds of kits is that they are less expensive, as all the tools are included previously.
All readymade tool kits are not for all bikes. You should always check whether the tool kit is specific to any motorcycle. For example, you cannot use a tool kit made for Harley Davidson bikes on a Honda bike. You also need to check whether the kit is SAE or Metric. To safely store your tools, you can use a tool chest.
These types of tool kits do not come with any included tools. This gives you the advantage of choosing your own tools by yourself. You might be able to add just the things that you need to add in this way.
However, custom tool kits have some drawbacks too. They are definitely more expensive, as you might need to buy the tools separately. You also need to find out what exact tools you need before buying them. They are not also as portable as readymade kits.
Tools
One of the most important things to consider in a tool kit is the list of tools included. Any basic model should include wrenches, screwdrivers, ratchets, pliers, tire pressure gauges, and wires.
However, if you want a more advanced version that will work as a standalone tool kit for all your repair needs, look for models that include penetrating oils, brushes, hammers, gloves, a utility knife, chains, etc. You can also buy these tools separately and add them to your kit. Just make sure to buy one that has enough extra storage space.
Quality
No tool kit is of use if the tools themselves are not of good quality. Make sure that the tools inside the kit are made from good quality material, like alloy steel.
Even if made from other materials, the tools should be durable and last some good long years. You do not want the tools to break down as well when your motorcycle is already broken.
You should also try to find tools that can resist corrosion and be immune to moisture and extreme weather conditions. The better the quality, the longer thee tools will last.
Portability
If you want to carry the tool kit with you at all times while you are riding on your motorcycle, then you need to look for one that is portable and compact. Look for kits that are lightweight despite having all the basic tools included. It is also best if the kit comes in a pouch.
Some tool kits are equipped with weather-resistant pouches that can easily be stored and carried along with you. These help the tools to stay in good shape over the years as well.
Budget
Always set a budget before deciding which tool kit you want to buy. That way, you will only be tempted to look at the ones that already fit your ability, and you can buy the best one that fits your needs in that category.
FAQs For Motorcycle Tool Kit
Q: What items should I include in my motorcycle tool kit?
If your tool kit is not a readymade one, then you need to add the necessary items needed to repair your motorcycle by yourself. Most motorcycle travel tool kits come equipped with wrenches, pliers, ratchets, screwdrivers, spark plug sockets, and electrical tapes in the least. Make sure you have all these in your custom made tool kit.
Q: Can I fit the tool kit underneath my seat?
Although most tool kits can fit underneath the motorcycle seats, a few motorcycles do not have enough space for that kind of accommodation. In that case, you can use the motorcycle top box, or tank bag, or saddlebag to bring your tool kit with you.
Q: Are motorcycle tool kits expensive?
This honestly depends on what kind of tool kit you want to buy. Most tool kits that have a large number of tools and known to be of the best quality cost more. However, you can also find some cheap tool kits that do the basic job of repairing and maintaining just as well.
Q: Do the tools last long enough?
This depends on the quality of the tools. A good indication of the tools' durability can be its price. Usually, the higher the price, the longer the tools last.
Q: Do I need a separate weatherproof bag for carrying the tools on the road?
Some tool kits come in a weatherproof pouch that is very useful for keeping the tools protected in all environment conditions. Others, however, might not have any pouch like that. In that case, it is best to carry some sort of weatherproof bag with you, just so the tools do not get rusted or damaged in humidity or rainwater.
Conclusion
Having a motorcycle tool kit on hand can prove to be very beneficial, and can often make a world's difference.
We hope by reading this article about the best motorcycle tool kit, you now have a better idea about what tool kit you want to buy. With that being said, we would like to recommend the WindZone Essenti-Economy Tool Kit – as it will make sure to get the job done 99% of the time!