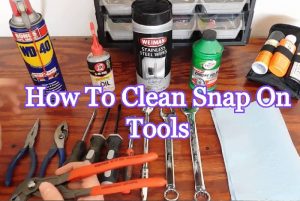 Do you find it hard to clean snap on tools?
Do you want to find ways easy ways of cleaning snap on tools? Then, you are in the right hands. In this article, we are going to include some amazing methods which will teach you how to clean snap on tools easily.
By doing so, you can clean your tools and also give them some extra life. Because here, we are giving tips on how you can save your tools from rust and other dirt in a very few minutes. 
Read on to know more. 
Why Do You Need To Clean Snap On Tools?
Why we use tools? The simple answer to it is that tools make our daily job a lot easier. 
We could complete those works with tools that would take hours if we did that with bare hands. Also, tools get done those tasks which are simply impractical to do with bare hands. That is why tools are considered as a working hand.
But the problem arises when the working hands become a trouble themselves. This happens when one leaves them without maintenance or care for a long time. The tools that are active or regularly being used, they do not get a chance to get rusty or dirty because the user will clean that after the use.
The snap on torque wrenches that are stored for a long period need proper cleaning. Even if you get the finest tool, you will need to clean it. 
The current condition of the tool and the type of it decide the procedure and levels of cleaning it need to go through. That's why there are different ways to clean the tools. Because if it is done otherwise, one can completely damage the tool
Easy Method of Cleaning Snap On Tools
The method we are going to describe is one of the most basic ways of cleaning up tools. This method best works for the dirty, greasy and sticky equipment. For this method, you will need a cloth piece, and a high-quality, effective degreaser. 
Step 1: First, you have to spray a substantial amount of the liquid and mix of solution over the dirty tool. 
Step 2: Then, you have to remove the solution-mix off the tools. Be careful. You should not leave grease on the equipment that you are trying to clean, but you have to be extra careful about not damaging the tool or hurting yourself in the process.  
Advanced Method of Cleaning Snap On Tools
This second method is more like an advanced way of cleaning your tools. Because if you cannot clean your tools with the first method, only then you may want to apply it.
It is not a welcoming method for you if you happen to clean and wash your tools on a frequent basis. However, you may not have more options for you if the tools that you are dealing are older, unused for a long time, or left in the storeroom for a longer period.  
Obviously, these tools need to go under an arduous and deep cleaning way.
To complete this cleaning, you need proper preparation. Like, you may need to clean tenacious rust that is placed over a huge portion of the tool. To kick start your preparation, you may need starts with collecting different cleaning ingredients that include:
Cleaner-Degreaser

Hot Water

Brass Scrub Brush

Bucket

Cleaning Solution

Cloth Rags

Hand gloves Steel Wool
After you have gathered all the items from above, then you can go for completing the enhanced cleaning technique in 4 consecutive steps. The steps are: 
Step 1: Dip the tools in the solution
Fill the container with steaming hot water; then pour a reasonable amount of cleaning solution. Then, dip the tools that are selected for advanced cleaning into the mix in the container for a minimum of 30 seconds.
You can decide the time between 30 seconds- 1 minute because it is necessary to get the chunky and rigid layer of grease to get loosen up.
Step 2: Remove the dirt and grease
After that, you have to brush off the grime, dirt, and grease with a brush that is specially made with brass. It eases the cleaning process. 
You may need to repeat this process to remove the dirt comprehensively away. Do remember to dry the polished portion with a clean cotton piece.
Step 3: Use cleaning degreaser
If you are dealing with some tools that are covered with stubborn and age-old rust, then you need a drastic cleaning way than the previous one. 
The process of this cleaning method is almost the same comparing to the previous one, but here you need to use steel wool rather than a brass brush.
Do not forget to dab the water because the last available drop of water may cause rusting in future. To complete the step in a finalized way, you need to apply a small amount of degreaser that will enhance the cleaning, and then you need to remove the water droplets with a dry cotton rag.
Step 4: Soak All The Tools With Oil
After you have completed the third step, you may say that you have completed most of the work. In this final stage, you will do some final cleaning of your tool. You need to know that there is still a chance to grow rust on these tools in the near future.  
So, to minimize the possibility of future rusting and damaging your tools, you are suggested to oil all your wrenches that are used for household usage. After that, you may want to use the fresh piece of cotton rag to complete this cleaning process.
If you can follow these steps that we mentioned with patience, then you can rest assured of the longevity of your tools like roll pin punch sets.
Conclusion
So, we hope now if you see a rusty snap on tool or a greasy one, then you will not be tempted to throw it away. Tools are a kind of investment because this gives you the power to fix different electrical or technical situations.
We have discussed all the easy techniques of how you can easily clean your snap on tools. So, what is there to worry about?