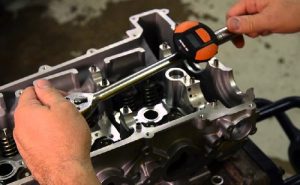 A torque angle gauge is one of those tools that you must keep at your toolkit if you enjoy working on your car or are some sort of mechanic.
With the help of this tool, you will be able to accurately loosen and tighten different parts of the car.
Currently, the market is filled with a variety of options when it comes to torque gauges. With all these options, it is natural to get confused and end up making the wrong choice.
Which is why we picked the best torque angle gauge that will cater to different individual's needs. If you are interested to know more, then continue reading.
| Image | Model | Speciality | Price |
| --- | --- | --- | --- |
| | Brown Line Metalworks BLDAG001 Digital Angle Gauge | Best Overall | Check on Amazon |
| | Lisle 28100 Torque Angle Meter | Runners Up | Check on Amazon |
| | OTC 4554 1/2" Drive Torque Angle Gauge | Budget Option | Check on Amazon |
3 Best Torque Angle Gauge Reviews
After extensive research, we have selected the following three tools that we think will be appealing for most people. Keep reading to find out the features, pros, and cons of these torque angle meters.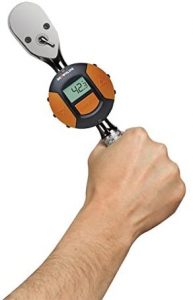 If you are looking for the best digital angle gauges, then you should definitely check out the BLDAG001 Digital Angle Gauge.
Now, we know that it might be a little expensive, but all the features that it comes it will make every penny worth it.
The first thing you will notice is the large LED display that illustrations the degree of measurement. To make it more convenient for the users, it features a backlit light that will allow you to use the product even if you don't have access to any natural light.
To help sustain the battery life, this brownline digital angle gauge features an automatic switch-off system if it hasn't been used for two minutes. This is pretty great, considering it enhances the lifespan of the gauge.
What we liked the best is their impressive accuracy. This torque gauge has an error margin of +/- 2%, which means it significantly reduces the chance of making a mistake.
Amazingly, you will find this gauge compatible with drives that range between 3/8 inch to 3/4  inch. Moreover, thanks to the addition of a magnet accompany by a V-channel, this gauge is able to hold on to a ratchet, torque wrenches, and breaker bars easily.
Pros
Features a digital angle gauge
Comes with a backlit light to help users use it during nighttime
Includes an auto shut off feature
Features a low battery sign
Very durable and will be long-lasting
Cons
---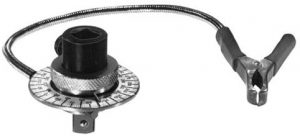 Up next, we have the 28100 Torque Angle Meter by Lisle. Now, this gauge is not a digital one, but this is possibly the next best alternative that will not break your bank.
This torque angle meter comes with a cable that has an alligator clip at the end. Thanks to this, you will have your hands free to get other jobs done while operating the device. Incredible, isn't it?
You may find it difficult to read the measurements as the font size is pretty small, but you can easily overcome this problem by wearing a headlamp. One more issue we faced was being able to locate the 0 marks, which can be fixed by marking it with a marker.
Now, when it comes to performance, this torque angle meter will leave you shocked. For a device that costs so less, it is amazingly made. As a matter of fact, you will find all your end results to be flawless.
Starting from replacing the oil pan gasket to the rear main seal, you can easily rely on the gauge for any critical bolt tightening.
Moreover, the entire thing is made out of meter, which guarantees a long lifespan of the device. In fact, it is one of the go-to gauges for most mechanics.
Pros
The price tag is pretty affordable
Sturdy and durable
Gets the job done effectively
Comes with a skin-pack
Cons
The numbers are too small
---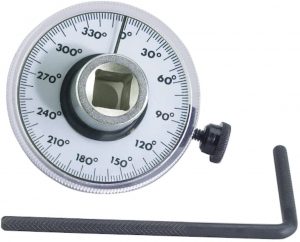 If you are looking for the ideal torque gauge to work on late model engines, then this 4554 ½" Drive Torque Gauge by OTC will certainly be the ideal choice.
What you will appreciate about this torque angle tool is that it measures the angle of rotation after pre-torque. This is great as it will always keep you informed about your activities. Moreover, you will find it super easy to bring it back to the 0 marks after each use. So, if you have an acdelco arm601-4 digital torque wrench, you should own this thing.
The scale goes full 360 degrees that has markings after every 2-degree increments. Additionally, it features intervals after every 10 and 30 degrees. All the numbers are given in large size so that it's simple and easy to read.
For us, the highlight of this torque degree gauge is definitely the fact that it is very user friendly and always delivers precision. As a matter of fact, you will never have to worry about leaving any of the bolts loose when using this device.
This gauge has been made to be mostly used by occasional mechanics. We were pleased to see that it has been constructed with good quality materials to ensure durability.
At this price point, you are unlikely to find such a great quality gauge, which is probably why it is still so popular amongst most people.
Pros
Extremely affordable
Really easy to bring it back to the 0 mark
Gives you a pretty accurate reading every time
Efficient and durable
Cons
---
Buying Guide For Torque Angle Gauge
Buying a new digital torque angle meter to work on your vehicle may seem like a straightforward decision, but, in reality, it is hard to always nail it. Let's take a look at some of the things you should consider before purchasing a new torque angle gauge digital.
Accuracy of the Torque Angle Gauge
The main reason people buy torque angled gauge is to enjoy getting to know the measurements so they can do the job right with their torque wrench. Which is why it is super important to get a model that offers proper accuracy. If not, it is likely to give you flawed end results. And if you want a torque wrench, you can check our comprehensive guide on it here.
Materials
Buying a gauge that is constructed with good material such as metal will result in a tool that will last for a really long time. Materials such as plastic will give you a cheaper model. However, it will not last for a very long time.
Thus, if you want to get value for your money, always opt for gauges that are built with high-quality materials. To increase durability, you can also use a roll-up pouch for the angle gauge.
Readability
We cannot stress enough on how important it is to own a gauge that is clear and easy to read. Not being able to read your gauge properly will make your working process a lot harder. Not only will it leave you frustrated but, it will also hamper the quality of your work.
Our recommendation will be to either go for a digital angle gauge if you are willing to splurge a little or go for a gauge that features a clean background with large numbering.
FAQs For Torque Angle Gauge
Q: Do digital readers work from all angles?
Ans: Most of the digital readers are able to work from various angles. In fact, that's one thing you can always expect from the best angle gauge.
Q: Will a torque gauge do instead of angled gauge?
Ans: While they provide similar uses, an angle gauge will help you get your job done a lot faster. Then, you will be able to measure the angle as you work. You may seat on a mechanic seat creeper while working with the tool for comfort,
Q: How close do I need to place the torque angle gauge to the ratchet?
Ans: Where you place the unit does not make a difference as you are likely to be accurate regardless.
Q: Are angled gauges compatible with all sorts of cars?
Ans: Not all gauges are compatible with all cars. Before getting yourself a torque angled gauge, make sure you check if your car is designed for it.
Q: how to use torque angle gauge?
Ans: You'll find a guide with the tool to learn its usage. Follow that.
Final Words
If you made it this far, it means you are really interested in getting yourself the best torque angle gauge. We hope we were able to give you adequate information to eliminate any confusion that you might have had.
Do remember to make sure that the gauge you are getting fulfills all of your wants and needs as well as is compatible with your vehicle.
Happy shopping!