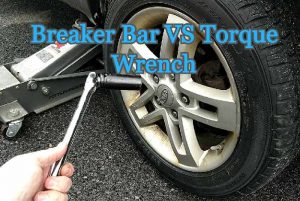 Loosening or fastening can be a strenuous deal, especially when you are doing it with a simple wrench. However, now to reduce that extra effort, breaker bars and torque wrenches were made.
And, after they were introduced to the market, they were an instant hit!
Now, the difficult issue is choosing between the two tools. And, this question has been in the mind of many novices as well as pros, which of the tool is the best? Well, we have the answer to that in this breaker bar vs torque wrench comparison article.
Moreover, picking the correct tool depends entirely upon you but, before we jump into deciding which is the best, let's start with refreshing the basics of the two items.
What Is A Breaker Bar?
The fundamental of a breaker bar is quite simple! It is used to break loose extremely tight fasteners and, the items are capable of doing this because of the exceptionally long lengths of the item. Also, called power bars, the long non-ratcheting bar produces enough force and torque compared to conventional socket wrenches.
What Is A Torque Wrench?
A torque wrench has the same characteristics as a breaker bar. However, it is a tool that is guaranteed to provide specific torque on the nut or bolt in order to fasten it. The torque wrench is an ideal choice where the tightness is given the highest importance!
With a torque, wrench, you can choose the appropriate torque and get optimum results.
Types of Breaker Bars & Torque Wrenches
Here, we'll talk about different breaker bars and torque wrenches.
Breaker Bars
Well, there aren't various types of breaker bars. The bars have similar functionality, and their designs are quite similar as well. More interestingly, the design of the bars is so efficient and effective that there have been little changes done to the item. The only change you might find is the nozzle or head of the tool.
Torque Wrenches
Now torque wrenches doe come in a variety of styles, and, in this section, we shall provide you the information you need to pick the kind of torque wrench best for you!
Click-Type Wrenches
These are most renowned in the market! As the name suggests, this type of wrench makes the particular click sound when the appropriate torque is reached. Also, there are lots of choices when choosing the click-type wrench, such as beam torque wrench, and mechatronic torque wrench.
Furthermore, these wrenches exceptional performance and hones your skills further. However, there is a downfall to this type. The clicks do not prevent the over-tightening of the nuts and bolts.
Digital Torque Wrenches
One of the most efficient and accurate forms of torque wrenches are the digital ones. Digital torque wrenches are pre-calibrated and enable you to reach the required torque with minimum effort. Furthermore, on reaching the ideal torque, the wrench notifies you through a buzzer or something in a similar fashion.
And, the downside of these is that they are expensive.
Slip Torque Wrenches
Probably, these are one of the most efficient yet simple of the four! Also, with this, the chances of over-tightening are reduced. Furthermore, it is reasonable and is quite efficient.
But, the downfalls might outweigh the benefits. You will not be able to monitor the torque being applied with this one, and usually, these can handle torque with a range of 100Nm.
Breaker Bar VS Torque Wrench
Here we'll compare both breaker bar and torque wrenches in detail. Read on to know more about their differences.
Variety
Torque wrenches offer a wide range of choices! There are the slip torque wrenches, the digital ones, the click wrenches, beam styles and, whatnot. Hence, with these, you get a very wide range of options, and you can choose the type that suits your style the most.
However, with breaker bars, you do not get such a vast option. You do not get any options and, therefore, there are less chances of enhancing the results of your project.
Durability
Well, both the tools have to be exceptionally durable to withstand the high-torque and stress they will be enduring. And, to do so, they are generally made with high-density and robust metals like steel or other alloys/metals. So, this one of the few similarities between the two tools. Also, maintenance of the tools is necessary. After use you should wrap them up in a nice leather tool pouch.
Functionalities
There is a misconception regarding the two items and, that is both of them can be used for the same kind of work. Well, that is not true. As you see, torque wrenches are more like a measuring device (measuring the appropriate torque required) that is also capable of tightening nuts and bolts. You can also use torque angle gauge with them.
(A word of caution: Avoid loosening with a torque wrench as you might end up tampering with the calibration and rending the device useless.)
On the other hand, breaker bars are more efficient when compare to wrenches. And, these were made specifically made to ensure superior performance and quick fastening of bolts and nuts. Plus, with this one, you can do both tightening as well as loosening. A ratcheting wrench set also has similar functionalities. But one thing you need to do to ensure the durability of the tools is to store them somewhere safe like a pink rolling tool chest. Or you can also take benifit of the storage space of your rolling tractor seat stool.
Effectiveness
In this sector, a torque wrench is more efficient than breaker bars. Furthermore, with a breaker bar, you have no way of gauging the require torque and, you might end up over-tightening. So, torque wrench takes the cake for this round.
Prices
And, if we are topic is about expensive, then torque wrenches take the prize. They have a sophisticated build along with numerous other features that makes it highly expensive. Nevertheless, breakers are much more reasonable when it comes to prices.
Final Words
Therefore, we conclude breakers can be a tad superior. They are less expensive and are more simple to use. However, the choice is entirely up to you. Both the items have completely different functions, and the wisest decision would be having both of them in your arsenal.