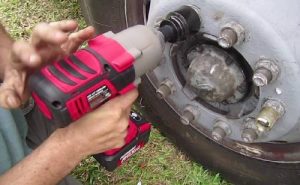 Rusty old bolts or tightly screwed nuts can certainly be a pain to remove. They often are very, very stubborn, and sometimes almost impossible to remove without a good quality power tool.
Whether you want an impact wrench kit to use in your auto shop or just around the household, the Earthquake XT 20V Cordless Xtreme Torque  Impact Wrench Kit is a great one to go for.
This tool is great not only for once in a while uses, but it also holds up just as great for everyday heavy use as well. With its unbelievable torque and power, removing those stubborn nuts and bolts can become a piece of cake.
So, read our earthquake cordless impact wrench review to know more about the product.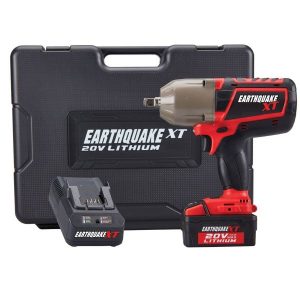 Many say they love it for its power, while others say it's the control they can't live without. No matter you are a sucker for power, control, or versatility, this is one tool that anyone is bound to fall in love with.
Inside the package besides the tool itself, there is also a 20V Max 4.0 Ah Lithium Battery, 20V Max Lithium Charger, and a kit box to store all of it in. This thing weighs somewhere around 7 lbs and is a little over 9 inches in length, 3 inches in width, and 8 inches in height.
Just looking at the design and shape of this tool, you can tell it's got a comfortable hold and practical design. Upon holding too, it feels heavy duty and durable. But once you turn this beast on, the amount of power it belts out is still bound to surprise you. This tool heaves out a huge amount of power with which your work at hand can be so much easier.
You can easily control the speed the wrench is going at using the variable speed trigger. The maximum speed that this impact wrench goes at is 1700 revolutions per minute.
Once you have used the tool and tried out all of its features, you will know. You will know the way a bird knows which branch they want to nest on. It is simply one of those tools that one finds themselves reaching for again and again.
Key Features
We have already given you an overview of the product in general. So it's time to have a look at some of the awesome key features that this tool boasts:
High Power
The Xtreme Torque Impact Wrench Kit produces a bolt breakaway torque of a whopping 1200 ft. Lbs. Through this, it can easily remove any head bolt or lug nut in the blink of your eyes. No matter how old or rusty the bolt or lug nut might be, this beast of a tool can handle it with ease.
Great Battery Life
This tool uses a high power lithium-ion battery. The battery is great both in terms of charging and run time. It charges quite fast, so you don't have to wait forever after plugging it in for charging. The run time of the battery is also really great, as it can go a long way on a single charge. So you don't have to worry about charging it quite so often either.
Ultimate Control
The cordless design, along with the speed control options of this impact tool, provides you with the ultimate control. Like many air impact guns, there is a speed trigger with an electric brake for variable speed. With the help of this, you can easily control the speed of the tool; however, you want. Added with the freedom of motion provided by the cordless design, this thing is bound to become a staple in your collection.
Practical Design
This tool has been designed ergonomically and is thus super comfortable to hold. The handle and body are shaped so that you have ample control and balance while working. So you can easily move it around any way you want. Unlike the corded impact wrench tools, this one will be easy to maneuver.
The over-mold is made of rubber to make it even more comfortable. This also reduces the chance of your hands getting fatigued. Thanks to its very practical and convenient design, you don't have to worry about pain, joint aches, or other such issues either.
LED Light
With this thing in your hand, you will have no problem with having a clear view of what you are working on. There is a bright LED light attached to this tool which can come really handy. You will always have a convenient light source, no matter where you might need to squeeze yourself into while working.
Durable
On top of all the above-mentioned features of this wrench kit, it is also quite durable. The drivetrain and hammer mechanism is made of all metal. This significantly increases the lifespan of this tool. when compared to even the best impact wrench for wheel nuts, this one fares well.
All other parts of the wrench kit are composed of top quality components too. And the quality build of the whole thing in general certainly does not hurt either. Overall, if you are looking for the best impact wrench for working on cars, then it can be a great choice.
Pros
Cordless and easy to move
Variable speed control
Fast charging battery
Long run time on a single charge
Bright LED light for clear vision
Great build quality
Ergonomic hold for ultimate comfort
Durable and long-lasting components
Great value for your money
Cons
A little on the heavy side
Comes with only one battery
---
Frequently Asked Questions For Earthquake Cordless Impact Wrench
Q: Does the device use a brushless motor?
Ans: It does not use brushless motor technology. But it still does whips out an amazing amount of torque.
Q: How long does the tool take to charge?
Ans: The battery in this tool charges quite quickly. It takes the battery just a little over an hour for it to fully charge.
Q: What is the voltage of the battery?
Ans: The battery in this model is 20V, unlike many of the previous cordless models, which had 18V batteries.
Q: Does this thing come with a spare battery?
Ans: It does not come with a spare battery, unfortunately. There is only one rechargeable battery included inside the package. But extra batteries can be bought separately.
Final Words
The longer you contemplate whether to get it or not, the longer you are missing out. Seriously, just stop delaying any more and get your hands on this thing. We are certain its amazing torque and power will blow you away in no time.
And also, don't forget to give us your opinion on our earthquake XT 20V cordless impact wrench review in the comments section.