It can be frustrating trying to remove those stubborn lug nuts. With an impact wrench, the task is much easier. Some of the best impact wrenches on the market just so happen to be made by some well known tool manufacturers.
The key players when it comes to impact wrenches are Ingersoll, Bosch, DeWalt and Milwaukee. 
In terms of reputation, Bosch is widely known all over the world and has built a name for themselves outside the world of tools, too. Ingersoll and Milwaukee respectively are key players in the world of power tools and are both long-established brands. 
Indeed, comparing them will be tough since they are all at the top of their game. However, compare them we must, and we will be using this article to share our findings.
| Image | Model | Speciality | Size | Price |
| --- | --- | --- | --- | --- |
| | Ingersoll Rand W7150 | Best Overall | 1/2-Inch | Check on Amazon |
| | Bosch IWH181-01 18-Volt | Best for the All-Around DIYer | 3/8-Inch | Check on Amazon |
| | Milwaukee 2763-22 M18 | Best For Top of the Range Technology and Precision | 1/2-Inch | Check on Amazon |
Key Criteria: How we tested and compared the impact wrenches
To fairly compare each of the impact wrenches, we have used the following criteria as a guide, ensuring that they each meet the standards we expect from tools of this caliber.
Torque
You should consider the torque power of the impact wrench. The higher the torque power, the easier it gets to turn the nuts. It also makes the tool more capable and versatile.
Size
Impacts wrenches come in all sizes. Smaller wrenches can squeeze into narrower spaces, while the bigger ones fail to do so.
Grip
The impact wrench should have an ergonomic design and must be comfortable to hold. The trigger placement should be convenient.
Corded or Cordless
Cordless wrenches are more convenient but usually heavier due to the included batteries. Corded tools will need to be plugged in. 
Extra Features
Extra features included in some impact wrenches can be game-changers. This may include LED lighting or adjustable torque. 
Warranty
Make sure that the impact wrench that you're thinking of buying comes with a warranty. One to two years of warranty is the standard, but expensive ones offer even longer warranty periods. 
Size of Impact Wrench Needed for Lug Nuts
You must have the correct sized impact wrench to deal with lug nuts. It's best to stay within the middle in terms of size. 3/8-inch and 1/2-inch sizes will offer a smooth experience in removing lug nuts.
These are considered to be the best sizes as they are powerful enough to handle even the toughest nuts without applying too much torque.
Top 3 Best Impact Wrench for Lug Nuts  
Our specially selected three impact wrenches are the best in their fields. They all offer high-level performance and make removing lug nuts a breezy job.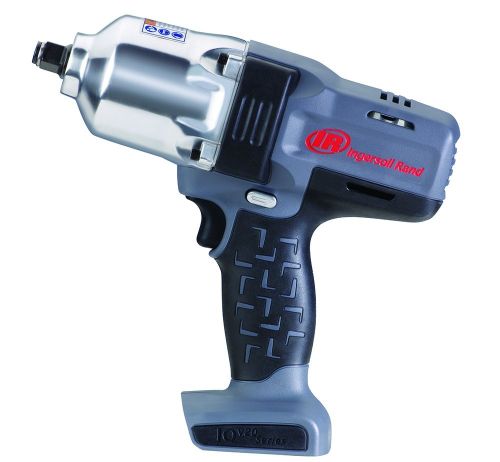 Criteria for comparison
In terms of the key criteria needed in an impact wrench for lug nuts, this tool has it all. The

torque power

is impressive, with the ability to withstand even the toughest lug nut. 
The

size

of this impact wrench means that you can fit it into tight spaces or use it for heavier jobs with ease, respectively. It might be small and lightweight but it packs a punch. 
Talking about size, this impact wrench is lightweight enough to ensure

comfort

and has an ergonomic

grip

to ensure your hands never tire. 

It is also

cordless

for extra convenience. 
In terms of the size needed for

lug nuts,

this model is ½ inches in size, making it the perfect

size impact wrench for lug nuts

.
 It also has up to 3 years

warranty

for your peace of mind! 
Company Background
Ingersoll has been a leading name in the world of tools since it was first formed in 1891. They are most known for their role in the area of milling machines, and worked very closely with General Electrics, helping with wartime production and the creation of machines to help airplane and car manufacturing. 
In more recent years, Ingersoll has expanded, moving towards other tools, such as the impact wrench in question. They are very highly perceived in the industry, and this is proven by how popular their tools are.
Why is this the best impact wrench overall? 
The Ingersoll Rand W7150 is an exemplary impact wrench with an impressive design. It's capable of handling even the most persistent lug nut effortlessly. For this reason, it's widely accepted as the best impact wrench to remove lug nuts.
Certainly, our testing of it found these claims to be true, and we were very impressed with how well it hit each of the key criteria needed to be deemed a worthy impact wrench. 
The comfort, grip, and size of this tool mean that all jobs, big or small can be completed with ease. As well as this, the jobs are also going to be of a very high standard, thanks to the precision promised by the torque power and size.
We also found that the 3 year warranty was a very attractive feature since power tools can sometimes fail – everyone wants that extra peace of mind! 
How has the product evolved?
It is the first of its model, and so there are now upgraded versions available (the W7150P and W7250).
However, whilst this model may technically be outdated, it performs just as well as the newer models, but just has a slightly different drive type – square and socket retainer ring.
All of the other important criteria have remained the same, and so you can rest assured that this model will be as good as the newer versions! 
Experience Using The Product
This model was highly durable and lightweight. We found that our hands didn't tire out, even after prolonged use. The steel-lined aluminum case ensured it always remained protected. This one also boasts a soft-touch grip, which is over-molded. This effectively reduces vibration and is easier on your hands. 
This impact wrench can easily generate 780 ft-lbs maximum reverse torque power and a maximum of 1100 ft-lbs of general torque power. As a result, we found that we were able to power through any stubborn lug nuts with ease. 
Being a cordless tool, the inconvenience of dealing with a cord is eliminated. The power tool is equipped with a Lithium-ion battery so it will stay charged for a long time. Overall, we were very impressed with the results of the Ingersoll Rand W7150 and feel confident that you will be too.
Pros
Comes in a protective case
Very portable, lightweight, and easy to use
Generates lots of powerful torque
Powerful and durable build
Cons
It's a bit outdated in comparison to the other versions of this model
Do they deliver?
Through our testing and comparison of the Ingersoll Rand W7150 with the other models on our list, we are happy to confirm that Ingersoll delivers! All of the key criteria we tested them on were met with ease, and our findings have confirmed that this is indeed worthy of its spot as the best powerful product overall.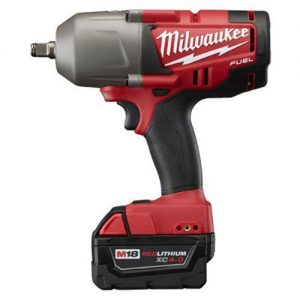 Criteria for comparison
The

torque power

is impressive at 700 to 1100 feet-lbs. 

The

size

of this impact wrench is a little bigger than some others, but this doesn't affect its ability to deal with hard-to-reach areas. Precision is guaranteed! 

This impact wrench is lightweight enough to ensure you are

comfortable

even with prolonged use. The ergonomic

grip

also helps with this.  

It can be used

cordless

for your convenience. 

This is ½ inches in size, making it the perfect

size impact wrench for lug nuts

, especially in the automotive industry. 

The manufacturer offers a one-year

warranty

in case anything goes wrong.




It has an impressive extra

feature

of adjustable torque which is attractive to buyers looking for a top-of-the-range, precise tool. 
Company Background
Milwaukee is a leading brand in the sector of tool making. They were key players in the invention of lithium-ion-powered tools, something that is now used all over the world and is manufactured by many brands. This immediately assures us that Milwaukee impact wrenches will be one of the best. 
Their long-standing existence (they formed in 1924) has enabled them to gain an excellent reputation, and they have gone from strength to strength since then, catering towards professional construction workers and DIYers alike. 
Why is this the best impact wrench for top-of-the-range technology and precision? 
The Milwaukee 2763-22 M18, a cordless impact wrench, has made it to our list because of its superior power and capability. If you want the advantage of progressing technology, you should go for this one.
How has the product evolved?
This model delivers an impressive 2X more run time than previous Milwaukee models (and other brands on the market), thanks to its REDLITHIUM XC 4.0 battery pack! This necessary upgrade makes this model one of the best yet.
Experience Using The Product
We were impressed with the fact that this tool is made with strong and durable materials. Moreover, this one is powered by a lithium-ion battery that enables it to hold up charges for longer periods.
We found it easy to operate with its comfortable, ergonomic handle. During testing, we also found the torque adjustment ability gave the wrench just the right amount of flexibility.
As a result, you can control the torque power to your preference. It comes with a durable, protective carrying case to make transportation easier.
Overall we were very impressed by our experience. Its precision and top-notch power secured its place as the best top-of-the-range technology and precision impact wrench.
Pros
Top-notch modern features

Long battery time

State of the art performance

Highly energy efficient aided by brushless technology
Cons
It can be a bit difficult to switch between two modes with gloves
Do they deliver?
After careful testing, we are happy to confirm that this impact wrench delivers. The claims by the manufacturer match up with the criteria we assessed them on, ensuring us (and you) that this is the best impact wrench for lug nuts in terms of top-of-the-range technology and precision.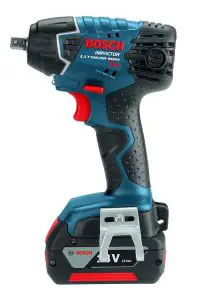 Criteria for comparison
Superfast

torque power

up to 2800 RPM and 1600 inches/lbs. This means that all lug nuts are a doddle!

The compact

size

of this impact wrench means that it is easily portable. At only 6 inches long it is 23% shorter than most other models on the market! It is both precise and hardy enough to deal with bigger jobs, making it perfect for all-around use. 

It is lightweight to ensure

comfort

even after hours of use! The

grip

is also comfortable and lightweight. It is 25% lighter than other models on the market. 

This torque wrench is battery-powered, meaning it is

cordless

and convenient. 

This product is an impressive ⅜ inch ensuring you have the most precise

size impact wrench for lug nuts

.

 There is a 1-year

warranty

and a 30-day money-back guarantee in case you change your mind or run into any issues




In terms of the

extra features

that we listed as part of the key criteria, this model has an LED light, making it the perfect tool for getting rid of lug nuts in dark areas! 
Company Background 
Bosch is a company with an excellent reputation worldwide. They are a leading name in many industries, not just that of power tools, and they pride themselves on high-quality products. From energy to consumer goods, and from mobility solutions to building technologies, Bosch is at the top of the game in many industries. 
This translates well into the power tool section of the brand, and as they have grown and developed, so has the quality of their products. This puts them in good stead as top manufacturers of tools such as the impact wrench. 
Why is this the best impact wrench for the all-around DIYer?
Bosch IWH181-01 Impact Wrench Kit is a sturdy tool, capable of offering amazing and reliable performance. This one is especially suitable for heavy-duty DIY projects as it is well-equipped to provide serious torque to unfasten persistent lug nuts.
It also offers precision when needed, due to its compact size. In terms of the key criteria that we identified, Bosch meets them easily.
How has the product evolved?
In terms of product evolution, there are now many newer options to choose from by Bosch in the category of impact wrenches (also classified as impact drivers by Bosch).
However, don't let this put you off. This particular model is popular for a reason, and in terms of an all-around tool for DIYers, you cannot get much better than this.
The difference with the newer models is that they are more powerful, but this is reflected in the price tag. For infrequent DIY jobs, this is more than enough. 
Experience Using The Product
We were immediately impressed with the lightweight build, compact size, and sturdy robustness. During testing, we felt that the impact wrench dealt well with even the toughest lug nuts, thanks to having the highest BPM in the category!
We were also impressed by the battery life. The 18v lithium-ion can offer longer operation without having to frequently recharge.
The case that comes with the impact wrench kit is durable enough to provide extra protection. With all this in mind, the final results assured us that this is the ideal impact wrench for all those DIY jobs, big or small. We are sure that you will agree with our findings when you try it for yourself!
Pros
Powerful LED light

Sturdy built makes it very durable

Lightweight and compact design

Efficiently handles heavy-duty projects

Generates powerful torque
Cons
Better suited for at-home DIY due to not being quite as powerful as the others 
Do they deliver?
Yes! We are happy to report that, through our in-depth testing, the final findings have assured us that this Bosch impact driver delivers the results needed concerning the key criteria.
Frequently Asked Questions
How much torque is needed to remove lug nuts?
The answer depends on various factors. But under normal circumstances, it takes the same amount of torque that was used to fasten the nut for removal.
So, if you fasten a nut to 120 ft-lbs, you should be able to remove it with 120 ft-lbs of torque.
What is the difference between an impact driver and an impact wrench?
They aren't that different. The biggest difference is that the impact wrenches are bigger and offer more torque power than impact drivers.
Otherwise, they are pretty similar.
Is a brush or brushless motor better?
Brush motors are cheaper and proven to be reliable. However, brushless ones run quieter, and they require no maintenance, but they are pricier. If you're using a corded impact wrench, it won't make much difference.
However, when using a cordless one, a brushless motor is more preferable due to its energy efficiency.