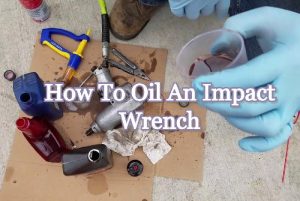 We all know how useful an impact wrench is as an air tool or power tool. It's one of the easiest tools to handle since it gives such good performance with you spending less energy when using it.
Most of the impact wrenches have one of the most common power sources. But have you ever thought about oiling a power tool like this? As it is a popular air tool, it also needs maintenance. And among those maintenance routines, oiling is an essential routine that's needed.
In this article, we'll teach you how to oil your impact wrench properly and in the most efficient way so that your wrench lasts longer.
How To Oil An Impact Wrench | Step-By-Step Process
Impact wrenches are important tools to keep for various reasons like when you have maintenance issues at home, in construction, workshop, repairing, product assembly, etc.
Now, let's start talking about its maintenance. When you go to the store to buy tools, surely, you've seen some impact wrenches come oiled beforehand from the manufacturers.
But even after buying a pre-lubricated cordless high torque battery automotive impact wrench, it doesn't mean you can rely on that lubrication to be enough to keep your wrench maintained for years to come. You need to use impact wrench oil on it by yourself as well. That's why given below are the steps to oiling an impact wrench:
Step 1: Remove the Rubber Covering of the Impact Wrench
You can start by taking off the rubber jacket on top. Some wrenches have this covering, and others don't. So, if your impact wrench has the rubber covering, remove it first.
Step 2: Take Off The Back Plating
There is a plate in the back of the wrench. You need to remove it by taking out the nuts attaching it. You can use an align key to do this. Make sure you carefully keep the gasket at the plate's bottom.
Step 3: Remove The Rod And Bearing
There's an alignment rod. You must remove it and keep it aside.
The same goes for the back bearing. You need a hammer and punch tool to tap the anvil and remove the bearing on the back.
Step 4: Remove the Air Motor
If you are using the earthquake XT, then you need to first remove the air motor after getting the back bearing out.
The air motor is like a vane or propeller motor inside the wrench. This air motor is visibly made up of vanes that create motor actions. After you disassemble them, make sure to clean and oil them.
After that, remove the casing of the air motor along with the front bearings.
Step 5: Take Off The Hammer And Anvil
Now that you've removed the complete air side of the wrench, you should begin removing the hammer portions. You can remove the hammer and anvil at one go if you start from the front to push the anvil and hammer out together.
Then you need to separate the hammer and the anvil. The hammer and anvil will be attached by a round gasket. You need to unscrew it with a screwdriver and tear it.
Step 6: Start Cleaning
All the parts in the assembly of the wrench are displayed in front of you. The only thing left to do is oil them. You can use petrol, spirit, or any other lubricant you want that you might find suitable for your air tool parts. This way, you can get rid of metal chips or trash and solidified oil stuck in any area.
Step 7: Reassemble
Next, you just have to put every part back together in reverse of the order you took them apart. Take your time and make sure it's done right. Otherwise, you'll have to spend a lot of time fixing it.
Step 8: Remove Oil Plug
You can use an align key to remove the nut on the oil plug so you can remove that very oil plug.
Step 9: Use Lubricating Oils
The air motor needs to be oiled with the right kind of oil meant for air tools. It's possible to find it from manufacturers that make air impact guns.
And for the rotating hammer mechanism, the proper oil here would be motor oil of the right weight. Syringes can be used to make oiling easier.
Pour the respective oils into the oil ports carefully. A few drops should be enough.
Step 10: Operate The Tool
After you've oiled it, try running the wrench for a minute to see if it's back to its smooth performance. This properly distributes the lubricant oils throughout the air and hammer assembly.
Step 11: Remove the Excess Oil
Open the oil plug to drain any excess oil out.
Step 12: Put The Rubber Jacket Back On
After you've accomplished oiling your wrench, you can safely put the rubber covering on the impact wrench again.
How Often To Oil Air Tools?
We don't usually think about oiling our air tools like pneumatic impact wrenches that often or regularly. Some people trust that the manufacturer's pre-oiling is enough to last a lifetime. But that's not true. It's important to oil your air tools regularly for maintenance if you use them regularly for tightening lug nuts.
There are various factors influencing the schedule to oil your tool. User schedule, tool type, tool age, usage rate, performance rate, user preference, etc. factors determine how often you should oil your air tools.
Some people like to oil their air tools before using them, so they get a refreshed performance.
Other people like to oil their air tool after they finished using them to keep them rust-free and safe from metallic dirt getting stuck to it when it's in storage. Another reason for oiling after using is because the compressed air still has moisture, so it's best to lubricate to keep the moisture away.
Some people who don't use their air tool that much oil it once a month. But despite using it or not, it should still be oiled every day. When you do oil it daily, you can just add one or two drops every day.
But if you do it monthly, you need to add more since it's possible your air tool could get jammed from not being oiled for so long, especially if it wasn't used for that long either.
Final Words
From explaining how to oil to explaining when to oil and the right methods of oiling are something, everyone needs to know if they want to have a good performing impact wrench or any air tool. It's much better to do it yourself rather than go to the store and have them repair your rusty old wrench. And if you know how an impact wrench works, then it shouldn't be much difficult for you.
If you take about a few minutes of your day to oil your tool properly, then you could avoid any further trouble. Your impact wrench needs a bit of maintenance to give you the performance you need, and oiling it is an important part of that maintenance, so hopefully, you can now understand how to oil impact wrenches.