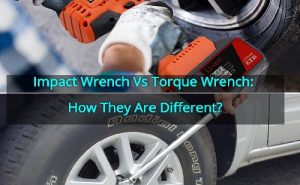 Both impact wrench and torque wrench have one thing in common: the main function. This function, of course, is to tighten and/or loosen fasteners such as a nut or a bolt.
Both impact wrenches and torque wrenches serve this cause, but delving just a bit deeper; one would find some significant differences between the two tools. These differences are significant enough to make you choose one of the devices over the other.
This impact wrench vs torque wrench guide will be all about what torque wrenches and impact wrenches are individually, and also in comparison to each other.
What Is A Torque Wrench?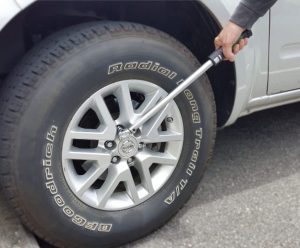 A torque wrench is a manual tool which is used to apply specific levels of the rotational force (or torque) to nuts and bolts.
This device is used when a fastener needs to be tightened properly. A torque wrench has a scale engraved on it of the measure of foot-pounds (ft.lbs) of torque that a particular fastener will require in order to be tightened properly.
The torque wrench can be calibrated, usually from 10 to 100 ft. Lbs. by twisting it at the handle so that the collar rises up the tube until it underscores the force (in ft. lbs.) that you require.
So if you are tightening a lug nut that requires a force of 25 ft, lbs., calibrate the torque wrench to 25 ft. Lbs. on the scale.
On the other end of a torque wrench is the ratchet wrench itself.
What Is An Impact Wrench?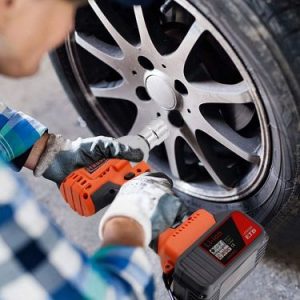 An impact wrench is a power tool used to loosen or tighten lug nuts and fasteners. It is known for its high torque output that requires very little exertion.
Impact wrenches are usually powered by compressed air, but power sources can also be electric and hydraulic. Cordless electric impact wrenches have also become increasingly popular.
The impact wrench's motor applies sudden, strong bursts of a twisting motion to the fastener (about every five or so seconds). This continuous and forceful (or, impactful, if you will) twisting at short intervals is what eventually loosens or tightens the fastener.
Think of it as a tiny hammer hitting the fastener again and again until it tightens or loosens.
The types of impact wrenches are cordless, corded, and pneumatic impact wrenches. They also come in various sizes such as ¼ of an inch, ⅜ of an inch, ½ an inch, ¾ of an inch, and 1 inch.
Impact Wrench vs Torque Wrench: How Do They Differ?
Now that we have a clearer idea of how each of the two tools works, let us see, in detail, how they differ from one another.
The most major difference is that impact wrenches are power tools, whereas torque wrenches need to be operated manually. This means that the latter requires much, much more physical exertion on the user's part than the former. In fact, you could use an impact wrench all day and not have a sore wrist.
The precision of Torque Control
Also, in the case of a torque wrench, the user has more precise torque control than while using an impact wrench.
If noise is a concern for you, then it would be better to go for a torque wrench, as it is soundless in and of itself. Impact wrenches, on the other hand, are noisy and could be harmful to your hearing abilities. This is why it is advised that you use ear protection whilst using an impact wrench.
As would be obvious, torque wrenches are much less expensive than impact wrenches, due to their manual quality. This is not to say that impact wrenches are expensive, though, their prices do vary depending on their size and type, and cordless impact wrenches tend to be on the more expensive side.
Advantages Of Torque And Impact Wrench
All that said, let us have a quick look at the individual pros of each of these two types of wrenches.
Pros

of an Impact Wrench
An impact wrench, given its automatic quality, is a much more powerful tool. It is also much less time-consuming to use, due to the same feature. Impact wrenches require very little physical exertion from the user, and so, even using it all day will not tire you out.
Pros

of a Torque Wrench
A torque wrench is practically soundless since it is a manual tool and has no motors. It is also the more affordable of the two types of wrenches. One of the main appeals of a torque wrench, though, is its uber precise torque control, which makes for the perfect tightening or loosening stuff. Torque wrenches are also great for bicycle maintenance.
Verdict: Which One to Go For?
Now that you know the purposes of and differences between torque wrenches and impact wrenches, which should you opt for?
Your decision should be based as much on personal preference as on the utility of each tool in relation to what you need to use them for.
Though they may have similar functions, torque wrenches and impact wrenches do serve quite vastly different purposes.
While impact wrenches are ideal for loosening or fastening lug nuts, frozen or rusted fasteners, and large bolts, torque wrenches allow the user to have control over torque in situations when the tightness of a fastener is crucial.
Hence, keeping in mind the differences mentioned in the previous section, as well as just before this, we hope you will be able to successfully evaluate your wrenching needs and purchase the right tool for yourself, out of the two.
Of course, it is recommended that you own both impact and torque wrenches since, as we have seen, they do serve different enough purposes to justify your purchasing both of them.