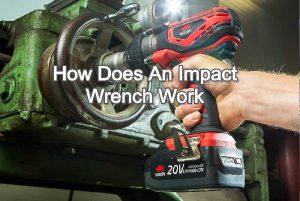 An impact wrench is a very useful tool and one that any worker should own. It serves as a more powerful alternative to more manual wrenches that don't rely on the user's strength to work.
Not only does it make work less taxing and difficult, but it can unfasten and tighten nuts and bolts that are usually very hard to do so manually.
However, one might ask how does an impact wrench work and how it proves advantageous. This article will give you the answer of those questions and many more.
How Does An Impact Wrench Work?
An impact wrench is a power tool used for attaching fasteners or removing nuts and bolts. It resembles a gun of sorts and features a handle and trigger. It contains a rotating mass and an electric or air motor. These two components work together to make the corded wrench a powerful tool.
The electric or air motor applies a force to the mass and makes it a spin. This causes energy to be stored in that mass. It then releases all that pent up energy in a short burst. This results in a powerful force being delivered onto the target.
All this is done simply by pressing the trigger. As you can see, there is very minimal physical exertion, but in return, one can produce very high torque, which can help screw in nuts and bolts much more easily.
The torque level of impact wrenches can be adjusted accordingly. For an air impact wrench, this torque is adjusted by regulating the air pressure of the compressor.
Impact Wrench Power Source
After knowing about the mechanism of impact wrench, one might wonder about the machine's power source. These wrenches work primarily with two different power sources. The power source, in particular, determines what type of impact wrench it is.
An impact wrench may either be powered by compressed air or electricity. The wrenches powered by compressed air are known as 1 inch pneumatic or air impact wrenches. Now, pneumatic impact wrenches are often connected to an air compressor and, as such, can provide more power than other devices.
The wrenches powered by electricity can both be hooked up to a power source or make use of a battery. The ones that need a connection to a power source are known as corded impact wrenches. Corded wrenches from DeWalt and Milwaukee are the best.
How Do Different Types Of Impact Wrenches Work?
Now that you're aware of the two primary types of impact wrenches used, it is time we take a look at how each one specifically works and the advantages one has over the other. After reading about both types of impact wrenches, you'll have no doubt regarding which one is ideal for you.
Air Impact Wrench
The air impact wrenches work by applying rotating energy or torque to the mass and then firing it in a short burst. In this version of the pneumatic impact wrench, the rotating energy or torque is supplied by air at high pressure.
For an air impact wrench to work, it needs a steady supply of air. The airflow is powered in the adapter and is forced through a hole. This air comes in contact with a cylinder consisting of several equal shaped blades. This is known as the rotor.
The oncoming air causes the rotor to spin. This is what builds the rotational energy. This rotor cylinder also has another part, known as the spline that connects it to the hammer, which is the mass that is used to apply the high force on a nut or bolt.
Due to the presence of the spline, the hammer mechanism allows the hammer to move with the rotor cylinder, thus also gaining rotational energy. Another part known as the handle moves the hammer back and forth when the trigger is pressed. The mass then accelerates and screws or unscrews the lug nut or bolt.
Advantages Of Air Impact Wrench
1. Air impact models are generally less expensive than other types of impact wrenches.
2. They do not have to worry about overheating since the incoming air cools the moving parts.
3. Air impact devices enjoy a greater life expectancy.
Corded Electric Impact Wrench
Corded impact drivers work in much of the same principle but are powered by a powerful electric motor.
They have a special feature known as an impact function, which is essential to their design. An impact function delivers a series of strong rotational bursts of force inside the tool. These are transferred to the drill bit at the end of the corded impact wrench to screw in nuts and bolts.
The impact function is produced using a hammer and anvil  mechanism. This impact function activates when the anvil or output shaft comes into contact with resistance. When it activates, the hammer slips from the engaging pin and rotates at a much faster speed in cicrular motion.
As it gains more speed and energy, it is suddenly made to come in contact with the anvil again, transferring that stored up energy in a short burst. If resistance is faced again, then the process repeats itself.
Advantages of Corded Impact Wrench
1. Variable speed options, i.e., you can adjust the torque settings.
2. They can be used in tight or narrow spaces.
Conclusion
Hopefully, after reading this article, you know how an impact wrench and its different versions work. You should now have a better grasp of your tools, which will help you perform better. Also, make sure the impact wrench is properly oiled so that it can work smoothly.
And if you have any queries regarding the mechanism of impact wrench, then tell us below in the comments. We have no qualms about answering all your questions on impact wrench.