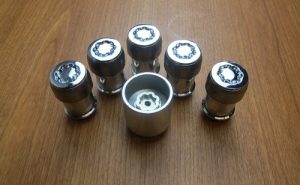 If you're someone who doesn't know much about cars (or, more precisely, automotive engineering), the purpose of a lug nut would be quite difficult to grasp.
That's because, despite its small size, it's one of the most important contributors to the stability of a car: the function of a lug nut is to fasten and keep the wheels of a car where they belong.
Accordingly, if you don't have the best lug nuts for your car, your safety can be compromised.
To help you with just that, today, we've reviewed 7 of the best ones on the market. Additionally, we've included a buying guide, along with answers to your most pressing questions about lug nuts.
Let's get started!
Best Lug Nuts Reviews 2023
| Image | Model | Speciality | Price |
| --- | --- | --- | --- |
| | DPAccessories D3116-HT-2305/24 24 Chrome 12x1.5 Closed End Bulge Acorn Lug Nuts - Cone Seat - 19mm Hex Wheel Lug Nut | Best Overall | Check on Amazon |
| | Gorilla Automotive 21133BC Small Diameter Acorn Black 5 Lug Kit (12mm x 1.50 Thread Size) - Pack of 20 | Runners Up | Check on Amazon |
| | Muteki 32906B SR Series Black 12mm x 1.5mm SR48 Open End Lug Nut Set, (Set of 20) | Premium Option | Check on Amazon |
So, without further ado, we now present our top picks for the lug nuts currently to be found on the market. We hope that you find the right one by the end of it!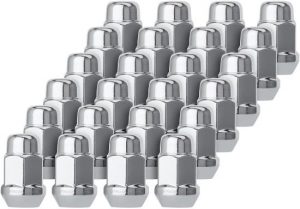 Our first pick is from DPAccessories which is regarded as one of the best lug nuts brands. And it's one of the most highly rated lug nuts out there, thanks to their durable construction and reliable performance. Let's have a closer look at why they are so popular.
First up, let's look at some specs. Measuring 35.56mm in length, 22.1mm in width, and with a 19mm hex, these lug nuts have a thread of M12x1.50.
They have been made in the closed-end bulge acorn style and are, of course, meant to be used with conical 60-degree seats. That means they're compatible with the vast majority of vehicles.
Their construction, however, is what sets these lug nuts apart from the rest. Built from cold-forged and heat-treated steel, these nuts also come with copper-nickel and chrome layers, complete with a triple chrome plating.
So it's definitely very easy to see why these lug nuts are so durable and long-enduring.
Plus, the price that these things are available at is definitely commendable, as well. DPAccessories have proven that you don't need to burn a hole in your wallet if you want to be able to afford some good-quality lug nuts, and for that, we are grateful to them!
Pros
Durably constructed from cold-forged, heat-treated steel
Has a 19mm hex, 35.56mm length, 22.1mm width
Comes with copper-nickel and chrome layers with a triple chrome plating
Available in packs of 16, 20, 24 and 100 pieces
Cons
Incompatible with Acura and Honda OEM aluminum wheels
---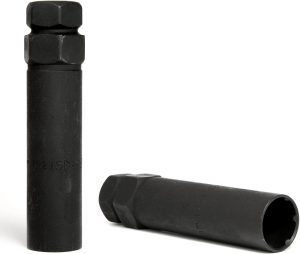 Despite their young age, Gorilla Automotive is a brand that has been consistently credited with producing some of the most high-performing and dependable car parts and tools on the market. The case is no different when it comes to these acorn lug nuts as they are considered the best lug nuts for aluminum wheels out there—here's why we like them.
Available in a pack of 20, these chrome-coated lug nuts each measure 12mmx1.50 in their thread size. Each lug nut is 1.36″ long and is manufactured in the tapered style at a 60-degree angle.
The construction quality of these lugs is quite impressive. Because they are made from chrome vanadium steel, their durability can't be questioned, and this is only enhanced by the chrome-plated finish.
What's more, you'll be receiving a dual hex key with your purchase. Because it offers a perfect fit, you won't have a hard time handling these lug nuts. However, it's worth it to note that depending on the type of influences that these lug nuts might be subjected to, they are at risk of rusting. Given the reasonable price, however, they'll be quite easy to replace.
Pros
Purchase comes with a dual hex key for 3/4″ and 13/16″
Easy to fit with a torque wrench thanks to its thin body
Highly durable chrome vanadium construction with protective chrome plating
Well suited for use with aftermarket wheels
Cons
Some users say it might be prone to rusting easily
---
This set of lug nuts from Muteki is one of the most popular on the market, but not very budget-friendly, so proceed cautiously if you're looking for affordable choices.
Made from high-quality, super-strength, and durable 50Bv30 steel, these lug nuts are built without environment-damaging chemicals, which makes them popular with eco-friendly car enthusiasts.
These powerfully built lug nuts are suitable for 12mm threads and have been molded in an innovatively thin design. This makes assembly and disassembly much easier with the help of a 17mm socket.
And if you have an eye for fancy car parts, you'll like that these ones are available in a few different colors, including purple and neon chrome. Otherwise, you can choose to go with the standard black color; it's just as beautiful.
While it's true that this isn't the most affordable lug nut out there, it's definitely a worthy investment to make, given its high quality. And when it comes down to it, you should always try to get only the best parts for your beloved car!
Pros
Furnished with a strong protective black coating
For easy removal, a 17-millimeter socket is included
The weight of each nut is lower than 2 ounces
Tool adaptor is included for your convenience
Made from extremely durable but eco-friendly steel
Available in 4 different color choices
One of the best quality lug nuts out there
Cons
The painting finish might not be up to par
---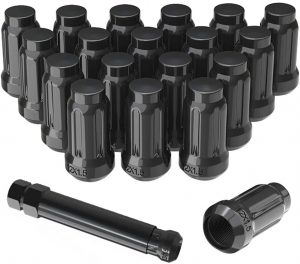 This next pick from Yitamotor is another highly rated set. Measuring 12×1.5 in the thread and manufactured in a closed-end bulge acorn design, these lug nuts are meant to be used with conical seats.
The high-quality construction of these lug nuts is one of the most prominent reasons for its popularity. Made from cold-forged, heat-treated steel, these lugs come with layers of chrome and copper-nickel, and are furnished with triple black plating for extra durability and resistance to corrosion.
As mentioned before, these lug nuts are meant to be used with conical seats at a 60-degree angle. Each lug nut has a hex measurement of 19mm with a 35mm overall length. Overall, this is a lug nut that you won't regret choosing. And that's not even mentioning how great they look!
A word of caution: While these wheel locks are compatible with the vast majority of vehicles (such as Toyota Corolla, Camry, Highlander), they will not fit OEM aluminum wheels from Toyota, Lexus, or Scion.
Pros
Available in a large variety of different sizes and colors
Constructed from durable and high-quality cold-forged, heat-treated steel
Built with chrome and copper-nickel layers and reinforced with chrome plating
Compatible with the vast majority of personal vehicles
Highly aesthetically appealing; will make your care stand out
Cons
Not ideal for use with a power wrench; manual operation is required
Not compatible with some vehicle models; check before purchase
---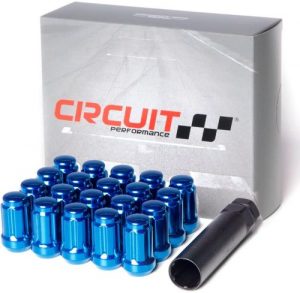 We included this highly-rated 20-piece lug nut set from Circut Performance for those of you who are dealing with spline drive tuners. With their super thin design, these lug nuts are super easy to set up without the need for a socket.
That's because this set comes with its own uniquely designed thin socket tool. It's built to be as thin as possible, which gives it the ability to fit into the thinnest lug holes.
Enough talk about that; now let's look at some specs. These wheel locks have a thread pitch of 12×1.5 and are meant to be used with 60-degree conical seating. They measure 35mm in length and 20mm in width.
The spline closed-end design of these lug nuts not only ensure that contaminants will be swiftly dealt with, but also make for a very aesthetically pleasing look once they are installed. And of course, on top of everything else that makes this set so lucrative, it's also quite reasonably priced. Always a plus!
Pros
Purchase includes 20 style lug nuts and 1 spline tool
Available in attractive red, chrome, blue and black color options
E-coated to ensure reliable durability and strength
Not easy to the jack as it requires a special tool
Very aesthetically pleasing
Cons
The color is prone to scratching after some time
---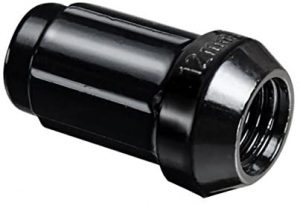 If you've been looking for the best locking lug nuts, we dare say you've stumbled upon a very good candidate with these UPGR8 closed-ended 6-point spline lug nuts. Each of these wheel studs has a thread measurement of 12×1.55mm, and have a length of 35mm. Using them requires a 6-point spline. So with the specifications out of the way, let's see what makes this such a popular set of fasteners.
Constructed from heat-treated steel, these high-quality lug nuts promise dependable durability and performance for many years to come. Their powder coating only adds to the nuts' longevity, protecting them from the influences of corrosion and rust.
Another reason we love these lug products is due to the precise fitment that they offer. Not only does that translate to easier installation, but your peace of mind! One downside, though, is that you can't use a power wrench with this thing; you'll have to do the installation manually.
What's best of all when it comes to these lugs is their price. For being such high-quality parts, you'd assume they'd be quite pricey, but you can afford these easily.
Pros
Designed for precise and reliable fitment to tires
Uniquely designed to resist scratching from wheels
Heat-treated construction enhances durability and security
Measures 35mm in length with a 6 point spline
Available in black, gun metal, neon chrome, blue and chrome color choices
Cons
Does not come with the required tool key
---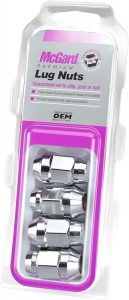 The last product on our lug reviews is a sought-after choice for those looking for good lug nuts on a budget. These nuts are compatible with a large number and variety of vehicles, as well—another reason for their popularity. Here's what we like about them.
First up is their construction: over a body of reinforced triple-layered nickel is strong and resistant hardened steel. This, combined with their high-quality chrome plating, these wheel studs will last you a surprisingly long time, and will no doubt impress you with their ability to hold up to damaging influences.
The weight of each lug nut in this set is 8 ounces, and it has dimensions of 12mm x 1.5mm. And, because they are meant for use with cone-seat axles, the majority of seating requirements with wide dimensions can be matched.
And of course, all of this is available at a nearly unbelievable price, especially considering that it's a set of 4 pieces. All in all, this is definitely one of the best budget-friendly lug nut sets out there. However, durability might prove to be a concern over time, so proceed cautiously.
Pros
Cone-seat design makes it compatible with the majority of vehicles
Constructed from triple-layer nickel and resistant chrome coating
Available in black and chrome color choices
Also compatible with OEM wheels, Ford vehicles, and SUVs
High-performing and hard-wearing at a low price
Cons
Some users have complained about size incompatibility
---
Buying Guide For Lug Nuts
Before you decide which tuner lug nuts for car you will be purchasing; it's important to educate yourself about them by reading our lug nut guide. The following factors such as durability, size, types, warranty and wheel installation kit should be kept in mind to find the best locking lug nuts.
Lug Nut Seat Types
At the name suggests, the lug nut seat is where the lug nut is "seated," or placed – and this varies from one car to another. Whether you're on the hunt for racing lug nuts or lug nuts for your family car, you must first ascertain the seat type, especially if you are looking for truck tires.
The three main seat types are mag, tapered, and ball; let's look at each in turn.
A conical shape and straight shank are the hallmarks of a mag seat. To ensure proper fastening of a mag nut, you will be needing a washer. Additionally, perfect alignment should be ensured if you want to avoid wobbling wheels.
This seat type has a round shape like a ball, hence the name. If this sounds like you, you can choose between open-ended ball nuts or closed ones, according to the dimensions of the wheel rims.
Tapered seats are easier to find on the market as they are used most frequently in personal and commercial vehicles. Because of their appearance, they are also known as acorn nuts.
Remember that the base area must be matched exactly to 60° since that is how the bottom of a tapered nut is angled at. For tapered seats, we chrome-capped lug nuts are usually the best fit; if not using chrome-capped ones, the nuts should be uncapped.
Lug Size
Size is always important irrespective of if you are buying break pads, suspension for 4runner, low profile truck tool box, or lug nuts. Now, the size of your lug nut comprises the full length, shank diameter, outside diameter, and shank depth. Anyone who knows the first thing about lug nuts knows that without the perfect fit, the safety of the car and its passengers is not fully guaranteed. So before you buy the conical seat lug nuts, carefully check the dimensions. You can use sample studs for measurements. Also, it would be great for durability, if the wheel lug nuts have chrome finish and steel construction. You may find instructions regarding size on the instruction manual.
Thread 
What is the thread size? For the uninitiated, it's the measurement of the wheel stud thread's external diameter (which is why it's also called the thread diameter). This can be calculated in either metric or standard units. The standard thread sizes are 10mm, 14mm, 12mm, 9/16″, 1/2″, 5/8″, 7/16″.
Knowing how many knurled studs to attach to your wheelbase is important. The type of automobile you drive will dictate this number, although typically, it's not more than 4-5. If you own an SUV, however, you might need as many as 8 studs. And remember, when considering the thread, you must account for both the thread pitch and the thread size. Getting thread size of a car is tricky but not as tricky as getting the right range technology afm disabler.
The thread pitch, in the case of metric studs, is the measurement between the threads. For non-metric studs, it's the measurement of the number of threads per inch (thread pitch is expressed in threads per inch, or TPI). When calculating the thread pitch, you can refer to your car's user manual; alternatively, you can visit your nearest hardware store for help.
The external diameter of the stud threads is identified as the thread size. To find this number, you can make use of a thread gauge. Don't have one? No worries; just take an existing lug nut to your hardware store, and they can measure it for you.
How to Remove a Rounded Lug Nut
Here, we'll walk you through the process of removing a rounded lug nut.
1. Deal with the Rust
Apply a penetrating oil liberally to the lug's base, from where it will be drawn into the bolt threads. Note that this process takes time, so be patient. If dealing with a really bad case of rust, however, we'd suggest using a hammer on the rust—before you apply the oil.
2. Fit the Socket
Now, take the socket, put its mouth on the lug nut, and tap it on its back using a hammer, taking care not to hit too hard. Keep tapping until you've acquired the right fit.
Now fit your breaker bar onto the back of the socket. In an anti-clockwise motion, start hitting the breaking bar's handle with the hammer.
3. Free the Nut
Upon applying pressure consistently towards the right, you will see that your steel lug nut has broken free with a jerking motion. Keep twisting the socket anti-clockwise and clockwise until you can pull it out easily.
4. Get the Nut Out of its Socket
For the last step, you have to screw the nut back (along with the socket). Now, gently hammer the socket up and down. This will cause the socket to come out while the nut rests loosely screwed inside. Pull it out with a twisting motion.
Types of Lug Nuts
Beyond the types we've looked at above, there are some other kinds of fancy lug nuts bolts to be found on the market. Below are outlined the features of each type.
1. Flat Seat
The seat for this kind of lug nut is flat (like a washer). They come with a small barrel that is inserted into the lug hole; accordingly, they can be difficult to work with. This is also due to the large surface area of the flat seat.
2. Extended Thread
Not dissimilar to a conical lug nut, extended-thread (ET) lug nuts come with—you guessed it—a longer thread. So if the mounting surface on your car's wheels and the wheel stud length doesn't allow for adequate thread engagement, you will find this helpful.
3. Tuner Style
If you're picking out lug nuts for aftermarket wheels, then you're probably dealing with smaller diameter holes. Since these holes are unable to fit acorn nuts, tuner-style ones are required. These tuner lug nuts also require you to use a special tuning key.
4. Lug Bolt
As the name suggests, these are aftermarket lug nuts that come with an attached bolt or stud and are threaded directly into the hub through the brake rotor hat. This type of lug nut is most commonly found in German vehicles.
Frequently Asked Questions

Q: What is the seat type, and why is it important?
The lug nut seat is the point of contact on the surface of the wheel. If you don't get the right lug nuts according to seat type, your wheel studs will obviously be useless.
Q: How can I measure thread size?
A thread gauge can help you with this. If you don't have one, you can seek help at a hardware store.
Q: How can a lug nut be tightened?
First, you'll have to push the wheel inward on its hub.  Then, you can tighten the lug nuts using a socket wrench by twisting counterclockwise.
Q: What size lug nut do I need to buy?
Both the length and width have to be taken into consideration when ascertaining lug nut size. Thankfully, the manual of your car probably already has this information; if not, your nearest hardware store can help you out.
Conclusion
When it comes down to it, only you can decide what the best lug nuts for you are. Beyond finding the right dimensions, however, you must remember to keep in mind the construction quality, ease of installation, and, yes, aesthetic appeal.
And you can always refer back to our buying guide. Also, if you are looking for a trailer sway control kit, we have an article for that as well.  Don't forget to check that out.