Have you ever been shopping for engine coolant for your car, and found yourself overwhelmed and confused by the multiple options available? Us too!
As there are many different colors and types of engine coolant to choose from, your new vehicle may require a completely different type than what you're normally used to topping up.
There are a few historical reasons why engine coolant comes in lots of different colors, but this doesn't necessarily give you much information in modern times.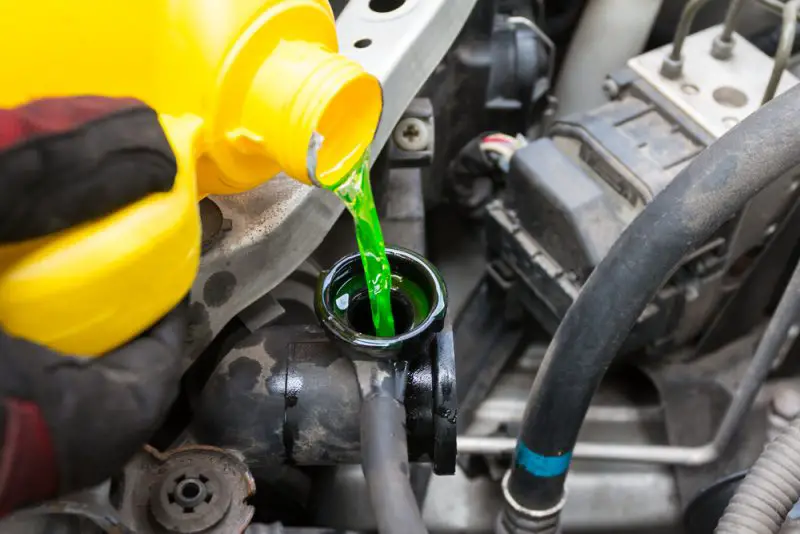 To better understand the difference between orange and blue engine coolant, read on. In this article, we'll be comparing the differences between the two coolant colors, if there are any, and evaluate which one is best for your specific needs.
Topping up your vehicle with the wrong kind of coolant can have a detrimental effect on your car's general function. Comparing the advantages and disadvantages of each coolant type will help you to make a better-informed decision on the product that is right for you.
Orange and Green – What's the difference?
Both orange and green coolants are designed to prevent your engine from overheating or freezing. They are both also used to protect the cooling system against corrosion.
Orange coolant is often the color of choice for those with relatively new vehicles, as it works best with modern materials such as aluminum and nylon.
On the other hand, green coolant is more commonly used on older vehicles, as it works best on older cars that contain more metallic components.
Orange Engine Coolant
During the 1990s, more and more cooling system components on vehicles were made using aluminum and nylon.
As these are modern materials that were not previously widely used in car manufacturing, a new type of engine coolant was required to keep these materials from overheating- this is where the orange variety comes in.
Orange coolant works by using organic acids to prevent corrosion and can be bright orange, dark yellow, or rust-red color. Orange engine coolant is more commonly known as Organic Acid Technology (OAT), and one of these acids is carboxylates, which prevents the process of corrosion.
OAT coolants are great as they only affect metal surfaces, meaning it is safe to use with metallic and non-metallic parts, and will not affect the latter. The most well-known orange engine coolant is made by General Motors and it's called DexCool. DexCool is a coolant made up of a mix of multiple different OATs to help prevent rust and corrosion.
However, as great as orange coolant sounds, it doesn't come without its flaws. If you allow orange coolant to run low in your vehicle, oxygen may find its way in, which can cause a buildup that can clog and damage your engine.
Thankfully, this isn't something you'll have to worry about too often, as orange engine coolant should last your around 5 years. This means that as long as you keep it topped-up sufficiently, you shouldn't experience any issues.
Green Engine Coolant
While orange engine coolant is perfect for newer cars made from modern materials, green engine coolant is more suitable for older cars. By "older", we're talking about anything manufactured before the year 2000.
Vehicles made before then often contain more metallic parts such as steel and copper. In order to keep these metal components protected, green engine coolant harnesses Inorganic Additive Technology (IAT).
IAT is the umbrella term given to a mixture of various different compounds such as silicones and phosphates with propylene glycol and ethylene glycol. As mind-boggling as this sounds, it's actually pretty simple to understand; phosphates are made from phosphoric acid and its key properties are softening water and removing grease.
However, silicones help to seal metal, which protects it from a whole host of chemicals, moisture, and general wear-and-tear. The propylene glycol and ethylene glycol are what prevent your engine from overheating.
IAT engine coolant is typically bright green in color, and we recommend flushing it out of the cooling system every 30,000 miles you travel. Alternatively, you can create a habit of flushing out your cooling system every 2 years.
Can you mix orange and green coolant together?
As each color of coolant comes with its own range of benefits, you may find yourself wondering, "can I just mix them together?". The short answer is no, you should not mix orange and green engine coolants together.
While some newer coolants may claim that they are compatible with DexCool and other similar orange coolants, we don't recommend trying this out.
If you mix two different coolant types together, they will react and form a gel-like substance, rather than a liquid. This gel is far too thick for most engines, which means it isn't able to flow freely through the cooling system. Instead, it will become clogged in your coolant passageways, water jackets, radiators, and heater cores.
Consequently, your engine will begin to overheat which can result in a whole host of expensive problems such as head gaskets blowing, heads warping, and major engine damage.
How do I prepare my coolant?
Engine coolant will typically come in a concentrated formula that requires diluting. This is done so with water, usually at a ratio of 50-50.
However, this can vary from brand to brand, so be sure to read the label before commencing. Some coolants may even come premixed for you, if so, this will be stated clearly on the label.
Many companies recommend diluting coolant with bottled mineral water rather than tap water, as the latter is often packed with chemicals such as magnesium, calcium, and hardness ions that can contribute to scale buildup and deposits in your radiator.
While you may be tempted to add more water to the mix, this will reduce the efficiency of the coolant.
In order to reduce the risk of deposits and to keep the protection levels high, it is recommended that the system is heated and circulated at least every 30 days. This applies to all coolant liquids.