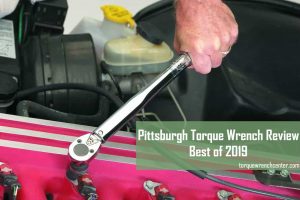 The Pittsburgh torque wrenches are one of the most specialized wrenches. They are great for delivering a specific level of tightness to the bolts and nuts of cars, trucks, SUVs, motorcycles, and vans.
Bolt thread needs a specific level of tightness which can only come by using tools that deliver accurate and precise torques. And Pittsburgh wrenches score high when it comes to preciseness.
Now, with the market flooded with many torque wrenches, we took it upon ourselves to bring to you an unbiased Pittsburgh torque wrench review.
So, let's get started with our reviews.  Let's dive right in:
2023 Top 2 Pittsburgh Torque Wrench Review
Below, we're going to review the top 2 Pittsburgh torque wrenches in detail. Read on to know more about these products.
1. Set of 3 Pittsburgh Pro Reversible Click Type Torque Wrench
Our top pick is this set of three Pittsburgh torque wrenches. At a very low price point, we are of the opinion that this is one of the best Pittsburgh wrench bargains available in the market today. The package comes with three wrenches. The sizes are, ¼ inch drive, 1/2 inch drive size, and 3/8- drive to cater for a wide range of torque power.
Here are a few features worthy of note in this torque wrench:
It's a Reversible Torque Wrench: The reversibility of the Pittsburgh set of 3 wrenches places it above the competition. With this feature, you can work on both left and right-sided bolt threads. If you do a little research on the internet, you will find that this feature is missing in many top wrenches out there.
Material: We'd expect that the material has to be of high-quality steel because of the lifetime warranty. Users can confidently carry out any twist and turn in any direction they desire because it's made of top-notch material.
Accuracy: Accuracy is an important factor with a quality torque wrench. The precise torque force manufacturers place on bolts is the reason why wrenches are in demand today.  This set comes with a calibrated accuracy of +/-4% which is just at the industrial standard. As long as you store them properly in the appropriate casement, there will be no need for regular calibration.
Pros
The package comes with a set of 3 torque wrenches to cater for the different needs of the users
Has a reversible feature that allows users to tighten both left and right-handed bolt threads
Comes in a durable case for easy storage and transportation
Cons
The shinning glossy finish on each wrench makes it a bit hard to read the scale
2. Pittsburgh Pro Torque Wrench Review – 239 Professional Drive Click Stop
It's time for our Pittsburgh pro torque wrench review. This one is inexpensive but a quality wrench.  We recommend this tool as one of the most user-friendly wrenches for beginners. The features are easy to understand and ideal for the beginners.
Here are a few reasons we picked this wrench:
Mechanism: The Pittsburgh pro wrench utilizes a set of heavy-duty cam and pawl mechanism to deliver precise torque powers form 20-150 ft lbs.
Type and Material:  The Pro 239 is of the click-type torque wrench. This means you will hear a click sound whenever you reach the predetermined torque setting. As with all other Pittsburgh wrenches, this model is built from strong steel and will last long.
Bronze Finish: How often have you seen a bronze-colored tool? Not much I guess. The bronze color on this model adds a level of class not seen in many top models.
Reversible Torqueing: With this reversible torque (3 settings) feature you can confidently torque bolt threads in either clockwise or anti-clockwise direction.  How convenient can a torque wrench get?
Pros
Has a reversible ratchet feature, which allows for three settings on the torque wrench.
The first settings for dual directions (clockwise and anticlockwise), and the second settings for a clockwise direction only and the last setting for an anticlockwise direction only
Bronze colored finish, which adds an additional level of beauty to the model differentiating it from the rest
Click type feature that allows for precise torquing
Reasonably priced heavy-duty torque wrench
Cons
The bronze shinning finish makes it hard to read the torquing scale on the metal.
Why Choose the Pittsburgh Brand Torque Wrenches
For obvious reasons, users prefer Pittsburgh torque wrenches over other wrenches in the industry. One of such reasons is the brand behind the wrench idea; "Harbor Freight".  Harbor's unrivaled quest for excellence places it in prime position as one of the most trusted manufacturers of hardware tools. Harbor freight torque wrenches are renowned in the country and gives tough competition to brands like Vortex torque wrench, Cheater torque amplifier wrench, and ktm spoke torque wrench.
They have many stores in different states and a large headquarter in Calabasas. It's easy to see where all the customer-centric trust comes from.
Warranty Period
Another reason why Pittsburgh wrenches are a good buy is the long warranty period. We are of the opinion that good products always come with a reasonable long warranty. Some of the wrenches from Pittsburgh have lifetime warranties. This is unbelievable! Considering the fact that the average torque wrench warranty is no more than five years.
Quality and Material Finish
With regards to product quality and materials, Pittsburgh wrenches are a class above the competition. To buttress my point, the Pittsburgh pro torque wrench reveals stunning features and qualities rivaled by only a few competitors in the industry. Most of the wrenches come with a reversible ratchet feature that allows for torquing both right and left-handed bolt threads.
Customer-Centric
The community of tool users prefer Pittsburgh wrenches over others. The brand has managed to gather high reputation in online platforms. This reputation didn't happen overnight, a lot of hard work and dedication from well-trained professionals made this possible.
The customer service's dedication to answering customer queries and returns is awesome. They respond to questions, handle returns with no questions asked and direct customers in doubt to products that suit their needs.
To meet a wide range of customer base, Pittsburgh has a range of wrenches tailored to the torque needs of most users. Their torque wrenches range from ½-inch to 1/4 drive torques that deliver torque powers of 20-150 to 20-200 ft-lbs respectively. They also have a 3/8-inch drive wrench for those who need a tool for light workloads (5-80 ft-lbs).
The 2 Pittsburgh wrenches reviews in this article are good examples of products that meet customer-centric criteria.
Case
All Pittsburgh wrenches come in a quality case for storage. You will agree with me that a good casing is a feature of quality wrench products. This is because it prolongs the shelve life and protects the calibration system. Most parts of Pittsburgh wrenches come from metal rather than plastic. It's no wonder why they are confident in offering lifetime warranties on their products.
Return Policy
Lastly, the customer care service is simply amazing. Nothing else promotes a business more than great customer care. If you treat customer's right, there is an improved probability that they will become repeat customers in the future.  The return policy of Pittsburgh is out of this world, they replace defective parts after verified purchases right away.
Final Verdict
We have brought to light in this Pittsburgh torque wrench review the basic features, quality, and materials of two of the best wrenches in stores. Pick the Pittsburgh set of 3 for an all-around toolset, while the pro 239 variant has common newbie-friendly features.
Pay close attention to the reversible ratcheting feature of the pro 239. That allows for 3-way custom settings. You will hardly find this feature in higher priced models.