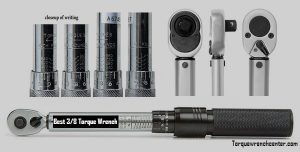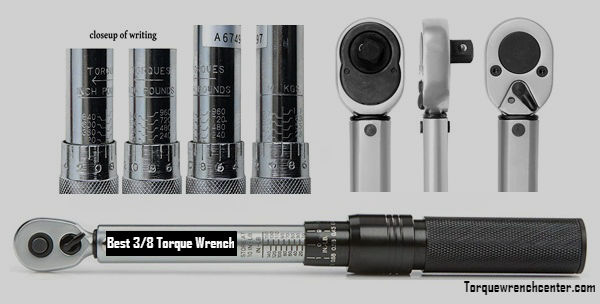 If you are reading this, it could be that you have stripped some bolts, a very annoying problem indeed. Even if you do not have a few stripped bolts, you may have over-threaded a few on your car, bike or other.
The reason for encountering these problems was the lack of a proper torque wrench.
Thus, today, we are going to look at the best 3/8 torque wrench reviews to help you find a solution.
Here are 7 of the best options chosen in consideration of their quality, accuracy, and ease of use.
Top 7 Best 3/8 Torque Wrenches Review 2023
| Image | Model | Range | Price |
| --- | --- | --- | --- |
| | eTORK (C2250) | 50-250 In.-lb, 6-28 N.m | Check on Amazon |
| | Precision Instruments PREC2FR100F | 20-100 Ft./Lbs | Check on Amazon |
| | ACDelco ARM315-3A | 5 to 99.5 ft-lbs. | Check on Amazon |
| | EPAuto Wrench | 10-80 ft.-lb. / 13.6-108.5 Nm | Check on Amazon |
| | TACKLIFE HTW1A | 10-80 ft.- lb./13.6-108.5 Nm | Check on Amazon |
Finding the perfect 3/8 torque wrench is no easy task. So, in order to help you, we've rounded up the top picks of the market. Let's get into the reviews.
The eTORK C2250 is the best 3/8-inch torque wrench, and it has enough features to support this claim. First, if you have fastening and loosening jobs that require you to measure torque in both directions, this is the wrench to buy. Many other wrenches can only measure torque in the clockwise direction, but this one does both directions.
Compared to many other torque wrenches, this one is more accurate, and there is a reason for that. First, its accuracy has been rated at +/-3 percent when at maximum torque. This is quite an improvement on its counterparts that have an accuracy rating of +/-4% at maximum torque rating. Thanks to the bearing-mounted release and torque setting mechanism, this wrench is best for sensitive fastening jobs.
The material quality is excellent. It is made of hardened alloy steel. This has also enabled the manufacturer to make it slimmer and lighter in weight, yet very strong. This wrench is tested for quality at the factory.
For usability, eTork C2250 wrench has been designed with a large handle. Many 3/8 torque wrench reviews say that this handle is so good such that it only requires the user to apply half the force they would on other wrenches.
Finally, may we also mention the locking knob that ensures that the wrench does not trip when you have set it. To set the torque again, you will have to pull out the lock knob and turn the handle.
Pros
Easy to use.
Dual scale reduces the margin of error.
Accurate even on sensitive jobs.
Ratchet head has 45 teeth for better clockwise and anticlockwise movement.
Large and ergonomic handle for more accessible work.
Cons
Thick – cannot be useful in squeezed spaces.
This is the finest 3/8 torque wrench mainly because it comes with ¼-inch and ½-inch adapters. What do you know… when torque wrenches are your thing, you do not have to buy a half or quarter inch wrench in addition to this one. Just get the TACKLIFE set with the adapters, torque extension bar and all. It is almost like having three items at the price of one.
The build quality is impressive since it is all-steel. The scale has been laser-engraved on the steel, which makes it readable for a long time. Steel is also light in weight, so you should have no problem with cramped wrists working with this wrench over a long time.
For accuracy, the calibration is up to international standard. It has been rated at +/- 4% even at maximum torque rating that is 108 Nm. When operating it, an audible click is going to let you know when you have reached maximum torque.
To set the torque and lock it in, you will use an adjustable ring at the bottom. This is easy, and the good thing is that you cannot over-thread your bolts. The dual range of the scale (in Nm and Ft.Lb) makes things even better. You should have all the precision that you need when tightening your tire bolts.
Pros
Comes with ½ -inch and ¼-inch adapters.
Easy to set the torque and lock it in.
You also get to operate it in the anti-clockwise direction.
Has an extension bar of 3 inches.
Affordable price.
Cons
Click is not audible enough, you might miss it.
Mostly suitable for DIY rather than professional jobs.
The PREC2FR100F has a torque range of 20-100 ft.lbs, which makes it suitable for just about any DIY application and small professional jobs.
The all-steel construction makes the wrench quite durable, and it is not affected by industrial fluid. The speed of operation when you are using this wrench is high as the torque adjusting mechanism just requires you to use your fingertip. The numbers read very well on the dial since they are black on a white background. You can increase the torque setting by 2%.
You should love the flex head. This Precision Instruments torque wrench helps when you want to fasten a bolt that is hidden somewhere. For example, when working on your car, you will find the flex head better at negotiating under the fenders. Once you have set the torque on the dial, just commence fastening your bolt, and once the set torque is attained, you will hear an audible click.
Pros
Comes with a nice plastic case.
Calibration certificate.
So easy to set up and use.
All steel construction makes the tool light in weight and durable.
Cons
The finishing could be better.
With the ACDelco 3/8 digital torque wrench, you can see your torque building up as you fasten that bolt. It is easy to use, all digital wrenches are, anyway, but this one is a pretty nifty tool for a person who wants to work faster. On display, you can see when you are about to get the maximum torque and slow down. This removes all margins for error and issues such as over threading will be a thing of the past.
This torque wrench has been equipped with trace and peak modes. These two modes are going to show you the current torque and the maximum torque. In addition, similar to ACDelco arm601-3, it will show torque in different metrics like foot-pounds, Newton meters, and even kilograms/per centimeter. This kind of flexibility makes this 3/8 digital torque wrench applicable to many tasks. The torque range is 2 to 37 foot-pounds.
Already pre-calibrated in the factory, the torque wrench is always ready to use, straight out of the package. About accuracy, we all know that digital torque wrenches are unequaled when it comes to accuracy. This one has an accuracy rating of +/-2% in the clockwise direction and +/-3% in the anti-clockwise direction. This is the highest accuracy rating of all the torque wrenches that we have reviewed here. Just set your torque in the screen, with the buttons at the side of the LCD screen, and you will be ready to go.
Pros
The handle is incredible, anti-slip even when sweaty or wearing gloves.
Genuine certificate of calibration that can be traced to N.I.ST.
Instructions for use are easy to follow.
Wide range of torque, starting at 1.1 ft.lbs to over 700 ft.lbs.
Cons
The LCD screen is not visible in low light.
You will get a maximum of 108.5Nm of torque from the EPAuto 3/8-inch wrench. With the minimum torque being 13.6 Nm, you can see that this wrench is applicable to many jobs you may have at home or in your workshop.
This is a pretty accurate torque wrench that comes calibrated from the factory to +/-4 inch-pounds. The ratchet head is made to last a long time, with chrome Vanadium alloy. Also, the handle is anti-slip, quite good, and comfortable on the hands.
Setting the torque in the desired setting, and locking the settings in takes some time to get used to. However, if you have been around torque wrenches for some time, it should not be too hard for you. This is one of the finest torque wrench for lug nuts, spark plugs, car, and other parts. Because it's good for tightening the oil sump bolts.
Other things worth mentioning for this epauto 3/8-inch drive click torque wrench include the corrosion resistance and the stylish satin finish.
Depending on where you come from, you may choose to use one of either scale. One scale is in Newton-Meters while the second one is in pounds per foot. This also depends on the job that you are doing as some require a specific scale.
Pros
Made of high quality material – Chrome Vanadium.
Sold with durable plastic case for traveling and storage.
The dual scale is a good thought.
It is accurate.
Knurled handle handles well even when you are wearing gloves.
Cons
The scale is not engraved onto the wrench.
Setting torque and locking it in takes some getting used to.
6. CDI 752MFRMH – Best Quality 3/8 Torque Wrench
The build quality of the CDI752MFRMH is quite high, and the handle is knurled to give you a good grip when you are holding the wrench even with your gloves on.
Some of the features in this wrench include the dual scale. This makes it easy to use for wide applications, since some tasks require you to use a specific scale. There is a scale on each side of the wrench. Thus, when you are working on an application that needs you to use specific metrics, they are available.
We buy a 3/8 torque wrench because of its accuracy. In fact, most people like to know how accurate the wrench is on the maximum or minimum torque setting. The CDI torque wrench is +/-3% accurate at 5ft.lbs and +/-4% at 75ft.lbs. Even when you are working on torque specific jobs such as draining oil from the sump, this wrench will do a good job.
The wrench comes pre-calibrated from the factory, but at the same time, it is easy to calibrate. When fastening a bolt, listen for the torque click and stop once you hear it.
Pros
The shiny finish makes it easy to clean.
Knurled grip is anti-slip even when your palms sweat.
Good length allows you to work in squeezed spaces.
Sockets fit nicely, and they release easily.
Ratchet head has 3 modes – loosen, tighten and both.
Cons
A bit highly-priced.
Too shiny, might be uncomfortable for the eyes in bright light.
Just knowing that something has been used in military installations gives you all the confidence that you need to buy it. This is true of the CDI 3002LDINSS needle dial torque wrench. Not only has it been used in military installations, but it has also been used in nuclear installations. If you are looking for a tested and proven 3/8 torque wrench, you have found it here.
The inclusion of the dial needle for setting the torque makes it almost as good as a 3/8 digital torque wrench. The torque range is 0 to 300 inch-pound, and this is marked on the dial. As you fasten your bolts, you can see the torque readings moving on the dial.
Because this is not a ratchet head wrench, it does not allow back and forth movement on the bolt. However, as many torque wrench reviews show, this one will hold the torque value as you set it, thus it is very precise even for the most sensitive jobs.
In some 3/8 torque wrench reviews, you will read that dial torque wrenches are mostly used to test whether the right torque has been applied on bolts. However, beam torque wrenches such as the CDI 3002LDINSS are more accurate and hassle-free than the click type ones. Just make sure you clean the wrench after every use so that the beam does not corrode.
Pros
Wide torque range.
Very accurate.
The torsion beam is high quality and it will last a long time.
Made by one of the best names in the business.
The dial is easy to read.
Cons
This torque wrench is pricey.
Buying Guide for 3/8 Torque Wrench
There are some things you need to consider before you decide to invest in a 3/8 torque wrench. Below, we'll discuss them in detail.
1. Uses Range
If you check in different resources, you will find interesting debate regarding the use of 3/8 inch wrench torques vis a vis the ½-inch one.
However, for a car engine/motor work, there is no doubt that a 3/8-inch torque wrench is much better than a 1/2 torque wrench. However, note that not every part needs a 3/8-inch wrench. Some require a ½-inch and ¼-inch ones, so you may have to buy different wrenches.
If you have an all-terrain vehicle or dirt bike, most of their engine and motor work requires the use of 3/8 torque wrenches. Other parts will use ¼-inch or ½-inch wrenches. Thus, as some of our readers do, you may want to mix them a bit, that is, buy an analog ¼-inch wrench and a digital 3/8-inch one, or the other way round.
Different engine parts of a car or dirt bike have different torque ratings. Thus, it is important to find out what size of torque wrenches you need to buy, which includes the 3/8-inch one.
2. Simple is Better
Unless you are an engineer, you probably hate technical jargon and tools that require you to be a rocket scientist to use them. Remember KISS – keep it simple stupid? That is what you should look for in a torque wrench. It should be simple to use and to maintain too.
The way that a torque wrench operates is very simple in itself. First, you get to calibrate the torque wrench to the desired torque. Thus, when tightening a bolt, when the maximum torque has been achieved, the wrench just slips. Thus, you can be assured there will be no over-threading or stripping of the bolt.
3. Digital vs Manual 3/8 Torque Wrench
Digital is better for beginners, but if you are handy and you always love a good challenge, get a manual/analog torque wrench. It takes a bit of time and extra care to calibrate by hand, but then it is very accurate after that.
A digital torque wrench comes with a digital display and buttons to enter your torque settings. Anyway, it all depends on your style. If you do not like to fiddle with your fingers on things, digital is better.
4. Ratchet Head
Our torque wrench center writers say that the best 3/8 torque wrench can work in the clockwise or the anti-clockwise direction without requiring you to remove it and reset it. You can screw and unscrew the bolt in the same measure, without even removing it. This enables you to do a faster job all the time.
Find out what the ratchet head is made up of. Most of them, the best of them come with ratchet heads made of Chrome Vanadium alloy. Some of the top options have ratchet heads that have 45 teeth.
FAQs for
3/8 Torque Wrench 
Q: Can I use an extension on my torque wrench?
A: You can if you wish. However, you ought to know that using an extension is going to affect the accuracy. It is not advisable to use an extension handle on the very sensitive fastening jobs.
Q: Must I use a torque wrench for fastening my bolts?
A: A torque wrench allows you to fasten a bolt to the right torque, no less no more. If you use a regular wrench for that, you have to use your hands to gauge whether you have fastened enough. Quite often, the result is usually an over-threaded bolt, which will need to be replaced soon in the future.
Q: Which is the most accurate 3/8 torque wrench among analog, digital and dial type?
A: Without a doubt, the dial type torque wrenches are the most accurate. The reason for saying this is that the torque application is not affected by how you hold it. It is a bit complex to use but once set, it does not lose its settings.
Q: What torque range should I consider in my wrench?
A: Usually, this depends on the types of fastening jobs you are buying it for. For example, many people buy torque wrenches for their lawnmowers, cars, dirt bikes and bicycles. In this case, you would need a wide range of torque, say, from 5 ft-lbs to 75 ft-lbs.
That should be more than enough for your DIY fastening needs. Some parts of the engine may require a specific torque wrench size, so if you are handy with your tools, you will always find that you need more than one torque wrench.
Q: How often should I calibrate a torque wrench?
A: Today, all torque wrenches come pre-calibrated from the factory. It is recommended to calibrate yours after about 4000 cycles or once a year; whichever comes sooner.
Q: Can my torque wrench prevent me from over-fastening my bolts?
A: No, it will not. However, it will let you know by an audible alert or by a click when you have reached the desired torque, but it will not prevent you from applying more torque.
Q: On what parts of my car can I use a 3/8 torque wrench?
A: This depends on the car itself. However, any parts that are screwed or bolted together will require a torque wrench, be it a 3/8 or any other. Wheel lugs, bolts and nuts, sump bolts and spark plugs need a torque wrench.
Final Verdict
After reading our buying guide and 7 reviews of the best 3/8 torque wrench, you can now choose one for your needs. If it meets your needs, you can buy it. For the digital torque wrenches, the ACDelco 3/8 digital torque wrench will meet and exceed your expectations. If you would rather do analog, you can try the eTORK (C2250) or EPAuto ST-012 comes highly recommended in many 3/8 torque wrench reviews.