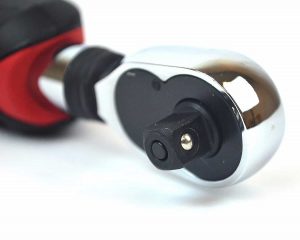 A torque wrench helps us to do a lot of repair and maintenance works without any hassle. And the ACDelco arm601-3 3/8-Inch Digital Torque Wrench is one of the top torque wrenches in the current market.
Torque wrenches are made for applying greater force and with precision control. Therefore, a torque wrench comes with a scale for torque measurement.
But this measurement has been available in digital means nowadays. Fortunately, the ACDelco ARM601-3 is one of the top electric torque wrenches used recently. This guide will hold a few details on this product and its use in our daily life.
ACDelco ARM601-3 3/8-Inch Digital Torque Wrench Review

Nowadays, digital torque wrenches aren't very expensive. You can buy yourself a quality digital wrench at a reasonable price. Compared to many other models, the ACDelco ARM601-3 has some exquisite features that will help you in different aspects of repairing and maintaining works. Some of the important features of this product are-
Weight and dimension
This product weighs only 2.8 pounds and measures 1.5 x 1.5 x 12.2 inches. Whenever you like, you can take this product with you to any place you want. You can easily keep this product in your bag's side pocket or even in your back pocket. Carrying and transportation is literally nothing for this product.
Digital meter
There is a digital meter right after the handle of this thing. This meter is truly convenient while measuring torque. You have to insert 4 AAA sized batteries in it for its operation. There are 4 different buttons just at the right portion of the panel as you see. Using these knobs, you can set the torque values to any specific values and work very precisely. This LCD display shows you the value in Newton-meter or inch-lbs or foot-lbs. you can choose any unit you like.
Settings
there are 3 separate standard functions inbuilt. These settings are torque settings, measurement settings, and mode settings. Through these settings configuration, you can do all sorts of work in any mode you want. For example, you can tighten a screw by any specific length or force value; it's solely upon your choice.
Audible buzzer
When you are tightening a fastener, you do not need to pay a lot of concentration but only tighten like disregarding it. The wrench will continue and stop torque-ing itself. However, you can hear an audible buzzer when the fastener is tightened to its best strength. Through this option, you can work very fast and smoothly. All the fasteners in any product would get the same torque without heeding too much concentration.
Multidirectional operation
You can work either clockwise or counterclockwise with this product. This feature is truly beneficial for both left-handed and right-handed persons. Although right-handed persons are seen most often but are the same for left-handed persons. All you need is just to flick the knob at the ratchet head and get the same option out of everything.
Safety regards
Although this is a truly fascinating engineering tool, you need to be very careful while using this product. According to the opinion of Torquewrenchcenter, whatever happens in this world, always remember that safety is the first thing you should pursue while working with anything. This product guide also recommends you to avail some of the points below-
Be aware of while working. Although it is equipped with the audible buzzer, never take your eyes off of the point of work.

Be very gentle with its torque driver head. It is provided with a 3/8 inch drive from the manufacturer. This is the part which provides the torque to the fastener or any other sockets you install on it. This part must be kept very safe and free for any knocking damages.

Always try to wear safety goggles and gloves before applying torque. This is for your own safety.

Before applying your hand torque to its handle, make sure that the drive head is installed correctly and the ratchet head is locked in any certain direction. Hold the drive steadily inside the fastener grooves before the torque is completed.
Why Measure Torque in Fasteners
Almost all the things we are used to using comprises a good number of parts which are interconnected through fasteners. The fasteners are tightened to a good strength where the parts won't get detached very easily. But this amount of strength provided through tightening isn't as much as possible; rather the amount of force applied to it is fixed in all the other fasteners.
You cannot certainly do it with your bare hands and a screwdriver. Rather, in such cases, you need a nice torque wrench. Using a dial torque wrench, you can see the amount of torque force you have applied to anything. But using the ACDelco ARM601-3, you can see the amount of torque force you've applied through a digital meter. This meter will help you to reach the exact point where you need the fastener to be.
In addition to that, tightening the fasteners needs to be very precise. If you overdo the tightening through a generic torque wrench without any measuring mean, you might break the board on which the fastener is being tightened. This will ultimately cost you the total product again.
Also, many torque wrenches determine itself that, how much end torque a certain fastener is capable of bearing on certain material. You can apply as much as torque possible but the torque wrench will stop moving right at the point where the fastener cannot take it anymore. Therefore, you save time and also your extra concentration on any specific product.
Final Verdict
Working with such an engineering tool isn't only fascinating but also enjoyable. When a complex work can be done through precision control, why not use such a digital torque wrench. Surely, the ACDelco ARM601-3 3/8 torque wrench will give you the utmost pleasure of work if you are well capable and acquainted with this product.