Metal is heavy. That's why steel gas tanks aren't so common these days and car manufacturers are opting for plastic alternatives. Plastic is lighter, improving the efficiency of the vehicle. While steel gas tanks weren't the most lightweight, they were practically indestructible.
You would never hear of someone having to repair a crack in their metal gas tank. However, with the present-day plastic alternatives, a cracked gas tank is a problem that is seen far too often on American roads. 
If you've found yourself in this situation- don't panic! Fortunately, the repair isn't as expensive as it looks: providing that you take the correct precautions and have the right equipment to handle the problem. In this article, we'll take a look at a couple of ways you can fix your cracked plastic gas tank.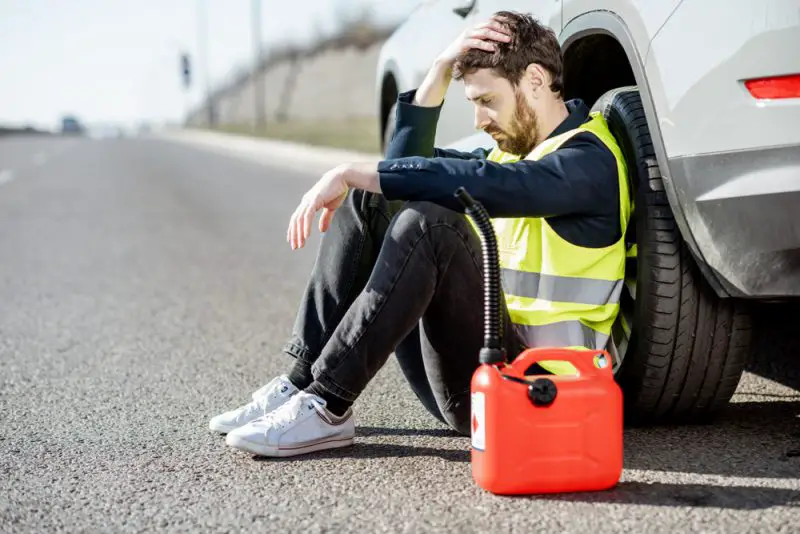 Before you begin…
Hit the brakes and take a minute to ensure you've made all of the necessary safety precautions. When working with or near fuel, you'll need to always be aware of the fire hazard that comes along with it. Hill Climb Racing 2 Mod Apk
As gas is extremely flammable, you should try to remove every last drop from your tank before you start attempting to make any repairs. Some cars come pre-fitted with a small drain plug that can be pulled out, and in turn, the fuel will flow out of the tank.
It's best to be prepared with a gas canister or an appropriate container to put the fuel into, to save it from going to waste. 
However, not every vehicle will come pre-fitted with a drain plug. If you own such a vehicle, you'll need to siphon out the fuel yourself.
If you're imagining having to stick a garden hose into your tank and suck it out with your mouth- you'll be glad to know that this rarely happens apart from in the movies.
Thankfully, you can just head to your local hardware store and purchase a cheap and easy-to-use pump kit that will do all of the hard work for you. Ingesting gasoline is extremely dangerous, and we do not recommend using your mouth to siphon it out of your gas tank. 
If you purchase a pump kit from your local hardware store, it'll probably be the standard type that involves connecting one hose to one side of the pump, and the other hose to the bottom of the pump and it is then inserted into a spare fuel canister.
You'll need to use the handle provided to pump the gas and once you've generated a steady flow, you can let go of the handle, and gravity will take over and do the rest of the hard work. 
Even when using a pump kit, it's important to remember that some traces of gasoline will remain. Even if your plastic gas tank appears to be completely empty, there may be tiny gas droplets, and if not, there will definitely be fumes remaining in the tank.
These fumes are not visible to the naked human eye, and so you should keep anything that can create a spark as far away from the tank as possible. 
How to fix a crack in your plastic fuel tank
Did you know that the average cost for a full fuel tank replacement is between $1,318 and $1,385? This figure doesn't include the cost of labor, which can add a couple of hundred dollars onto your final bill.
This estimate also doesn't include any taxes and fees that may be added and it also excludes all costs for any related repairs that may be needed after the initial replacement.
For many people, an unexpected bill of this size is not just inconvenient, but impossible to manage. Fortunately, with a little determination and a lot of patience, there are a couple of ways in which you can fix a plastic fuel tank all by yourself.
There are three most effective methods of doing this; Using epoxy resin, soldering, or welding. 
Method 1 – Epoxy Resin
If you've worked with epoxy resin before and feel confident doing so, then this is probably the quickest and easiest way to repair a cracked plastic fuel tank. However, the epoxy resin method is only suitable for small cracks and areas of limited damage.
This is because epoxy isn't a type of superglue, so it doesn't bond instantly. The epoxy will require a minimum of 24 hours to fully set and cure, meaning that during this time, you'll need to keep checking on it to make sure that there are no leaks.
Allow the gasoline to drain out of the tank completely and allow it to dry. Sand the area surrounding the hole or crack and clean it with a rubbing alcohol-soaked towel.

Apply the two-part epoxy all around the circumference of the opening. Cut and overlap a fiberglass patch large enough to cover the opening.

Cover the hole with the fiberglass patch and press it into the epoxy. More epoxy should be applied to the patch and surrounding region, pushing firmly to soak the patch.

Leave it to dry completely before sanding the patched area smooth. Finish by spraying the tank with plastic paint, if desired.
If you'd like to give this method a go, we recommend using a 2-part epoxy and hardener kit to get the job done. I swear by this super affordable kit that adheres to any surface like a dream. The miniature tubes can easily squeeze into your trunk or toolbox for making emergency repairs on the go, too. 
Method 2 – Soldering
When most people think of "soldering," they probably picture a professional using one when working with electrical components and circuits. However, soldering guns are far more versatile than you may think, and can even be used to repair a cracked plastic gas tank. 
Before diving straight in with the heat gun, you'll need to get your hands on a piece of HDPE plastic. This is because it is a variety of plastic that is most similar to the one used in the construction of most plastic fuel tanks, so it behaves in the same way as the original.
Most PE plastic grades have excellent chemical resistance, meaning they are not attacked by strong acids or strong bases, and are resistant to gentle oxidants and reducing agents.
Drain the gas tank and thoroughly clean it both inside and out with soapy water. Lightly sand the area to be repaired around its perimeter.

Take a piece of HDPE plastic (detergent bottles are a great example of this) and cut it so that it is slightly larger than the size of the crack that is to be repaired. 

To make a trench, heat up an electric soldering gun and drag it around the edge of the fissure. To push the plastic back into the trench, move the soldering gun from side to side. Lay the plastic patch over the spot while the plastic is still soft from the soldering. Continue to move the soldering gun over the region to smooth it out and fuse the plastics together.

Finally, allow it to thoroughly cool and dry. Cover the entire patch with a two-part epoxy glue mixture. Allow to dry before sanding and applying a coat of plastic paint if desired.
Method 3 – Welding
While you'll be forgiven for believing that "welding" only refers to the joining together of two metals, did you know that it's possible to weld plastic too? That's right- thanks to the modern invention of plastic welders, it's now possible to weld plastic pretty much anywhere you go. 
However, it's important to note that the welding method is by far the most complicated and difficult on this list. Unless you're experienced with plastic welding or know of someone that is who can help you, we recommend giving the two other methods above a try first.
If using a plastic welder for the first time, practice before attempting to seal the plastic gas tank. A plastic welder is safe around gasoline and gasoline fumes, as it has a very high flash point. However, use common sense and do not use near open flames.
The rental store should be able to work with you to ensure that you have no problems. But if this is your last resort, here's how to do it.
Firstly, you'll need to get your hands on a plastic welder. You can either buy one outright or rent one. Unless you plan on doing lots of plastic welding, we recommend renting one out just to complete the repair. If buying a plastic welder, be sure to tell the salesperson what task you plan on doing so they can ensure that you buy the correct rods. 

Next, remove the vehicle's plastic gas tank and place it in a safe welding area. Allow the gasoline to drain from the tank and dry both inside and out. Wear safety glasses, a welding helmet, and welding gloves.

Fill in the crack or hole with a plastic welding rod manufactured specifically for this purpose. Begin at one edge and work your way around the opening. Then start crossing over the hole, allowing the rod to completely fill it in.

Allow the weld to cure before sanding it smooth and then sand the area down a bit and you should be able to tell if you left any pinholes in your repair job. If you need to touch any areas up, simply plug your welding iron back in and grab another welding rod. If desired, consider spray painting it with plastic spray paint.

Finally, finish up by replacing the plastic fuel tank on your vehicle. 
What type of plastic is used in fuel tanks?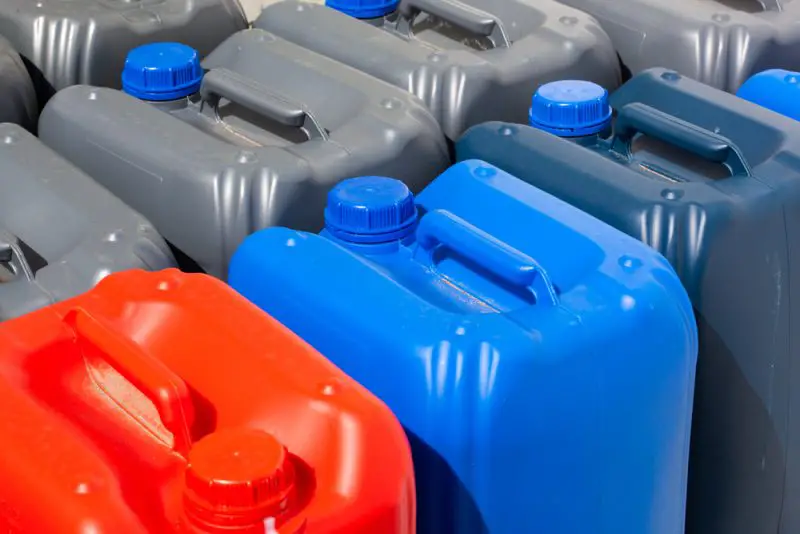 High-density polyethylene (HDPE) is the most common form of plastic used in fuel tanks, and it is molded via a process known as "blow molding." Polypropylene (PP), regrind plastic (recycled polyethylene), and potentially plastic adhesives are other plastics that may be found in gasoline tanks.
Many detergent bottles tend to be made out of HDPE plastic as detergents are chemically aggressive, so the thick and durable bottle prevents the degradation of the bottle, which in turn prevents leaks. These properties work great on a vehicle's fuel tank, too. 
Do I need to prepare the surface before fixing it?
Yes, you should always try to prepare the surface you're working on before making any repairs. When working on a cracked plastic gas tank, you should start by first locating the leak.
It can be a little tricky to find, especially if it's small. Consider wiping a clean towel around the outside of your gas tank to help to locate the leak. 
If the tank is really unclean or rusted, a small amount of brake cleaner will be required. Mark the location of the leak now that you've found it. The area around the leak must now be properly cleaned; ensure that it is clean for at least 3 to 4 inches surrounding the leak.
Clean the entire area you just marked off with sandpaper, ensuring sure it is clean all the way down to the bare metal surface.
Finally, use a cleaning solution to remove all of the dirt, and repeat this process a couple more times until you are satisfied that the area is clean.
Conclusion
A cracked plastic fuel tank is certainly an inconvenience, but it's not the end of the world. Using the steps and tips above, fixing your own fuel tank should be easy enough. Be sure to read the instructions carefully before deciding which method is the right one for you.
Alternatively, you can take your car to a mechanic who will make the repairs for you. However, this can be expensive, so it's best to give fixing it yourself a try first.