Ugh, water stains! Not quite as bad as squashed bugs, eggs, tar, or bird droppings sitting on your windshield. But don't take it quite so lightly.
Those little white spots from water stains are perfectly capable of building up on your side mirrors, windshield, and your rear glass, it makes it difficult for you to see, especially at night.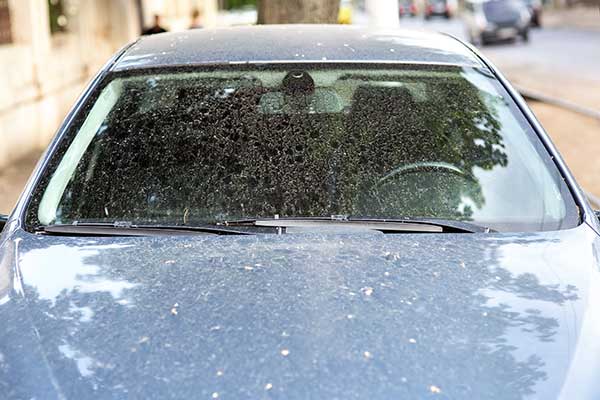 It gets worse and worse when it starts raining, and your wipers don't save the problem. So, how can you get rid of this annoying problem? What can you do to make your glass clean and clear? 
There is no magic answer, you can't wave a wand, or brew a potion that will get rid of these spots, wishing super hard won't get rid of these either. You have to physically take the issue with your own two hands. 
There is a process that you should follow, and you should know what you are doing before you take on this task.
Now, before we get into the multiple tactics to getting rid of these, let's have a look at what the different types of water stains are that can appear on your glass. 
Types of Water Stains
There are three primary types of water stains that you will have to deal with on car glass; regular, etched, and bonded minerals.
Let's have a look at what each one is. 
Regular Water Spots
The most common type of water spot that you will encounter is often formed when hard water leaves a mineral residue, which is most often calcium or magnesium, on your car surface.
The source of this could be from any water that hits your car; from a sprinkler, showers, car washes, or even rainwater. Its rather unavoidable really. 
Eventually as a result of this, the chalk-like deposits, or limescale will start to form, and before you even know it, the car glass and body are filled with those water spot and is starting to look like an automobile masquerading as a leopard. 
Etched Water Stains
When water spots are exposed to direct, hot sunlight, or any intense heat for a prolonged period of time it can start to engrave into the paint of the car. This is why you should remove water stains as soon as you possibly can before it becomes a bigger issue that takes a lot more effort and elbow grease to solve.
Although, severe etched water stains can be incredibly difficult, and highly costly to remove, you may have to use abrasive techniques such as wet sanding, or even taking your vehicle to a qualified professional to help you out with this problem. 
Bonded Minerals
Ready to use your imagination while we explain this one? Okay, so, somewhere not too far away there is a forest fire. The smoke emission from this forest fire rises into the clouds and mixes with the water droplets inside the clouds.
It doesn't have to be from a forest fire, it could be from anything really, vehicle exhaust pipes, smokes from industrial power plants, anything. The point is here, that it mixes with the rain and brings about problems. 
This dirty, smokey rain, then falls from the sky as one would expect from rain, only now it is an acidic rainwater, it falls onto the body and glass of your car. This acidic water is jam-packed with contaminants and bonded minerals that leave unpleasant water spots on your car. 
You need to take care of it with speed, do not be surprised if your water spots erode into the vehicles paint job, and turn your windows into something from a grungy horror movie. 
Now that we know all the types of water spots that you are likely to encounter, lets dive on it and explore the many techniques you can use to salvage water stains from your cars glass. 
Solutions: The Vinegar Method. 
As a majority of water spot deposits are alkaline in nature, acid is just what you need to neutralize them and make them flee.
Although, this method is much more useful when you are looking to remove fresh water spots. 
What do you need? 
White distilled vinegar. 

Spray bottle. 

Distilled water. 

Squeegee, a paper towel, or a dry towel. 

Rough towel. 
Step-by-Step Guide. 
Fill up the spray bottle with 50% distilled water, and 50% distilled vinegar. Shake the bottle for a few seconds after filling it to mix up the solution and get the sought after results.

Spray the solution onto the affected car glass with the objective being to saturate the water spots. Leave it for 1 to 2 minutes in order to let the vinegar soak. If you notice any area of the glass that are dirty with concentrated buildups of water spots then you can reapply the solution. 

Now, soak the rough towel in the solution until it is moist, then stretch it out over the parts of glass that you have sprayed prior. You can also place the rough moist towel over the glass for a moment or two to treat the water spots efficaciously. 

Now, scrub the windows and mirrors of your car gently, do not scrub aggressively with fire in your veins, doing so could leave scratches on your windshield, windows, side mirrors, or rear glass. The abrasive bumps on the rough towel you are using should be more than enough to remove the water stains from the car with even the lightest touch. 

If you have some more stubborn water stains that just do not want to cooperate, then let the solution stay on the glass for a little longer, you can repeatedly re-apply it if it dries out, just do not let the solution dry out on the surface. 

Use the squeegee, paper towel or a dry towel, to clean the vinegar/ water solution from the car glass. Be sure to ensure that the glass is wet before you begin to clean the solution off for those finishing touches. 
Solutions: The Homemade Method. 
While the water and vinegar solution is one that works well, there are other alternatives that work just as well as this, and some of these natural products can save you money.
There are a few that we will go over, the first is Lemon Juice or Essential Oils.
What do you need? 
To do any of these methods, you will need some items, to complete any of the following you will need; 
Fresh lemons.

Toothpaste.

Baking soda.

Vinegar. 

Essential Oils with a citrus formula. 

Distilled water. 

A sponge or towel. 

A brush. 
Step-by-Step Guide. 
The first solution we will look at is Lemon Juice/ Essential oils. 
To begin, press the lemons onto a hard surface before slicing it open. Rolling down the lemons will make it much easier to remove the juice. If you do not have lemons, you can use a citrus based essential oil, ones that have citrus formulas work well, such as lemon, or orange, or even grapefruit if you have one of those. 

Extract the juice from the lemons; use a squeezer if you have one, or just your hands. Once you have down this, put the juice into a spray bottle and mix it with some distilled water. If you are using an essential oil, mix this with water and also put it into your spray bottle. If you do not have a spray bottle on hand, you can also soak a towel in your solution. 

Spray this solution onto the glass, or use your towel to apply it. If you are feeling a little lazy, you could just squeeze the cut lemon onto the glass to extract the juice directly onto the surface. 

Give the lemon juice, essential oil, or solution a few minutes to soak into the glass. Then, before the solution dries, scrub the mirrors and windows gently, using a towel or sponge to clean. 

Before you finish up splash some plain distilled water onto the glass and give it a once over with a squeegee or paper towel to add those finishing touches. 
Be sure to avoid any bottled lemon juice. Fresh lemons are much more effective. 
Solution: The Homemade Paste (Toothpaste/ Vinegar and Baking Soda) 
Step-by-Step Guide. 
To use the toothpaste method or a vinegar and baking soda solution, you need to blend the paste with some water so that it is easier to apply, you don't want to waste any of this. 

Apply the solution to the glass and scrub it in gently using a towel, brush or sponge. Leave it to sit for a few minutes. 

Once it has sat for a few minutes, remove the paste from the glass using water and a squeegee. Remember to dry off the car and the glass completely afterwards. 
Solution: Fine Steel Wool. 
If you have tried to remove the water stains using lemon, vinegar, essential oils, toothpaste, and a baking soda/ vinegar solution, but you still are not yielding any results to your satisfaction, then there are still a few things you can do to combat this annoying problem. Fine Steel Wool could be your savior, and it is meant for etched water stains that are hard to remove. 
What do you need? 
Fine grade steel wool, we recommend grade 0000. 

Glass cleaner, rubbing alcohol, distilled water, or vinegar. 
Step-by-Step Guide.
Prepare your homemade glass cleaning solution by mixing distilled water and a rubbing alcohol in equal measures. Then for each one cup of rubbing alcohol and water that you add you should also add a tablespoon of vinegar. Once mixed, put your homemade glass cleaner solution into a spray bottle. 

Now, apply the glass cleaner to windshield, your side mirrors, and your rear window. Let the glass cleaner soak into the glass for a few minutes.

Then, while the glass is still wet, gentle wipe off the water stains using a fine steel wool. Ensure that the fine steel well is grade 0000, if it is any more than this it will scratch your glass and make all your problems even worse. 

Using a squeegee, sponge, or a paper towel clean the windows and finish. 
If you are worried about the fine steel wool leaving any scratch marks on your window, you can always give it a test run before you apply it to the glass. 
Solution: The Clay Bar. 
Have you ever heard of the clay method? No? Well, apparently you can actually use a clay bar treatment to remove regular water spots!
Although, this is not an ideal option if you are seeking to remove bonded mineral deposits.
What do you need? 
A detailing clay bar. 

Clay lubricant. 

A microfiber towel. 

A spray bottle.
Step-by-Step Guide.
Apply the clay lubricant to the stained car glass using a spray bottle. Lubricating the glass needs to be done as it will prevent scratches when you make use of the clay bar.

Move the detailing clay bar over the stained-glass area without putting too much pressure on it. Rub the clay bar softly over the cars glass unit it moves without effort, not sticking to the surface. Be sure to cover the corners and hidden spots of the car windshield, and of course, the windows. 

Finish up by rubbing the car glass with a clean and dry microfiber towel. 
If the clay bar gets dirty while rubbing, you can fold it and utilize the clean side, or use a different clay bar. The flexibility of clay bars comes in useful here. 
Special Cleaning Products. 
Similarly, there are plenty of products that are specially made to remove water stains from the glass of your car. You will likely need a sponge, towel, or squeegee after applying these special cleaning products.
It is still recommended following instructions on the individual product labels though, as they know what they are talking about.
Preventing Water Stains. 
With anything, prevention is always better than a cure. There are a few things that you can do in order to prevent water stains from taking over your car windows, windshield, and your mirrors. 
Be cautious of where you park. Whenever you park your car, be careful to find a spot in which your vehicle will not be exposed to any potential hard water. A good idea of what we mean is that if you want to avoid acidic rain that is filled with bonded mineral residues, then the best place to park your vehicle is in an enclosed vehicle. 

Don't forget to wash! And not just yourself. Water stains can overwhelm you car windows after your car has been neglected or abandoned. If you wash your car regularly and spray the windows with a vinegar solution at least once a week, you will be unlikely to have a water stain issue. 

Treat your car glass with a water repellant. There are a few water repellant products that you can use to act as a buffer and prevent water stains from forming. Make sure that these repellents are make specifically for car windows though. 

And most of all, do not air dry it! 
Now you know what causes water stains, how to prevent them and how to tackle them.
Try out our many suggested methods when you come across a stain, and keep your car looking amazingly shiny!