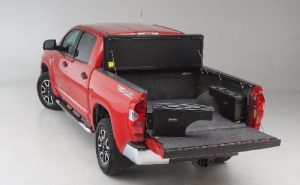 If you're a truck owner, then chances are you have a bed liner installed. It allows you to securely store your cargo (or other items) and keeps your truck safe from scratches.
However, a bed liner goes only so far in storing your stuff. For smaller items e.g., tools and equipment, what you need is the best low profile truck tool box for yourself, whatever the purpose of your truck. And if you wanna keep your stuff safe, then the tool box you buy should have a low-profile design.
With so many options on the market, it can be difficult to choose. Well, we've got you covered on that, along with answers to your most pressing questions. Let's get started.
5 Best Low Profile Truck Tool Box Reviews
After much research, analysis, and discussion, we now present our top picks of truck bed toolboxes. So without any further ado, let's jump right into the reviews.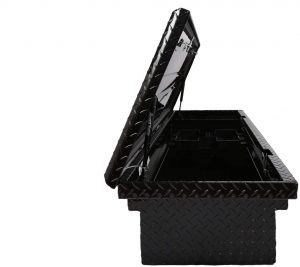 Our first pick is from Dee Zee, a company known for its dedication to making truck accessories for all kinds of people. The DZ8170LB crossover tool box from this brand is undoubtedly one of its more impressive feats. Built from extremely hardy and durable Brite-Tread aluminum, this thing is built to hold its own against corrosion and rust, with a little help from its gloss-black protective powder coating, which also guards against oxidation.
The lockable paddle handle latches on this thing, on the other hand, are made from industry grade stainless steel. Together with the dual V-pan lid stiffener, it accounts for the durability of the product. Furthermore, the box is outfitted with internal bends, which, combined with its 3-piece body, also increase the overall strength of the box.
Overall, with sturdy construction and functional features, this one is a good first pick for those looking for a crossover tool box. According to some users, however, durability might be a concern, especially given the price—so you might wanna keep reading.
Pros
Extremely easy to install thanks to crossover design
The aluminum body is durably built with stainless steel parts
Huge storage space
Foam gasket guards against harmful externalities
Cons
Might be considered too expensive for the quality level
---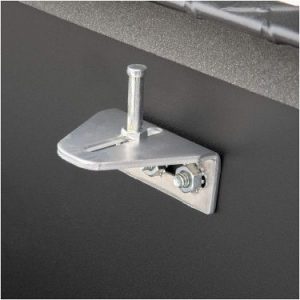 The next truck toolbox on our list also comes in the crossover design. With its durable construction and matte black body, this thing is not only ideal for storing your stuff but doing it discreetly. Why do we love crossover toolboxes so much, you ask? Now, one of the main complaints against bed liner tool boxes is that they take up too much space.
Now, not only does this toolbox from UWS leave space beneath for any cargo you might want to carry, but it also comes with a rail on the lid that allows you to securely tie down any cargo. Yep, that's how strong the lid is. And it should be, given that it's made from thick, sturdy 0.058-inch diamond-plate aluminum, which is recognized for its sturdiness and longevity.
We also love the RigidCore foam-filled lid, which not only actively resists warping/denting, but allows for smooth opening and closing motions. Furthermore, the toolbox includes secure dual-locking handles with an interior connecting rod. All in all, a strong and dependable toolbox and certainly among the best truck tool boxes.
Pros
Made to fit the measurements of the vast majority of trucks
In-built tool trays allow for convenient organization
Included lid rail allows you to secure cargo to the top of the toolbox
Storage space is sufficient
Cons
The included J-hooks are somewhat weak
---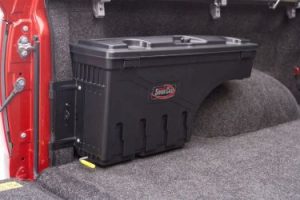 Having started out 20 years ago as one-piece truck cover manufacturers, the brand Undercover is now much more diverse in its production, bringing us innovative products like this compact and sturdy low profile side mount tool box. It's an affordable solution for those who aren't willing to sacrifice precious truck bed space or don't require a lot of space.
In fact, the SC100D is undoubtedly one of the most unique truck toolboxes we've seen. For starters, it can be accessed simply by pulling a release lever; it will spring out smoothly and easily from its stationary position.
Furthermore, this truck bed toolbox allows you full access to your truck bed, which is a huge plus. Although the low profile truck bed tool box might be too small for some, it's worth noting that it has a weight capacity of 75 pounds, and also comes with organizational compartments.
So how does this toolbox manage to be so mobile and nifty? Well, for that, it has its ABS plastic construction to thank. This also makes the box super easy to install or remove.
Pros
Easy to install and take out when needed
Compatible with both passenger- and driver-side placement
Secure Twist-lock can be accessed with or without key
Can be easily mounted on bed rail
Affordable price tag and good latches
Cons
The box's long-term durability isn't promised
---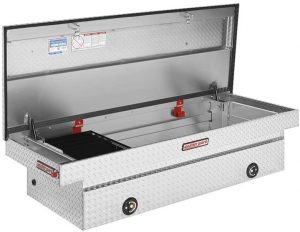 The 117502 from Weather Guard is a saddle-style low profile tool box with a lot to offer. Before going forward, though, it's important to note that this is a pretty expensive model, so if you're on a budget, consider skipping this review.
Measuring 101 cubic feet, this toolbox is undoubtedly very large, with an extremely durably built body. It comes with a registered Extreme Protection lock and, thanks to the 90-degree cover opening, accessing the contents of your toolbox is super easy.
That's something anyone looking for lots of space to store their stuff is going to appreciate. Of course, this means you'll be giving up a lot of truck bed space, but thanks to this box's crossover/saddle design, you do have some space underneath you can utilize.
Overall, this truck box is undoubtedly one of the most premium options out there in the realm of truck toolboxes. But if it's important for you to keep your things safe, then this is definitely a worthy investment.
Pros
Armor-Tuf black powder coat finish adds a layer of protection
Measures 101 cubic feet with space for all your essentials
90-degree cover opening offers easy access
Has a weather seal
Great lid design and durable hinges
Cons
Delivery might arrive with some denting
---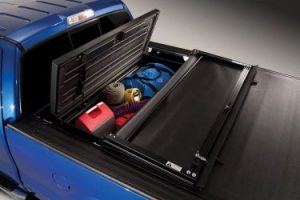 Available from Truxedo, the TonneauMate is one of the best truck storages we have come across. While it might be a little too expensive for some, it's a good investment, even for those on a budget.
We say that mainly because of this toolbox's almost completely universal design. This allows it to fit easily into the vast majority of vehicles (unless you have a stepside, flareside, or composite bed).
Its heavy-duty construction allows the pickup truck toolbox to easily support heavy weight. The top lid of the box is centrally aligned, and it has the ability to lock itself when closed.
The innovative design of the box was also an important consideration when we selected it for our list. The mounting system is made flexible, which allows it to be installed in the front, back, or center, with ease.
All of that being said, we wouldn't recommend this toolbox to those who are not already using a Truxedo cover. This box might be a little difficult to cooperate with other manufacturers' covers.
Pros
Sturdy construction using high quality, hard-wearing materials
Versatile design allows for easy installation
Leaves space for you to store essentials beneath
Great wheel wells
Amazing cargo capacity
Sturdy hinges
Cons
Not fully compatible with non-Truxedo brand covers
---
Buying Guide For Low Profile Truck Tool Boxes
If you keep the following factors in mind, choosing one out of the hundreds of low profile tool boxes for trucks on the market will be easier. So, let's find the best truck tool box for you.
Construction Material
A truck tool box might be made from one of three materials: aluminum, stainless steel, and steel. Let's look at each in turn.
The most common choice for the construction of truck tool boxes, aluminum is preferred mainly for its durability and toughness. Most truck tool boxes are made from bent-sheet aluminum with an embossed diamond plate pattern. The aluminum construction is quite an affordable choice, and it looks good as an addition to your truck bed.
Although a less common choice than aluminum, stainless steel definitely has its benefits. It's a rigid and tough material, and resistant to corrosion and rust. It can be quite expensive, however, and might be prone to rusting in humid climates.
Steel is recommended for those who will be carrying heavy-duty items in their toolbox, as it can put up with long-wear deprecation. Steel tool boxes usually come with a protective powder coating to guard against rust. However, depending on the coating quality, it might be compromised by scratches or exposure to moist climate conditions. If you browse online, you'll see most of the best tool boxes for trucks reviews will emphasize on steel. Apart from tool boxes, it's also wise to get heavy-duty nissan altima brake pads, and A1 standard range active fuel management disable device.
Security
A truck tool box is only as good as its ability to safely guard your equipment against potential theft and from experienced thieves. A good truck tool box has thick, sturdy walls that are able to withstand breaches. Also, a good locking system is a must.
Make sure that your chosen tool box has a secure locking mechanism, and that the lid sits flush with the truck's body. This makes it improbable that a thief will be able to break in using a crowbar.
Types of Truck Tool Boxes
There are 3 main kinds of truck tool boxes of different sizes. Below, we'll talk about them to help you find the best crossover toolbox.
The most common type of truck tool box, spanning from one end of the bed to the other. It is so named because it straddles the bed, floating above the floor. While most come with one lid, two-lid variations are also available. Our first product on the list is one of the best crossover tool boxes out there. So, if you are a truck owner, you can. give it a try.
As the name suggests, this kind of toolbox is affixed lengthwise to your truck bed, giving you easy access to the bed rails center. So if your tools are longer or require more space, the side-mount tool box is ideal.
This one looks like it sounds: it's like a large tool box; basically, that sits flush with the sidewalls of your truck bed. Because chests sit directly on the floor, though, they lessen the overall amount of space available on your truck bed. You can keep your jumper cables in it.
Other Features
Features like an adjustable tray, retractable locks, gas lift, weather resistance, gas shocks, and level holder can be really helpful any mechanic working on job site. Also, compatibility is important as well. make sure, the low profile truck tool box is compatible with the truck models before purchasing.
How to Setup a Truck Tool Box Without Drilling
Here, we'll walk you through the entire process of setting up a truck tool box without any sort of drilling. If the setup isn't right, even the best truck tool chest won't be of much use.
Step 1: Determine the Placement
The first thing is to find the right place in which to position your toolbox: side, front, or corner. Consider the opening of the lid and your truck bed's measurements.  You might also consider the type of light truck tires you are using.
Step 2: Install the Foam Padding
To prevent your toolbox from damaging your truck bed, it should be installed on some foam padding. Make sure to take accurate measurements before you do this.
Step 3: Anchoring the Toolbox
For this, you'll first have to ensure tonneau compatibility, or ascertain whether the toolbox has holes for bolts and nuts. In the case of metal toolboxes, you'll most likely be using a J-bolt, which attaches to the holes.
Step 4: Check Your Installation
To ensure that your toolbox has been installed properly, start by opening and closing its lid. If you can do this efficiently without upsetting the set-up or experiencing vibrations, you're good to go.
How to Install Truck Tool Box with Bed Liner
Below we're going to detail the step-by-step process.
Step 1: Gather Your Tools
You will need a pair of pliers, a screwdriver, screws, nuts, a spanner, bolts, and a measuring tape.
Step 2: Take Measurements
Measure both the space available in your truck bed and the size of the toolbox.
Step 3: Decide the Placement
Where would you like your toolbox to be placed? Center, front, or side? Your earlier measurements earlier will also help you answer these questions.
Step 4: Align the Toolbox
The bottom of your truck bed comes with some holes, usually blocked with rubber plugs. Take them out and join the toolbox's bottom to the holes.
Step 5: Fit Your J-Hooks
Now you have to screw the bolts. Usually, no more than 4 to 6 bolts are required.
Step 6: Tighten the Toolbox
Tighten all nuts and bolts to ensure that your box has a secure fit. Don't apply too much force while tightening.
Read more: best cam for 350 chevy truck
Read more: best transmission for 383 stroker
Frequently Asked Questions For Low Profile Truck Tool Boxes
Q: Should I go for a saddle, chest, or side-mount truck tool box?
This depends on your needs. If you prioritize having space in your truck bed, go for a saddle. If you have large tools/equipment, consider the chest or side-mount.
Q: What features should I look for when buying a truck tool box?
Remember to look out for weatherproof protection on the body of your tool box. It should also come with a good quality lock and smooth lid.
Q: What is the best construction material for a truck tool box?
Out of steel, aluminum, and plastic, the right one depends on your needs. Durability and sturdiness are the strong points of the former two, while the latter is ideal for portability.
Q: What sizes are available for truck tool boxes?
Although the width of tool boxes is mostly the same—enough to fit inside the truck bed—you can choose from different lengths and depths.
Q: How much do low profile truck tool boxes cost?
It's a pretty wide range: they can cost from anywhere to $100 to above $500! The more durable it is or, the more features the box has (e.g., organization compartments), the more expensive.
Final Words
And that concludes our look at some great toolboxes. When it comes to choosing the best low profile truck tool box, always remember to keep in mind the construction material, security options, size, and ease of installation. And also, to check the top lug nuts on the market, check this article that we wrote recently.
Good luck, and may your equipment stay in great shape for years to come!