If a light comes on your dashboard, then it is highly likely that something has gone wrong or needs to be serviced.
However, there are times when this is not the case, and the light comes on anyway. There are actually a few reasons why your traction control light has come on, and we are going to explain some of these things in this article.
Some of these causes may be more common than others, but there are some ways to tell when something is working as it should, or if you have a real problem. In order for you to be able to tell the difference, you will need to know what the problem is.
In this article, we are going to tell you everything that you need to know about traction control, what it does, and why the light might be coming on. Identifying the cause of the problem will help you find the solution.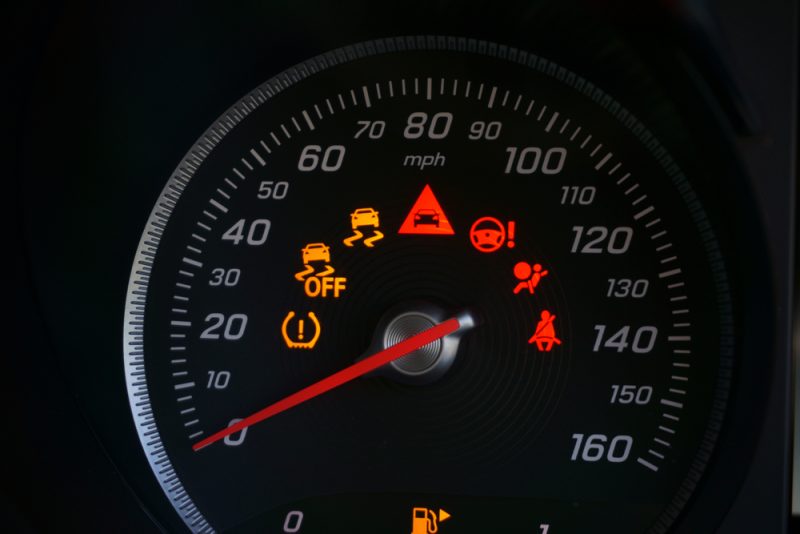 What is Traction Control?
Traction control first came around in the early 1970s on rear-wheel-drive performance cars. However, they made their way into the mainstream market in the late 1980s, and it later became mandatory on all passenger vehicles.
Traction control is a standard feature that is included as part of the stability system of a vehicle, and it works through a wheel speed sensor. When one loses traction, it will alert the system that it is spinning too fast. The system will respond by either limiting the power to that wheel or by applying brakes to it.
Something else that traction control is able to do is it will work to keep your car facing straight. This will stop you from spinning sideways. As with many other safety systems, traction control will have a warning light that will briefly appear when the car is started. This light will then disappear, and this indicates that the system is fully operational.
If the light does not go out, and it stays on permanently once the car has started, then you have a slight problem. There could be lots of reasons why this has occurred, and we will help you get to the bottom of things further on.
Can I Drive With The Traction Control Warning Light On?
When you turn the key in the ignition, the traction control warning light should come on for around 1 to 2 seconds, and then it should turn off as the vehicle starts.
In the event that the light does not go out, it either means that your system has been deactivated, or that another problem has occurred. If this is the case for you, then you will need to find out what the problem is before you drive.
Should I Ever Turn it Off?
It is not recommended to turn off traction control on your vehicle when you are driving in normal conditions as this system is in place for good reason. Even if you are a great driver, the traction control system will work to prevent a loss of control much faster than you would be able to.
However, if you are driving in certain conditions, like in snow, ice, or mud, then it could be advisable to disable the traction control system.
When you are driving in these conditions, the grip of the tires will be restricted, and they might not be able to work as they should.
The wheels can often lose traction, and if the traction system keeps detecting this, then it will keep reducing the power which will leave the car with much less momentum.
This can actually make it even more difficult to drive in these conditions, so you may be able to disable the system. However, you should always be really vigilant and careful when driving in these conditions, just in case.
Why is the Traction Control Light Turning On?
There are a few different reasons why your traction control lights are turning on, and we are going to explain some of them below. Hopefully, this will help you to get to the bottom of your problem.
Bad Wheel Speed Sensors
The wheel speed sensors are connected to the traction control system and engine control unit. These are the sensors that are responsible for detecting the speed that your wheels are rotating, and each wheel will have its own sensor.
If the speed of the rotation of any of your wheels changes suddenly or unusually as you accelerate, then the wheel speed sensor should detect the change and notify the traction control system.
However, if the wheel speed sensors are not working as they should, then the traction control system may not be notified. The vehicle can then start to lose traction, which results in the traction control light coming on.
If the wheel speed sensor is faulty, it can also cause your ABS or brake light to come on as well.
Faulty Steering Angle Sensor
The steering angle sensor will calculate the angle of the steering wheel and the rate that it is being turned. The sensor will be positioned in the steering column so that it will be able to track the angle and rate with precision.
More often than not, this sensor will be used by the stability control system so that it can detect the direction that the driver intends to go in.
If the sensor is not working, then it is likely that the traction control light will come on. You might even notice that there are additional stability control issues with a faulty clock spring.
Bad Road Conditions
If the conditions that you are driving in are particularly bad, then the traction control system might not be able to cope with it. If you are driving in snowy or icy conditions, it can make the road very difficult to maintain traction on.
If the traction becomes too difficult to manage, then the traction control light might come on the dashboard. This light is likely to stay on until you reach roads that are in better condition.
If you live in an area where bad driving conditions are really common, then you might want to consider investing in some winter tires, as these are much better for driving in tricky conditions.
Programming Issues
Though it is more unlikely, it could be possible that the traction control system might have issues with its programming.
These errors can sometimes occur over time, or they could be due to a manufacturing fault. If the system is faulty, it could result in the light staying on permanently.