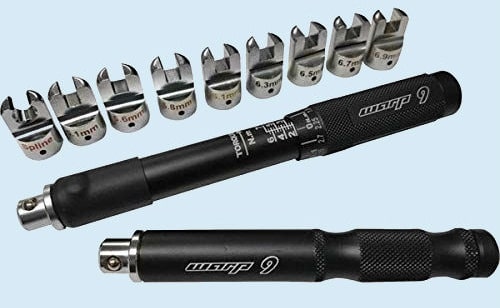 If you have a motorcycle and you love repairing it on your own, you need to get the best spoke torque wrench for the job. This will save you a lot of money in future, money that you would have used to pay a professional to fix your bike.
If you are a dirt biking enthusiast, you know how irresistible the trails are. However, they also cause plenty of damage to your bike wheels.  Hitting bumps, boulders and logs will misalign the spokes. You will need a bike spoke tightening tool to re-torque them.
And a spoke torque wrench is primarily meant for the repair and maintenance of motorcycle spokes. Thus, in accompaniment to the regular torque wrench, you must buy a high-quality motorcycle spoke torque wrench.
Here is our top 5 spoke torque wrench. You can choose any model out of this 5 and get the best value.
| Image | Model | Speciality | Range | Price |
| --- | --- | --- | --- | --- |
| | Excel TWS-210ANS Adjustable Set | Best Overall | 15-60 inch-lb | Check on Amazon |
| | Warp 9 Adjustable Torque Spoke Wrench Kit | Runner's Up | 0 to 62in-lb | Check on Amazon |
| | Tusk Spoke Torque Wrench Kit | Best for Durability | 30 to 150 inch lbs. | Check on Amazon |
| | Pit Posse Adjustable Spoke Torque Wrench | Best Budget Pick | 18-62 lbs. | Check on Amazon |
| | Pit Posse Spoke Torque Wrench Key | Best for Adjustability | 30-150 lb in. | Check on Amazon |
Top 5 Best Spoke Torque Wrench Reviews
Most of the time, all that you want is easy to use spoke torque wrench for your bike. For that, you can get the excel wrench, which helps get all the guesswork out of the picture and preserve both the life of your spokes and rims.
There are five high quality, drop-forged heads that will work on most of the spokes.
This torque wrench has a high accuracy rating of +/-2 percent. The adjustability range is a bit too high as it starts at 30 inch-pounds to 150 inch-pounds.
While many bikes require a torque value of 40 to 50 inch-pounds, well, having a longer range especially in the lower side always helps.
Sold with a high-quality case for traveling and storage, when you are done using this wrench, just wipe everything especially if you were working on your dirt bike.
That is all the maintenance that is required with this kit. The spline heads are great for your dirt bike, scooter, city cruiser bike or any other bike apart from a bicycle. Just refer to the wheel manufacturer's guide for the correct spoke torque to set.
Pros
Made of high quality material.
Adjustable spoke wrench helps you to save time when torquing your bike spokes.
Good for five of the most common spoke nipples
Long lasting with minimal maintenance.
Cons
The heads skip some pieces such as 6.4 and 6.5 mm, which some bikes still use.
This spoke torque wrench inspires a lot of confidence especially as it comes from a great brand – Warp 9 Racing. This is a major manufacturer of aftermarket bike wheels. Thus, when they make a torque wrench for bikes, you can trust them to know their business.
Just so you can see the resourcefulness that has gone into making this tool, it even has rubber protectors that keep the spokes from being scratched when you are tightening them. To its credit, this set comes with 9 heads, made of top-notch material. It is certainly more than the other sets that we have reviewed here.
High accuracy rating is assured. It is between +/-2% or +/-3%. This is something that you can verify with a regular torque wrench.
The knurled handle is easy to hold, and it is comfortable in your hands. You can work on it for a long time without feeling too fatigued. Anyway, this spoke wrench shortens the time for tightening your spokes. To keep all of your heads organized, it comes with a high-quality case for storage and portability.
Pros
Has more pieces than most other sets and costs almost a similar price.
Case keeps everything organized.
Set included everything you might need for different nipple sizes.
Comes with a non-torque wrench.
Cons
Misses some numbers, which you may not need, but who knows?
If you are from a family of dirt bike enthusiasts, you will want to get a model that is universal in style, that is, it can be used on all types of motorbikes.
Having tested the Pit Posse Universal Spoke Torque wrench, we can confidently say that they do not come any better than this. First, it has 10 heads that can be used on just about any spokes.
It also has a handle that is comfortable on your hands for long hours of use. The handle is rugged in design, and is quite durable. With a torque adjustment range of between 18 and 62 inch-pounds, you can see that the torque setting allows you to use this tool on low torque spokes.
You can get the guesswork out of the picture and torque your bike wheels just right for excellent performance. With an accuracy rating of +/-2 percent, you will find it enough for setting your wheels just right.
The sizes of the heads are enough for use across different spoke sizes. For a biking family, you will need a motorcycle spoke wrench that cuts across the board, like this one. However, we are not sure whether it can serve as a bicycle spoke torque wrench.
Pros
High quality storage and transport case included.
Has a nice handle for the spoke wrench – makes it easier to use.
Helps you torque your spokes and keep your bike wheels true.
Cons
For bikes that need sizes like 6.4 mm, it is missing.
If you have an all terrain vehicle (ATV), a dirt bike, a street cruiser bike, regular motorcycle, scooter or snowmobile, you need a reliable motorcycle spoke torque wrench.
The Pit Posse wrench key will meet all of your torque needs for your bike's wheels. With this kit for your wheel care, you get to give your wheels the kind of care that they would get in the factory.
The torque adjustment range is quite wide. It is between 30 inch-pounds and 150 inch-pounds. This is quite ok because the torque rating for most bike spikes is between 40 inch-pounds and 50 inch-pounds. It also comes with a spline head that is going to be used on almost all bikes.
There are 10 heads starting at 5.1, 5.8 and 6.0 to 6.9 mm. Everything is put in an A1 standard storage case so you will not lose the heads.
Having used this torque wrench when it was new, we found the accuracy to be good. However, it is always a good idea to compare it to the standard style torque wrench so that you are assured of the torque accuracy.
With a click mechanism, you will know when you have attained the set torque value.
Pros
Good for all types of bikes, including off-roaders.
Has a head for almost every kind of spoke to ever come out of the factory.
Easy to use even for first-time users.
Cons
Torque range is too high, a lower value would have been better.
If a spoke torque wrench will set you back a tidy sum of more than $100, well, it had better be good! The first thing to note here is the quality.
The handle is made of aluminum, which makes it light in weight and at the same time, it is quite durable. The heads are made of drop-forged steel for durability. Even with regular use, this kit should last you a long time.
The most important thing when tightening the spokes of a bike is to do it identically. This tusk spoke torque wrench helps you do just that. However, you should start by torquing all the spokes equally by small increments.
That way, you will not tighten the rim on one side too much. For identical torque application on all spokes, you need a reliable torque wrench like the Excel TWS 210ANS.
The torque adjustment range is 18 to 60 inch-pounds, quite a nice range for motorbikes since most spokes have a torque value of 40 to 50 inch-pounds. You also get 5 heads of the common sizes such as 6.1 mm to 6.7 mm. You may also buy any extra heads that you may want starting from 5.1 mm to 6.9 mm. The spline drive head is also included. It is simple to use and will help you make quick torque adjustments.
When you have reached the maximum torque, there is a click to war you not to over-torque.
Pros
So easy to use, readings are etched on the body.
Strong storage and transport case.
Good accuracy rating for the torque at +/-2 percent.
Cons
Sold without the torque wrench handle.
Benefits of Using the Best Spoke Wrench
Here, we'll talk about the numerous benefits of having a spoke wrench kit.
You Get Maximum Torque Rating
Definitely, a motorcycle spoke torque wrench will not require as high torque rating as a car or truck wheel lug. It can be hard to say the minimum and maximum torque rating for motorcycle spokes because this depends on the manufacturer as well as spokes. However, a torque range of between 20 inch-pounds and 60 inch-pounds should meet your needs for different bikes.
It does not matter whether a torque wrench is used on a semi or it is a bicycle spoke torque wrench – accuracy is paramount. We discuss accuracy for spoke torque wrenches in detail later.
Great for Dirt Bikes 
The performance of a KTM spoke torque wrench matters really a lot. The reason for this is that the wheels of a dirt bike, for example, are the most neglected parts. Because a dirt bike is made to be used in the dirt, specks of dirt always get in the threads of the spokes. This eventually throws the torque off. This is why every person who has a dirt bike must have a spoke wrench set because they will need to retorque their spokes every now and then.
When talking about the performance, it helps you to keep your bike in factory condition, well, for almost all of the time. When using it, you just need to tighten until you hear a click and then you can stop. That way, you cannot over-torque and damage your spokes. You also cannot under torque, something that would keep the wheels out of alignment.
Remove the Guesswork Out of the Picture
Using a dirt bike spoke torque wrench removes the guesswork out of the picture. All that you need is the service manual for the bike, so that you can see the recommended torque for the spokes. That way, you can set the torque wrench to the required value so that there is no room for error.
When you use your hands to tighten the spokes, you could be messing up your bike big time. For example, when you make the spokes too tight, you will end up ruining the rim, and you will make it pull out of its round. Instead of using your hands to estimate how much tightening is needed, just get the right dirt bike spoke wrench and eliminate all room for error.
You should never use the tighten-and-tap method, you know, where you tighten the spokes and tap to listen to the ring so you can know whether you have tightened enough. Just how correct can your ears be? Numbers are better; they do not lie. With a torque wrench for spokes, once you have tightened to the set torque, it will click and so you can stop.
It Daves you a Lot of Time
Just imagine having to tighten a bit, tap and listen, decide that it is not tight enough and have another go at it. You would waste too much time especially if you are fastening the spokes of both wheels. However, the right torque spoke wrench takes care of this pretty fast.
All you need to do is set the torque value, crank it up and then start tightening. In a fraction of the time you would have used with the other Stone Age methods, you will be done tightening the spokes, to the correct torque too.
You Don't Have to Remove the Wheel from the Bike
While tightening bike spokes is an intricate job, you will be happy that you do not have to get the wheel off the bike. That is right; you get to work on the wheel while it is still fixed on the bike. While some spokes will be stubborn and will not tighten up initially, just skip them. Torque the spokes that tighten up and by the time you are finished, you will find that even the stubborn ones will have tightened up.
Don't keep cranking the spokes when they look too loose. When you tighten loose spokes too much, they could thread their way to pierce your tubes.
It is best not to ride on loose spokes without tightening them. Thus, you should check the recommendation of the wheel manufacturer. Dirt bikes may need torquing more often than road bikes. The same applies to mountain bikes and road bikes.
Buying Guide for Spoke Torque Wrench
Below, we are going to shed light on the factors that will help you to find the best spoke wrench out there.
Build Quality
When looking for a dirt bike torque wrench, you will find that many come with heat-treated steel heads and aluminum handles. Such a high quality build ensures that your wrench is going to withstand all the abuse that it will get when you are working on your dirt bike.
Some are made of all steel. It is coated with nitric oxide to make it corrosion-resistant. When looking for a bicycle spoke torque wrench though, do not be surprised if you find one that is made of plastic.
Head Sizes
In a spoke torque wrench, the heads are everything. In fact, the more heads you can find in the package that you are buying the better. Some are sold with 5 pieces, are with 6 pieces and yet others are sold with up to 22 heads. The head sizes typically start at 6.1 mm, 6.3 mm and so on. There may be small differences depending on the manufacturer.
Another thing, make sure that you can find replacement heads easily in the market. This is vital if you should lose or damage some of what you buy. This is why many dirt bike owners prefer to buy from the well-established brand names.
Price
Bike tools can be costly to buy so you want to check the cost of different models. Some are quite cheap, and some cost a lot of money. There is a spoke tension wrench for your budget. To be fair though, for a good set of spoke wrench, expect to pay anywhere from $80, at least for a piece with 5 heads. Included in the package should be the storage and travel case. Make sure it is a high quality one.
Accuracy
The reason why we do buy torque wrenches and avoid non-torque wrenches is accuracy. However, science has proven that it is hard to have a torque wrench that is 100 percent accurate. However, for your spoke torquing wrenches, accuracy rating of +/-2 percent would be great.
While still on accuracy rating, you should know how to use the spoke wrench just right to enhance accuracy. It is recommended that you torque all the spokes by small increment, rather than torque them one by one fully.
What we mean here is that you should tighten the first spoke by a little bit, move on to the next one until you have done them all. You will then have to repeat, tightening further by a small increment to the recommended torque.
Torque Range
This depends on the product. Some come with torque ranges of 15 to 60 inch-pounds. Others even start at 30 inches-pound to 150 inch-pound. Let us just say there is no standard range, but the wider the range the better. It should also be easy to adjust the torque range. However, before you do so, check the manufacturer-rated torque for the spokes of your city cruiser or dirt bike.
FAQs for Spoke Torque Wrench
1. How can I adjust the torque values of a spoke torque wrench?
Towards the bottom of the torque wrench, you will find an adjustment knob. In many models, it is knurled so you can recognize it easily. You will also find a scale etched into the body, usually in metric measuring units. Just turn the knurled knob clockwise or anticlockwise to align it with the hash marks. When you are finished, return the torque value to zero so that you can preserve the torque settings.
2. What is the best way to use a spoke torque wrench for the best effect?
It is recommended that you torque the spokes one by one, little by little instead of torquing one spoke to the full torque value before moving to the next one. That way, you will torque the spokes identically without tightening the rim on one side too much.
3. Can I use the spoke torque wrench to true a wheel?
When torquing the spokes, you will not need to take the wheel off the bike or even remove the tire. However, when you want to true a bike wheel, it has to come off first. After truing it, you can then use a tusk torque spoke wrench for the spokes.
4. Which spoke wrench is better between adjustable and preset?
Either of them good, if it is going to meet your needs. When you have big and small dirt bikes at home, it would be better to get an adjustable dirt bike spoke torque wrench. That way, you can buy just one set to use on all bikes than buying a set for every bike.
A preset spoke torque wrench is also good, especially for people that own just one bike. In this case, the torque will be preset in the factory to any value between 10 inch-pounds and 100 inch-pounds.
5. how to true a dirt bike wheel?
The process is pretty easy. Watch this video to learn how to tighten spokes on a dirt bike.
Final Verdict
If you own a motorcycle of any sort, or an all terrain vehicle, you are going to need a motorcycle spoke torque wrench to torque the spokes for the best riding experience. If you torque the spokes in good time, you may not even have to true the wheel. We have brought you reviews for tested and proven adjustable and pre-set spoke torque wrenches. They will help you keep your bike in top-notch condition. They also last a long time, so you should not worry about durability.  You can choose any set with confidence and you will get good value for the money.