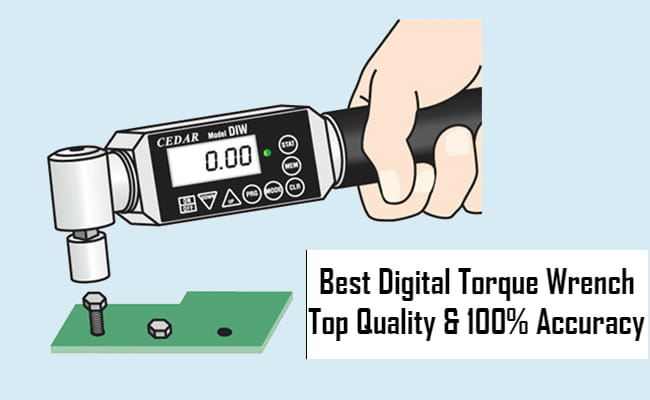 When getting just the right amount of tension for the bolts is a priority,  you'll want to have the best digital torque wrench with you.
And with parts on most mechanical products being more delicate in nature, you have to be really careful while choosing an electric torque wrench.
It is, however, not easy to get a top-quality wrench especially the digital ones. There are quite a lot of brands out there and it's difficult to tell which one is really the best and this is where we come in.
To help you out, we are gonna have a look at 5 of the top electrical torque wrenches and also shed some light on the key features you'll want to consider before you choose the ideal wrench. Let's get started.
5 Best Digital Torque Wrenches Reviews
| Image | Name | Speciality | Size & Range | Details |
| --- | --- | --- | --- | --- |
| | ACDelco Tools | Best Overall | 1/2" (12.5 – 250.7 ft-lbs) | Check Price on Amazon |
| | GEARWRENCH 85077 | Most Versatile | 1/2" (25.1-250.8 Ft. Lbs) | Check Price on Amazon |
| | ACDelco ARM601-4 | Best for Accuracy | 1/2" (4 to 99 ft-lbs.) | Check Price on Amazon |
| | ACDelco ARM601-3 | Budget Option | 3/8" (2 to 37 ft-lbs.) | Check Price on Amazon |
| | Craftsman Dr. Digi-click | Best for Value | 3/8 (5-80 Ft. Lbs) | Check Price on Amazon |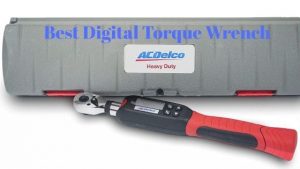 1. ACDelco Tools ARM303-4A Electronic Digital Torque Wrench
Starting off our digital wrench reviews is the ACDelco ARM303. It's got an outstanding level of accuracy, the best alerts and is amazingly versatile. Below we're gonna inspect the tool in detail.
An LCD backlight display
It is expected that the display, especially at this price range be at it's best and I've got to say, the ARM303 does not disappoint at all.
As the LCD display has a backlight, you can see the torque limit, the battery life as well as the measurement mode. This makes the electronic wrench ideal for use in low light.
Features multiple measurement modes
For the sake of versatility, you'll be getting more than just one mode setting for measurement on this electrical wrench.
The torque can be measured in N-m or alternatively, you can switch to the kg-cm, in-lb or the ft-lb torque measurement units. This way, it's suitable for use with most manufacturer's specifications.
Comes with 3 different alert notifications
Now here's a whole new level of torque measurements. Boasting to have 3 different alert notifications, reaching target torque will be amazingly easy.
There's the vibrating handle which can be felt, the buzzer alarm which can be heard, and then there is the flashing LED display that you can always count on when using this torque wrench in low light conditions.
Includes counterclockwise and clockwise measurements
In order to allow you to get to any difficult-to-reach spots, this AC Delco digital torque wrench allows for both clockwise and counterclockwise torque applications. This also does deem it eligible for use for both the right-handed and the left-handed people.
What we liked
Features a 30 data set of memory capacity.
Allows for both clockwise and counterclockwise motion.
Has got 3 different alert notifications for easy usage.
Build quality is one of the best out there
Has a led light indicator for better torque accuracy
Durability is impressive
What we didn't like
The instructions are a little unclear and it may take some time to get used to this.
---
2. GearWrench 85077 1/2″ Drive Electronic Torque Wrench Review
GearWrench is one of the best brands when it comes to producing electronic torque wrenches in the market. Well, is there more to it than just a fancy brand name? Let's find out.
Features 5 torque measurement units
To allow it to fit multiple applications, the GearWrench 85077 is capable of handling 5 different torque measurement units and these include Nm, Ft-Lb, in-lb, Kgf-cm, and Kgf-m.
I'm pretty sure that whatever torque range you are working with, it will be a perfect tool to get the job done.
Provides utmost versatility
With the clockwise and counterclockwise measuring capability, this Gearwrench digital torque wrench set sure will be reliable in getting to the tough spots.
At the same time, besides just allowing for multi-directional torque adjustment, this electronic torque wrench does observe complete accuracy as well. For the clockwise direction, you get as much as +/-2% whereas, for the counter-clockwise direction, it is +/-3% for the accuracy.
Multiple torque alert system
In addition to being accurate in clockwise and counter-clockwise directions, the alert system is not left out. There is a vibrating handle, a buzzer sound, as well as a solid, LED light.
All of these are triggered when you attain the target torque limit hence preventing over-tightening of bolts.
The minimum torque it can handle is 30 Nm whereas the maximum possible value is 340Nm hence you can use it on anything ranging from machinery to your road bike.
What we liked
3 different torque alert settings.
Measures the torque in both the clockwise and the counterclockwise direction.
Allows for 5 different units for measurement.
Great for tight spaces
Ideal for any torque range
Durable housing
What we didn't like
The auto power-off feature is a little too quick.
---
3. ACDelco ARM601-4 1/2″ Digital Torque Wrench Review
If you're all about working with the best brand, then here's yet another heavy-duty digital wrench from ACDelco- the ACDelco ARM601-4.
Besides having an affordable price tag, great LCD display, and giving you a great torque range, it's got a lot more features to look forward to. Let's take a closer look…
Clockwise and counter-clockwise motion
Versatility should always be a priority when choosing a digital wrench, right?
Well, one of the best ways via which this is achieved is via giving the user the convenience of applying the torque in both a clockwise and a counterclockwise direction.
Not only does it allow for multi-directional measurements but at the same time, it is going to give you a great amount of accuracy on every bolt you tighten.
For the clockwise measurement, you get to have an accuracy of +/-2% while for the counterclockwise direction, it's going to give you a +/-3% accuracy of the indicated value in either case. So, reaching the desired torque level will be really simple.
Multiple torque setting functions
To add on to the versatility, this budget digital torque wrench allows you to measure the torque using 4 different measurements. You, therefore, can always change the scale based on the manufacturer's specification, which you can find in the instruction manual.
This saves you the hassle of getting another electric wrench or converting the measurement values.
It's going to handle kg-cm, N-m, in-lb. ft-lb with utmost accuracy and in multi-directions, and the conversion settings are easily understandable.
Features an anti-slip grip & easy to use
To add icing to the cake and make this model a full package and possibly one of the best electronic torque wrenches you can get your hands on, there is an anti-slip grip. This makes it easy, comfortable and safe to use for as long as you want.
There is also a quick release which saves on time hence giving you the best level of efficiency. As for the alert notifications, there is a buzzer and LED flash that's triggered when the set torque limit is achieved.
What we liked
Multi-directional and accurate torque measurement.
Includes an anti-slip grip.
High durability is ensured
Comes with a quick-release button for efficient and quick usage.
Multiple torque settings for easy operation
High accuracy range
Reversible ratchet head
What we didn't like
The auto shut off is after 60 minutes which is a little too quick.
---
4. ACDelco ARM601-3 3/8″ Digital Torque Wrench
In addition to bearing one of the most reputed brand names, the ACDelco ARM601-3 will be giving you an outstanding level of accuracy, torque range, easy usage and much more. Let's have a closer look at one of the most accurate digital torque wrench models out there.
Quick and light adjustments
Featuring a slip-resistant handle that's resistant to chemicals, the ACDelco ARM601-3 will allow for minimal tuns and with less effort. The base material on the handle is overlaid with a comfortable and slip-resistant grip.
Setting the target torque value is also easy and this can be displayed on the torque window for utmost convenience.
Features a quick release and reversible ratchet mechanism
Added onto the design is a quick-release switch for speed and ease of use. In addition to this 3/8 inch torque wrench, there is also a reversible ratchet head which allows it to be used clockwise and counterclockwise. This makes it easy to set up the peak mode and trace mode.
Precise measurements
The accuracy for the clockwise and counterclockwise measurements are +/-2% and +/-3% respectively and more so, it complies to the ASME B107.14-2004, ISO 6789 standards and each of the ACDelco ARM601-3 digital torque wrenches match the N.I.S.T certificate of calibration.
What we liked
Features an easy to read LED screen.
Comes with a quick-release for speed and ease of use.
Setting peak and trace mode is pretty straightforward
There's a reversible ratchet mechanism for the utmost flexibility.
Setting torque values is extremely simple
The torque measurement range is great for achieving the desired results
Ideal for professionals and heavy duty jobs
What we didn't like
The display is not backlit which may be difficult to see.
---
5. Craftsman 3/8-in. Dr. Digi-click Torque Wrench Review
If you're looking for something that's entry-level and has an amazing torque range, then this budget-friendly torque wrench ought to do you justice.
The build quality is top of the line, the performance is outstanding, comes with impressive digital features and provides the best value for the money.
Here are the reasons why you should consider this high-quality option.
Features an LED-backlit screen
The digital display is the dominant feature on an electronic torque wrench. And in the case of this one, you'll be getting an easy to read digital LED display that's going to hold up quite well when being used even in poorly lit conditions.
So as to save on battery power, there's auto turn off the feature that's triggered after 5 minutes of inactivity.
Comes with a comfortable handle
To guarantee easy usage in all situations, there's an ergonomic handle that gives you a secure yet comfortable performance and holds. In addition to giving you the surest grip, its also designed to reduce fatigue which allows for long hours of use. You can also use a torque wrench adapter with this product.
Digital click notification
To let you know when the target torque level is attained, there's a click that is easy to hear and feel which makes it eligible for use for small engine repairs, motorcycles, bike brakes, and much more.
Multiple unit torque measurements
By allowing multiple torque unit measurements such as Nm, foot/pounds, and inch/pounds, the craftsman digital torque wrench offers great versatility to the mechanics. You can also convert to either of these measurements just with the click of a button.
 What we liked
Features a click alert for when the torque limit is reached.
Includes a backlit and easy to read solid LED light.
Got a comfortable and sure-grip handle that cuts down on fatigue.
Build quality is top-notch
Has amazing digital features and works well with fasteners
Makes torque reading easier
Several increments to provide you control over the device
Great for working on automobiles and nuts
What we didn't like
It's not suitable for hard tightening; it may easily break.
---
Buying Guide for Electronic Torque Wrench
It wouldn't really be a complete review without a buying guide for the torque wrench, would it? Well, to have the utmost confidence when selecting a wrench, here are some of the major factors you should pay attention to find the best cheap digital torque wrench out there.
The Alert Features
Whereas the micrometer torque wrenches come with the click feature which allows you to hear and feel the click, we at least expect something similar and of course more from an electric torque wrench. Usually, many models feature red light, and beeps warning as torque alerts.
Most of the digital wrenches cost way more than the micrometer torque wrenches hence it really would not be fair if the alert features were handicapped, right?
The Digital LED Alerts
The reason as to why most people get top digital torque wrenches is because they can be able to use these in poor lighting conditions as well as somewhat noisy environments due to LED flashing.
In order to let you know that the needed torque measurement has been reached, the LED display or LCD display in most cases, flashes a few times. This way, you will not put too much stress on your bolts which could result in damaging your equipment.
A Vibrating Handle
This can be compared to the click only that it is not as subtle as the click- trust me, you'll know the difference if you use the two-.
The vibrating handle works in such a way that as you approach the set torque limit, the vibration gradually increases and once you hit the set limit, the torque vibrates as well. this could be handy in noisy environments when hearing a click from a micrometer torque wrench is difficult or also when seeing the LED alert is a problem.
The Buzzer Notification
I'd consider the buzzer notification a must-have for any good quality electrical torque wrench and the reason for this is due to the conventional nature of the click type torque wrenches and the familiarity to knowing the torque limit is attained by hearing the click.
If you are moving from the click-type torque wrench to the digital torque wrenches, this is something I'd recommend you pay attention to.
With the buzzer notification, as compared to the click, you can hardly miss on this when you reach the set torque limit and if it is backed up by the other alert settings, there's no way you could miss out on the alert once you hit the set torque.
The Torque Directions
Yet another thing that is worth looking into when choosing an electronic torque wrench is the ease of usage of the torque wrench. The rule of thumb when choosing any torque wrench basically is the easier it is to use, the better a torque wrench it is.
Most torque wrenches allow you to only apply the torque in the clockwise direction. This, however, makes it somehow difficult to use it both right-handed and left-handed.
In addition to the difficulty of using the torque wrench with your dominant hand, something else that you are limited to if you can only be able to apply the torque in a single direction is when you are needed to use it in hard-to-reach spaces such as under your saddle.
Though most manufacturers tend to overlook the importance of applying the torque in both directions, it is something worth taking into account while shopping for a good digital torque wrench. Another thing you should check is the swing arc of the tool.
A Comfortable Handle
Now, as you look for a torque that gives you the convenience of applying the torque in both the clockwise and counter-clockwise direction, it would probably be a good idea if you also go ahead and select one that's got a really comfortable handle.
If say you're just from greasing your bike parts or oiling them and your hands are all slippery but at the same time you'd like to tighten some bolts and be done with everything before you clean up, you'll want the handle to give you the best level of grip, right?
The first thing you should consider looking into is how the handle is shaped. Such a handle should comfortably be able to fit in your hand perfectly well once you tighten your grip around it. This saves you from any unnecessary fatigue and the odds of it slipping away are quite slim.
Speaking of slipping away, let's have a look at what you should get on your torque wrench handle to prevent this from happening, shall we?
The best handle for slip resistance would be a rubber grip. Naturally, rubber is not only soft but it also does allow for friction when clenched down on.
If you can't get a rubber handle, I'd recommend that you consider choosing one that's made of plastic. In some cases, you might get a torque wrench with a metallic handle and in all 3 cases, it would be a wise choice to have one that's got ridges on it.
NOTE: from my experience with torque wrenches, it is a good idea to go for a wrench with a torque wrench with the least amount of plastic or rubber since doing otherwise might compromise on the overall strength of the torque wrench.
The Number of Torque Measurements
Yet another thing worth looking into is the units of measurement that the digital angle torque wrench allows for. The rule of thumb as far as the ideal digital wrench is concerned is that it should allow for more than just one unit of measurement.
Manufacturers have different specifications for torque units and it would be somewhat cumbersome to use an alternative limit as you'd have to do a lot of conversions which are not always guaranteed to be correct. Also, some equipment has torque measurements on specific values so you can choose one also depending on your area of expertise.
The most common torque units are inch-pounds, kilograms per centimeter and even kilograms per meter. For the sake of versatility, it would be wise to choose a torque wrench that has got at least two of these.
The Size
The general rule of thumb in choosing digital torque wrenches is the bigger their size, the higher the torque levels they can attain.
For finer torque adjustments, you'll want to go for something that's small in size and for coarse adjustments, going for something that's larger is a good idea.
Not, taking these two scenarios into account, I'd advise that you get more than just one electronic wrench unless you are really specific about how you are going to use the torque wrench. Size is also an important factor to purchase the best bike torque wrench out there.
The Accuracy Level
Being the most important feature to look into when selecting an electronic wrench, the level of accuracy varies from one manufacturer to the other.
Whereas getting the highest level of accuracy should be a priority, getting a wrench with a high accuracy level, yet again would mean that you get to spend a little bit more on the same. So, that being said, here's the way to go:
The recommended threshold for accuracy is +/-4%. If you're using the torque wrench for finer adjustments, it would be a good idea for you to have a higher level of accuracy hence the 4% would increase to 3% or 2%. Sometimes a product will have features like gear sensing system, and target setpoints to ensure greater accuracy.
Clockwise vs Counter-Clockwise Accuracy
Still, on the accuracy, it is important that you consider the fact that some angle torque wrenches do have both the clockwise and the counterclockwise torque adjustment capabilities. Regarding this, I'd recommend that you go for an accuracy level that is at least +/- 2% for the clockwise torque application and +/-3% for the counterclockwise torque application.
At the end of the day, you'll want something that's got a high level of accuracy depending on how you'll be using the wrench. It is therefore always important to pay attention to what you're using the electric wrench on demands regarding the accuracy.
Scale Visibility
With an electric torque wrench, it might seem that visibility is not a problem at all but this is not always the case. As much as the wrench may have an LED display that's easily visible in the dark, some of these are not as visible out in the sunlight.
To ensure it is easily visible at any time of the day, always go for a high contrast scale as this would work perfectly well even when used out in the sun.
Extra Features to Take Into Account
Wrapping up our buying guide on the top electronic wrenches, I'd like to shed some light on some extra features you should consider taking a look at for added convenience while using your digital torque wrench.
Though this is more of a priority for the click type wrenches, it is worth having for a digital torque wrench. The last thing you want is spending a lot of cash on a wrench only to have it deteriorate in quality from bouncing against other tools in your toolbox.
After all, with a storage case, it would also be easier to carry your wrench around your workshop and definitely harder to lose it.
Most digital wrenches normally have the data storage feature and from my own point of view, it's a good idea to get one that allows for the storage of some values. The rule of thumb is the higher the number of storage values it can accommodate, the better the electric wrench is.
Automatic Shut-Down Feature
All digital torque wrenches use either a rechargeable battery like AA batteries or just the usual batteries and it would be a good idea if you optimize their usage. The best way manufacturers make this possible is via the auto shut-down feature which is triggered after about 2 minutes hence conserving the battery power.
Besides the low battery level indicator, always look out for the charge capacity indicator since this lets you know when it's nearly time to swap the battery. If you ask me about battery type, then I'd suggest that you go for lithium-ion batteries as they last long.
Since these items are quite expensive, you would want them to be long-lasting. The construction of the tool should be done with high-quality materials only. If you see stainless steel and chrome finish used in the device, usually it's a good sign. It would be great if they come with a warranty as that would mean that the company trusts its products.
How to Calibrate a Digital Torque Wrench
Calibrating a digital wrench is really easy. Unlike the traditional wrenches, it doesn't require you to rotate the handle again and again.
The wrench will come with a digital display, on which you can set the torque. Thanks to the digital display screen, it's easy to read the torque amount.
A few of the wrenches will warn you when you are getting closer to the set torque. It helps to minimize mistakes.
However, keep in mind that the electronic wrench runs on battery, so always make sure it has an adequate amount of battery life in it.
FAQs for Digital Torque Wrench
Are electronic torque wrenches the most accurate option?
If precision is your priority, then digital wrenches can be your best bet. They are extremely precise and will help you work with utmost accuracy.
Do you have to calibrate a digital torque wrench?
Though it's pre-calibrated, it would be wise to calibrate the electronic torque wrench at least once a year.
What is an electric torque wrench?
A digital wrench is a precision tool that shows the torque reading on an electronic screen.
Final

Verdict
You got the blueprint for the best digital torque wrench 2021 and it should be much easier for you to go ahead and shop for one yourself.
Though now you know about top-rated electronic torque wrenches in 2021 and have a buying guide to give you a head start in choosing one, it depends on you to ascertain the quality of the wrench before you invest in one.
Yet another thing I'd like to emphasize on is that you take into account your priorities and upon doing so, have a clear picture of what you'll be using the wrench for and thereafter go ahead and make your purchase. All in all, getting the best wrench comes down to performance, longevity, and affordability which we've all covered. I wish you all the best in getting your ideal electric torque wrench.