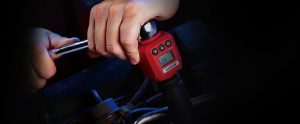 Nowadays, a digital torque adapter is essential for any toolbox. Of course, some of us still prefer to use a physical torque wrench and while that is totally fine, even more of us are looking for versatile products, and a digital torque adapter is just that for a modern toolbox.
Not only are they extremely portable and compact but they provide great accuracy. This is undoubtedly the most valuable feature of a digital torque adapter, as they are specifically designed to prevent you from applying torque force.
Digital torque adapters allow you to keep track of how much force is being applied, as well as helping you apply the correct amount of force while tightening. This is particularly beneficial when working on a lug nut with wrenches – as we all know how tricky that can be!
Finding the best digital torque adapter is a tricky business too, as there are so many out there to choose from. This is made even harder if you're unsure about certain features, and what key features to prioritize.
But we're here to provide you with all the information you need to help you make an informed purchase.
We've provided a comparison table below, as well as some key criteria to look out for, and reviews of some of the best digital torque adapters on the market right now. Plus, if you have any further questions, our handy FAQ section will hopefully provide the answers. 
| Image | Product Name | Speciality | Range | Price |
| --- | --- | --- | --- | --- |
| | ACDelco ARM602-4 | Our Top Pick | 14.8-147.6 ft-lbs | Check on Amazon |
| | Performance Tool M206 | Best for versatility | 30-150 ft./lb. range | Check on Amazon |
| | Neiko 20741A | Best budget-friendly pick | 29.5-147.5 Foot-Pound | Check on Amazon |
| | ACDelco ARM602-3 | Best ⅜ Electronic Torque Adapter | 5.9-59 ft-lbs | Check on Amazon |
What were we looking for?
When reviewing our top picks below, we mainly tested three key areas. The accuracy, the display and audible alert, and the battery power. 
For accuracy, we were mainly looking for no higher than 4 percent. That being said, the higher the accuracy the better as any job should start at +/-2 percent. This is the ideal place to start on particularly sensitive fastening jobs.
First and foremost, the LCD display should be easy to read. When the ratchet is installed the display should rotate to face upwards so it's easy to read. The LCD should be clear no matter how light or dark the area. The buzzer should also be loud and clear for you to hear or be accompanied by LED warning lights. 
We also tested the below products for their long-lasting batteries. Digital torque adapters use their battery for the LCD display as well as the buzzer, so it's important to have a battery that can be put through the wringer. We recommend Li-on batteries, as some batteries do run out quicker than others.
5 Best Digital Torque Adapter Reviews
Here are the top 4 picks that we have brought to you after long research. Below, we've talked about the features, biggest advantages, and drawbacks of these digital torque adapters so that you can make the right choice

In need of a torque adapter that delivers the same results as a large torque wrench? Then this may be the product for you. For one, it is one of the few digital torque adapters out there that can work in both a clockwise and anti-clockwise direction.
This makes for a very accurate digital torque adapter. The accuracy has been rated at 2 percent in the clockwise direction and 3 percent in the anti-clockwise direction.
This torque adapter also makes a noise altering you when you've achieved the set torque. This is particularly handy as the torque wrench helps you fasten tension parts to the required torque.
If you miss taking a glance at a torque wrench that does not make an audible alert this could lead to over-torquing. This digital torque adapter solves that problem with a loud, warning alert that will immediately tell you to stop.
Company/manufacturer background
ACDelco is a company with a long history and is proud of its roots. It is closely linked with General Motors and has been at the forefront of innovation since the birth of GM in 1908. Their achievements include enabling a woman to fly around the world, and a man to traverse the surface of the moon – not a lot of corporations can boast that! 
But ACDelco has a lot to offer for the future too. ACDelco is moving into the future with GM Genuine Parts by their side. For over 100 years, General Motors has helped push the limits of transportation and technology, constantly improving our everyday lives. ACDelco is proud to stand with GM Genuine Parts as the only true General Motors Original Equipment source. This prestigious connection assures you that you're only getting the best.
Why is this the best pick overall?
We have chosen the ACDelco ARM602-4 as our best pick for its versatility and accuracy. This digital adapter can turn any ½ inch ratchet into an accurate torque wrench, and for extra accuracy, it comes with four measurement units – ft-lbs, in-lbs, Nm, and kg-cm. This eliminates the headache that comes with trying to multiply whenever you come across a different measurement unit than you're used to. 
Furthermore, this adapter has a nice, clear LCD display that displays legible numbers.
How has the product evolved?
ACDelco has long been known for its stellar quality and this adapter is no different. It has everything from speed, accuracy, and an easy-to-read LCD screen that lets you know when an optimal torque value is achieved by beeping. 
What's more, this product has a longer lifespan than the products that came before it and is made from industrial-grade material built to last years or even decades with proper use.
Experience using the product
When testing this product we discovered it could be used as a torque calibrator alongside other torque wrenches – truly versatile! Using the ISO 6789 procedure, it records the peak torque applied by the torque wrench and makes it easy to reset for the next measurement. All you need to do then is get it into peak record mode, put the click-wrench to be tested on it, then apply the torque and measure the reading.
Pros
Comes with a storage case – This torque adapter comes with a handy, and high-quality storage case.
High accuracy rating – This adapter has a high accuracy rating of up to 4%.
Numerous measurement units – The four measurement units ensure further accuracy.
Versatile use – Can be used for calibrating the other torque wrenches.
Cons
Delay in some alerts – You do need to be alert when using this torque adapter because by the time you hear the loud, continuous buzzing you may have over-torqued slightly.

Fastening jobs are made so much easier with the help of a digital torque adapter, and this M206 Performance Tools adapter is no expectation.
Part of what makes this digital torque adapter so versatile and accurate is the different measuring units available.
These include kg-m, Nm, ft-lbs, and kg-cm. We have found that it is +/-2 percent accurate across the entire torque range, which is usually about 30 to 150 ft-lbs.
This is impressive as many torque wrenches can have up to 10ft-lbs off the required accuracy, especially the higher you move up the torque settings. 
Company/manufacturer background
Performance Tools belongs to the Wilmar Corporation, based in Kent, Washington. They supply major retailers and distributors throughout North America with quality tools, innovative packaging, and product support. Because of this, it is the leading distributor of professional tools in North America. 
Trading under the brand name 'Performance Tools' Wilmar is focused on providing the best quality service and quality products that meet their satisfaction guarantee.  
They not only offer digital torque adapters but hand tools, sockets, wrenches, screwdrivers, grease guns and accessories, hydraulics, as well as specialty tools, and many other items.
Why is this the best for versatility?
We believe this is the best pick for versatility, not only for the range of measurements but because it is basically a three-in-one tool. This is because it comes with ½ inch, ¼ inch, and ⅜ torque adapters.
How has the product evolved? 
This product has certainly evolved in versatility, as it now includes the ¼ inch and ¾ inch torque adapters as well as the  ½ inch torque adapter.
Experience using the product
While this product was certainly very useful in its accuracy, and we appreciated the versatile features, we did find the instruction manual lacking. 
We also found the torque angle tool to be handy. We set it to zero degrees and in conjunction with a torque wrench, we torqued the bolts to the specifications outlined by the manufacturer. We could then tighten the bolts up to the 90-degree mark.
Pros
Rotates – This adapter rotates when you install the ratchet so the display is always facing you. This makes for easier reading.
Incredible accuracy – At +/- 2 percent, the accuracy is pretty impressive.
Good alerts – You'll know when you have attained the set torque as you are alerted by LED lights and a buzzer alert. There is also a low battery alert when the battery gets to 2.6V.
Cons
Difficult to replace the battery – The battery is quite hard to get to if you need to change it, and requires the use of a screwdriver.
Sparse instructions – If you are not used to using a digital torque adapter you may find the instructions lacking.
3. Best budget-friendly pick – Neiko 20741A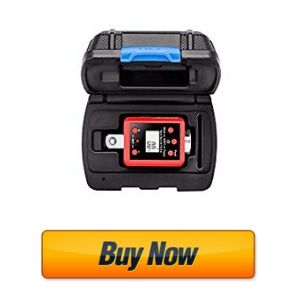 It would be hard to argue that Neiko doesn't put a lot of thought into their products. From the secure, attractive packaging to the four different units of measurement available, it is clear that Neiko has considered pretty much everything you would look for in a digital torque adapter.
The four different measurements include kg-cm, Nm, in-lbs, and kg-m, and the torque range is 29.5ft-lbs to 147.5ft-lbs. It is also extremely versatile in other areas.
The Neiko 20741A can adapt ratchet torque wrenches, and digital, or analog torque wrenches into an accurate wrench, using a CR2032 button which is easy to get.
You can also buy the ¾ and a ⅜ inch adapter if needed. They are more expensive than the ½ inch one but are still important additions to your toolbox. This is important to note, as while this is advertised as a ½-inch torque adapter you can still order the ¾ and ⅜ inch ones as well.
This torque adapter can also store up to 50 peak torque memories when used in peak mode. The peak memory is also easy to access. Just press and hold the MEM button and the peak memory will be displayed. This adapter also preserves its battery by turning off when not used for 80 seconds.
Company/manufacturer background
For over 20 years Neiko has been passionate about tools and producing tools with comparable quality, design, and function as the bigger, well-known brands but at a fraction of the cost.
Customers recognize Neiko as the go-to brand for premium value, and the dedication and craft they put into everything from their impact sockets, step drill bits, or torque wrenches is evident when you use them. Neiko's mission is to give everybody access to premium tools no matter what their budget. 
Why is this the best budget-friendly pick?
At only $42.89 on Amazon and with plenty of quality features, the Neiko 20741A is certainly value for money.
How has the product evolved?
This product has evolved in terms of versatility, easily converting ratchet wrenches into precision torque wrenches without the cost of buying a separate tool.
It also includes two settings to set the desired torque and another where you can track the amount of torque being applied.
Experience using the product
What impressed us the most was the two torque modes. As mentioned above, the trace mode allows you to see how much torque is being applied at a particular moment in real-time, and the peak mode shows you when a certain level of torque has been attained.
This makes it hard to over-torque, especially when you include the audible alert you hear when the torque has been reached, as well as the LED light indicator which flashes three colors to show you how much torque you have applied.
Pros
Portable and easy to carry – This is a lot easier to carry than a regular torque wrench
Accurate – This adapter is accurate within 2ft-lbs.
Good packaging – The packaging is not just attractive, but secure too.
Easy to read – The large display makes figures easy to read.
Cons
Quiet buzzer – While the Neiko 20741A is unique in that it has audible and visual alerts, the buzzer can be drowned out by background noise.
The battery runs out fast – Despite the adapter becoming idle after 80 seconds, the battery does drain after consistent use.
4. Best 3/8 Electronic Torque Adapter – 

ACDelco ARM602-3

Our pick for the best ⅜ electronic torque adapter again comes from ACDelco. Most fastening jobs usually require a ½ inch and ⅜ inch torque wrench, and it is for this reason that we need digital torque adapters with sizes to match. This is where the ARM602-3 comes in.
This torque adapter shows 4 four different metrics on the LCD Display – Nm, kg-cm, in-lbs, and ft-lbs. This takes away all the stress of figuring out conversions, especially if you are using a manual for a certain part that requires a different metric than what you've been working with.
The torque has an impressive range, starting at 5ft-lbs to 59ft-lbs. When the torque is set and begins operating, you will hear a loud buzzer when you have attained the correct torque. This makes it impossible to over-torque, a relief when working on especially sensitive car parts.
Why is this the best ⅜ Electronic Torque Adapter?
What makes a good digital torque adapter is the features, and this one certainly delivers. While only measuring static torque, it has measurement settings and mode settings and can work in a clockwise or anti-clockwise direction. All despite having no angular acceleration.
How has the product evolved?
Much like our top-pick, this digital torque adapter is extremely versatile as it can double up as a torque calibrator too. 
Experience using the product
We found this product to be accurate and effective, although we would advise that you use this tool when working in a spacious area with lots of room. 
We were also able to hear the various alerts clearly when the appropriate amount of torque had been applied, and the manual provided was easy to follow.
Pros
High accuracy – Using this product we achieved a rating of 1.5% clockwise and 3% anti-clockwise.
Long-lasting battery – The Lithium-ion battery lasts a long time.
Good for general use – This adapter is great for general use without requiring a torque wrench, or if you're inexperienced using a torque wrench.
Portable – Comes with an attractive, sturdy case for storage and travel.
Comes with a calibration record of the adapter when you buy it.
Cons
Poor alerts – While we were able to hear the alerts clearly in a quiet place, it is advised to keep an eye on the LCD screen as it only alerts you intermittently when it reaches full torque.

We're staying with ACDelco for our final product, but as well as being similar to the other ACDelco products we reviewed, you may also notice a similarity with the M206 torque adapter.
Indeed, the only differences between them are the torque range and the price, with this adapter just under $20 cheaper than the M206. 
Like the other ACDelco torque adapters, we recommend using this product for calibrating analog wrenches, and it is even effective when using the best electronic wrenches.
If you have a ratchet you're looking to change into an accurate torque wrench, this adapter will help you get the job done. 
Why is this the best for a higher torque?
We believe this adapter is the best one for a higher torque because it's capable of a maximum weight of 250 ft-lbs. This is 100ft-lbs more than its rival, the M206. 
How has the product evolved?
This product has evolved from its ACDelco predecessors by offering a higher torque, which makes it perfect for big projects.
Experience using the product:
In testing this adapter we noticed a slight improvement in accuracy, compared to the 147ft-lbs adapter. This adapter is ½ percent accurate in the clockwise direction and 2 ½ percent accurate anti-clockwise, making it more accurate overall.
Pros
Calibration certificate traceable to N.I.S.T.
Easy-to-read display – the large display makes it easy to read.
Good alert – The audible alert is clear and sounds once the set torque has been attained.
Perfect for heavier jobs – This is a go-to adapter for heavier jobs that require a higher torque setting.
Works well with the wheeler fat wrench – We believe this adapter would be compatible with a wheeler fat wrench.
Cons
Possibly dim LCD screen –

While there have been some reports of the LCD screen becoming dimmer over time we did not experience that.
Frequently Asked Questions
Can I use a digital torque adapter in place of a torque wrench?
While we do not recommend it, this is possible for general torquing purposes. As we have seen, a torque adapter can convert a ratchet into a precise torque wrench.
What exactly can I use torque adapters for?
A torque adapter can be used for calibrating analog and digital torque wrenches as a digital adapter is up to 3 times more accurate than a mechanical wrench.
How do I program my digital torque adapter?
Firstly, make sure you are using a good-quality battery. Then turn the adapter on by pressing the power button. The LCD display should show PToP or trACE mode, after about 2 seconds it should display 0.00. This means it is now ready for programming and you can enter your settings.
How can I get torque memory?
A digital torque adapter can store up to 50 torque memories when operating in peak mode. The stored memories can be accessed by pressing and holding down the MEM button.