The spark plugs are the soul of an engine and therefore it is vital to have them in top condition. Changing them when necessary is essential but there is another way: cleaning them. Dirty or fouled spark plugs can cause a misfire or a cylinder filing to fire at all.
The color of your spark plug can help diagnose the mixture in an engine and suggest possible flaws; a light brown plug usually indicates a healthy engine running a proper mixture. White plugs can suggest a poor mixture and/or overheating, whereas black plugs suggest a rich mixture (or possibly a jammed choke).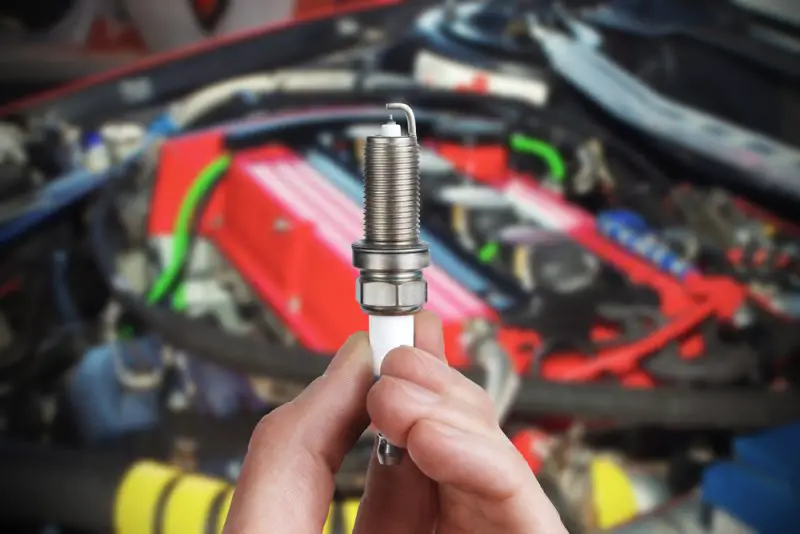 Oily plugs can be caused by bore or valve seal wear; if the wear is minor, it can be remedied by running with a 'hotter' plug.
Well-maintained spark plugs will have a central electrode that is in good condition will be a light brown color. Around the edges may be a little darker or "fouled," but this is normal for a carburetor.
However, if there's a lot of carbon buildup around the central electrode and on the porcelain isolator, the spark plug has become compromised as it is full of carbon.
Carbon is conductive, so when the spark tries to form at the conductor,  the spark will jump down and be conducted by the carbon-covered porcelain around the edge of the spark plug. This is why you'll need to clean it as soon as possible.
Before you start…
It's important to keep in mind that not all spark plugs are the same. In fact, there are 2 main types that you're likely to stumble across in your lifetime: hot and cold spark plugs. Although they appear very similar, cold spark plugs have short insulator noses to help dissipate heat quickly which in turn, keeps the tip cold.
On the other hand, you can also get "hot" spark plugs. Yes, you guessed it- these have longer insulator noses that help to retain heat, resulting in a hotter spark plug tip. 
Many people make the mistake of believing that spark plugs are interchangeable, but this is not the case. While advancement in mechanical technology has made plug types used in engines almost irrelevant, you'll still need to be aware of what type you are dealing with.
If you put the wrong type of spark plug in your engine and attempt to drive your vehicle, it will increase emissions and fuel consumption as well as contaminating the engine oil at a faster rate. In some cases, using the wrong spark plugs may also damage the plug itself, causing misfires and possible breakdowns. 
It is best to utilize spark plugs that are indicated for a specific engine and its operating conditions. Some plugs have a fixed terminal, whereas others have unscrewable terminals. Make sure the terminal on the kind that can be unscrewed is tight – use pliers if necessary.
The Emergency Method 
If you desperately need to clean your spark plugs in order to get to a garage for repairs, you can do so by using a fine brush. Avoid using a metal brush, as these can actually push the carbon particles further into your spark plug which in turn can create a more conductive surface than what you started with.
Therefore, using a hard-bristled wire brush can actually make your problem worse, rather than make it easier to clean. Instead, in cases of emergency, you should use a nylon brush or a plastic bristled toothbrush if you have a spare one lying around.
Using a toothbrush to clean your spark plug should only be considered in emergencies, and it should be enough to keep you going for another couple of miles to get you to a garage or somewhere where you can make full repairs. 
The Heat Method
One of the most effective ways to clean a spark plug is to use heat and a lot of it. If you have a heavily fouled spark plug, take it and put it into a vice (if you have one) to keep it steady as you work on it. Make sure it's nice and tight and won't fall out as you work. Next, you'll need to grab your propane torch.
You'll need to heat up the spark plug for a long time, as it needs to reach temperatures above 400 degrees Celsius. This is because using anything cooler than 400 degrees celsius runs the risk of not removing all of the carbon deposits completely.
You'll need to be patient if you plan on using the propane torch method, as it usually requires around 5 to 10 minutes of constant heating to get the desired results. However, this length of time can vary depending on the temperature and the type of torch you use. 
When heating your spark plug, you'll want the central electrode to turn red-hot. Once it does this, you should heat it for a further couple of minutes. After a little more heating with the propane torch, you'll notice that the rest of the spark plug will begin to turn the same shade of red as the central electrode.
When this happens, it's time to stop applying heat. Once you've moved the torch out the way, you can observe your "new" spark plug. Be sure not to touch it yet, as it will be extremely hot and capable of causing serious burns and injury.
You should notice that your spark plug appears to be brand new and without any signs of carbon buildup. This is because the heat from the propane torch has burned all of the excess carbon away leaving shiny clean metal in its place. Your spark plug should now be safe to fit into an engine. 
The Grit-Blasting Method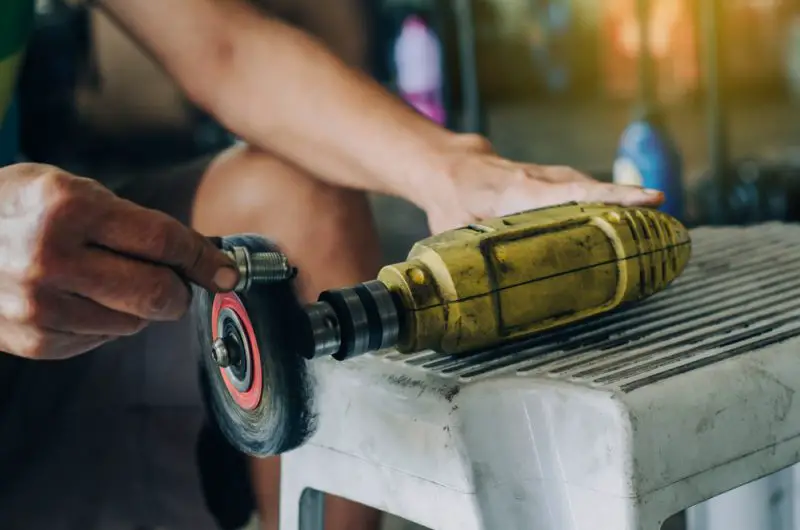 Many people consider grit-blasting to be the most effective way of cleaning one's spark plugs. This is certainly true when dealing with very dirty and fouled spark plugs. However, if there is only minimal fouling, you'll probably find that using a fine flat file to clean the electrodes will easily do the trick. 
By carefully levering open the gap with a gapping tool or thin screwdriver, you may make a place for the file. If there is oil and grime in the groove, clean the treads with a light wire brush. Use a soft cloth to clean the entire plug and make sure the ceramic section of the plug is clean.
If the plug is moist or highly fouled, quickly heat the tip with a blowlamp or gas ring to clean both the electrodes and the dirt in the insulator's interior. 
Most mechanics and car garages have grit blasting equipment and will clean your spark plugs for a small fee. You can acquire your own grit blaster if you want to. They are usually powered by a car battery, so they can easily be used outdoors or in your garage.  The plug is held in place by a rubber seal.
Even the dirtiest plug can look as good as new in just a few short minutes thanks to the grit-blasting method.
The Chemical Method
Another way to clean your spark plugs is by using certain chemical compositions to soften to foul and dirt, making it easy to wipe away, leaving your spark plugs looking shiny and as good as new.
Brake cleaner is available in spray cans at your local auto parts store and can be used to effectively clear filth from a variety of automotive parts. Aside from cleaning, it evaporates quickly, allowing the parts to dry quickly.
Spray some brake cleaner on the plug and threads, then wipe away any leftover dirt or debris using a clean rag.
If your spark plugs are really unclean, combine the brake cleaner and wire brush to remove any remaining filth. After cleaning the plug, make sure to thoroughly wash it down with a rag to remove any residue of the brake cleaner that has soaked up dirt and oil.
Reattaching your clean spark plugs 
Now that you have shiny new-looking spark plugs, it's time to reinstall them into your vehicle. This isn't always easy, especially if you're not particularly mechanically inclined. So, here's a step by step guide to fitting them back on correctly:
Start by checking your vehicle's owner's manual or service manual for the correct gap measurement in millimeters for your spark plugs. Then, insert a gap tool between the spark plug's body and the electrode that protrudes from it. Use the instrument to measure the gap, then either pry the electrode further away from the body to widen it or press it closer to the body to narrow it until the gap meets the vehicle's standards.

Insert the plug into the spark plug socket, threads facing out. The spark plug socket features a rubber grommet that holds the plug in place as you lower it into the engine and makes threading the plug easier once it's in position.

Insert the spark plug and manually crank it clockwise It's critical not to cross-thread your spark plugs, which happens when you forcefully tighten them even if they haven't sat properly in the engine. To avoid this, use an extension linked to the spark plug socket to tighten the spark plug by hand.

Using a socket wrench, tighten the spark plug. Connect a ratchet to the extension and finish tightening it once the spark plug is snugly inserted. Make sure the spark plug is secure, but don't use too much power on it with the wrench.

Using a socket wrench, tighten the spark plug. Connect a ratchet to the extension and finish tightening it once the spark plug is snugly inserted. Make sure the spark plug is secure, but don't use too much power on it with the wrench.