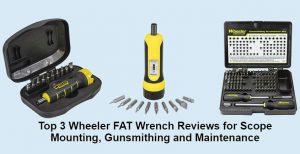 If you love guns, you should know about the FAT wrenches. If you have not, you may be wondering what a FAT wrench is.
Now, It's one of the most important tools in gunsmithing. FAT or F.A.T stands for firearm accurizing torque.
Here, we will see what a FAT wrench is and review some of the finest offerings from a FAT wrench brand; Wheeler. We shall also look at the features that you should consider when buying a Wheeler FAT wrench. That way, you can get good value for the money.
So, Let's dive into the Wheeler FAT wrench reviews. But before that, you can take a quick look at our comparison guide.
| Image | Model | Speciality | Price |
| --- | --- | --- | --- |
| | Wheeler Firearms Accurizing Torque Wrench | Best Overall | Check on Amazon |
| | Wheeler Engineering Gunsmithing Screwdriver Set | Runners Up | Check on Amazon |
| | Wheeler 710909 Digital Firearms Accurizing Torque Wrench | Highly-Rated | Check on Amazon |
2023 Top 3 Wheeler FAT Wrench Reviews
A Wheeler FAT wrench is very useful for fastening the base screws, windage screw, scope ring screws, guard screw, and others at the right torque. Below, we'll review the top Wheeler Fat Wrenches.
This Wheeler FAT wrench is one of the most popular tools in the market for gunsmithing, mounting scopes, and fastening other parts of a gun. Precision is assured. It has adjustable torque settings starting at 10 inch-pound and can be increased in intervals of 5 inch-pound.
This package comes with bits of different sizes such as numbers 10, 11, and 32 flat blade bits, 3/32 inch, 5/32 inch, and 7/64 inch Allen bits. There are T15 and T20 Torx bits and a square drive bit adapter – ¼-inch hex drive bit.
This Wheeler torque wrench adapter is compatible with all the screwdrivers that come with the 89-bit set. The soft and ergonomic handle is comfortable in your hands. You can work with it for a long time without cramping your fingers.
The ease of use is the reason why this tool is so popular with gun enthusiasts. Just follow the manufacturer's recommendation for torque application because a high torque setting can damage cheaper screws.
For base screws, it is recommended to set the torque at 30 inch-pounds, 15 inch-pound for aluminum ring screws, 20 inch-pound for steel ring screws, 40 inch-pounds for windage screws and 65 inch-pound for guard screws that have bedding pillars. The manufacturer's recommendations are quite specific so that you can get precise torque settings.
For accuracy, this FAT wrench offers +/-2 inch-pound for torque settings from 10 to 40 inch-pound. For higher torque than that, you get +/- 5 inch-pound accuracy from the wrench.
Pros
Sold with a nice plastic case
Highly accurate especially in the lower torque settings
Has a large assortment of bits, nine in number
Compatible with the 72 or 89 screwdriver sets from Wheeler
Can be used for a wide range of fastening activities
Cons
You have to release the tension after using it before you can store it
Setting tension is a bit hefty especially when you want higher torque settings.
Nothing is as vital in gunsmithing as a good set of screwdrivers. Guns are a precise science; you have to fasten everything to the right degree. For that, you need a good FAT wrench with the right screwdriver bits.
There are 21 hollow-ground bits, 10 Allen bits, 10 Torx bits, and 2 specialty bits. There are two over-molded handles and a hex/square adapter. Whether you are working on a small or big gun, this screwdriver set has all the bits for the common gun screw sizes.
Gunsmith screw bits come in hollow-ground style. This is the main difference between regular screw bits and the gunsmith ones.
The reason for using hollow-ground bits is that when tightening the screws, the screwdriver shaft pushes down in a concave shape to fill the entire screw head to fill up properly. This spreads the torque evenly.
In any wheeler engineering fat wrench, you will see that this torque wrench and screwdriver set is not just for gunsmithing. You can use it for fastening other screws too, in areas that need high precision.
With good care, these bits will last a long time, and they never lose their edge. This wheeler torque screwdriver is very reliable. You'll be glad to know that they are made of S2 tool steel. So, it can be said with confidence that this is the best torque screwdriver out there.
Pros
Comes with non-slip handles
Many bits for different fastening jobs on small or large guns
You can order replacement bits easily
A sturdy hinged case for storage and traveling
Hollow ground design bits ensure even spread of torque
Cons
Customer service could be better.
Thin bits can break easily if you exert them on bigger screws.
In the past two Wheeler FAT wrench reviews, we looked at analog wrenches. However, Wheeler has something for everyone, and here, we will look at the Wheeler 710909 Digital FAT wrench.
The first benefit is that you get a digital LCD display where you can see the readings that you have set. You can stop fastening the screw as soon as the set torque is achieved.
Where handheld torque wrenches are concerned, this one takes all the accolades. It can be more precise than the analog ones. You can apply the same torque settings on different fastenings without losing the calibration.
You will get two Torx bits, 4 flat blade bits, 2 Allen bits, and a ¼-inch drive bit. There are no Phillips or specialty bits.
You can make a wide range of torque settings. This makes it quite versatile for different types of jobs. The torque range starts from 15 inch-pounds to 100 inch-pounds, enough to accommodate torque needs of small and big guns.
Since you hold this torque wrench screwdriver-style, the digital display and the buttons are on the upper side of the wrench handle. It also displays the battery status so you can know when you are running out of juice.
For accuracy, this wrench gives you +/-2 inch-pounds accuracy. This is as precise as it gets when it comes to sensitive fastening jobs such as rifles.
In addition to the LCD display, users also get an audible tone. It alerts them when they have attained the right torque settings. We can safely say that this wrench is best for repeatable jobs. However, you may use it for one-off jobs as well as since setting the tension is easy. Just enter the right values on the digital screen. Compared to manual torque wrenches, the digital version is best for beginners.
Pros
Easy to use even for beginners.
Digital display plus audible tone eliminates error
Sold with 10 bits
The handle is ergonomic for comfort, and it is non-slip
Good for repeatable torque settings jobs
Carry/storage case
Cons
Should have come with more bits.
Even the slightest torque over-peak can damage the bits.
Why Should you Choose Wheeler FAT Wrenches?
From the introduction, you already know that a FAT (firearms Accurizing Torque) wrench is a tool of the trade for gunsmiths. The accuracy of your shot on the range or on the hunting adventure depends on how well you have fitted the accessories. That is why every hunter or marksman needs a wheeler digital firearms accurizing torque wrench for fitting their accessories.
Made by The Best in The Business
Wheeler Engineering is one of the leading gunsmithing accessories dealers across the United States. They have been meeting armorers' needs for many years successfully. Today, they have become the go-to brand for gunsmithing products.
If you read a few reviews of Wheeler FAT wrench, you will know that this isn't a ratcheting tool. It is used as a screwdriver. For you to get the full use out of this tool, follow the manufacturer's instructions and recommendations.
Torque Settings and Bits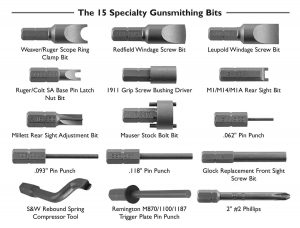 Wheeler says that the FAT wrench has torque settings that can be adjusted from 10 to 65 inch-pounds. In addition, you are advised to keep the torque wrench set to the lowest torque setting so that you do not damage the internal mechanism. Leaving it at high settings for some time can damage the sensitive internal mechanism.
Wheeler also says that wheeler the fat wrench is not an item for firearm lovers only. Rather, they recommend it for every person that loves a high-quality tool. If you work in an environment where you have to fasten screws accurately all the time, this is the tool to buy.
We all know that gun scopes and other firearm-mounted accessories come with many screws that need to be tightened. They also need to be set precisely because even the smallest margin of error on your scope could make the difference between hitting your target and missing it altogether.
Made for Gun Enthusiasts
If you are a gun enthusiast, and you constantly use a shooting range or go for hunting adventures, you need the wheeler accurizing torque wrench. It allows you to precisely measure the torque needs of all the screws on the gun and calibrate it properly.
Remember, a gun or rifle is a big responsibility. It is your mandate to use the best tools to make sure it is always in top condition in and out of use. If a gun is not maintained well, it can cause serious accidents during use.
Affordable Price
All Wheeler F.A.T. wrench are made of high-quality material but they sell at affordable prices. For a tool that can outlive you if you take good care of it, you will find the price quite friendly. Besides, replacement parts such as bits and handles are also affordable. If you break a bit, you can order a replacement any time.
Analog vs. Digital Wheeler FAT wrench
There are analog and digital Wheeler FAT wrenches. As you will see in this post, they both have their unique benefits.
Analog wrenches are also referred to as click type wrenches. To set the torque, you have to rotate the handle such that it aligns with the setting that you want. Of course, the screw that you are fastening determines the torque setting. For guns, it is imperative that you get the torque just right, not an inch-pound less or more.
Analog wrench enthusiasts say that these ones are more reliable. They also require less care and maintenance as opposed to their digital counterparts.
Digital FAT wrenches, on the other hand, do not require you to make any manual settings. As you will see in our reviews of Wheeler FAT wrenches, they come with a digital display and buttons on the handle.
Once you know the maximum torque of the gun screws that you want to fasten, enter them using the buttons. Once the wrench attains that torque when fastening the screw, it will stop. Besides, you will also see whether the maximum torque has been achieved on the digital display.
For digital and analog FAT wrench enthusiasts, Wheeler Tools meets their needs with tested and proven products.
Benefits & Features of the Wheeler FAT Wrench
The reason why FAT wrenches from Wheeler are the tools of choice for gunsmiths is their helpful features. You know that gun making is a precise trade. In this section, let us look at the features that make the FAT wrenches from Wheeler great tools:
Accuracy
For gunsmithing, accuracy is the most important consideration, as you will see in the Wheeler FAT wrench buying guide. When you tie your scope to the gun, you want it to be as accurate as possible.
If you use a scope on your gun, you need it to be well aligned because it will help your aim at the target. If it is misaligned, you could miss your target.
Because of the high precision required for guns, the regular torque wrenches do not do the job very well. This is why you will need to buy an analog or digital FAT wrench. With the FAT wrenches that we have reviewed here, you will get a good product for your needs.
The analog FAT wrench from Wheeler can apply a torque of between 10 to 65 inch-pound, which can be increased at intervals of 5 inch-pound. Their digital wrench (which we have reviewed above) can apply a torque of between 10 inch-pounds to 100 inch-pounds.
To show you just how accurate the Wheeler FAT wrenches are, their accuracy has been rated as +/- 2 inches/pound for the torque of up to 40 inches/pound and +/-5 inch-pound for torque setting between 40 and 65 inch-pound. But it must be said that accuracy is the most important thing when choosing a wrench not oly for FAT wrech, but also for other tools like inch pound dial torque wrench, and spark plug torque wrench.
User-Friendliness
You will see that this is one of the most user-friendly torque wrenches. It will take some getting used to, but after that, you will find it quite easy to use all the time.
Guns have so many adjustable parts such as base screws, windable screws, guard screws, action screws to tightening the scope ring screws. You can see just why the tool for tightening them needs to be as hassle-free as possible.
One of the things that make this tool so easy to use is repeatable actions. When working on your rifle with this wrench, you mostly repeat the same actions all the time. Even if you are a total newbie with FAT wrenches, you will find it easy to use after some time.
Reliability
When can we say that a FAT wrench is reliable? There are many pointers. One of them is that when you have set your rifle accessories right, you want them to stay set.
When you have applied accurate torque settings to the windage screws, base screws, and scope rings, you can be sure the settings will stay intact. This is what we mean by reliability. Any good Wheeler torque wrench review should be able to show you the features that make this tool so reliable.
Another indication of reliability is the torque setting range. It is quite wide. Thus, whatever your torque needs might be, Wheeler wrenches should be able to meet them. Because of the assured precision of these wrenches, you can always rely on your rifle at the shooting range or on the hunting ground.
Digital Display – for the Digital FAT wrench
This is to emphasize some more on reliability. If you look at the Wheeler digital FAT wrench, you will see that it comes with a digital display.
Most screws and other parts of a gun are very sensitive. Their torque setting should be error-free. With an LCD display, you can set the right amount of torque that a certain part needs.
Calibrating any tool manually is a lot of work. However, with a digital wrench, you just need to know what settings to enter.
From our Wheeler digital FAT wrench analysis, you have seen that the LCD display is complemented by an audio readout. This makes it even easier to use.
Since it uses a battery, you will also see the battery status on the LCD display.
How to Get the Best Out of Wheeler FAT wrench
You could just take a regular screwdriver and tighten your scope, base, windage, and guard screws. However, that will expose you to danger or failure when using the gun.
To help you get the most out of your tool, read the user manual. You may also watch a few videos with step-by-step guidance on using a FAT wrench. Wheeler tools are quite popular, so there are many resources to help you get everything right.
Secure Packaging
The packaging is very important for a tool like this one. As you you have read in the review section, every one of the FAT wrenches from Wheeler is delivered in beautiful and durable packaging.
You do not have to worry about losing the small bits. These cases are made by an injection molding method, which is the best technology for making such cases. Wheeler believes that if the product is great, the packaging should be greater.
Final Verdict
After reading our Wheeler FAT wrench reviews, you can see why Wheeler is a trusted brand for gunsmithing and other torque jobs. You have seen a short buying guide, with the most important features that you should consider when buying a Wheeler FAT wrench.
Whether you opt for the digital or analog ones, you will get a durable tool. Just follow the manufacturer's recommendations in the user manual so that your torque wrench can last a long time.