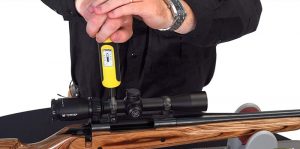 As part of our quality assurance policy, we have reviewed the products that qualify for the title of the best torque wrench for scope mounting and gunsmithing.
This article is a comprehensive review guide that highlight's the user's experience, specifications, pros, and cons according to the accuracy, calibration, torque force range, materials, handle design, price, and longevity.
With our firsthand experience, you will learn how to identify the right scope mounting and gunsmithing torque wrenches. This five torque wrenches are the must-haves for the gunsmith's toolbox and also, ideal for daily DIY and professional tasks.
Let's discuss features of the ideal torque wrench for gunsmithing, and scope mounting that our experts have found for you.
Top 5 Scope Mounting & Gunsmithing Torque Wrench Reviews
| Image | Product Name | Speciality | Range | Price |
| --- | --- | --- | --- | --- |
| | Wheeler Firearms Accurizing Torque Wrench | Best Overall | 10 in/lbs to 65 in/lbs | Check on Amazon |
| | Vortex Optics Torque Wrench Mounting Kit | Runner's Up | 10 in/lbs to 50 in/lbs. | Check on Amazon |
| | Wheeler Scope Mounting Kit Combo | Most Versatile | N/A | Check on Amazon |
| | Wheeler Engineering Gunsmithing Screwdriver | Best Gunsmithing Screwdriver Set | N/A | Check on Amazon |
| | Weaver Gunsmithing Torque Wrench | Budget Option | 15 in-lbs. up to 80 in-lbs. | Check on Amazon |
Do you need a Click Torque Wrench with a superior design, and In/lbs calibration? If yes, this is the best option for you. This wheeler fat torque wrench is simple to assemble and easy to operate. It's a hand-driven FAT wrench that provides torques of between 10 in/lbs to 65 in/lbs increments. Also, every screw adjustment task on firearms occurs with the right consistency.
With the inclusion of shock-resisting S2 tool steel bit, this model of Wheeler Engineering screwdriver set offers optimum performance. While testing this FAT torque wrench in the laboratory, we were impressed with its ease of use. We can say that it's a must-have for every gunsmith's toolbox.
Also, this model of FAT Wrench only makes clockwise turns. However, a click sound occurs when the targeted torque level is achieved. So, machinists and gunsmiths shouldn't bother about over-tightening of firearm screws.
This gun scope torque wrench is durable and versatile. It can handle settings of windage screws, scope rings, base screws, and guard screws. You can't get a better bit that's tougher than these 56-58 Rockwell "C" hardening rated accessories. All the 10 bits in this package are made from sturdy materials. Don't forget that Wheeler's  FAT Wrench has a high-end design, and comes in a plastic storage case.
The collection of accessories include hex-to-square adapters, Allen bit, Leupold windage blade bit, flat blade bit,  T20, and T-15 Torx. However, there are two options for this Wheeler torque screwdriver sets – digital or analog. While working, operators can adjust the settings of these FAT wrenches with ease.
Pros
S2 steel bits are tough and shock-resistant.
Anti-slip ergonomic handle that ensures firm grips.
Easy to maintain a wrench, and it's reliable service for a range of gunsmith tasks.
The range for a maximum of 40 in-lbs, is +/- 2 in-lbs accuracy and  +/- 5% for a minimum of 40 in-lbs.
Cons
Comes with a tedious method of adjusting the tension levels.
Its high torque settings can damage small screws.
When you buy the best scope mounting kit, it comes with excellent value for money. This Vortex Optics torque wrench is well made, easy to adjust and operate. While it allows for torque increment (10 in/lbs to 50 in/lbs),  the performance of Vortex Optics torque wrenches is second to none. It will enable every user to deliver accurate tension on scope mount screws.
This vortex torque wrench mounting kit comes with a calibration certificate. According to accuracy standards, the Vortex Optics torque wrench meets both DIN and ASME requirements. These regulators for mechanical tools ensure that manufacturers produce high-quality products. Other accessories include sturdy bits, socket, an extension, and a portable storage box.
Apart from the 1/4″ socket adaptor, both T15 and T25 Torx bit can handle a range of firearm maintenance tasks. Accessories in the Vortex Optics kit include viper rings, tactical rings, PMR rings, 1/2″ socket, Hex bit (for Vortex Bobro mounts), 3mm Hex bit, and 2.5mm Hex bit.
This model of Vortex Optics torque wrench doesn't use regular 'click,' and release techniques. Instead, when the tool reaches its torque value, it indicates by slipping the screwdriver's tip from the scope mount's screw. Usually, portable power tools are versatile; they can assemble and disassemble different firearms.
Pros
Easy-to-use
Comes with 1-inch/lb increment from between 10 to 50 inch/lbs.
A small dimension of 10.2 x 8.3 x 6.8 inches makes it very portable.
The 10mm screwdriver bit in this package is compatible with Viper and Hunter clamp bolts.
High-quality design that meets DIN and ASME standards.
A calibration certificate comes with the package.
Cons
This Vortex Optics wrench doesn't come with a scale (Newton meters) for Ft-lb conversions.
When it reaches the torque limit; the screwdriver's bit slips, but there's no 'click' sound.
Are you in need of a Wheeler Engineering F.A.T wrench that offers precise torque control? Then, don't wait to take its in your toolbox for scope mounting and gunsmithing. While preventing scope mounts from misalignment or damage, this Wheeler kit helps makes firearm maintenance easy.
This wheeler professional scope mounting kit is a sturdy steel construction that makes the gunsmith's work fast and easy. In this kit, there are 1-inch or 30mm scope rings lapping bars, 10 thick and sturdy gunsmithing screwdriver bits. Other accessories include lapping bar handle, thread lock, lapping compound, bubble level-level, 1-inch, and 30mm scope ring alignment bars.
When fasteners are secure, tension adjustment settings and the accuracy of firearms will improve. So, proper scope installation requires well-designed mounting accessories that are user-friendly. Our heavy-duty wheeler kit combo meets this specification. Also, Wheeler is a reputable manufacturer of rifle scope torque wrenches and bits. So, expert gunsmiths are often confident of aligning and lapping firearm scope rings with this model of Wheeler's torque wrench.
Apart from aligning and lapping both 1-inch and 30mm scope rings, it's easy to ensure tight connections. When the surface area contact of firearm scope tube and rings is tight, this Wheeler F.A.T. wrench can make necessary adjustments.
Also, reticle-leveling adjustments on firearms help to boost their accuracy. This model of Wheeler F.A.T kit can also handle tasks like base screws, action screws, scope rings, and trigger guard screws within a few minutes.
Pros
The F.A.T wrench has an ergonomic and non-skid handle.
It applies and controls torque from a range of 10 to 65 in-lbs at 5 in-lbs increments.
This scope installation combo kit comes with a square drive adapter and 9 bits.
Comes with a variety of sturdy screwdriver bits that fit most firearm screw.
Cons
This Wheeler design allows for poor scope mounting techniques.
When cross hairs (reticle-leveling parts) are not well-aligned, this tool can't correct the errors in the gun's windage.
This gunsmithing torque screwdriver set 21 units of flat bits are sturdy, and all accessories come in a hinged storage case. While accurizing revolvers, and rifle firearms with flat bits, this scope mount torque wrench works very well with low pressure.
When you buy hand tools, ensure their accessories are S2 tool steel. Some of these well-made & best torque wrench for gunsmithing have hardening specifications of 56-58 Rockwell "C." However, the use of high-pressure on flat bits can cause wear and tear.
While testing the Wheeler's Gunsmithing Screwdriver Set in the laboratory, we noticed some remarkable features. As a reliable maintenance kit, this Wheeler model is compatible with different firearms. Ensure to cover the surfaces around firearm fasteners to prevent marring of prepped surfaces. However, operators should handle wrench with care because the bits could slip off the screw's head.
This wheeler engineering mounting kit is one of the affordable quality gunsmithing crafts. Usually, applying torque on firearm fasteners requires precision and skill. According to leading gunsmithing machinists, this Wheeler set is ideal for servicing both antique and modern firearms.
Pros
Two anti-slip handles for the hard storage box makes it easy to transport.
The screwdriver bits are hardened to 56-58 Rockwell C grade and made from S2 tool steel.
The kit includes a range of versatile bits for different screw head sizes.
Comes with easy-to-use a wrench with concave-shaped hollow-ground bits.
Cons
The hollow-ground flat bits are brittle, and their tips might snap during intense tightening operations.
The plastic storage box has a rack for all the accessories, but it doesn't hold them firmly.
As the best torque screwdriver for gunsmithing, this Weaver 849728 Torque Wrench has a simple design, and it's easy to use. Also, this screwdriver power tool kit comes with magnetic bits. It's an ideal hunting gunsmithing equipment. Generally, the precision for fastening screws often increases when operators use magnetized screwdriver bits.
I cranked some screws up to 55-inch lbs with this Weaver Torque Wrench and enjoyed its high performance. Unlike other handheld power tools, Weaver 849728 model's internal mechanism is durable. Most avid torque wrench enthusiasts and gunsmiths can service the pressure shaft, spring clip, and threads of this wrench after reading the instruction manual.
Apart from its simple design, the Weaver screwdriver torque wrench has adjustable settings. We tried to mount five rifle and pistol scopes (with bases) within thirty minutes and were impressed with the consistent screw-tightening pressure. Usually, best torque wrenches are must-haves for every machinist's toolbox.
With a variety of bits for fasteners, machinists are confident of attaining the right torque level during gunsmith tasks. Also, this screwdriver set helps to prevent the snapping of riflescope tube screws when there's over-tightening. To set the torque level, rotate the shaft and adjust the wrench's base.
Pros
Comes with magnetized tips that hold screws and bits securely
Sturdy plastic storage case that's weather-resistant.
It's an ideal screwdriver set for installing hunting guns, rifle and pistol scopes.
Designed to prevent firearm scope tubes from over-tightening.
Cons
This gunsmithing screwdriver set comes with only a few bits.
The wrench doesn't have eye-catching ergonomics or design.
Buying Guide of Best Torque Wrench for Gunsmithing & Scope Mounting
Regardless of the type of torque wrench that you'll need to mount scope bases,  it has to be user-friendly. Applying torque to fasteners of bench guns, and rifles are essential, but every operator should handle wrenches safely. Below, we'll detail the factors you need to consider alongside these in order to buy a good scope ring torque wrench.
Torque Inch/Pounds Measurement
Premium torque screwdrivers have a wide range of applications and are calibrated with Inch-per-Pounds measurements. An efficient torque wrench allows machinists to handle different types of scope mounting and gunsmithing tasks. Apply between 22 to 25 Inch-Pound pressure on rifles' scopes, and 19 to 25 Inch-Pound on scope rings.
However, most parts of a firearm are not configured as Ft-lbs (torque measurement). Instead, torque wrenches with Inch-lbs configurations are ideal for servicing lightweight gadgets.
Construction
You don't want to replace your torque wrench for mounting rifle scopes after a few days of buying it. Sturdy screwdriver bits that are made from S2 tool steel are durable. This S2 tool steel material is shock-resistant, compact, and has high tensile strength. It's better to buy torque wrench sets with their hardened plastic boxes because metallic accessories often corrode because of moisture.
So, it's wise to keep your screwdriver accessories free from environmental effects. Apart from the strength of their materials, the best scope leveling kit come with a range of bits.
A well-made torque screwdriver for scope mounting includes bits, hex-to -square adapter, flat blade, hex, T20 Torx, and ¼-inch socket for different applications. Additionally, a handheld power torque wrench should make a click/clutch sound during gunsmithing operations, mounting of scope bases, or firearms accurizing. This 'click' technology ensures a slip of the screwdriver bit when it hits the maximum torque level. Also, the technology prevents over-tightening or damage to thread and screws.
Accuracy
Gunsmiths can mount base screws, scope rings, guard screws, and windage screws with a range of torque settings. Generally, a +/- 2 in/lbs (for 40 in-lbs), and 40 – 65 is +/- 5% are reliable for torque adjustments on firearms.
Ease Of Use
You can ensure firmer grips in wet conditions while using torque wrenches with anti-slip handles. However, best scope mounting torque wrench that is well-designed with an ergonomic handle will provide tight scope mounting tasks. Also, the wrench should have wide torque adjustment settings like from 10 to 65 in-lbs at 5 in-lbs increments.
How to Use a Torque Wrench for Scope Mounting
Using a torque wrench requires pressure control to maintain or alter the rotational force. While working on your gun with torque wrenches, you'll need precision and accuracy. However, don't ignore these safety tips when you use specialized tools for gunsmithing tasks.
Step 1: Read the Instruction Manual-
Inspect the calibration chart, and read the instruction manual before installing any power torque wrench. Usually, the calibration certificate specification helps to guides technical operations of torque wrenches. However, these gunsmith torque wrenches should need recalibration regularly.
Step 2: Know When To Use A Torque Wrench-
Don't use gunsmith torque wrenches to loosen screws. Instead, a regular wrench loosens screws better than torque wrenches. You need torque wrenches to tighten screws and to set certain torque levels.
Step 3: Slipping Bits Cause Abrasion-
Protect the area surface areas around screw heads with masking tapes. While tightening, masking tapes keep any surfaces free from marks and cuts.
Step 4: Pressure Sensitivity-
When you use tiny or small bits, don't apply high torque settings for an extended period. Usually, high torque pressure might break screwdriver bits, or damage the wrench's internal mechanisms. Also, don't change the torque setting when your screwdriver's bit is rotating.
Step 5: Take care of Your Tool-
Ensuring the reduction of high-pressure setting after using your torque wrench can improve its lifespan. Leaving the wrench on a high torque setting will affect the accuracy of torque adjustment levels negatively. However, adjusting the setting to its lowest (dial the value to zero) after each using the wrench might ease tension on its internal mechanism.
Importance of Best Scope Mounting Kit
Wrenches have evolved; their mounting and gunsmithing applications have also become easy. Unlike regular wrenches, click torque wrenches ideal are ideal for adjusting nuts, screws, and bolts.
Saves Time
A unique power tool that provides torque according to your needs can reduce the completion time of many tasks. Unlike manual wrenches, torque screwdrivers sets are reliable for fastening bolts, nuts or disassembling firearm scope mounts.
Smart Indicator
Mounting a scope base with a specific torque setting might not go as planned. So, the innovative technology of a click wrench prevents over-tightening or loss of firearm fasteners. This smart indication system uses a click/clutch sound when it reaches the maximum torque limit.
Home-keeping Tool
Apart from being a gunsmithing tool, torque screwdriver sets for scope mounting are versatile handheld devices. Usually, avid DIY homeowners that need consistent screw pressure to fix their equipment often rely on torque screwdrivers.
Firearm Accuracy
Do you need a torque wrench that increases the precision of your firearm? Well-made digital and analog gunsmith torque wrenches are available. However, they don't offer the same level of performance.
Gunsmithing Maintenance
Different parts of a firearm have fasteners in hard-to-reach areas. So, a high-quality torque wrench set is an ideal screwdriver for maintaining lightweight guns.
Final Thoughts
Gunsmithing would be complex without power tools like torque wrench for firearm scope-mounting tasks. This specialty screwdriver comes with different designs, a range of bits and other accessories.
You can get the excellent value for money by picking any of this best torque wrench for scope mounting and gunsmithing under review. Apart from firearm accurizing, these torque wrench mounting kit also provide rotating forces for fasteners of other gadgets.