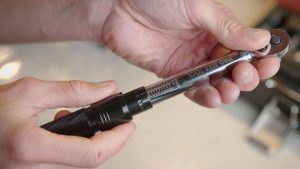 The Pro Bike Tool torque wrench is going to help you take good care of your bike. When you have spent all that money to buy a bike, you want it to last as long as possible.
That is why you need a highly rated torque wrench to take care of all the tension parts. This wrench is specifically designed to handle the torque needs of sensitive tension parts.
This tool is accurate, and has been verified effective for different kinds of fastening jobs. Whether you have a road bike or a mountain bike, you want a torque wrench set that is ideal for all the tension parts. The Pro Bike Tool wrench set is ideal even for fastening the delicate carbon fiber parts of any bike, without causing any damage.
Pro Bike Tool 1/4 Inch Drive Click Torque Wrench Set
Usability
It would be useless to have such a good tool, yet find it so complex to use. Luckily, the tool has been made with the interests of the end user in mind. It is so easy, safe and secure to use. When you lock in the torque, you can be sure that it is not going to slip and go off.
The Pro Bike Tool 1/4 Inch Drive Click Torque Wrench Set has been designed with an spring loaded adjustable collar. The main benefit of such as feature is that once you have set the torque, you get to lock it in. This removes all the margin for error and as a result, you will always get the torque right.
This is very important for some of the sensitive bike parts that need to be fastened. Even if you slip when fastening the bolts, the adjustment collar stays locked in, so there will be no accidental over or under-torquing.
When you have reached the desired maximum torque, you will hear and feel it. There is an audible click, loud enough to be heard even among the noises in the surroundings. You can stop torquing as soon as you hear this click so that you keep the mechanics of your torque wrench safe from damage.
Accuracy rating, torque range and adjustment
This one has an accuracy rating of +/-4 percent for clockwise operation, which is good for higher torque settings. For lower torque settings, you will find that the accuracy rating goes higher. For anti-clockwise operation, the torque accuracy is +/-6 percent. We might also mean that the ratchet head has 72 teeth.
This wrench set has been calibration-tested to the highest standard: the ISO 6789:2003. Thus, you can buy with confidence that it is the right tool for fastening even the carbon fiber parts of your mountain bike. However, it is important that you follow the manufacturer's instructions for use and storage.
The tension parts for bikes do not require all that much torque. Thus, for this bike torque wrench, the torque range is between 2Nm and 20Nm. At lower torque settings, stay keen for the click because it is quieter than at high torque setting. You get the smallest adjustments of 0.1Nm to the torque, you know this is as precise as a torque wrench gets.
Transport and storage
You do not want to leave your Pro bike tool torque wrench behind when you are taking to the mountain trails or when you are going on a road cruise. Even with the best precautions, bikes have this tendency to break down with little to no notice.
For portability and good storage, this wrench comes with a high quality molded case. In case you drop it on a hard surface, the plastic case absorbs most of the shock from the impact, thus protecting your wrench so that its mechanics do not go awry.
What is in the Pro Bike Tool Torque Wrench Set?
The answer is; everything that you need to get your bike back on the road after a breakdown. You will get Hex 2, 2.5, 3, 4, 5, 6, 8 and H10. Torx includes T10, T25, T30. And that is not all! There is a 10-cm extension bar to help you reach the bolts in the hard-to-access spaces. if you want, you can also use an electronic torque adapter with it.
Pros
Clockwise and anti-clockwise operation.
Calibration certificate is a good confidence booster.
Extension bar to reach hidden bolts is a thoughtful addition.
Fully locks the torque in so there are no slips or mis-torques.
Cons
Torque range of 20Nm maximum is a bit on the lower side.
Accuracy rating of 6 percent anti-clockwise is a bit low.
Final verdict
From our tests, we can say that the Pro Bike Tool Torque Wrench works as advertised and better than the options from Venzo. It has been made by a cyclist (founder of Pro Bike is a cycling enthusiast) for other cycling enthusiasts. If you are looking for a bike torque wrench that you can always carry with you on your road trips, this is it. It is made for both the hardy and the delicate parts of your mountain or road bike.