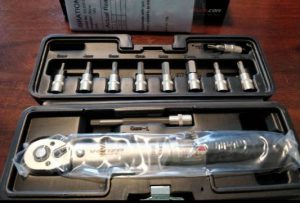 Torque wrenches come in all sizes and styles. There are so many brand names in the market and they all claim to be the best.
Thus, it can be a tad challenging to a beginner to choose the best one. However, in this Venzo torque wrench review, we will look at the qualities that make this name tick.
The most important feature of a torque wrench is accuracy. This tool tightens bolts and nuts. If it is too loose, the bolts will be loose. For a vehicle or bicycle, this could be the prelude to a serious accident. If it is too tight, you risk damaging your bolts.
With torque wrenches, there is no room for error; it must be accurate to the letter. Whether mechanical or low range electric wrench they are quite accurate. However, it never harms to do some research and be doubly assured that you are getting the real deal.
Top 2 Venzo Torque Wrench Review 2021
Though there are numerous Venzo torque wrench options on the market, here, we've handpicked the top 2 products for you.
If you are looking for a wrench that you can use on your carbon fiber bike, read this Venzo bike torque wrench review first. From the packaging to the six pieces of bits and one Allen Key extender, this product oozes quality from every pore.
It is one of the best mechanical torque wrenches for carbon bicycle parts. The torque range is between 2 and 24Nm and head size is ¼ inch. If you have a carbon fiber bicycle, you know how delicate those parts can be. Thus, you need a tool that is specifically made for such a bicycle and the Venzo Bicycle Torque Wrench Socket meets all of your needs.
The user-friendliness that the Venzo torque wrenches are so well known for is quite evident in this product. For example, the Allen Key is longer than usual by 5mm to make it easier to use.
Pros
Great packaging, everything fits so snugly in the case, easy for traveling with.
Fully calibrated, ready for use in the factory.
Safe for use on carbon parts.
Click the lock to let you know when the preset value has been reached.
Easy to use even for beginners.
Cons
Warranty is 12 months only L.
2. Venzo 1/4″ Beam Torque Wrench Set – Great Maintenance Tool For MTB, Mountain, Road Bike & Motorcycle
Get your torque accurate all the time with the Venzo bicycle bike torque wrench. It is rated as one of the best hobbyist torque wrenches to have in your home workshop. It is easy to see why.
First, it comes with seven Allen Keys, spanning from 2mm to 8mm. Secondly, the high quality of the material used in the construction of these tools is evident. You can be sure of high accuracy as you tighten those bolts on your bicycle. Once it clicks, know that it has reached its preset value and stop tightening. As usual, it has been pre-calibrated in the Taiwan factory where it was made.
This is a small wrench, but then it is made for portability. It is for ¼-inch sized hex drive bits. In all tests, it has come out as very accurate. The small size is deliberate so that you can travel with it easily.
Pros
Long-time warranty.
Small enough to fit in your jacket pocket without feeling the weight.
The small size helps you tighten bolts in tight places.
Good price.
Cons
Mostly, use it on emergency roadside repairs and light jobs in your home workshop. Heavy-duty tightening jobs can snap it.
Why Choose the Venzo Torque Wrench?
There are many reasons why you would need a torque wrench. One of them is that they are really cool tools to have. To a DIY enthusiast who loves to use his or her hands, a torque wrench is the next best thing after the discovery of fire. There are many brands like Park Tools, Pro Bike tools, Precision Instruments that you can choose from.
So, why among the so many brands of these wrenches, should you choose the Venzo brand name?
Long Experience with Bicycles, Tools, and Spares
Venzo has been in the business of making and supplying bicycle spare parts in South America, Asia and other parts of the world since 1985. With experience spanning more than three decades, you will see that they have become better with time. In fact, every one of their new models of spare parts is like an improvement of its predecessor. Customers looking for Venzo bicycle torque wrench are always assured of quality.
The bicycle as a whole has been at the core of their business since their establishment. In addition to making bicycle spare parts, they also sell full bicycles. Royal customers can ride Venzo bikes and repair them with original spare parts from the manufacturer.
The Most User-Friendly Bicycle Torque Wrenches
The long experience in the market has seen a proliferation of their tools and parts. Among some of their most popular repair and maintenance, tools are the Venzo torque wrench.
This is also one of the most user-friendly wrenches in the market. The reason for saying this is that they care so much about accuracy. They pre-calibrate all of their torque wrenches in the factory before shipping them. Thus, when you buy one, you can start using it straight away.
If you own a bike, you will definitely need a bicycle bike torque wrench. Without mincing words, we can say that one of the reasons why people choose Venzo over other brand names is the price and quality! You pay a low price to get a high-quality torque wrench that can withstand the test of time.
Very Accurate
To reiterate our sentiments about this torque wrench, well, it is accurate. Now, all bicycle enthusiasts know that a torque wrench is only as good as it is accurate. That is why Venzo has taken no chances with their mechanical wrenches. You can preset one to 0.1Nm and then hit the lock ring to lock-in that value.
Warranty – Buy with Confidence
If you read any Venzo torque wrench review, you will see that all of their wrenches are covered by 1 year to a limited lifetime warranty. Warranty is the indication of the confidence that a manufacturer has in his or her product. You can buy this tool knowing that if it fails you in future, you are guaranteed to get a replacement. However, read the terms and conditions governing the warranty first, and take good care of your tools.
Excellent product, reasonable price, and a good warranty are best topped up with excellent customer care. If you have any questions regarding a product that you bought from Venzo, their customer care department is very proactive. They reply to all emails and queries on social media.
Good Customers Feedback
As this brand name has been in the market for so long, what do customers have to say about it? We know that positive customer reviews are the Holy Grail in marketing. If you check the Venzo Facebook fan page, you will see that they have hundreds of thousands of followers. There, you will find genuine reviews of their products, from people with firsthand experience at using them.
When buying online, check the review section and you will see the excitement that many buyers express. Among some of the sentiments that they use to describe the Venzo bicycle bike torque wrench is accurate, set that covers everything, great quality at a good cost and so on.
Something for All Bicycle Lovers
Whether you have a racing bicycle, a mountain bike or a regular cruising bike, Venzo has your parts needs covered pretty well. It is the one-stop center for everything regarding bicycles, and their parts and tools.
Final Verdict
After reading this Venzo torque wrench review, you now know why millions of bicycle enthusiasts in the world swear by Venzo. You have also seen the most important features to consider in a torque wrench, especially a mechanical one – accuracy!
Lastly, we have brought you a Venzo bicycle bike torque wrench for each of the two most popular ones. It is decision time now, and you know what to go for. Before ordering one online, you can check user reviews left by other users, so you do not buy blindly.