Our car air conditioners are a vital part of our systems, keeping us cool on hot, sunny days and warm and toasty during chilly late-night drives. But sometimes, they let us down. Especially when we get in a hot car, crank the AC, and are met with warm, sticky air. It's the worst, isn't it?
And it happens to so many of us! We are left with hefty bills to pay mechanics, or following a haphazard tutorial, trying to repair any damage ourselves. If this sounds like you, then welcome, my friend, you have come to the right place!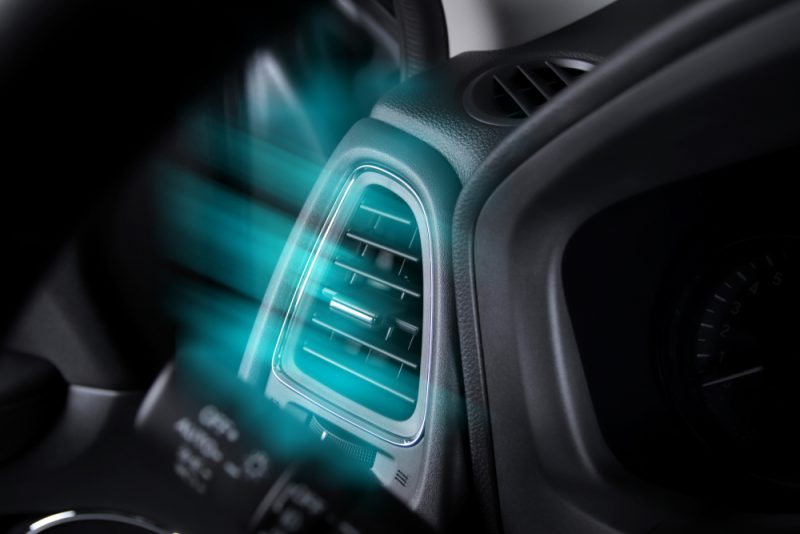 Generally speaking, a lack of refrigerant is the most common cause of your AC system only blowing warm air. But it is not the only cause; broken fans, electrical issues, condenser, or compressor problems can all cause your AC to blow warm air.
Here at torque wrench center, we know how frustrating a broken AC can be, which is why we have created this handy guide, allowing you to see how your AC system works, pinpoint your problems, and solve them! Just keep reading to find out more!
What does my AC system look like?
Before we can begin to look at the problem and how to fix it, it's wise to look at the AC unit as a whole, allowing you to identify each component.
A better understanding will ensure that you can repair the AC quickly too!
Compressor
Let's start with the compressor. It takes low pressure, low-temperature refrigerant while it's a gas and compresses it. The result is high pressure, high-temperature gas.
The compressor is usually a round and short piece of your AC unit.
Condenser
Your condenser almost looks like a radiator. It's a rectangular piece that acts as a mini-radiator in your AC system. It receives the high-temperature, high-pressure gas from the compressor and radiates heat out of it.
When this happens, the refrigerant condenses, converting it into a high-pressure, low-temperature liquid. By your condenser, you will also find a pair of cooling fans. These fans blow over the condenser and work to reduce the heat from the refrigerant.
Receiver/Dryer
Next up is your receiver/dryer. Its job is to remove moisture from the liquid refrigerant. How? It filters the liquid through desiccants, a moisture-absorbing substance.
You know the stuff, the small packet you find in a new pair of shoes or bag that prevents any moisture or dampness from damaging your goods.
So why does the moisture need to be removed? To stop the refrigerant from freezing. When it freezes, the refrigerant can clog the expansion valve, causing issues for your AC unit.
While water freezes at -32 degrees, the refrigerant has a low freezing point of -200 degrees and must be avoided to prevent complications.
Expansion Valve/Orifice Tube
Your expansion valve controls the amount of coolant that passes through the system, like a nozzle on a hose. As the coolant passes through the expansion valve, it expands, reducing the pressure and heat simultaneously.
The process also converts it back into a gas at a low temperature and low pressure. In some ACs, you will find an orifice tube instead of an expansion valve. They both work similarly, except an orifice tube can regulate the size of its opening based on the temperature in the evaporator.
In these systems, the receiver/dryer is replaced with an accumulator, which works similarly, removing moisture from the liquid refrigerant.
Evaporator
We have another radiator-like component now, the evaporator. It features lines on the inside that the refrigerant will pass through. These lines absorb heat and send it outward, reducing it to around 32 degrees.
The coolant will boil at 32 degrees, compared to water, which will freeze. Here, the temperature is lowered, evaporates, and reverts to gas again. You will see a fan that will blow over the evaporator, pushing the desired cold air into your car.
The coolant will then journey back to the compressor as a low temperature, low-pressure gas and begin the process all over again!
That's a lot of work for one system to do, isn't it? And it's no wonder that faults might happen. Let's take a look now at the five most common reasons your AC is blowing hot air and how we can fix them!
Why Your AC is Blowing Hot Air and How to Fix it: 5 Common Problems
Your Car is Leaking Refrigerant
Your refrigerant is continuously recycled, only being recharged if there is a leak in the system. Think you might have a leak? The first symptom will be your AC blowing warm air. But how do we find the leak?
Sadly, it can be quite tricky due to the refrigerant returning to gas when it reaches areas of low-pressure where your leak might be. So what can we do? Fortunately, there are two avenues we can explore.
First, you can take your car to a mechanic. They will have far more experience and locate the leak, then either repair or replace the necessary parts. Unfortunately, these can be costly repairs to have completed depending on the severity of the leak.
Your other option is to use an AC leak sealer to stop the leaks. These are best suited for small leaks, so keep that in mind when considering your options. You can choose from two types of leak sealers.
The first type will condition your seals, causing them to swell, stopping a leak. The second type will flow through your entire system until it finds the leak, forming a solid substance to block it, reducing any leak space.
Leak sealers are an affordable option. They will often feature a nozzle to connect directly to the high-pressure port for easy use. Be sure to follow the instructions on your sealer carefully when using it.
The Condenser is Malfunctioning
Your condenser removes heat from the refrigerant and expels it outwards. If there is an issue here, your AC will blow warm air. The condenser sits behind the front grill of your car, where debris can enter and cause blockages in the lines.
You might be able to remove the blockage; however, repairs are harder to come by. Usually, if the condenser is causing you problems, it will be a costly repair. The amount will vary depending on the make and model of your car, with a mechanic being able to offer you an exact price.
Electrical Issues
It's the last thing you want, but there is a chance that an electrical issue causes your warm air. Electrical problems can be challenging to track down, as many wires aren't visible without talking your AC system apart.
Most of your AC components need electricity to function, and without the needed electricity, the system is likely to blow warm air into your car. In some cases, you can mend frayed or damaged wires using electrical tape.
However, electrical issues are often best left to professionals to ensure the repair work is safe and meets electrical standards.
Cooling Fan Issues
As we saw earlier, your condenser is paired with cooling fans that reduce the heat of the refrigerant while it's in the lines. If there is an issue with the fans, the AC system will not work as it should.
There are a few reasons why your cooling fans might stop working, such as blown fuses or electrical system issues. Cooling fans can also become damaged by road debris, as they are located near the front of the car.
In these cases, a replacement is your only option. These can be costly replacements to make, and it is best to consult your local mechanic to have them carry out the repairs.
Faulty Compressors
The compressor kicks off the AC unit, moving the refrigerant around, so any problems here will affect the whole system. How do compressors fail? A common cause is a lack of use. Using your AC system after a long time of no use can shock the system, causing faster wear than you would expect.
To combat this, run your AC for roughly 15 minutes every few weeks. It will allow the system to run without causing too much shock to it.
As the compressor features lots of moving components, a replacement is usually easier than carrying out repairs. Unfortunately, these repairs can be quite costly to undertake. However, you can avoid these costs if you use your AC regularly, as it will significantly extend the life of your compressor.
Final Word
And just that, we have reached the end of our AC journey together. As you can see, there are a few reasons why your AC is blowing warm air, all of which will need attention to ensure that the unit can function properly again.
It is best to have the repairs carried out quickly to avoid more severe damage occurring. No matter how often we tell ourselves it's okay, can you cope in a warm car during hot days?
Be sure to check the necessary areas for any signs of damage, and consult a mechanic if you are unsure of carrying the work out yourself!