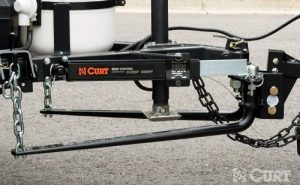 Having a good trailer sway control kit is very important if you plan on towing SUVs or trucks with a trailer. As there is a lot of downward weight put on the back of your vehicle, you might notice some irregular or uncontrollable motion when driving.
This increases the possibility of accidents and puts your life along with others' in danger. So, it goes without saying that finding a quality trailer sway control unit is of paramount importance.
However, getting the best trailer sway control kit is not an easy task. There are a lot of factors that will decide which one is the right fit for you.
Luckily, you will find all that info here. So if you really want to find the perfect weight distribution hitch kit for you, give this article a read.
Best Trailer Sway Control Kit Reviews 2020
| Image | Model | Speciality | Price |
| --- | --- | --- | --- |
| | EAZ LIFT 48059 1,200 lbs Elite Kit | Includes Distribution, Sway Control and Hitch Ball | Best Overall | Check on Amazon |
| | Fastway e2 2-Point Sway Control Round Bar Hitch, 94-00-0600, 6,000 Lbs Trailer | Runners Up | Check on Amazon |
| | Blue Ox BXW1500 SWAYPRO Weight Distributing Hitch 1500lb Tongue Weight for Standard Coupler with Clamp-On Latches | Premium Option | Check on Amazon |
Choosing an ideal trailer swaying kit from all the available ones can become quite difficult. Most of the manufacturers will claim that their product is the best, but here are the ones that actually work.
1. EAZ LIFT 48069 1200 lbs Elite Kit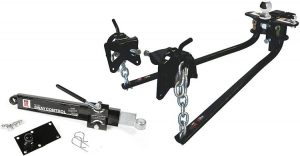 The 48069 is a quite durable member of the EAZ Lift series. EAZ provides other options with different weight capacities and a few other features, but the sway control and basic build remain the same.
This model is quite sturdy and feels quite heavy-duty. That being said, the hitch does not weigh your vehicle or the trailer down and is not too bulky. A solid steel insert tube is what contributes to this heavy-duty feature. If mounted properly, this tube will hold everything in place.
Solid steel insert tube combined with an unbreakable sway bar is what keeps you safe when you're driving fast. The same amount of safety is also provided when making sharp turns.
To make the installation process easier, the sway control ball and hitch ball come pre-installed. If this is your first time assembling a sway control kit, you are in luck. Even the spring bars come with the chain package, and U-bolts are pre-installed.
With a 10% Tongue weight of 1200 pounds and a GWR of 12000 pounds, this sway kit won't cause any unwanted movement even when the trailer is empty, and there's a strong wind blowing. This kind of stability is just what you need for safe towing.
Highlighted Features
EAZ is a trustworthy brand that makes durable sway control kits
Heavy duty but not bulky
Solid steel insert tube and sway bar keep the trailer stable and safe when driving fast or making sharp turns
Hitch ball, sway control ball, U-bolts and spring bars come pre-installed
10% tongue weight of 1200 pounds for 12000 pound GWR
---
2. 6K RB Fastway e2 2-point sway control hitch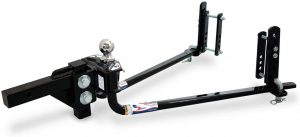 Looking for an affordable trailer sway control that still does the job, right? The Fastway 6K RB is a great option to consider.
An integrated two-point sway design keeps the trailer as stable as possible. All kinds of side to side movement are eliminated with no lift chains involved. When traveling faster or in heavy rain and wind, the chain on chain friction keeps the trailer from waddling. In situations like this, the spring bars are kept in place with the help of brackets.
The sway bars are also rounded and therefore flex easily for a bump-free and controlled ride.
With no drilling involved, this is one of the easiest weight distribution hitch kits you'll ever get. Just mount on the clamp-on brackets along with the trailer frame. If you wish, you can also add mountable accessories such as toolboxes or generators to the kit.
Although the set is quite affordable, the structure is durable. The high-quality steel construction has a powder coating that keeps the structure corrosion-free.
The weight capacity of the set is a decent 10000 pound GWR with 1000 pound tongue weight. Other features such as the capability to back up without any disassembly and easy snap-up installation also make this sway control kit worth your money.
Highlighted Features
Integrated two-point sway design keeps trailer stable.
The chain on chain friction helps control the trailer during rain and wind
Brackets keep the spring bars locked in place
Toolboxes or generators can be added to the clamp-on brackets
Powder-coated construction makes the set corrosion resistant
Budget-friendly as the price range is affordable
---
3. Reese 49913 Wd Rb Pro Series 1000# W/Sway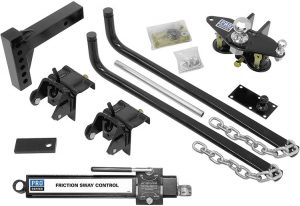 Reese is a household brand for towing. Almost everyone knows that they make high-quality towing accessories that last long and are available at a reasonable price. This model does not disappoint when I come to durability or performance.
The Reese 49913 is also an option you should consider is you want something on the affordable side.
This model is particularly popular for having great sway control. Even in rough weather, when making sharp turns or driving fast, this set keeps your trailer in place with friction sway control. You get steady rides even without using the sway bar.
A welding rod with a fabricated end gives you a more durable product. This set also helps take the load off of your wheels, making sure they last longer. All parts of the set work together to lower the pressure on your vehicle resulting in near-zero damage to your truck or its tires.
For quicker installation, the sway ball, U-balls, chains, and hitch ball come pre-installed and torqued. You won't need more than an hour to set up the sway control due to the ball mount.
All parts that are required for a safe and secure set up are included with accessories to make your towing experience better.
Highlighted Features
Reese is a well-known brand that makes affordable towing accessories
Great sway control even in rough weather or high-speed drives
Steadier rides even without sway bar
Welding rod with fabricated end keeps the wheels and vehicle intact to prevent accidents
Sway ball, U-balls, chains, and hitch balls come pre-installed for your truck
Good strength
---
4. Blue Ox BXW1500 SWAYPRO Weight Distributing Hitch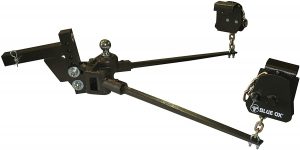 Say goodbye to those annoying squeaky noisy rides that made you hate bringing your trailer out. Get ready for near noise-free trips with the Blue Ox weight distributing hitch. Even when riding fast, you won't notice any treble or whistling.
A spring steel construction also contributes to this factor and makes your rides smoother. Any major vibrations or impacts are absorbed, keeping you comfortable, and your travel trailer safe.
This heavy-duty sway control set has a 15000 Lbs GWR with a 10% 1500 TW. If you use your trailer for heavier cargo or for moving, this set will be the best option for you. Many professional towers prefer the Blue Ox for their rides.
Unlike some other swaying kits, you don't have to take off the bar chains when you are reversing your vehicle. This will save you a lot of time and effort when you're on the go. However, some customers have complained in the past about these bar chains being a bit difficult to install.
Besides that part, the rest of the set is quite simple to set up. You are also provided with all the parts that you will need, so there's nothing you need to buy separately. This kit and some basic tools are all you need.
Although this trailer hitch kit is a bit pricier than the others, the model is great if you have to tow vehicles that are heavy.
Highlighted Features
Heavy-duty sway control with 15000 GWR
Bar chain is difficult to install but does not need to be taken off when reversing vehicle
Doesn't cause ground clearance problems and has good lubrication system
All parts included for easier setup and works well with the hitch receiver
Great for professional or frequent high weight towing
The sway unit will be of help in difficult towing situations
---
5. CURT 17063 MV Round Bar Weight Distribution Hitch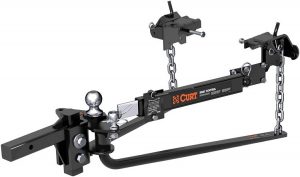 If you have to carry fragile products in your trailer, the CURT 17063 is the best way to go. Sway control on this kit is impeccable.
This weight distribution hitch ensures that all the weight in your trailer is distributed evenly. Evened weight keeps the trailer from swaying and shaking while towing RV, keeping all the contents inside safe and in one piece. Tongue weight is distributed across the trailer, and a sway control bar is also added for maximum stability.
Spring bars made with heavy forged steel ensure that the kit lasts through all seasons. The parts won't get rusty or crusty any time soon, so don't even bother thinking about replacements.
These sturdy but lightweight parts are attached with a special Grease zerk fitting. With a continuous flow of lubricants, this fitting ensures that all the parts work in coherence without getting damaged.
Taking off the round bar hitch when you're not using your vehicle for towing is made easy with the snap-up design. This allows you to snap the entire kit off within seconds for quick and easy detaching and towing.
You get a towing capacity of 10000 pounds with this, which can be stretched to 14000 pounds depending on the setup.
Highlighted Features
Round bar weight distribution hitches are easier to assemble.
Won't cause ground clearance issues for the towing vehicle
Spring bars made with heavy forged steel and hopefully will be long lasting
Grease zerk fitting keeps the parts lubricated including hitch head
Easy to detach and attach from hitch receiver with simple snap up design
Weight capacity of 10000 to 14000 pound
Sway control bar for greater stability
---
Buying Guide For Weight Distribution Hitch
Settling for just any high-quality weight distribution hitch with good reviews won't be enough. You need to find one that works for your situation. Keep these things like capacity, sway control balls, mount reinforcement plate, lubrication system, trailer ball, built-in sway control, and trailer types in mind when choosing the best weight distribution hitch kit.
Weight Capacity
There are two main factors that you need to keep an eye on when looking for weight distribution hitches, which is compatible with your workload; Gross trailer weight and Tongue Weight.
The maximum weight your kit can handle is noted with the GTW, while TW states how much downward force the load of the trailer has on the hitch.
If you have a trailer with a 20,000-pound load, you will need a kit that has a hitch with more than 20,000-pound GTW and a TW of 2000 pounds.
The TW is usually 10 to 20% of the GTW. So, before you purchase a kit, make sure you check the maximum trailer weight rating, and tongue weight rating.
Sway Control
This feature, being the sole purpose of you buying the anti sway kit in the first place, is the most important. A weight distribution hitch with good sway control will prevent any mishaps when making sharp turns or abrupt stops on the road and will keep the vehicle in a straight line. It will ensure the weight is distributed properly from the front of the vehicle to the axle. 
The control is available in two ways. Some sway controls work direct and keep the trailers stable when a sway occurs, and some prevent swaying in the first place.
Almost all the kits available nowadays will have this feature. You will have to choose one that has a better version of it. If you can pair a good weight distribution hitch along with the best shocks and struts for smooth ride, then it would be great for your vehicle. 
Installation Process
Sway control kits are not the easiest thing to install. Getting a kit that does not have too many extra installation processes will make this hard task a bit more unchallenging. Look out for companies that send out detailed and thoroughly explained, set up instructions with their products. Also, you should check if the kit has ball mount and shank included. Another thing that has an impact on the installation process is the type of spring arm. It's necessary to find out if the kit has trunnion spring arms or round bar. Round bars are easier to set up.
Some of the anti sway kits come with a few parts pre-installed such as frame brackets. This reduces the amount of assembly and makes the weight distribution system easy to install.
If you are a beginner, this option will be the way to go.
Safety
It's important to consider how much safety the kit offers to your trailer. Checking if the safety chain has good protection that can lift the center of the sagging chain is essential. Also, you should see if the tension of the chain can be adjusted. That way, you can get flexible sway control.
The manufacturer must ensure the safety of the customers to make the weight distribution kit stand out among other options on the market. Other issues that will indicate the safety levels are friction pads, the durability of A frame and the safety chains.
Durability
Replacing hitches with sway control is not a fun task, so the less often you have to do it, the better.
To ensure this, you should settle for kits that are made with the right material. Besides that, an anti-rust feature for the components will always be helpful. Also, it would be great if the kit comes with a warranty.
As these are not the cheapest things to buy, it is better to invest a bit more in kits that you know will last longer than having to keep on buying extras.
FAQs About Trailer Sway Control Kit
Here are a few questions that the rest of the article didn't cover. Hopefully, these will clear out any confusion you have about weight distribution kits.
1. What is Sway control?
Towing vehicles can sometimes move uncontrollably due to the immense weight put on their rear end and cause you to lose control over the steering wheel. Sway control keeps your trailer from moving side to side uncontrollably, preventing major accidents. This feature will control the swaying as it occurs or prevents swaying in the first place. They can sometimes include sway bars.
2. Do I need a trailer sway control kit?
If your trailer is unstable, a sway control device is an absolute necessity. No matter, if you have the best 4 barrel carburetor, without a proper sway control unit, you'll have problems. And if you are driving an automatic transmission for 383 stroker, you should be picky about the carburetor as well.
3. What weight capacity trailer sway kit do I need?
Try to go for kits that have the capacity of holding at least a few thousand more pounds than what you usually carry on your trailer.
4. How much trailer sway is considered normal?
When traveling fast, your trailer might sway a bit, especially if your TW is below 10%, but this shouldn't be noticeable.
5. How do you know if you've added too much weight to your trailer?
You will notice that your suspension is sagging, and the trailer is leaning towards one side when you've added too much weight. There will be issues when facing bumps and potholes.
Read Also: best turbo for dodge Cummins in 2020
Read Also: best brakes for nissan altima
Final Words
None of the products mentioned in our list will disappoint you. If you're looking for an affordable option, the 6K RB Fastway e2 2-point sway control hitch will be a great choice. But for professional use, you should consider the Blue Ox BXW1500 SWAYPRO Weight Distributing Hitch.
Not only will adding the best trailer sway control kit to your trailer make your rides safer, but you will also notice that your journeys are smoother. This is an essential kit that will also increase the longevity of your car. We can't think of one reason why you shouldn't invest in one.
Also, if you are looking for the best locking lug nuts, we have reviews for that as well.