If you hear louder than usual noises coming from your exhaust system, this could be the sign of a damaged or broken muffler.
Unsure what a muffler on a car is? As the name implies, the muffler works to muffle or drown out any excess sounds coming from the exhaust helping you have a relaxed and noiseless journey.
We take the muffler for granted until there is a problem with it. You will notice a problem as soon as you hear a significant amount of noise. This is typically when the muffler has begun to malfunction.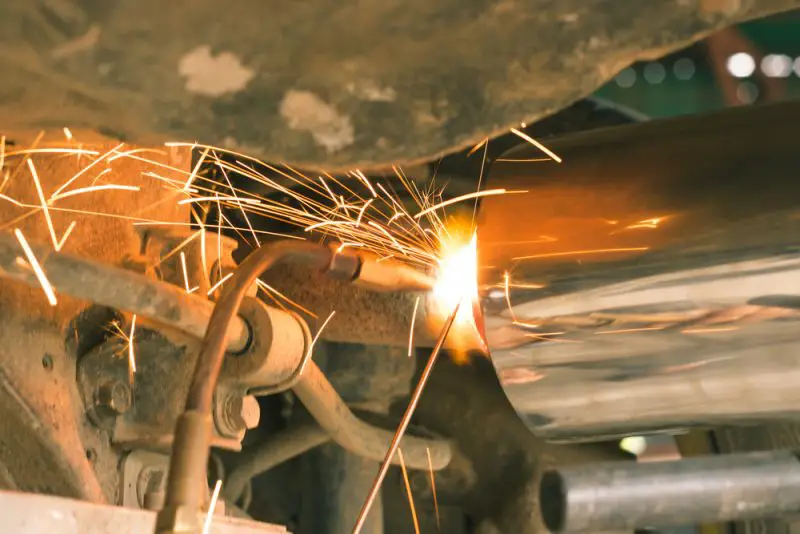 As well as ruining your driving experience with the loud noises of the engine roaring through your exhaust system, a damaged muffler can also harm your vehicle.
If you experience sudden bursts of noise, a drop in fuel economy, poorer acceleration, or your engine misfiring, there is a good chance you need to repair your car's muffler. If not, you could end up with a damaged vehicle and a costly fine.
If you're looking to replace the muffler and want to know what the cost may be, stick around! The following article is going to discuss everything you need to know about muffler repair as well as the associated costs.
Let's take a look at how a muffler works, to begin with.
How does a muffler work?
So you have your prized car and you love taking it around the roads for relaxing drives. However, loud noises have begun to occur from the exhaust system and it has negatively impacted your driving experience. It sounds like your muffler has malfunctioned.
When you own a vehicle, it is always useful and helpful to be as knowledgeable as possible on all its parts in case something goes wrong.
This will help you notice any unwanted changes in your motor's performance so you can try and fix it as soon as possible. One such part that is relatively unknown to many motorists is the muffler.
Essentially, this is one of the most vital components of any vehicle. By emitting sounds, it enhances the performance of your vehicle's engine. A muffler is designed to reduce sound waves coming from the exhaust system without disturbing the exhaust gas flow.
There are various parts inside the muffler that work separately at the same time.
These include:
Inlet – The first part of the muffler and is directly attached to the exhaust system. This is where gases and sound enter from the exhaust system
Resonator – Gases and sounds are directed to this as it works as a noise cancellation system, reducing the noise of the engine. It consumes the louder sound waves before canceling them out
Perforated tubes – These determine the sound your vehicle emits and the sound level of your car. These absorb sounds to enhance your engine's performance
Outlet – The final part of the muffler, the outlet helps emit the remaining sounds and exhaust gases
Types of Mufflers
There are a few different types of mufflers. These include:
Chambered
Turbo
Straight-through
A chambered muffler cancels sound waves out by redirecting different sound waves that go back onto each other. This is a very similar method to how noise-canceling headphones operate as a specific frequency is transmitted to help neutralize various sounds before we hear them.
Turbo mufflers have a similar method to the chambered types but instead of using a chamber, the exhaust gases move through perforated tubes that are encompassed by sound-proof/deadening materials. A turbo muffler is one of the most commonly used types because of its effectiveness.
A straight-through muffler allows exhaust gases to pass straight through this muffler instead of circulating like the other versions. If you look inside this muffler, you will find a perforated pipe that is enveloped by fiberglass insulation and steel wool. Rather than emit sound waves, the straight-through muffler converts them into heat, reducing loud noises.
This muffler is superb at increasing your vehicle's performance by reducing back pressure from its engine. As gases can flow easily rather than become hindered, your car's horsepower increases, and your fuel economy improves. However, the noise isn't as muffled compared to the previous types and, most of the time, straight-through mufflers don't include a catalytic converter which is required by law.
Signs of a Damaged Muffler
As you are now familiar with what mufflers do and how they operate, you should know some of the most common signs that your muffler may need repairing.
Exaggerated Exhaust Noise
This is probably the number one sign of a faulty muffler. If it is no longer drowning out your exhaust sounds, more often than not, there is an issue.
Mufflers are always located under the vehicle and close to the ground. Therefore, they experience wear and tear more than many parts of the car.
Some common problems include rust or cracks which can lead to loud, deep sounds which are then emitted through the tailpipe. It's important to note that such sounds may not always be the muffler.
On occasions, a manifold gasket, which is the sealant for the connection of the cylinder head and intake manifold, could have started to leak resulting in growling sounds.
If you continue to drive in a very noisy car, don't be surprised if you get stopped by law enforcement and receive a substantial fine.
Knocking, Banging, or Rattling Sounds
This is another common symptom of a bad muffler. If you hear a banging or knocking sound, it could mean a mount that holds the muffler in position has become loose. This can result in your muffler being dragged along the ground as you drive.
Lighter sounds, such as rattling, could mean your catalytic converter is damaged and failing. This reduces the toxic air that comes out of your tailpipe, reducing emissions into the atmosphere.
Although these usually last 10 – 15 years, the internal parts can collapse, resulting in an uneasy rattling sound.
A Decrease in Fuel Economy
This one hurts your bank balance as well as your vehicle. When your muffler isn't working properly, your car's engine will have to work extra hard, resulting in the burning of more fuel.
Engine Misfiring
A problematic muffler can cause your engine to misfire. Typically, this is down to a mixture of incorrect fuel and air within the combustion chamber.
This doesn't always signal an exhaust leak as it could be a sign of worn valve seals, fuel injector failure, or worn spark plugs. Nonetheless, there is a high likelihood that an exhaust leak is the problem.
Slower Acceleration
When trying to accelerate, you may notice a distinct lack of power. This is another sign that there may be a leak in the exhaust system, such as the muffler.
This can disrupt the o2 sensor which measures the percentage of oxygen in the exhaust gases. To compensate for this, the ECM (engine control module) will try adjusting the fuel and air mixture inside the combustion chamber, leading to a loss of power.
Stronger Odors
Lastly, gases that come through your tailpipe could begin to seep through a leak and cause unusual smells. These odors can be from formaldehyde, benzene, carbon monoxide, nitrogen dioxide, sulfur dioxide, polycyclic hydrocarbons, and nitrous oxide. In high doses, these can be fatal.
If you notice any strong smells of gas or chemicals, there could be a crack in the muffler which needs repairing immediately.
As you can see from these symptoms, it can be quite plain to see when you have a problem with your muffler. Although one sign may not mean the muffler is broken, two or three of these signal a definite muffler malfunction and you will need to repair it as soon as possible.
This is because mufflers are required by law across the whole country and if the muffler is damaged, it could damage your vehicle's whole system.
Muffler Repair and Cost
The good news is that a muffler can be repaired, as long as it's not completely blown out.
If there is a crack or hole in your muffler, it should be able to be repaired. This is usually done by sealing the hole with specialty paste, tape, or using a patch and you can do this at home most of the time.
If a section of piping surrounding the muffler needs replacing, you should see a professional. Whichever the problem is, you shouldn't be spending more than $200 but a diagnostic fee may increase this price. If you see a hole or rusted area, the better and cheaper option is to fix it yourself.
If the muffler needs replacing, you can expect to pay around $150 to $300 but this depends on the make and model of your vehicle, the type of muffler you are using, and whether extra parts of the car need replacing too.
You may be able to reduce costs by using an aftermarket muffler that isn't built for a specific model but it is recommended you purchase OEM (original equipment manufacturer) parts to ensure your motor will function as intended and not affect manufacturer warranties.
In Summary
If your vehicle has started to sound like an angry rocket, chances are, your muffler has malfunctioned.
If you don't like the thought of spending more cash on fuel, experiencing dangerous chemical odors, or hearing constant rattling or knocks from your car, you should get your muffler fixed.
Other than putting your car's and your own health at risk, you will probably end up with a hefty fine when you could have spent less on the repair in the first place.