A catalytic converter is a vital component in your vehicle. It reduces the toxicity that is emitted out of the tailpipe and, therefore, reduces emissions entering the atmosphere.
If yours has begun to fail, it will no longer be able to reduce the engine's toxic emissions and could mean your car will fail a smog test as well as harm the environment.
If your catalytic converter is broken, you will need to replace it with a newer version. The cost of replacing the catalytic converter can vary depending on the model, age, and condition of your vehicle but, overall, repair costs can be quite expensive.
Therefore, if the value of your car doesn't match up with the cost of replacing the converter, it may be best to sell your car instead.
If your motor requires a new catalytic converter and you need to find out the costs of replacing one, you're in the right place. We are going to tell you everything you need to know about these converters such as what they are and how they work.
We will also study some tell-tale signs that yours may be failing and how much you will be looking at to replace it.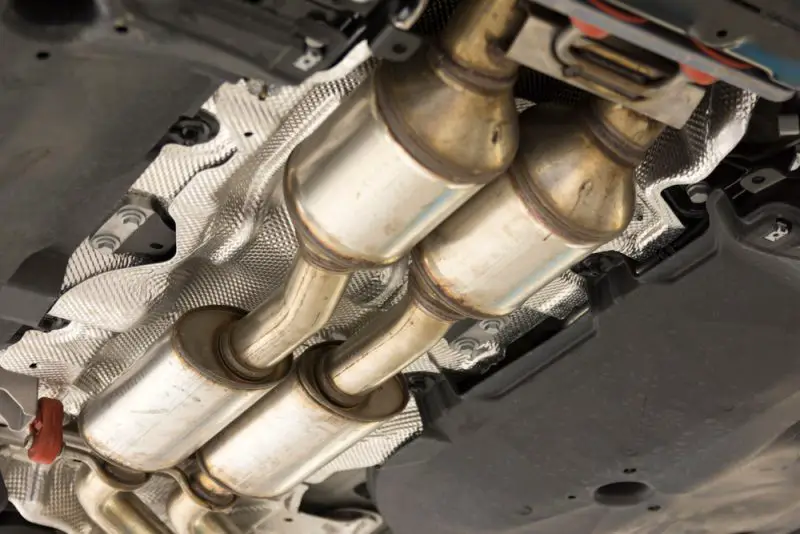 What is a catalytic converter?
The catalytic converter works as an emissions controller. It looks like a muffler but its interior is very different.
When delving into the insides of a catalytic converter, you will find a honeycomb structure. This allows exhaust gases and fumes to pass through the converter where the gases merge with catalyst particles such as palladium, platinum, and rhodium which are embedded in the honeycomb structure.
Your motor has gasoline to make it run properly. This gasoline is made up of hydrocarbons which is an organic compound comprising hydrogen and carbon.
Due to the extreme heat inside your vehicle's engine, the reaction between hydrogen, carbon, and oxygen creates carbon monoxide. This toxic substance is a danger to our ozone layer and a build-up can severely impact our planet.
Furthermore, if the hydrocarbons don't burn up, they get released into the atmosphere with negative effects.
This is where the catalytic converter steps in. Its honeycomb structure inside acts as a catalyst and converts these toxic substances into something less dangerous. The ceramic inside the converter doesn't react with anything but it reaches very high temperatures to allow reactions to take place.
Platinum and rhodium extract oxygen from the nitrogen atoms and this causes the non-toxic nitrogen to exit through the exhaust. The remaining oxygen molecules are then combined with the carbon monoxide to create Co2.
Your engine optimizes these reactions through the ECM (Electronic Control Module) which receives data from two separate oxygen sources. One is situated before the converter and the other is after it.
The Causes of a Faulty Catalytic Converter
Catalytic converters generally last between 10 to 15 years as there are no internal moving components that become worn after prolonged use.
Unfortunately, parts surrounding the converter can become worn and usually have a shorter lifespan. If these become damaged, it can reduce the efficiency of your catalytic converter and how long it can last.
Some reasons why your catalytic converter could fail are:
Poor spark plugs
Unburnt fuel inside the exhaust
Oil inside the exhaust
Antifreeze inside the exhaust
A damaged or faulty oxygen sensor
The Signs of a Faulty Catalytic Converter
Now we have discussed what a catalytic converter is and how it operates, let's take a look at the main symptoms of a failing converter.
These include:
A decrease in fuel economy
A failed emissions test
A rotten egg odor from your car's exhaust
A check engine light coming on
A drop in engine performance
A Decrease in Fuel Economy
There are two sensors on your catalytic converter with one located before it and the other after.
If a blockage occurs inside, the ECM will gather data and help by injecting more fuel. This results in your vehicle using far more fuel than before.
A Failed Emissions Test
Just about every state requires your vehicle to pass an emissions test. This is to ensure it is not polluting the environment excessively. This test usually costs around $30 to $90 and its certificate lasts for 1 to 3 years, depending on your state.
If you fail this test and continue to drive, you will probably end up with a fine if stopped by the police. Furthermore, you won't be able to renew your registration on a vehicle that hasn't passed the test.
If your car fails its smog test, the main culprit is typically the catalytic converter so it's best to repair this as soon as possible.
A Rotten Egg Odor from Your Car's Exhaust
You should be able to notice this smell early on as it can become overwhelming and not one you can blame anyone!
This unpleasant smell happens because gasoline contains small amounts of sulfur. This converts to hydrogen sulfide during the combustion process.
If the catalytic converter is working properly, this sulfide should then be converted into non-smelling sulfur dioxide. However, if it is not functioning correctly, the hydrogen sulfide will leave the tailpipe before the conversion occurs, resulting in this rotten egg odor.
A Check Engine Light
If you notice the check engine light coming on, it can fill you with dread. Although it can mean you have to get something fixed, which could be costly, its goal is to inform you of any problems before it's too late to repair.
The two catalytic converter sensors send data to your vehicle's ECM and if they detect that the exhaust fumes aren't sufficiently catalyzing, the ECM will signal to your dashboard and illuminate the check engine light.
Nonetheless, this check engine light doesn't always specify that the problem is with the catalytic converter. It is advised you take your vehicle to a shop to get it checked over.
A Drop in Engine Performance
You're driving along and you feel your car is sluggish and not as powerful as usual. This is one of the most common signals that there is an issue with your catalytic converter.
Most of the time, this happens because the catalytic converter becomes too hot and its internal components melt leaving the converter useless.
This can result in a blockage inside which limits the exhaust flow and, if this is the case, it must be repaired or replaced as soon as possible. Another possibility could be that carbon has built up inside. In this case, you can use a specialty cleaner to easily remove the carbon.
The Cost of Replacing a Catalytic Converter
The price of repairing or replacing a catalytic converter can vary depending on a variety of factors such as:
Diagnostic costs as well as additional issues that may arise
The make and model of your vehicle
The brand/quality of the replacement converter
The number of hours taken to replace the part
Typically, the prices should be around $1,000 but can be as costly as $2,500.
When you take the make and model into consideration, it usually depends on the part's complexity and rarity. For example, a high-end business car's catalytic converter may be far more expensive than more common motors.
One tip for keeping your costs as low as possible is to invest in a universal fit catalytic converter. Instead of buying one that is specifically designed for your car's model, this can be cheaper and easier to find. There are some drawbacks to using a universal fit as they are generally not as effective as an OEM (original equipment manufacturer) product and are not always covered under factory warranty.
It is normally best to replace a catalytic converter and find the root cause of its failure, rather than try and repair it. Although it is possible to clean a clogged converter on occasions, you will still need to determine why it became clogged in the first place which could lead to a bigger issue than you had hoped for.
In Summary
A catalytic converter is an important part of modern-day cars. If you believe your vehicle's converter is faulty or broken, you should take it to a specialist as soon as possible.
They will soon be able to determine if you need to replace the catalytic converter or whether there is another issue.