If your beloved car has recently been hit and has been left with an unattractive dent, it can leave you feeling demoralized.
We all want to keep our cars as scratch and dent-free as possible. Unfortunately, the longer you own a vehicle, the more chances there are of something happening to its bodywork.
The fact that you are reading this means you, or someone you know has been unfortunate and came across an unsightly dent on a car. This happens to all of us but not everyone knows that there are ways to repair such dents.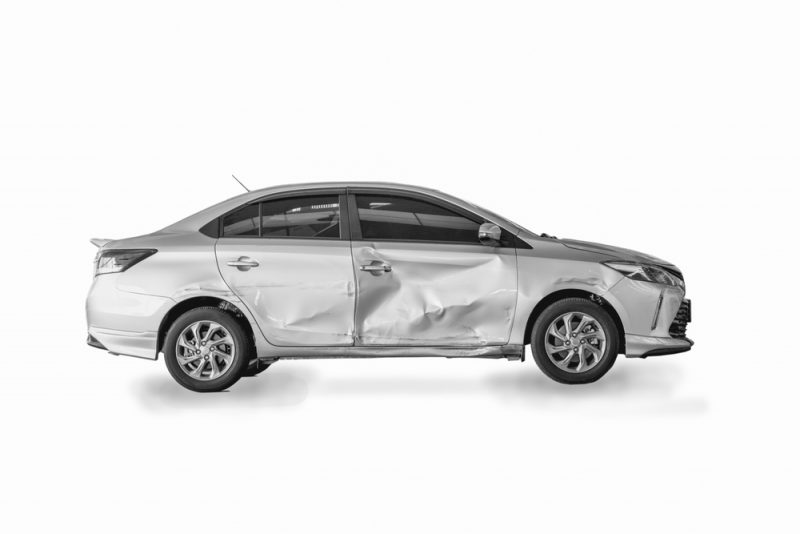 Whether you've clipped a pole or someone has come into contact with your car, you should be able to fix the damage but the cost can depend on a variety of factors.
Continue reading to find out how much it costs to repair a car dent and what the best methods are of doing so.
How much do car dent repairs cost?
There are several factors to consider when finding out the cost of repairing a car dent including the extent of the damage, the location of the dent, and where you will have it fixed.
To repair minor dents, the estimated costs are usually around $50 to $125. However, this is typically for the smallest dents such as in car doors. For larger dents, the costs can rise significantly.
Here are some of the factors that determine the cost of repairing a car dent.
Factors that Determine the Price of Repairing Car Dents
The number of dents and where they are located are very important when determining the cost of repairs.
The more panels that are dented or damaged, the more repair work will be required. If the repair of one dent costs $50, you just need to multiply that by the number of dents.
As you can see, the price can soon begin to rise. Some cars become badly damaged after hail storms and the cost of repairing some vehicles from hail dents can reach up to $2,500 which is sometimes more than the car is worth.
The location of the dent is important as fixing one on a flat surface, such as the hood, is a lot easier than repairing on a body line. Though most dents can be repaired, some can be so severe that the whole panel will need replacing. This can drive the price up a lot, especially when you consider the type of car.
Some manufacturers use specialty paints for their car's bodywork as well as aluminum or steel which are less common metals and more expensive to replace.
The Dent's Size and Method of Repair
As with the number of dents, the more damage your car has, the pricer repairs will be. One reason why, is that smaller dents can be fixed with PDR (paintless dent remover) which is a relatively new, low-cost alternative to traditional body shop repair methods.
However, PDR is not viable with larger dents. This is because the whole area will need to be sanded down, painted, and then left to dry and you will need to hire a professional with the correct materials to do so.
The PDR process involves reshaping a dent back into its original shape by sanding down an area, painting it, or leaving it dry. This results in a faster repair time and a cheaper way of doing it.
As we stated, repairing smaller dents should cost around $50 to $125 but for medium-sized dents, you can expect to pay $2,000 or more. If PDR isn't an option, you may have to replace the entire panel and get this painted.
The cost of replacing a panel depends on the body part. Bumpers tend to be cheaper to repair as they are generally made from plastic but these can cost upwards of $300 to $700. If you want the bumper painted as well, you could be looking at $1,000.
Where the Bodywork is Repaired
You need to consider the price difference between hiring a professional with years of experience compared to someone with little expertise. You may be able to find someone who will try and repair it for $50 but this isn't recommended as they will most likely use cheaper paints and poorer standard equipment.
You can easily notice poor bodywork, especially after it's been repaired by a non-professional. Some signs include running paint, blotching, mismatching colors, inconsistent textures, and over-spray (spraying areas that don't need spraying).
Cheap repairs when working on the hood of a regular motor would probably cost around $300 to $500 while good quality bodywork should cost $500 to $1,000.
Cheaper, bargain shops will apply as few coats as possible when painting the damaged area and will only spray the areas of the car that are visible.
Top-tier body shops differ in prices depending on what you require. Newer cars that have some damage are best taken care of in quality shops as they may be able to restore it to its former glory. However, if you have slight marks such as UV rays, deep scratches, or other slight damages, the cheaper option is probably the best.
The Cost of Repairing a Car Dent
Taking all of these factors into consideration, let's take a look at how much you should be looking to spend.
There will always be an option to get your car's dent removed and restored for a smaller price of $50 to $80. The best method of finding such help is through the internet and a simple Google search.
Of course, body shops will always try to make more money so as the dent sizes increase, so will the prices, as a deep dent will typically set you back $125 to $140.
Larger dents over a bigger area of your car's bodywork can cost between $200 and $300 but this depends on the variety of factors we previously discussed.
The best method of discovering the price of a dent repair is to add anything from $50 up to $120 for every inch that is damaged. Therefore, a 3 to 4-inch dent, without needing any paintwork, and is not on a crease, should cost around $150 to $360.
As we mentioned, some dents can not be repaired through the PDR process and, therefore, require painting. These dents will see the price increase a lot.
Such repairs can cost an extra $200 to $500 easily but, if the damage is too serious, or the cost of repair reaches $1,000 or more dollars, it may be best to replace the entire panel.
The costs of dent repairs can rise sharply depending on many factors and the more dents and body parts affected, the more cash you will have to splash.
In Summary
As you can see above, car dent repairs and costs vary dramatically depending on the depth and width of the dent to the location of where it is found. As well as this, body shop prices can range from reasonable to downright extortionate sums.
It is best to try and get your dents repaired as soon as possible to spend less. This will also prevent dents from becoming larger and beginning to rust.