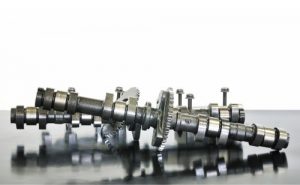 Owning and maintaining any vehicle can be a complicated and challenging task. Aside from knowing how to drive it, you'll need to have a good knowledge regarding each of its interior and exterior components and their importance.
Having a working knowledge of the various parts of a vehicle can get more difficult if you own a truck, specifically, the 302 Ford. Among all the different components that this vintage pickup has, the most complex one happens to be its engines, which is an industrial masterpiece.
Finding the best cam for 302 Ford truck is important as it plays an essential role in the performance and efficiency of the engine. There's also the fact that this piece makes it possible to open and close the engine valves, making it a small yet very crucial component.
7 Best Cams for 302 Ford Truck Reviews 
We have compiled a comprehensive list of seven of the best camshafts for the 302 Ford. Go through the product details, the perks that come with them, and the backlashes you might have to face from using them to understand which one will be best suited for your vehicle!
1. COMP Cams CL12-212-2 Magnum 224/224 Hydraulic Flat Cam and Lifter Kit

If you're someone who only recently bought a 302 Ford and planned to go shopping for spare parts and components, then this product will be the perfect fit for you. Manufactured by COMP Cams, this unit includes an entire cam and lifter kit, which will provide you with various parts that will be pivotal for keeping your engine in peak performance.
Starting off, the very first feature that is bound to attract you to this item is the wide range of RPM it can keep up with. Having an RPM operating capacity of 2,000-6,000, it will go great with a truck engine and perform even when you're pushing your feet hard onto the accelerator.
This item is an excellent product for beginner mechanics or a newly born petrol-head as it comes with a large variety of pieces that are easy to use. Each purchase of this unit comes with a camshaft, a pack of lifters, an owner's manual, and lubricant for easy assembly.
Owning this cam kit allows your truck to thrive on some excellent RPM power. If you have aftermarket torque converters and a minimal 9.5:1 compression in your engine, this unit will work beautifully with these components and yield very high RPM levels.
There isn't much to discuss when it comes to the drawbacks or flaws of using this item. Although the issues might be insignificant, the most significant one among them is the odd sound emission you may experience when attaching it to your truck engine, which might feel like an annoyance.
Highlighted Features
Perfect kit for beginners
Wide RPM range of 2,000-6,000
Large assortment of parts
Pairs well with aftermarket torque converters
2. Lunati 10120102LK Bare Bones 224/234 Hydraulic Flat Cam/Lifter Kit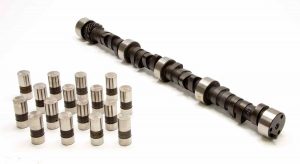 Exceptionally few products will be on the same level as this product for those who are into reviving vintage trucks. Manufactured by Lunati, this product is one of the only mid-range units of its kind with a noticeable idle and stays on par with RPM's high levels.
If you plan to use your Ford 302 truck for moving around heavy loads or for towing other vehicles, you will need its engine to operate with a high RPM for the car to deal with sufficient power. Thankfully, having this unit can take care of that need as it has a total RPM range of 2,000-6,000, giving your pick-up the necessary strength.
Most premium camshafts with a high RPM yield are very expensive, and it's challenging to find a similar product that can yield the same levels of power at a lower price. However, this unit is quite budget-friendly compared to these items while still maintaining the same performance levels.
A Ford 302 truck or any vehicle, for that matter, needs to have a well-coordinated engine that is on par with every other interior component of the car. Lunati went for a unique asymmetrical lobe design, which will significantly increase its horsepower due to its superior acceleration and throttle response.
Although this is a pretty nifty cam kit to have around, it does have a big issue that can create a messy situation if you're not aware of it in advance. The lube in the kit comes in a pretty fragile packaging and will spill over all the other components if you don't handle this product with care.
Highlighted Features
Easily detectable idle mode
Budget-friendly yet powerful
Distinctive design for remarkable throttle response
Ideal for street performance and on muscle cars
3. COMP Clams CL12-600-4 Thumpr 227/241 Hydraulic Flat Cam and Lifter Kit

No other unit is as effective as this camshaft if you plan on using your 302 Ford truck for personal use. Providing high levels of performance at street level with a fantastic stock converter, this product by COMP clams works perfectly on more than 2000 converters and gears.
You can comfortably roll your truck on to the speeds and won't have to worry about the engine breaking down if you rev it up too high. Having an adequate RPM operating range of 2,000-5,800, you will never have your engine overheating no matter how hard you push your truck.
Alongside this product being an excellent fit for trucks, it works perfectly well with muscle cars and revival custom vehicles. Available in the three different designs of Thumpr, Mutha' Thumpr, and Big Mutha's Thumpr, this unit is compatible with a wide variety of automobiles.
For a camshaft to be deemed effective, it needs to be in perfect cohesion with its other organs to efficiently process big exhaust notes. To make the most out of this product, make sure your truck engine has an aftermarket converter and functions on a rear gear for optimum performance.
This camshaft might be a great product to have around; it still has a couple of problems that can be a great inconvenience if you don't prepare ahead. To make the most out of your cam, you will need to purchase a high stall converter separately so that it can function reliably on power breaks.
Highlighted Features
Compatible with a variety of gears and converters
Adequate RPM range of 2,000-5,800
Available in 3 different designs
Works best with aftermarket converters
4. COMPS Cams 12-242-2 Xtreme Energy 224/230 Hydraulic Flat Cam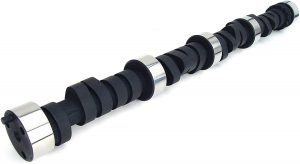 In the present market, most camshafts are available as a part of a kit, which can be very bothersome if you just need one component. However, buying this unit by COMPS Cams will provide you with just a single flat camshaft, which will function as the perfect addition to your spare box and won't end up costing too much.
If you own a 302 Ford truck, then you'd probably want the engine to emit a rugged and earthy sound. In that case, you will absolutely love connecting this camshaft to your engine as it has a wonderfully aggressive sound when idle with a comparatively snappier throttle response.
A camshaft's efficiency and effectiveness depend significantly on its universality and the number of vehicles in which it works smoothly. This unit covers universality as it can not only function properly on truck engines, but it pairs up nicely with cars, too, if you can torque converter up to 2800 stall at least.
Camshafts play an important role in the braking of your 302 Ford truck since the vehicle relies on this component to create the vacuum necessary for making the car stop. Thankfully, this unit can produce a decent amount of vacuum so that you can smoothly and instantly brake your pick-up when necessary.
The biggest flaw of owning this unit stems from the fact that it is a very bare product in itself. You'll have to buy valve springs and the assembly lube separately to connect the camshaft to the engine; otherwise, all you will have is a highly disabled product.
Highlighted Features
Convenience in a single purchase
Emits an aggressive idle sound
Universal incompatibility with engines
Generates adequate vacuum for effective braking
5. Crane Cams 449631 Camshaft

As a truck driver, it's quite normal to expect that you'll be driving it in muddy and off-road terrain from time to that; for that, you will need a camshaft that can keep up with the quick responses and necessary brake strength. You will love the 449631 Camshaft in this regard as it is mildly supercharged and has a compression range of 9.0-10.5, making it perfect for off-road use.
A fantastic product by Crane Cams, this product is designed to serve as a bolt-in upgrade for your 302 Ford truck and other similar vehicles. You won't need to modify or customize this camshaft in any way, for it provides a smooth low-RPM torque.
With a duration of 220/228 at 0.05" and a 0.531"/0.552" valve lift, Camshaft Cams ensures that this product thrives in pressure without the possibility of breaking apart. As an additional perk, it has an operating capacity of 2000-6200RPM, making it highly adaptable as well.
Other than the 302 Ford truck, the 449631 Camshaft works effectively with engines of a wide variety of vehicles. It can provide fantastic service if you choose to use it for 4×4, SUVs, pickups, and popular models like the 351 Windsor with ease.
Although this camshaft is a great product and goes well with just about any heavy-duty automobile engine, it does have a significant flaw which can create problems during driving. Unlike most similar products, this unit has an extraordinary weight of 10 pounds, which is a bit too much and will unnecessarily weigh down your vehicle.
Highlighted Features
Generates low-range and mid-range torque
The overall workable capacity of 2000-6200RPM
Works efficiently on a wide variety of vehicles
No modification required for low-RPM torque
6. Cam & Lifter Kit compatible with Ford Mustang Cougar 289 302 RV Torque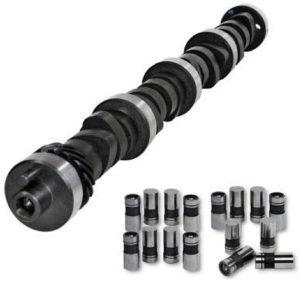 Typically, truck drivers consider applicability before buying a camshaft for their vehicle, as each of these products is specifically manufactured to excel in one field only. However, this cam and lifter kit is a jack of all trades as it is usable for a wide array of jobs and provides decent performance.
A stellar product by Falcon Performance, these camshafts qualify as Class I and is perfectly suitable for everyday use. You can easily use this item for your day to day drives, some light bracket racing, and even towing light vehicles around without having your pickup break down in the middle of the road.
Purchasing products will come up with a lot of different components that will perfectly help you set up the camshaft and maintain it too. Each kit comes with an Elgin or Mellin, a lifter kit, and a flat tappet performance hydraulic camshaft, which will perfectly cater to the needs of your 302 Ford Truck.
A lot of truck enthusiasts prefer to change the stock cams for a better high-quality option. This item is the perfect replacement as Falcon Performance made this unit to ensure that the camshaft is larger than the textbook stock cam of trucks while also providing a greater power output simultaneously.
Highlighted Features
Multifunctional camshaft and is suitable for all scenarios
Suitable for everyday use, short-distance racing, or towing
A large assortment of components is provided with every purchase
Bigger than stock camshafts and more powerful
7. Lunati 10350101LK Bare Bones 214/224 Hydraulic Cam/Lifter Kit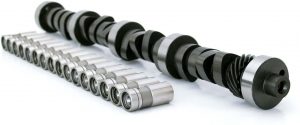 Many truck drivers prefer to use custom-made cams while also keeping the vehicle's stock engine in place. Using this product will exactly take care of that requirement while also providing low to mid-range torque, ample horsepower, and a decent idle.
Trucks like the 302 Ford consume a lot of fuel when operational, and you'll need to fit it with components having a good mileage to reduce consumption. Thankfully, Lunati ensures that every camshaft of the Bare Bones series is economical in fuel consumption while also delivering high horsepower.
Having this product ensures that your vehicle will be able to sustain itself entirely without getting any damage. Having an operation range of 1500-5500 RPM, it can handle itself regardless of how hard you push your truck or even under the circumstance you choose to go off-road.
It also maintains an outstanding level of connectivity with the adjoining parts of the engines of the 302 Ford Truck, ensuring a smooth driving experience for the user. This product follows a unique modern profile with a design that helps the tool elevate the vehicle's overall acceleration and throttle response.
Highlighted Features
Greatly modifies stock engine of the vehicle
Consumes less fuel while maximizing horsepower
1500-5500RPM operation range
Modern profile for increasing acceleration
---
Things to Consider Before Buying Cam for 302 Ford Truck
Understanding which camshaft will go well with your 302 Ford Truck might seem like a difficult task as these products might seem unbelievably similar. However, if you keep a lookout for the following factors, you will easily be able to identify the ideal one for yourself.
Understanding the Types of Cams
Before you can think about which type of camshaft you should buy, you need to know about the types of cams and the qualities that differentiate them from each other. For starters, there are two types of camshafts; roller and flat camshafts with the sub-classes of hydraulic and solid types.
Flat camshaft models are known for their exterior. These tools have a lifter with a flat surface, which helps elevate the component's ramp speed.
On the other hand, roller camshafts have circle-like lids, which resembles a wheel or a caster. This design helps these models to deduct the friction while making the unit more effective while also reducing abrasion and increasing overall sturdiness.
Among the sub-classes, hydraulic camshafts have an internal mechanism similar to that of hydraulics. This unique design helps the component maintaining stability while not exceed 6,500 RPM through compression and over-stressing.
Meanwhile, solid cams are built for more aggressive truck drivers and prefer to operate on high RPMs instead of an adaptive internal mechanism. If you want to push your 302 Ford truck's high speeds, then this camshaft is what you will need as it can go up to 7000 RPM.
Identifying the Valve Raise Distance
Knowing how much height the camshaft's valve can create when operating is vital when looking to buy this component. The higher the valve lift distance, the better performance the product can provide.
However, there is an ideal valve lift that will perfectly suit the needs of those who drive their trucks casually. To get a good RPM yield, get a camshaft with a 4.50-inch lift, which will also ensure consistency in the engine's performance.
Determining the Power Output
To find out which camshaft will go well with your 302 Ford truck, you will need to be aware of the power levels your pick-up thrives in. The cam plays a crucial role in influencing the power range of the vehicle.
The most significant determinant of power levels in a vehicle is RPM. If your truck requires high power consumption, then go for a solid camshaft or settle for a hydraulic camshaft.
Calculating the Lobe Separation Angle
Although there isn't much difference in the angle of lobe separation among camshafts, it is still a vital factor that you will have to consider.  The ideal lobe separation angle is 110 degrees, which indicates the difference between the exhaust valves and the camshafts' intake.
The less the angle, the more power it will yield at a more incredible speed, but it will also be rougher compared to the ones having a higher lobe separation angle. So, this factor varies from person to person based on the purpose of their trucks.
Under the circumstances that you don't have to bring out the engine, go ahead and access the camshaft. After accessing it, extract the valve covers so that you can get to the lifters and other internal parts.
Start rotating the cam and remove it after marking the TDC. Now that you have your old camshaft out, you can now start installing the new camshaft. Be sure to clean the new model before inserting it and go through the owner's manual carefully to install it properly into the truck.
How Much Time Does a Cam Cost for a Truck?
You can get a brand-new cam for your truck, its' spare parts, and install it within the price range of $1500-$3000. Depending on the type of camshaft you purchase, and where you have it installed, you will have to spend an amount within this range.
How to Replace Camshaft?
Replacing a camshaft can be a difficult task. But once you follow our simple steps, you will be able to replace them easily within a matter of minutes.
Start by going through the user's manual so you can have an idea of how to remove the old camshaft. Although each model's engines are different from the other, the user's manual provides a simple way of getting it out through the use of interactive diagrams.
You might have to extract the entire engine to access the camshaft before you can access that component. If you're using a V8 or V6 engine, you will have to get it out before replacing the cam.
Under the circumstances that you don't have to bring out the engine, go ahead and access the camshaft. After accessing it, extract the valve covers so that you can get to the lifters and other internal parts.
Start rotating the cam and remove it after marking the TDC. Now that you have your old camshaft out, you can now start installing the new camshaft. Be sure to clean the new model before inserting it and go through the owner's manual carefully to install it properly into the truck.
FAQs About Cam for 302 Ford Truck
1. What is a camshaft?
Ans: The part of the engine that modifies rotational motion to reciprocal motion. As soon as the engine revs up, the cams begin to turn, which helps to turn the engine valves on and off.
2. What is the function of a cam within a truck?
Ans: Camshafts are known to work on the intake and exhaust valves by managing them with the help of its cams or lobes. By continually pushing the valves consistently, it pumps energy onto the engine and allowing fuel to enter within through the valves.
Camshafts are also useful for finding out the truck's RPM levels, and a few of them can even upgrade their total power. A few choice components can even increase the vehicle's effectiveness, making it a very multi-purpose tool.
3. What is the price of a camshaft?
A single mid-level camshaft costs around $100-$300.  If you want to go for a more premium version of this component, the price can increase up to as much as $400.
Conclusion
A camshaft is a delicate and complex component of the interior of pick-ups and SUVs. Unless you don't purchase the best cam for 302 Ford truck, you're bound to run into a whole bunch of problems at one time or the other.
However, now that you have gone through our product reviews, buying a camshaft will seem quite easy. Your truck will now perform more efficiently and faster than ever! Also, if you want to buy trailer sway bar kit for your truck, you should read our reviews.