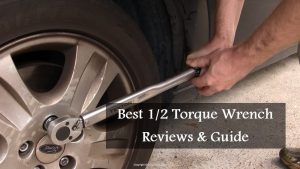 As a serious mechanic, you understand that different torque wrenches handle various mechanic tasks. For instance, heavy-duty tasks become best handled by the 1/2″ drive size tool.
Unfortunately, finding the best 1/2 torque wrench is not a walk in the park. That is why we took it upon ourselves to assist you in finding the top-rated 1/2″ drive size torque wrench.
Our this 1/2 torque wrench reviews will inform you of the advantages and drawbacks of each tool. We will also offer a proper buying guide so that you don't have any difficulties choosing a quality torque wrench.
Let's dive into the details.
| Image | Model | Range | Rating | Price |
| --- | --- | --- | --- | --- |
| | eTORK 1/2" Drive Torque Wrench | 50-250 ft.-lbs, 70-340 N.m | | Check on Amazon |
| | Tekton 24335 1/2" Drive Torque Wrench | 10-150 ft.-lb. | | Check on Amazon |
| | EPAuto 1/2" Drive Torque Wrench | 25-250 ft.-lb. / 33.9-338.9 Nm | | Check on Amazon |
| | Tekton 24340 1/2" Drive Torque Wrench | 25-250 ft.-lb. | | Check on Amazon |
| | PREC3FR250F 1/2" Drive Torque Wrench | 75-200 ft lbs. | | Check on Amazon |
Top 6 Best 1/2 Torque Wrench Reviews of 2020
In order to choose the right wrench, you'll need to have a good idea about the top options. To help you get acquainted with the top-rated 1/2 torque wrenches out there, we're going to review them in detail below. 

First on the list is the eTORK. The range of this tool is between 50-250ft/lbs. About its measurements, it has a length of 20.5 inches, a width of 1.5 inches, and a height of 1.5 inches. Head drives, release mechanisms, and grip handle are the three complementing features of this tool.
The eTORK has a 45 teeth ratchet head drive. As a result, users can operate it using both the clockwise and the counterclockwise direction. Unlike most devices, this torque wrench has an accuracy of 1% – 3% in the clockwise direction. Championing such a unique level of accuracy is its release mechanism, which identifies as the ball-bearing mounted release technique.
Comfort is a crucial aspect for anyone using a torque wrench. In recognition of this, the eTORK became manufactured with a handle grip that is not only huge but soft. With this, users can comfortably handle their various projects. Additionally, the tool has a perfect locking knob.
The excellent locking knob secures the settings of the torque preventing accidents from occurring. Since we are speaking of settings, you must be wondering how you will check the torque setting with this product. Well, it is easy! You pull out the locking knob and twist the handle while selecting your setting.
Also, this tool comprises hardened alloy steel material, which makes it highly durable. Essentially, the eTORK click style device has a dual reading scale that influences the correct reading of measurements.
While this tool is in every aspect excellent, its only shortcoming of this tool is its heavyweight of 3.31 pounds. However, this is not a big problem as it does not deter the device from getting the job excellently done. In summarization, this device is a combination of quality, excellent utility, and durability.
Pros
High durable due to alloy steel construction.
Has a ratchet head drive operating in clockwise and counterclockwise directions.
High accuracy and sensitivity.
Dual metric and English scale for correct reading.
Large grip handle for users comfort.
Excellent locking knob.
Simple to use.
Cons
Slightly heavy compared to other tools.
#2 TEKTON 24335 – Best 1/2 Torque Wrench

Are you looking for a versatile tool? A machine which possess a superb size for cars, garden, trucks, and lawn owner projects? Then, TEKTON 24335 is all you need. It functions on a dual-range of 10-150 feet per pound. As a result, the scale is simple to read irrespective of the lighting level.
Furthermore, the device has a steel material and does not have parts coated in plastic. With this, you can bank the long-lasting ability of this torque wrench. The reason is that a non-plastic and all-steel device eliminates the tool's chances of wearing out, enhancing durability and sturdiness.
We have mentioned in our Tekton torque wrench review, that this one is great in terms of accuracy. Notably, this torque wrench has a fantastic calibration of +/- 4%. Thus, it gives accurate fits during the tightening process. This helps in preventing loose bolts or over-tightening, which are the leading causes of broken features.
No! There are no battery hassles with this tool. However, this device does produce grinding noises, but you can avoid this by wearing noise prevention gear.
Pros
Very durable since its made of steel.
Perfect calibration which enhances the accuracy.
No batteries required.
Simple to operate and read scale.
Cons
Produces grinding noise which can become solved using noise prevention tools.

Another great tool is EPAuto. Various features make this device list among the best 1/2 inch drive torque wrenches. The first one is its ratchet head and its material. The ratchet head of this tool became manufactured from chrome vanadium steel alloy that is not only hardened but treated. Thus, it is highly durable. Besides, the model has a satin that is corrosion retardant.
The second fantastic feature of this device is the preset torque. You do not have to wonder if the value of the preset torque reaches with EPAuto. The reason is that once the value becomes reached, reliable and simple click sounds become produced. Once you hear the sound, you should refrain from applying any force.
Unlike the other devices, this model comes with a storage case of plastic material for easy storage. Like the previous machine, this torque wrench has a great calibration of +/-4 and a double scale range of 25-250 feet. Although the scale of this device indicates as one that is easy to read, users have complained about its accuracy.
Notably, there have been reports that misalignment of the exact figure by an extreme of 15 points. Due to its accuracy issue with the scale, you use the tool infrequently for medium and lightweight projects.
Pros
Highly durable due to satin finish that is corrosion resistant.
Excellent preset torque.
Perfect for medium and light projects.
Dual-scale range.
Cons
Inaccuracy scale issues but you can solve this by mastering the alignment variation and doing the math.
#4 TEKTON 24340 – Good Quality for the Money

You also want to opt for the TEKNO 24340. It has an estimated length of 26 inches, a width of 3 inches and a height of 2.5 inches. It is pretty light as it weighs an approximated 2.2 pounds only. The three features complementing its quality include the head drives, scale, and design.
TEKTON 24340 has a ratchet head drive that is reversible. As a result, it allows the user to operate it using either direction. Its head drives also measure the torque in a clockwise direction, which fosters easy reading. Concerning the scale, this device has a dual and high contrast range scale.
Notably, the torque covers a range of 25ft/lbs to a range of 250ft/lbs. The best part about the scale is not the range but the ability for it to become read even in low lighting. The torque wrench has a steel material and zero plastic sections. Its steel material makes avoid wearing out, thus making it last a lifetime.
The only shortcoming of this tool is that it is prone to becoming affected by nicks and dents. However, this is not a big problem as it does not deter the device from getting the job excellently done. In summarization, this device is a combination of quality, excellent utility, and durability.
Pros
High durable due to steel construction.
Has a reversible ratchet head drive.
Dual range scale that is easy to read even in low light.
Simple to use.
Cons
Prone to being affecting by nicks and dents.
#5 TACKLIFE HTW2A – Comes with Adapter & Extension Bar

Not once has the TACKLIFE Company failed in producing quality products, and their 1/2″ Drive Click Torque Wrench Set is not an exception. The device has a reliable calibration of +/-4%, which allows users to use accurate and specified torque force. It also has a ratchet drive handle that is reversible.
If you are a beginner, this is the perfect tool for you. Championing this is its simplicity of use. Ideally, users through the adjustable ring set and lock the range. The adjustable ring also aids in preventing under, and over-tightening since the click sound becomes produced once maximum tightening becomes reached.
Made with steel, you can trust that this tool will last you long. Also, you will not encounter sudden slipping off of the device from your hand. This is because of the knurled machines handle. The scale does not only have a dual range. It also features a high contrast design making the scale perfect for reading.
The most outstanding feature of this model of TACKLIFE is inch drive. The device comprises an additional 3/8-1/4 inch drive reducer and adapter. It also has an impact socket extension bar of a drive of 3/8 inch. Unfortunately, the weight of this wrench torque is slightly heavier compared to other machines as it weighs 4.45 pounds. Users also report that the device only does well on simple projects.
Pros
Long-lasting due to its steel material.
Minimal handles because of knurled handle.
Simple to set up and use.
Comes with extra reducer, torque adapter, and socket extension bar.
Reversible Ratchet.
A readable scale even under low light.
Cons
Slightly heavier than other machines but this is not a problem because it doesn't interfere with the work.

Measuring 25.5 by three by 2.1 inches, the precision instruments prec3fr250f is the last top tool in our ½ inch drive torque wrench. The first amazing thing about this device is its length. The torque wrench has an excellent length of 25.5 inches, which makes it easy for the tool to operate on the challenging-to-reach places.
Moreover, the setting mechanism for this beam torque wrench is everything you have been looking for in the market. You only require the force of your fingerprint to set this device. Besides, the wrench has few parts, and they are not complex, which again influences the easy setting.
Complementing the easy setup of this torque wrench is the adjustment knob. It also eradicates spring tension. As a result, setting the tool on adjustable wrenches not only becomes fast but easy.
When it comes to torque wrenches handles, the larger the grip, the more comfort the tool offers. Fortunately, the Precision Instruments PREC3FR250F an ergonomic handle grip, which assures users of comfort. Also, the tool is not prone to wearing out any time soon due to its nickel finishing.
The best thing about PREC3FR250F 1/2 torque wrench is that it does not require frequent adjustment of the torque. Further, there is no need to operate using the C section while using for the first time, and setting locks are possible to use during measurements.
You got that, right! This hence makes the operation of the tool faster. With a high calibration rate, you can bank on the accuracy of this tool. Lastly, users have praised the tool for its versatility as it can work well in both the lightweight and the heavy-duty projects.
The only setback is that it works using the clockwise direction alone because it has a fixed ratchet. Thus, challenging for left handers. However, the left handers can solve this problem by mastering the tricks of using the clockwise direction or getting a convenient tool.
Pros
Simple to set up and use.
Durable because of nickel finishing.
No need for set up yet it's a micrometer type of torque wrench.
Wide range of 20-250 ft/lbs.
Faster in its operations.
Cons
Only operates using the clockwise angle.
Buying Guide for a Perfect 1/2 Inch Torque Wrench
Torque wrenches are not similar to other products in the stores. You thus, cannot wake up, go to the shops and pick what you want. Seemingly, you cannot order any torque wrenches from online stores without having some considerations in mind. So what are these considerations that buyers have to consider before buying the perfect ½ drive torque wrench? Well, they are as listed and explained below by our Torquewrenchcenter writers.
Ratcheting Mechanism
If you were keen throughout this torque wrench review, you must have noticed the constant mention of the ratchet head. The reason is that this is one of the integral features of a torque wrench.
While some have both the clockwise and counterclockwise ratcheting mechanism, others have either the clockwise or counterclockwise mechanism alone. A tool with a clockwise ratcheting mechanism limits for operation angle. Notably, it fastens using the right angle, which does not work well for left handers.
For the sake of ensuring that you do not encounter any ratcheting issues, you should get a tool that operates using the clockwise and counterclockwise mechanism. With this, you will use the tool from any direction with comfort.
Grip Length
Another factor you want to consider before buying that torque wrench is the grip length. In case you do not know, the grip length is the size contained on the grip handle. A smaller grip length does not offer the best comfort. The reason is that space becomes limited.
However, a tool with a larger grip length will give the best comfort since there is enough space. As a result, before getting a torque wrench, always check the diameter of the handle grip. If it is larger, then, consider buying that tool as it will give you the comfort you desire while handling your projects.
Material
When buying any commodity, the material is always a prime aspect, and the case is similar even with the torque wrenches. It doesn't matter if you are buying a tusk spoke torque wrench, or a lug nut torque wrench, material is always important.
Different torque devices become designed using distinct materials. While some become engineered using steel, others have plastic or nickel material
Plastic materials wear out easily. However, nickel and steel are robust in nature. Therefore, if you buy a torque that has a plastic material, there is a huge possibility that the wrench will soon wear out. However, if you opt for a tool with steel or nickel material, it will serve you for ages.
Hence, it is crucial to keep in mind the material that a torque wrench has before making it your preferred device.  Steel and nickel are the best. However, you can equally consider tools that made from strong metals for long-lasting results.
Nonetheless, never settle for the plastic torque wrenches or wrenches that have some plastic part. The reason is that they are prone to wearing out faster and easily.
Calibration
You will agree that accuracy is among the fundamentals of using a torque wrench. What you don't know is that its calibration influences the accuracy level of a torque machine. If the device has a certified calibration, you can trust that the machine is highly accurate.
You may find it challenging to know the certified calibration measurement. However, the best torque wrenches have a calibration of +/- 4. However, the accuracy increases when the calibration is at +/-3. Want good accuracy for your work? Then, never forget to factor in the calibration aspect before buying a torque wrench.
Torque Power and Range
One cannot separate torque power and range. The reason is the torque power, which becomes measured in two distinct standard units; give the maximum and the minimum range. These standard units are the newton's per meter and the feet per pound.
If the type of equipment you use require different torque power at either the top or the bottom. Thus, it is necessary to consider the torque power and the range along with the device you operate on mostly.
Scale
The last factor you want to consider is the scale. Some scales are perfect for reading only when the light in the working area is good. It turns to be challenging to read the scale if the lighting is not good. One thing is a fact; the natural lighting may disappear.
Worse still, the lights might unexpectedly go off. As a result, choosing a tool with a good reading ability in low lighting is what you should settle for while buying your torque wrench.
Tips for Using a 1/2 Inch Drive Torque Wrench
Often, some buyers will purchase the right ½ inch torque wrench using the tips above but wonder why the tool did not serve them for a long period. Well, the answer is simple. It is because you did not correctly operate the tool. Here are some of the tips you want to observe after buying that excellent torque wrench.
Avoid dropping down your tool as this makes them weak.
Balance the venzo torque tool length in the middle for utmost effectiveness.
Consider finding out if your

Pittsburgh torque wrench

is compatible with breaker bars before adding them to your device.
For the sake of securing your torque wrench, hand tighten the lug nuts.
Re-calibrate your pro bike tool torque wrench periodically. You can do this after three months or twice a year to maintain its accuracy.
Use slow or moderate movement when handling the tool to prevent it from getting damaged
Always reduce the setting of the torque before returning the tool to its storage area or case.
Ensure that you have a storage case for your torque device. Also, ensure that the storage case is clean to prevent the tool form getting jostled.
Clean your device before storage because dirt is the beginning of an under performing torque wrench, no matter the level of quality the tool possesses.
Frequently Asked Question About the 1/2 Torque Wrenches
Q: After how long should I re-calibrate my 1/2 torque wrench?
A: You can do this twice or thrice a year.
Q: Why should I buy a ½ inch torque wrench?
A: Because most are ideal for heavy-duty projects.
Final Verdict
In conclusion, all the six reviewed torque wrenches can be considered as the best 1/2 Torque Wrench. However, not all will work well for everyone. That is why you have to consider the buying tips above and your needs carefully. With this, you can become rest assured that you will walk home with nothing but the finest ½ inch torque wrench.
Also, ensure that you give the torque wrench the best of care by applying the nine tips given above. All the best as you set to shop for your preferred torque wrench, but don't forget the simple buying guide and tips!