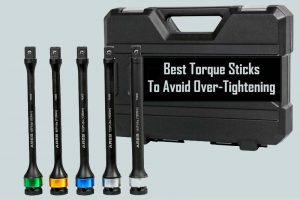 For impact gun and torque wrench users, one tool is a must: torque sticks.
Torque sticks help you to do your tightening work properly and save you time as well. In addition, they protect your equipment from over-tightening.
But, with a plethora of options on the market, build quality, and measurement tolerances can vary from manufacturer to manufacturer.
In this article, we'll introduce you with top quality options to help you choose the best torque sticks set for you. We have reviewed the products in terms of performance, quality, price, easy of uses and longevity.
Before the full reviews have a look at our selected top torque sticks .
| Image | Torque Sticks | Range | Editor's Rating | Price |
| --- | --- | --- | --- | --- |
| | Capri Tools 30083 (5 Piece) | 65-140 Ft. lbs. | | Check on Amazon |
| | Astro 78810 (10-Piece) | 65-150 Ft lbs. | | Check on Amazon |
| | Neiko 02450A 1/2" Drive (5 Piece) | 65-140 Ft-Lbs | | Check on Amazon |
| | Performance Tool W32903 (5 Piece) | 75-110 Ft lbs. | | Check on Amazon |
| | Neiko 02453A 1/2" Drive (8 Piece) | 80-110 Ft lbs | | Check on Amazon |
Best Torque Sticks Reviews – 2023 
Here are the recommendations that we have found after long research. After you've gone through the reviews, you'll be well informed to make the right pick for you.
For use with your impact wrench, you need accurate and maintenance-free torque sticks. And you will exactly get that from this 5-piece set of Capri Tools torque limiting extension bars.
These are ½-inch extension bars with a torque range of between 65 ft-lbs to 140ft-lbs. They are color-coded for easy identification, with a color for each torque limit. In addition, the Molybdenum Chrome material can take a lot of abuse, and as a result these sticks can last years.
This Capri tools torque stick are ½-inch drive torque sticks and 8 inches long. They are the perfect investment for you if you want to apply the right amount of torque to your wheel nuts. To use any piece in the set, just know the recommended torque setting for your nuts. It will set it to the recommended torque without exceeding it even a little.
To get the best out of these torque sticks, follow the manufacturer's advice. It also does not hurt to find out how to use a torque stick if this is your first time. Below we have covered that part. 
The sizes come in torque sizes of 65ft-lbs, 80ft-lbs, 100ft-lbs, 120ft-lbs and 140ft-lbs. That should be enough for just about any fastening job that you have to do at home on your vehicle's wheels, or in an automotive workshop. Both professional and home mechanics will find this set a very useful tool to have around you.
Pros
Affordable price
Sold with a nice, high quality carry case
Color coded for each torque spec
Totally maintenance free – just use and store them well
Can be used with battery powered or manual impact wrenches
Cons
When you want to torque your wheel nuts to the just the right torque, you will need a good extension set like this one. Not only are these very functional, but they are also durable and with good care, they can serve you for a really long time.
This is a 10-piece set. It comes with ½-inch drive sticks/8 inches long starting at torque limits of 65ft-pounds, 75ft-lbs, 80ft-lbs, 90ft-lbs, 100ft.lbs, 110ft-lbs up to 150 ft-lbs. Made of Molybdenum Chrome, they can last long without any maintenance. These pieces require no calibration in their entire lifetime. They can take a lot of abuse and remain as accurate as when they were new.
The sets are color coded for size. This helps you to identify fast what you need for a certain task. The matte finishing also makes the pieces anti-slip in nature. They do feel solid and heavy in the hands, and they are as good as they feel.
For your fastening jobs, you want to reduce damage to your bolts and nuts. This damage is usually caused by impact wrenches. When you are done fastening your wheel lugs, just check them with a torque wrench, you will find that the torque will be accurate.
Most people ask whether these sets can be used as extensions for the regular torque wrenches. That is not possible. They are specifically made to be used with pneumatic impact air wrenches.
Pros
Easy maintenance, just wipe the grease before storage.
No calibration needed in their entire lifetime.
Easy to identify thanks to the color coding.
Removes risk of damage to bolts and nuts caused by impact wrenches.
Sold with their carry case.
Cons
Carry case feels a bit weak at the hinges.
Your search for heavy-duty torque limiting socket stops here with the Neiko 02450A. Same as the other torque limiting extensions bars we have reviewed here, these ones are color-coded for easier identification. When you are using an impact wrench, you have to limit the torque that you apply to fasteners and wheel lugs. Left to their own brute force, impact wrenches can over-thread and damage your lugs. That is why you need a torque limiting extension bar.
This 5-piece set has torque range starting at 65ft-lbs to 140ft-lbs. That is pretty much the range of torque that you may require for your day-to-day fastening jobs. Although a 10-piece set is always preferable, these five pieces have proven their mettle in many automotive workshops. This set contains five, ½-inch drive extension bars.
The spring-loaded ball on the male side helps to lock the socket to the ball hole so that you do not have anything slipping through and dropping to the work area.
Pros
Nice carry-case for storage and portability.
Good investment for hobbyist as well as professional mechanics.
Helps fasten your lug nuts to the right torque.
The matte finishing is of high quality.
Cons
Newbies may not know how to use these – you should never fasten one lug nut completely as it might go off-balance.
We buy torque limiting extension bars to limit the torque that we apply to bolts, wheel lugs and other tension parts that need fastening. Performance Tool W32903 is a set of 5 torque limit extension bars that help protect your wheel lugs and other tension parts from damage that would otherwise be caused by the sheer force of an impact wrench.
These torque sticks have clear markings for their torque limits. It will be hard to miss what you need for a given job. Just know the torque limit for the part that you are fastening and then choose the appropriate extension bar.
For quality and durability, the manufacturer has used Molybdenum Chrome, which is pretty much the standard material for these bars. The torque limit is 75ft.lbs, 80ft.lbs, 90ft.lbs, 100ft.lbs and 110ft.lbs. If you need a 120ft.lbs or higher torque limiter, you may have to choose other extension bar sets that we have discussed in this torque sticks review article.
Pros
Quite accurate when they fit on lugs.
Heavy-duty build and feels quite solid in the hands.
Nice case for storage and traveling.
Good for small fastening jobs like car or small truck lugs.
Cons
The plastic lining on the walls of the socket make the walls too thick they may not fit on your lugs.
This 8-piece set comes with not only the extension bars but deep impact sockets as well. It contains four of each of these items. You will notice the thin wall construction of the sockets. It allows them to fit well on your wheel lugs. These bars also help you to fasten things in hard-to-access spaces.
The torque sticks and sockets are color coded for easier identification. The sockets measure 17mm, 19mm, 21mm and the last one measures 13/16 inch. The extension bars are 7 inches long.
Made with Molybdenum Chrome, durability is assured with these pieces. Another thing that you will love about them is that they are quite accurate as several tests have proven.
Whether you are a professional or hobbyist mechanic, you need a reliable set of sockets and torque limiting extension bars to use with your battery-powered or pneumatic impact wrench. And if you go by its performance, this torque sticks set is certainly reliable. 
Pros
Nice travel case
Good enough for regular lug tightening jobs
Does not over-torque
Made to last a long time with minimal care
Cons
Walls of the sockets are thin but not thin enough for a few fastening tasks
This is a 10-piece torque bar set covering a torque range of between 65ft-lbs and 150ft.lbs. At 8 inches long and with the thin walls, these extension bars help you access bolts that are in hard-to-reach places. However, that aside, even for the regular fastening of wheel lugs, this is the set of extension sockets that you want to use to prolong their lifespan.
The socket extension bars are color coded for easier identification. At the same time, the torque settings are engraved into the metal. On top of that, this is a set made for people looking for durability and quality since the material is Molybdenum Chrome with Manganese Phosphate.
They resist corrosion and at the same time, they come in a blow-molded plastic case for easy storage and transport. Being virtually maintenance-free, you just have to wipe them clean when storing them and that is it.
These extension sockets are very accurate. We have tested them with a torque meter and found them to be accurate. You may use a manual or battery powered impact wrench and the accuracy will not be affected.
On the male side, the locking ball detent is spring-loaded to hold it firmly such that there are no parts slipping through to your work.
Pros
Good for any automotive workshop.
Helps you fasten bolts in hard to access areas.
Firm and lockable grip – no sockets slipping through.
Nice finishing on the bars.
No maintenance needed.
Cons
No cons, everything works as advertised.
How to Pick the
Torque Limiting Extension Bar
Set
What's the difference between a hasty buyer and an informed buyer? The informed buyer makes smart choices. He takes her time to sort out the requirements, knows which factors to evaluate, weigh between prices and features carefully.
We're here to help you. Below we discussed the necessary factors you need to keep in mind when buying impact torque sticks.
Torque Settings
Whether you are a regular user or working on a special case, make sure the set you choose got you covered. Usually, people go for a torque stick set rather than purchasing sticks separately. The reason is torque stick sets are cheaper and you'll get everything under one package.
Usually, torque stick sets cover between the ranges of 65- 150-foot pounds. You'll get 75, 80, 90, 100, 110, 120, 130 and 140 foot-pounds in between.
Most of the sticks that come with sets are ½ inch drive with a length of 8 inches. You usually won't need to calibrate them or need special maintenance.
Quality
Torque sticks are literally built to take beatings and absorb shock. The prime objective of these sticks is to deform when the torque has passed a certain point, but won't break. This demands a special build quality.
Usually, these sticks are made of steel that can be twisted, yet strong enough. Renowned manufacturers use chromium-molybdenum (CR-MO) steel for this purpose. To add further protection and prevent rust, they use manganese phosphate and powder coatings. This gives the sticks a smooth finish.
Fastener Types/Sizes
You don't know which size of impact gun you may need in the future. Likewise, you may need to work on different projects that demand a wide range of fastener.
Usually, the sticks that come with the set are made to fit a particular sized fastener. If you're a user with abovementioned reality, we recommend you to buy a set with universal fittings. They should work with any impact gun you use.
Color-Coded System
This is one of the important factors. The clear color-coded system is the reason why torque sticks are a faster solution. You can just pick the right one and get done with the work.
Look for torque sticks that are laser engraved with the torque setting values. Also, they need to be clearly identifiable different color-coded aluminum rings. These two factors will eliminate the guesswork and help you pick the stick you need easily. We would suggest avoiding poorly written or sticker type identification for torque values.
Accuracy
Well, torque sticks are meant to come with pre-calibration. Otherwise, why would you even opt for a torque wrench then, right? However, before purchasing any brand, it's always good to ask and look around for that particular torque stick reviews.
Check if they are trusted by the users, and known for giving accurate results. While most of the products give quite accurate results, some products might fall short. Therefore, you need to be cautious.
Carrying Case
Since you'll probably be managing several torque sticks, it's important to keep them secure and organized. How would it feel if you don't find them when you need them? Also, keeping them here and there will damage the performance, and accidental bangs might knock them off calibration.
That's why to look for a set that comes with a storage case. Usually, they come with a hard plastic carrying case, which contains grooves to keep the sticks organized and secure. Also, a storage box makes carrying these sticks around easy and stress-free.
Price
Price shouldn't be a factor for torque sticks users, because almost all the good brands come within a similar price range. This is a competitive market, and that allows the users to get quality products within an affordable price.
Still, with tens of tools to purchase for automobile and garage shops, making smart decisions become important. You cannot just throw money frantically if you have to buy other stuff. In this case, be smart and look for products that are top quality but within the lower spectrum of price.
There is a difference between cheap and value for the money. If you know your requirements, just purchase the set that meets your needs, don't overdo it. Larger sets will come with a higher price tag, but lower average price. Your job is to strike a balance between these two.
How to use Torque Sticks Properly?
Here's the step-by-step guide on using torqe sticks properly.
Step 1:  First, you've to get the lug nuts off.
Step 2: Then, you need to put them back in the same place. In order to tighten the lug nuts, you'll need to make the impact wrench and torque sticks work in tandem.
Step 3: Now, you'll see that there are different colors of torque sticks. These colors indicate different levels of torque which you will see written on the torque sticks. Keep in mind that, the higher the torque amount, the thicker the torque stick will be. 
Step 4: Choose a torque stick according to your needs.
Step 5: Next, connect the torque stick to the impact wrench and put it in the forward position. Then tighten the lug nuts. 
Torque Limiting Extension Bar FAQs
Q: How do torque sticks work?
A: A torque stick is also called a torque limiting extension bar. It acts as an extension of an impact wrench but really how do torque sticks work is that it flexes and absorbs the shock that would have gone to your lug. It flexes to apply torque and as soon as it gets to its torque limit, it stops.
Q: What is the difference between low torque and high torque sticks?
A: The difference is in the thickness. The thicker a torque stick is the higher the amount of torque that it will apply to the fastener. Thinner torque sticks are for fasteners with low torque rating and vice versa.
Q: What is the right procedure to follow to use impact torque sticks?
A: Start by using your hand to tighten the fasteners. You can then use the right torque limiting extension bar on your impact gun/wrench to make the lugs tighter. When the wheel pulls up fastened all tight, give the fasteners another go, just a little bit until the fastener cannot move. Finally, you may use a torque wrench to find out whether every lug has attained its maximum torque.
Q: What is the most important thing I should know about using torque sticks?
A: The most vital thing is to make sure that you do not let the torque stick get to the final/maximum torque. It is recommended that you use a torque stick that is about 75% of the total torque required and then use a torque wrench to get to the maximum torque.
Final Words
So, here we are at the end of this guide. With different buying factors to remember and assess, the purchasing job might be overwhelming for you. After all, the market is filled with shiny objects that are all talk, but no action.
That's why we did our own research and came up with a list of best torque sticks. No, not all of them are the same. They differ in features, qualities, and specifications.
But one thing is common, they are all good products and praised by the users. We sincerely hope this list works for you and you become one of the contented users. Let us know your experience of using torque sticks. Take care.