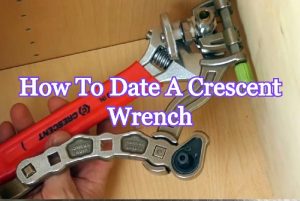 Having something like a crescent wrench in your set of tools will be very useful from time to time.
And if you didn't know much about the crescent wrench and about finding out how old it is, then you've come to the right place. I'm here to teach you all about the different ways on how to date a crescent wrench in the easiest way possible. Let's get right into the discussion!
What Is A Crescent Wrench?
Let's start by getting to know the crescent wrench a bit. The crescent wrench has many names in different parts of the world. Some of the common ones are adjustable wrench, adjustable spanner, shifting spanner, shifter, etc.
It is a kind of open-end wrench which has a jaw that's movable. This wrench can be used on any size of fasteners' heads. The material used to make this wrench is generally steel. It has a flat handle that's inches long, and there are two jaws at each end. One of these jaws is fixed and can't be moved while the other is movable.
There are also different kinds of crescent wrenches. For example, we have the taper locking spanner with a moveable jaw which is hammered to the size of the nut, or just the adjusted spanner you'll see nowadays in hardware stores.
There are both simple and complex versions of this wrench as well. One of the simple models is the one with a serrated edge that is used to lock the jaw into a fixed size. And one of the complex versions is the digital kind that uses sheets and feelers to fix the size.
Different Methods For Dating A Crescent Wrench
To find out the date of a crescent wrench tool, you need to follow a few methods to do so. And those very methods are given as follows:
Method 1: Separation of the wrench parts
After you've bought your crescent wrench or brought out an old one lying around in your toolbox, you need to start taking it apart till all the removable parts are off.
You'll see on the adjustable jaw that there's a date forged right on the body. It will most probably look like a code, but that is likely to be the actual date from its original manufacture.
Method 2: Checking weight and thickness
You'll find that some crescent wrenches have reinforcement around the hanging hole, which is a feature introduced in the late fifties.
There's also the old thick carbon steel type of wrench. This is something you won't find in the alloy crescent wrenches that were manufactured in the late thirties.
Method 3: End Type
Nowadays, you'll find the single-headed or single-ended crescent wrench more. But in the early decades, the double jawed adjustable wrench was very popular.
Sadly, people consider it useless because it's not as grip-friendly as the single jawed ones, but you'll still see people auctioning off the double jawed ones as if they were artifacts.
Method 4: Jaw Shape
Try finding a few crescent wrenches in your toolset and a few from any senior person's toolset. Put the wrenches side by side with the back of the jaws facing upwards.
You'll see a huge difference in the dimensions of thickness and shapes of the wrenches. They're a bit slimmer now than they used to be in the old days.
Method 5: Finishing
Modern versions of the crescent wrenches don't have the same type of finishing as the older versions, so they look different on the outside too.
There was a time these wrenches had a sort of nickel or chrome finishing on the body, but now they don't give that sort of finishing on the wrench body anymore.
Method 6: Manufacture processing
Updated versions of old crescent wrenches usually are made of different steel or metals. Even the hardening methods have changed due to recent technology. Because of that, the wrench might feel different, but at least it has way more mass production than before.
Method 7: Performance
It's not only that the designs and fonts of each generation of crescent wrenches differ from each other, but the usage and performance also differ. A single person can tell the difference when they try out a crescent wrench from each decade.
Final Words
These methods will come in hand for you when you want to find out the date of when a crescent wrench was manufactured. Being aware of this helps you know how much and what kind of maintenance is needed for your crescent wrench.
Your own wrench could end up being an antique if you properly manage to date the really old models. Hopefully, the methods above helped you in knowing how to date a crescent wrench.