When it comes to the mechanics of a car, even if you are not well versed in the different car parts, there are a handful of components you will have heard of. Even a person who does not drive knows that cars feature breaks, and know the importance of these.
Given that you need your car to stop on command, it is vital that your car brakes and any components connecting to them are responsive and are working with no issues.
There is one car component that is essential in ensuring your brakes are working efficiently, this component is called the master cylinder.
Given how important the master cylinder is, the last thing you want is for it to be faulty or bad. In this article, we will be talking you through everything you need to know about this component.
We will be discussing its role and the five symptoms of a bad master cylinder you need to be aware of.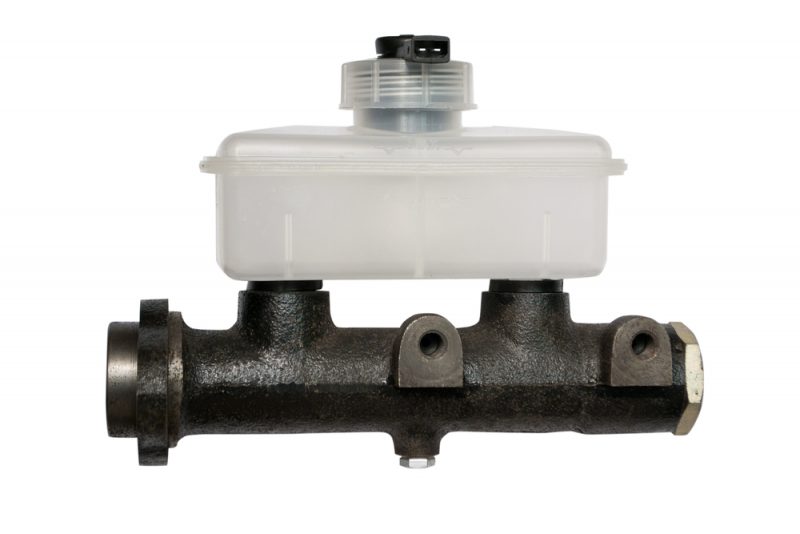 What is a Master Cylinder?
Before we delve into the five symptoms you need to look for, you will need to know what a master cylinder is to better understand how it can become faulty.
When looking at the braking system of the car, the master cylinder is the first part that is engaged when you press the brake pedal. This component reacts to the brake pedal being depressed. It works by turning the force created by pressing in the brake into what is known as hydraulic pressure.
It is a vital part of this system and once engaged it uses the hydraulic pressure created to push the hydraulic fluid through the piston and to the brakes themselves.
Without the pressure created by the master cylinder, the brake pads and brake calipers will be unable to engage correctly, which is dangerous. This is why it is essential to have the master cylinder fixed straight away and checked if you suspect any issues with it.
What are the Five Symptoms of a Bad Master Cylinder?
Now that you are aware of what a master cylinder is and the importance of it for your braking system, next we will discuss the potential issues that can occur.
Typically, there are five different symptoms that you will need to keep a close eye out for. If you notice any of these symptoms, we would recommend visiting a car engineer as soon as possible to have these issues resolved.
If you suspect that your car has issues with its bad master cylinder, you should not drive it as the brakes are likely going to be compromised and this is very dangerous.
Symptom One – Brake Light Warning Notification
One of the first symptoms you will likely notice is the presence of the brake light warning that will appear on your dashboard.
It is worth noting that the brake warning light can be triggered for a number of reasons in addition to the master cylinder. But, it is usually a sign that something is amiss with your car and should be looked into.
The brake light warning will appear fairly quickly, and it is often one of the first indicators. This is useful as this potentially means that the problem has only just begun, and you can have it fixed before it becomes a more serious issue.
The sensor that triggers the brake warning light is located beneath the brake fluid reservoir, and is usually triggered if it senses that there is each too much or too little fluid in the reservoir.
Symptom Two – Brake Fluid Level is Running Low
As we mentioned above, the brake light warning can appear on the dashboard for a number of reasons. One of these reasons is due to low brake fluid levels. If your master cylinder is working efficiently, you should not be experiencing any low brake fluid levels.
The master cylinder is found below the reservoir that holds the brake fluid. If the brake fluid is leaking from the reservoir, this may well indicate an issue with the master cylinder, and you should seek assistance as soon as possible.
Brake fluid is an essential component in the braking system.
Symptom Three – Brake Pedal Does Not Feel Correct
If you have been driving for a good number of years, it is likely that you can notice even the smallest changes with how your car is running. Even if you are a fairly new driver, you will notice almost instantly if your brake pedal does not feel correct.
The brake pedal is a component that you press and engage many times while driving, and it is easy to spot when it has an issue. Under normal conditions, when you press the brake pedal, you are met with a certain amount of pressure.
This pressure is created by the master cylinder. Given this, when the master cylinder is experiencing issues, one of the symptoms of this includes brakes that do not feel correct.
The brakes can feel different to everyone, but some symptoms include a brake pedal that can be pressed too easily, can feel spongy, and does not seem to respond.
If the brakes feel anything other than firm when you place pressure on them, this is usually a sign that something is wrong with the braking system.
While this does not necessarily mean that there is a fault with the master cylinder specifically you should always get this issue checked by a professional.
Symptom Four – Brake Pedal is Sinking
Following on from symptom three, the brake pedal sinking can typically be a sign that your master cylinder is bad.
As we have mentioned above any problem with the brake pedal is an issue and can be an indication that there is something wrong with the braking system as a whole.
If the brake pedal is sinking this is a serious problem, and you should have this checked out as soon as possible. The car will become unsafe to drive.
A sinking brake pedal occurs when you press in the brake, but the car does not break straight away. Instead, the brake pedal moves down very slowly and does not engage properly.
In many instances, the brake pedal remains close to the floor and does not return to its usual position. This is a very clear sign that there is something wrong with the master cylinder.
Symptom Five – Brake Fluid Has Become Contaminated
The final main symptom you will need to take into consideration is contaminated brake fluid. This is another sign that there are issues with the master cylinder.
This symptom is not as easy to spot in comparison to those that are more glaringly obvious, such as the brake light warning and a sinking pedal. Rather, this is something that will become noticeable over time.
The contamination occurs as a result of the rubber seals that keep the brake system sealed wearing away. When these rubber seals begin to wear away over time, this can cause things such as debris, dirt, and water to contaminate the brake fluid. When this occurs it can affect the overall performance of the brake system and the pressure the master cylinder can create.
The more debris and contamination that occurs, the more difficult it is for your braking system to work optimally. As this continues, your car will begin to slow significantly, and you will struggle to come to a stop as soon as possible.
While you will not be able to physically see this contamination, your car becoming far slower to stop is a sign of this.
How to Check the Performance of the Master Cylinder and Brake Booster Yourself
If you suspect that there may be experiencing symptoms of your car's master cylinder going bad, there are a few different ways to test this.
We would only recommend that you try this if you are not experiencing major issues.
If your car braking system is seriously compromised, you will need to take it to a professional as quickly as possible.
Check for Leaks and Damage
To check the master cylinder yourself, you will need to park your car on level ground that has no incline. Open the car hood and take a look at the rubber hose that connects to the brake booster.
If there are issues with the master cylinder, the likelihood of you seeing brake fluid here is high. If you spot any fluid, cracks, or signs of damage the car likely needs to go to the garage.
Testing the Brake Booster
In addition to checking for any physical signs of damage, you will want to check your brakes too. You will want to park your car in a safe place, turn the engine on and press the brake firmly with your foot.
If the brakes feel firm under the pressure they are likely working correctly. However, if they do not engage properly, and it sinks or feels spongy, it will need to get checked.
Taking Your Car to the Garage and the Costs
If you have noticed these symptoms, it can be worrying trying to figure out how much the master cylinder is going to cost to be replaced. While it is not the cheapest part to replace, you may be surprised by how inexpensive it is overall.
It is worth noting that if the master cylinder being faulty has caused damage to other parts of your car, this can increase the overall cost as other parts may need to be replaced too. In addition to this, the labor costs can vary depending on the garage you visit.
On average, the master cylinder will cost anywhere from around $300 to $550 to replace. This is just for the replacement part. You will also need to factor in the labor costs, which can cost anywhere up to $250.
Summary
We hope that you have found this article helpful. As you can see, the five symptoms of a bad master cylinder are fairly easy to spot once you are aware of what to look for.
If you notice any of these issues you will need to take your car to the garage as soon as possible as it is dangerous to drive without an efficient braking system.