You should never ignore the sound of grinding brakes in the hope that it will go away, as this is asking for more trouble.
In normal circumstances, your car's brakes should be making little to no noise when you press on the pedal. So, if your brakes are grinding, this is a sign that something is wrong and needs to be fixed to ensure the safety of you and others when you are driving.
Thankfully, we are here to explain to you all the reasons why your brakes might be grinding and what you can do to fix the problem. Hopefully, by the end of this article, you will know exactly what you need to do to find a solution.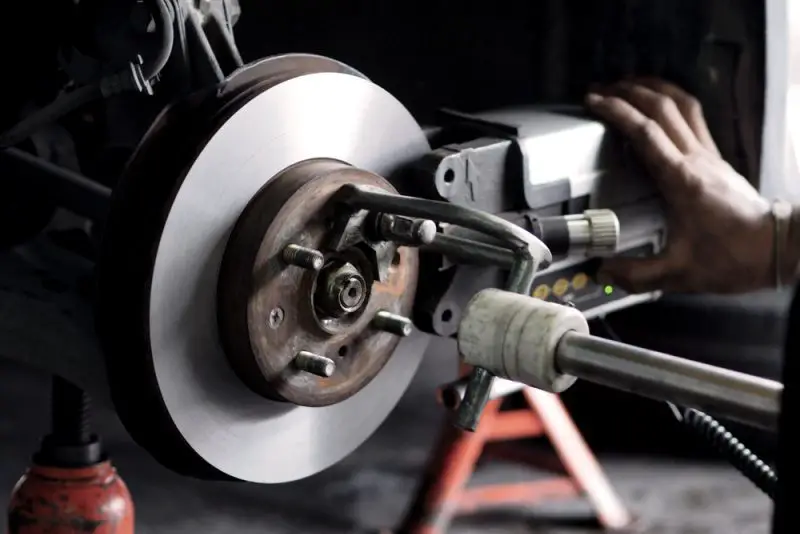 Worrying Sounds That Your Brakes Can Make
If your brakes aren't making any noticeable noises, then it is likely that they are working exactly as they should.
However, if your brakes have started making noises that they don't usually make, then it is likely that you have a problem that needs to be fixed. If your brakes are making noise, then there could be a safety issue that you are unaware of.
Faulty brakes cause many accidents every year, which is why it is so important to check and make sure that they are functioning as they should. More often than not, the noises that brakes make can help you to identify what the problem is.
If your brakes are making a rattling sound, then it is likely that the problem with your brake pads has been caused by thermal expansion. It could also be due to the fact that the wrong brakes have been installed on your car.
If your brakes are making a squealing sound, it could be due to the presence of water on the rotors, which is pretty straightforward to solve. However, it could also be something much more serious, like worn brake pads rubbing against a rotor.
Finally, if your brakes are making a grinding noise, then it is likely that you have a more serious problem. If this has happened for you, then you might need to have your brakes repaired or replaced as they are not working as they should.
We are going to talk about all the different reasons why your brakes could be making this sound further on.
How Do Brakes Work?
When it comes to disc brakes, the brake pedal will cause a buildup of pressure in the brake fluid, which will force the calipers to move.
If you didn't already know, calipers are sort of like clamps, but they have brake pads in place of the contact surface that a normal clamp would have.
So, when the brake pedal is pressed, hydraulic pressure will force the caliper to clamp down on the rotor. The friction from this contact is what will work to slow down the vehicle.
Brake Terms That You Should Be Aware Of
Disc Brakes – These are the systems that use a rotating disc, or rotor, that is clamped down on by a caliper and brake pad. The clamping and friction will force the vehicle to stop.
Drum Brakes – There are a few types of drum brakes, but the systems are composed of a rotating metal drum and an internal brake that is pressed onto the drum to slow the vehicle.
Brake Fluid – This is used in braking systems in order to provide the hydraulic pressure that is needed to move different components. When the brake pedal is pressed, the brake fluid will travel through the system to make the calipers clamp down on the spinning rotor.
Anti-lock Brakes – These are also referred to as ABS, and this is a safety feature that will help drivers to keep control of the vehicle under heavy braking situations. Anti-lock brakes will rapidly put pressure on and off to allow slight wheel movements that will help the driver to remain in control.
Reasons Why Your Brakes Are Making a Grinding Noise
There could be a few different reasons why your brakes are making a grinding noise, and we will explain them all below for you to read about. Hopefully, this will help you to figure out what the problem is.
Worn Brake Pads
The first reason why your brakes could be making a grinding noise is due to worn brake pads.
Brake pads are made of a friction-reducing material, and if this becomes worn, it cannot do its job properly. Brake pads will need to be changed roughly every 25,000 to 60,000 miles as the padding on the breaks will disappear over time.
If this happens, the metal surface can rub against the rotor and create a loud grinding sound. This will mean that your brake pads need to be changed.
Rotor Needs Replacing
Another reason that could explain why your brakes are grinding is that a rotor needs replacing. The rotors are shiny metal discs that go in-between your wheel spokes, and they are the part that the calipers squeeze the brake pads against to slow the vehicle.
The rotors will experience a lot of wear due to their placement, which can lead to rusting and warping. They will typically last from between 30,000 and 70,000 miles. The more that you take care of them, the longer they will last.
Low-Quality Brake Pads
Brake pads are really important for your vehicle, which is why you should always make sure that the ones you are purchasing are high quality.
Typically, you get what you pay for, and while it might seem like a good idea to save money here, you don't want to end up with low-quality brake pads. They are more likely to need replacing, so they don't save you money in the long run anyway.
Brake System Needs Lubricating
The brakes in your car will need to be lubricated in order to work properly. Without the right lubrication, they could begin to make a grinding sound after time.
A lack of lubrication can cause the caliper bolts to rust, which can lead to a grinding sound being made.
Faulty Wheel Bearing
Faulty wheel bearings can also lead to a grinding sound when you brake. Wheel bearings are the parts that allow your wheels to spin for miles without overheating. If there is a problem with them, it can cause a grinding sound.
You may also notice a vibration coming from your car that is caused by uneven wear on your tires. This is the most unlikely of issues as wheel bearings typically last between 75,000 and 100,000 miles. Though, if this does occur, they can be very expensive to replace.
Your Car Has Been In Storage
A more common issue for brake grinding is that your car has been in storage for a while. Lack of use can actually lead to rust issues which can then cause grinding.
If your car is in storage for any reason, you should make the effort to take it out for a drive at least once a month to prevent this from happening.
How Can I Prevent Brake Grinding?
It is not always possible to prevent your brakes from grinding as the brakes are a commonly used part of the car. This means that parts of the brakes are more likely to wear over time, which can cause them to near the end of their lives.
The best way to try and prevent brake grinding is to keep on top of general brake maintenance and follow any tips that we have mentioned above.
Is It Safe to Drive With Grinding Brakes?
You should never drive if your brakes are making a grinding sound, as something could be seriously impacting your brake's ability to work properly.