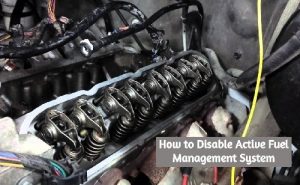 Baffled with the sudden decrease in the performance of your brand spanking new GM vehicle? We feel you, dear reader, this is not the first instance that we have come across such a complaint. What if we were to tell you that this loss in performance can be attributed to that active fuel management system? Odds are, it probably is.
Chances are, you probably have it figured. On the off chance that you did not, welcome to our article on how to disable active fuel management system of your vehicle, where we are going to look at all the possible options on how you could potentially raise the performance standard of your vehicle. Have a read.
So, What Is Active Fuel Management System?
In the simplest possible terms, the Active Fuel Management System is a trademark feature of GM vehicles whereby it automatically shuts down half the cylinders of their v6 or v8 engines, which can theoretically to save fuel. While it does work in most cases, it is not without its problems.
The two main problems are that this system leaks oil into the engine pan and that four or three active cylinder engine noise is… Well, annoying. So, while you might save fuel through the system, you also end up losing fuel, courtesy of the leaks. So, most people seek ways to patch this up, so to speak.
How to Disable or Delete AFM on GM/Chevy Engines
So, there are basically two ways we can go about this. One, we could opt for a simple AFM disabler, or, we could install an AFM delete kit. We perform the latter ONLY if the AFM disabler does not perform as it should.
A simple plug and play solution where you plug in a tiny tool into the OBD II diagnostic tool of your GM or Chevy vehicle. This bypasses the Active Fuel Management System employing a software, preventing it from unnecessarily dropping cylinders.
The best part about this is that you can restore the vehicle's Active Fuel Management System by simply unplugging the disabler from the port.
We cannot stress this enough, only opt for these AFM delete kits if the disablers do not work as intended. AFM delete kits essentially replace the AFM components within your GM vehicle with standard and stock parts.
How to Tell If a Vehicle Has Active Fuel Management
How to find out if an automobile has AFM? Before we go about and place an order for a disabler or a delete kit, we must first establish whether or not our vehicle does indeed come with AFM enabled.
There are a set number of ways to checking this, all of which involve identifying AFM components.
Engines that have AFM enabled come with a different valley cover than their non-AFM counterparts. The covers have a unique electric connector on the underside. If it does not include a connector, it is sure to come with solenoids attached. It is always either the connector or the solenoid.
In case the first clue does not work out, the next thing we take a good peek at is the engine block. Most of the recent iteration of GM engines (4th generation onwards) come with a cast in oil passages and AFM towers. But the features work only on the engines GM markets as AFM enabled. Thus, we check for other clues.
The next thing we take a glace at tare the cylinder lifters. We would not go into too many details; just remember that GM uses special cylinders for their AFM system.
The cylinders themselves are not all that special; rather, they use special lifters and oil holes, which make them unique and easy to identify.
Installing the Delete kit or Disabler
So, you have determined that your vehicle does indeed comes AFM enabled. And we have already explained two of the methods you could opt for. Now it comes to installing one of them.
AFM Disabler
Before we go about installing the AFM disabler, there are a couple of things we should check out beforehand. One would be your drive drain, and the other would be the local laws. Only opt for an AFM disabler if your drive train is in a good enough condition.
As for the local laws, it makes sure that the parts you buy are legal in your state. For example, there are scores of parts that are illegal in the state of California. The same could apply to your state. Always check beforehand.
If you meet the requirements, go on grab and grab a disabler from Range Technologies or DiabloSport according to the model and spec of your GM or Chevy vehicle. Connect it to the OBD II diagnostic port, and you are golden.
AFM Delete Kit
Perhaps the disabler did not work as intended, or perhaps you are making performance upgrades. If you are making performance upgrades, might as well as throw out the AFM components and swap them for non-AFM parts. These are the instances where the AFM Delete Kits come into play.
A handful of things come into consideration before we could go about and set up the AFM delete kit. You will:
Need to swap the camshaft to a non-AFM one. The cylinder firing is different, and as such, the coding will be quite different as well.
Acquire a custom tune or a computer program/code to turn off the AFM.
Plug in the pressure release valve, which is found on the oil pan. This is not a necessary step, but it is still recommended that you do.
Need to swap out the existing oil pump for a standard volume, non-AFM one.
With all that out of the way, you can go ahead and pick up an AFM delete kit from Summit Racing or TrickFlow.
Conclusion
And that is all there is to disabling these Active Fuel Management Systems in your GM or Chevy vehicle. In most instances, it is as simple as connecting an AFM disabler tool into the diagnostic jack of your vehicle. I hope you had a great time going through our article and now you know how to turn off active fuel management. Also, if you want to find the best truck shocks for a smooth ride, you should check our detailed review guide on it.