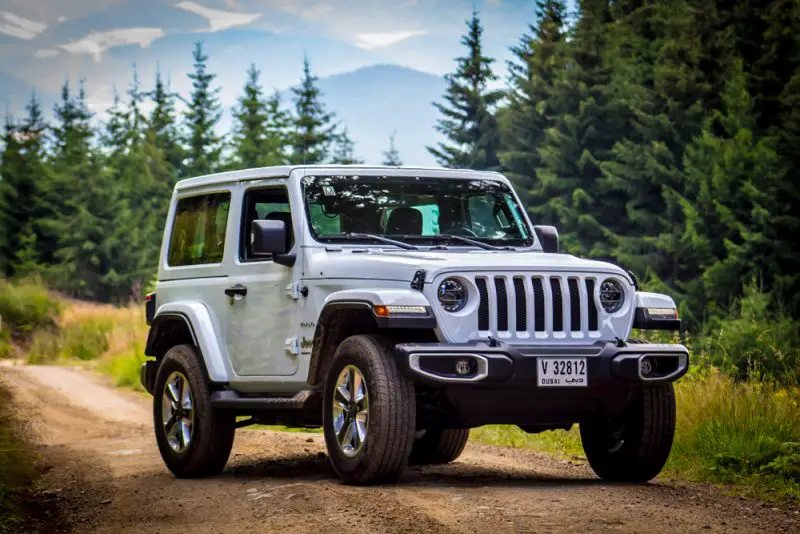 One of the main reasons you buy a jeep is safety, which is why so many opt for the hardtop, but with summer on the way, you're starting to second guess your decision.
The hardtop is removable, but without a hoist, you'll never get it off on your own.
With no way around it, you've got a sweltering day ahead of you, ensuring the only way you'll arrive at your next destination is drenched in sweat.
Not to worry though. After considerable research, we've compiled a list of the 7 best hardtop hoists for jeeps you can buy.
With one of these hooked up to your garage ceiling, you'll be feeling the breeze in no time.
7 Best Jeep Hardtop Hoists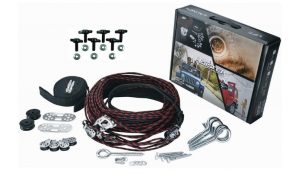 Utilizing a block and tackle pulley system, this Harken hoist offers a 6:1 mechanical advantage which basically means however much muscle you put into pulling the hoist rope, the force lifting your hardtop is magnified 5 times over.
Don't worry about dropping it. Even if you let go of the rope, the self-locking cleat grips in the pulley system keep your hardtop elevated in place, preventing silly accidents, and allowing you to take a break if need be.
Installation can be a little tricky. It requires you fitting boards to your garage ceiling on which the four contact points of the pulley system fit.
Once we got it secure, it worked like a charm. Movement was smooth and even, the Velcro straps were vehicle-friendly, and we had plenty of rope to gently bring the hardtop to the floor once we'd moved the jeep from beneath.
Pros
Price – The completely manual design means it's nice and affordable.
Anti-Drop – Self-locking cleat grips prevent accidents.
6:1 Mechanical Advantage – This makes hoisting a breeze.
Thumb Screws – Included thumb screws allow you to complete a hoist without tools.
Cons
Manual – No electric motor with this design.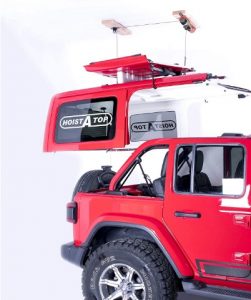 This is a double-line electric hoist that lifts that hardtop in record time, so you can get out and enjoy as much of the weather as possible.
Made entirely of steel, the hoist frame is rugged enough to handle the weight of any hardtop.
As you have to mount the motor on the wall or ceiling, we had to put a little extra time aside for installation. Watch a few of the YouTube instructional videos, and you can have it locked and loaded in as little as three hours.
Once you are up and running, the motor works like a charm and the balancing blade ensures an even lift despite there only being two pulleys.
It also features a rear smart hook that allows you to lift your hardtop without opening the rear window to thread any cable through or attach hooks, slightly reducing the space required for storage.
Pros
Powerful Motor – Effortless to use. Can be utilized for plenty of other things too.
Rear Smart Hook – You don't have to open your rear window, keeping your hardtop nice and compact for storage.
Durable – Steel frame is incredibly durable.
Cons
Heavy Motor – It's a good idea to reinforce the motor mount.
This Partsam electric crane may not be what you had in mind, but it's a powerful, highly versatile tool that lifts hardtops without breaking a sweat.
It comes with two different slings for multiple applications, but it doesn't hurt to pair this purchase with some specialist jeep slings.
With a 440lbs double-line weight capacity and 39 feet of cable, it can be used for most heavy lifting tasks, making it a wise choice if you're constantly loading roof racks or simply need a reliable ceiling storage option for heavy goods.
We really enjoyed the idea of the control, but the cable is a tad short, so if you've got a high garage ceiling, you may need to bring a chair into the equation to reach it.
You also need to be mindful of the speed at which this thing works. It's best to be gentle with the buttons.
Pros
Huge Weight Capacity – Capable of shouldering all your heavy lifting needs.
Cable Length – You get 39 feet of cable to play with here.
Price Tag – Epic value for money with this hoist, folks.
Cons
Extra Purchases – Unfortunately, you'll need to source some jeep slings to get a' hoistin'.
Fast Motor – Ideally, up/down motion would be slightly calmer.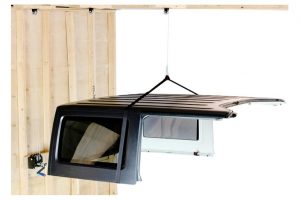 Requiring dual anchorage on your garage ceiling, HAT Simple then allows you to raise the roof of your Jeep via a worm drive hand winch.
It's a bit of a workout, but not too strenuous that you'll need to start hitting the gym.
Much like the Hoist-A-Top Original, it uses patented slings and hooks enabling hardtop elevation without opening the rear window, and the braided steel cables are strong enough to handle any hardtop design.
Our one caveat is that although this design makes hoisting your hardtop nice and simple, installation is quite complicated, mostly due to the somewhat lacking instructions included in the box.
That said, there are some manufacturer videos you can check out online for guidance.
Pros
Easy Worm Drive Winch – Lift your hardtop manually in seconds.
Durable Cables – Braided steel cables won't let you down.
Price – One of the best bang for buck Jeep hoists on the market.
Cons
Installation – The instructions aren't as clear as they could be.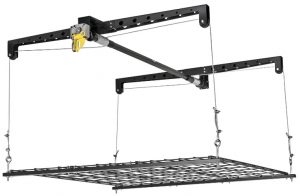 While this is actually a storage unit, with a little tweaking, it's an awesome solution to your hardtop conundrum, and in the winter months, you can use it as intended and free up loads of garage space.
It's a four cable system with pulleys set out in 4 x 4ft square – the perfect layout for hoisting that hardtop of yours.
All we did to prepare it for the job was hook up some slings, and voila! We have lift-off.
It's easy enough to install if you're handy, and it accounts for the possibility of a slanted ceiling.
Raised and lowered by a hand crank, cable by cable, it's not the quickest solution in the world, but you can use a power drill to speed things up.
The manufacturer claims it can hold an impressive 250lbs, but we reckon it's only capable of that capacity over short periods of time.
Pros
Multi-purpose – Can be used as hardtop hoist and storage solution.
Four Pulleys – Lifts evenly for a secure lift.
Lock – Cables will lock at any height.
Ceiling Adjustable – Accounts for obscure ceilings.
Cons
Slow – Unless you use a drill, raising and lowering can be time-consuming.
Extra Purchases – You'll need some slings to hoist your hardtop.
Weight Capacity – We wouldn't test the 250lbs capacity if we were you.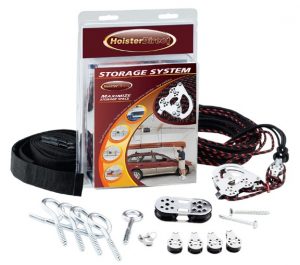 If you're looking to save a few bucks without sacrificing quality, the 7803 hoist is the one for you.
Featuring an almost identical design and materials to our number one Harker pick, it gives you a 6:1 mechanical advantage for manually lifting your hardtop with a rope.
It can also be used to store canoes or roof racks…anything you can lift using two slings and four pulleys.
It has a weight-bearing capacity of 144lbs, which isn't really enough for heavier hardtops, but if you've got a smaller jeep, it's a very capable bit of gear.
Taking us just over three hours to install, if you read the instructions carefully, it's a fairly simple process.
We found that the release could have been smoother, but overall, this is one of the best bang for buck hoists on the market.
Pros
Price – Premium quality system and materials for less.
6:1 Mechanical Advantage – Hoisting is easier than you'd think.
Easy Installation – Follow the instructions, and it's a breeze.
Cons
Weight Capacity – It may not be suitable for larger hardtops.
Release – Takes some work to smooth the release out.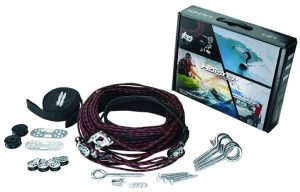 While this is technically designed for hoisting roof cargo, we found it amazingly effective for popping hardtops too.
Unlike cables that can be overly frictional, the ropes offer buttery smooth travel, and they can hold 145lbs too.
Similar to our first Harken pick, it features four pulleys and two slings, facilitating perfect weight distribution, making the lift incredibly easy.
That said, you only get a 2:1 mechanical advantage here, so you have to put some elbow grease into it.
Installation isn't difficult, but precision is essential. If the brackets aren't exactly the correct distance apart, it won't function as fluidly as it's meant to.
Pros
Multi-Purpose – Can be used to store numerous large objects.
Self-Locking – Locks keep hardtop suspended.
Smooth Function – Ropes make for a smooth lift.
Price – Epic value for money!
Cons
Weight Capacity – 145lbs may not be enough for large hardtops.
Installation Can Be Tricky – Precision is key.
Buying Guide for Jeep Hardtop Hoists
We know you're losing daylight, and you want to get out there and feel the breeze as soon as possible, but there are a few key things to consider before settling on your new Jeep hardtop hoist.
Mechanical vs Manual
Mechanical hoists are harder to install and more expensive, but much easier to use. Manual hoists may take more effort and time, but they're simple, effective, and affordable.
Weight Capacity
The weight-bearing capacity from one hoist to the next can be starkly different, so you'll need to make sure yours has the strength to lift and hold your hardtop.
This is why it's essential to know exactly how much your hardtop weighs.
Vehicle Compatibility
You also need to make sure that a hoist is compatible with your hardtop.
They come in all shapes and sizes, so make sure you check any specifications before you buy.
Mechanical Advantage
Stronger cables and more pulleys increase mechanical advantage, which means that operation will be a lot easier.
If you plan to operate the hoist alone, a high mechanical advantage is preferable.
Garage Space
Preliminary checks in your garage space before you buy a hoist are a must. Some will be compatible with awkward ceilings while others may have fairly limited functionality unless fitted to an even surface.
It's also important to make sure that you have enough ceiling surface area to accommodate the pulley system and whether the cables/ropes are long enough.
Installation
Installing a ceiling hoist is never easy, but it can be pretty light work if you're handy.
If your DIY skills aren't so hot, you may want to settle for a very simplistic hoist with detailed instructions.
Frequently Asked Questions
What is the Best Jeep Hardtop Hoist?
Due to a combination of value for money, ease of use, and reliability, we believe the Harken Jeep hardtop hoist is the best on the market.
How Heavy is a Jeep Hardtop?
Most Jeep hardtops weigh between 140 and 150lbs, but some weigh upward of 211lbs.
Can Pulleys be Mounted Directly on the Ceiling?
They can, but it's best to use boards in case you make a mistake. This saves you from drilling numerous holes in your ceiling. It's also good to use boards so in the event of a collapse, your ceiling will be unscathed.
Are Single-Person Operated Hoists Important?
Absolutely! Unless you're going to dupe a cohabitant into helping you get the hardtop off all summer long, you'll need a single-person hoist.
How Do You Detach a Jeep Hardtop?
Take an appropriate ratchet and remove the screw that secures the hardtop to your Jeep's B-pillars.
Do the same thing with all the screws that secure the top to the sides of the Jeep. There should be three on each side.
Remove the wiring harness and washer hose.
Raise the Roof!
There you have it, folks. Now you're not only aware of some of the best Jeep hardtop hoists you can buy, but you know how to choose the best one for you.
Time to hit the road and enjoy the sun!