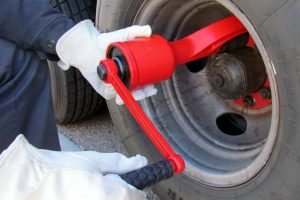 In your day-to-day work tightening or loosening fasteners, you will find the need to use the best torque multiplier wrench. This tool is mostly used in automotive workshops, but you may also find use for it at home or on the farm.
What is a torque multiplier wrench? Just as its name suggests, this is a tool that multiplies the torque so that you can loosen or tighten heavy-duty lug nuts and bolts easily without spending too much energy or time. In other words, you can think of this tool as extra power for you.
You need to know certain things before getting one. One of them is that when you are dealing with fasteners that require a huge amount of torque, you need a lot of leverage. You cannot get this leverage from a 12-inch ratchet! If you want to tighten a fastener to 400 ft.-lbs of torque, you will need a torque multiplier. Thankfully, there are many of these in the market and you can scroll down to read our torque multiplier lug wrench reviews.
Here is our top 5 best torque multiplier lug nut wrench of 2020.
| Image | Model | Ratio | Rating | Price |
| --- | --- | --- | --- | --- |
| | Cheater Torque Multiplier Wrench | 1:65 | | Check on Amazon |
| | XtremepowerUS Torque Multiplier Wrench | 1:58 | | Check on Amazon |
| | Neiko 03715B Torque Multiplier Wrench | 3.3:1 | | Check on Amazon |
| | MopHorn Torque Multiplier Wrench | 1:78 | | Check on Amazon |
| | HOMCOM E8-0001 Multiplier Wrench | 1:58 | | Check on Amazon |
Best Torque Multiplier Lug Wrench Reviews 2020
Not all multiplier wrenches are quality. So, to help you find your ideal pick, we have scoured the market to get you the best options on the market. Below, we're going to review them.

If you have a truck, a motorhome or an RV, you definitely need this torque multiplier lug nut wrench, which has been manufactured by Cheater Wrench.  It has been designed with a gear ratio of 1:65. But that is not all, as the tool also comes with deep impact sockets 1-inch drives. It also has a male to female 1-inch adapter for extending the socket.
If you have stubborn bolts that have not been loosened in years, frozen over and stuck for good, this multiplier wrench is going to break them. The output shaft comes with a retaining ball, which secures the sockets. Thus, you can work with confidence knowing that nothing is going to slip off.
The included deep impact sockets are of sizes 1.6 inches, 1.5 inches, 1.3 and 0.8 inches. Make no mistake about this lug nut torque multiplier because it is very strong. The manufacturer says that you can do a maximum output of 2000 ft.-lbs with it. Thus, you can see that it will help you with your heaviest fastening or loosening jobs.
Pros
Rated for high torque value of over 2000 ft.-lbs.
You can use it with bigger sockets such as a 2¾-inch one.
Heavy, high-quality construction.
Strong carrying and storage case.
Cons
Feels too heavy when you have to carry the case some distance.
Your search for the best torque multiplier lug wrench stops with the XtremepowerUS torque multiplier. It is a heavy-duty tool that can handle most of the fastening and loosening jobs that you may have at home and in your workshop. The price is also good, so you should not sweat it. While this review is for an 8-socket option, you can as well order a 4-socket option, which is considerably cheaper.
When you need a torque multiplier wrench for your truck or RV use, you want it to be as simple as possible to use. Thankfully, this one does not disappoint. It is just a matter of placing the right socket on the lug nut, bracing it (against a lug nut or the hub) and then attaching the handle and moving it in the clockwise or anti-clockwise direction.
Please note that this is not recommended for your car. As a heavy-duty torque multiplier, you can use it on semis, RVs, motorhomes, buses and other trucks.
The construction is quite good as it is alloy steel. The maximum output torque is 4800 Nm/3540 ft.-lbs and 1:58 gear ratio. The provided sockets are enough for working on different sizes of fasteners. In addition, the 10.7-inch extension bar has a comfortable handle for long hours of work. Of course, we wish it would be longer, but it is what it is.
When it is delivered to you, you will get a handle, three 6-point sockets, one 4-point socket and other parts in different sizes. This set has everything you need to loosen the big bolts that need high torque values.
Pros
Durable storage case with lockable latches for security.
Complete with everything you might need for heavy-duty work.
Good enough for an 18-wheeler.
Cons
At 10 inches, the handle is too short.

When you have frozen or stuck-on fasteners that the regular torque wrench cannot loosen, you need an extra power boost. It does not come any better than the Neiko 03715B torque amplifier wrench. This is no surprise really, because Neiko has always been one of the best brands for torque wrenches. Their products are of outstanding quality.
The head is made of Chromium Molybdenum and the reaction bar is made of Chrome Vanadium – two high quality alloys. Thus, you are assured of getting robust construction and durability from this tool.
With the input torque rated at 365 ft.-lbs and the output at 1100 ft.-lbs, this is a high power tool. The neiko torque multiplier will require a little more force than one with a 200 ft.-lbs input, but it is worth it. It will break your stuck-on bolts clean off and drive any fasteners to maximum torque value without any trouble.
The head measures 2.9 inches. This makes it pretty nifty to be able to slip in tight spaces. That way, when you have stubborn bolts in squeezed spaces, you can always work on it. For more versatility, the steel handle is detachable. This also makes it easy to travel with.
For transport and storage, this torque multiplier comes with a high quality case. This tool can be used in different industries such as boat building, automotive, factory floor, construction and others.
Pros
High quality construction.
13-inch long handle enables access to different places safely.
Makes it easy to loosen over-torqued fasteners.
Cons
The handle could be longer than 13 inches.

With a gear ratio of 1:78 and a high torque output of 5531 ft.-lbs, this is a true heavy-duty torque multiplier wrench. You can use this tool to loosen semis wheel lugs, motorhome, buses, pick-up trucks, tractors and many other heavy vehicles.
It comes with everything that you need for maximum torque application. For example, there are 4 deep impact sockets at different sizes, 1-inch drive and the brace. It will enable you to do a faster job of loosening very stubborn fasteners.
The parts that we have mentioned above are made of high quality alloy steel. Thus, they can withstand abuse in the workshop or the rigors of travel for long distance truckers. The black oxide finishing makes them not only look great, but they are also rust-resistant.
While the torque wrench multiplier can enable you to perform heavy-duty jobs, it is not too heavy. Thus, even when everything is packed in the carry-case, you will find it light enough to move from place to place. Please note that this is a fixed torque wrench, so when fastening things, do not wait for the click.
As a reversible torque multiplier wrench, you should find it easy to use on even the lug nuts that work in the opposite direction. You should find it easy to use even if it is your first time. Everything comes packed in a high quality plastic-molded case.
Pros
High quality finishing.
Strong enough to break stuck-on bolts.
Needs minimal input to fasten a lug to over 600 ft.-lbs.
Cons
It can be easy to over torque fasteners if you are a newbie user.
5. HOMCOM E8-0001 – Best Cheap Torque Multiplier Wrench

On your truck, bus or RV, there are always those stubborn bolts that require more torque to fasten, loosen or break (for stuck-on bolts). This is why you need HOMCOM E8-0001 torque multiplier. This heavy-duty tool knows no bounds. It will accomplish any job that you put it to. Its use is not limited to the auto industry. It is also applicable in the construction industry.
When it is delivered, what are you going to get in the case? You should get the wrench itself, handle bar, 4 deep impact sockets and a high quality case for transport and storage. The four sockets come in varying sizes like 0.83 inches, 1.3 inches, 1.5 inches and 1.61 inches.
All of the parts of this torque multiplier tool are made of alloy steel. The brace rod is included to help keep the wrench in place. It is usually braced against another nut or the hub if you have removed all the lug nuts. The rocking bar measures 10.6 inches. It has a nice, rugged handle that is both high quality and anti-slip in nature. You can work with it for a long time without cramping your hand.
The maximum torque output is 4800 Nm/3540 ft.-lbs. That should be enough to break even the most stubborn bolts. With gear ratio of 1:58, the input is low, so you can always do a lot of work with minimal effort.
Pros
Case has high quality latches for security.
Lightweight- easy to carry around.
Easy to use even for beginners.
Affordable price.
Cons
Some people have reported weak gears, but we haven't experienced it ourselves.
How to Use a Torque Multiplier Wrench
It is paramount that you know how to use a torque multiplier because wrong usage can result to serious mistakes. You don't want any margin of error when tightening the wheel lugs of an 18-wheeler or your RV.
Here are a few tips to help you use a torque multiplier lug wrench the right way:
(Please note, we are looking at a manual multiplier wrench)
Multiplication factor
This is where you set the torque to the right value. Let us assume that you have a torque multiplier of 4:1 and the manufacturer of the fastener that you want to tighten specifies the torque as 600 ft.-lbs. You cannot set the torque at 600 ft.-lbs because that would be so wrong. You should set it to 150 ft.-lbs so that when it is multiplied by four, it equals 600 ft.-lbs.
The torque is multiplied through the gears in the torque multiplier. That means that whatever toque value you set at the top, there is four times of that in the bottom.
Assemblage
Not to fret if you are a beginner, you will just need to do simple assemblage. First, attach the socket, the O ring and the retaining pin to hold it in place. Use the required extension or socket, making sure to avoid an extension that is too long.
Actual usage
Place your torque multiplier on the fastener that you want to tighten and ensure that the multiplier is rotating in the clockwise direction. You also need to ensure that the wrench will rotate in the clockwise direction.
You can then place the wrench on the torque multiplier and then you will have to tighten the multiplier continuously until you get a click. The click indicates that your multiplier has locked on to the fastener and you are now ready to start tightening.  When you have tightened to the maximum set torque, the multiplier will stop.
Head size
This should be a maximum of 3 inches and not bigger. That way, it will fit into small spaces without. Big head size is more restrictive and may not be the best for varied tightening and loosening jobs.
Three Types of Torque Multipliers
There are three types of torque multipliers:
Manual torque multipliers
This is the most popular kind of torque multiplier and we have already discussed how to use it above. It is operated by hand and it just stops working when the set torque value has been achieved. This kind of multiplier is used in the assembly of gearboxes as such have heavy-duty fasteners and they require precision tightening. It is also used in the construction industry, and tightening and loosening the wheel lugs of heavy vehicles.
We love the manual torque multiplier because of its flexibility. It is light in weight; you can use it in areas without electricity. Care and maintenance is easy. Just wipe with a dry piece of cloth and store everything in the case.
Electric multipliers
The electric torque multiplier is also very good on heavy-duty lug nuts, bolts and other tension parts. Once you enter the torque value that you want to tighten your fasteners to, the microprocessor then ensures that the controller maintains the torque value.
Electric torque multipliers are costly to buy, but they are so easy to use and they do a faster job than the mechanical ones. It is recommended to have a professional service the multiplier after 1000 hours of use or once a year, whichever comes first. It is a good tool for busy auto workshops.
Pneumatic torque multiplier
This is almost similar to the electric multiplier in operation but it is more powerful. Thus, you can use it for the heaviest tightening jobs. Pneumatic tools use compressed air to work. Thus, even the pneumatic torque multiplier wrench uses compressed air to tighten or loosen fastenings precisely or as may be required. It is simple to use and offers a very precise result. For beginners, there is a learning curve but once you have mastered how it works, you will have great results.
Uses of a Multiplier Wrench
When you read our torque multiplier lug wrench reviews, you will see that they are mostly used on semi trucks, motorhomes, RVs, buses, heavy-duty vehicles, and farm machinery such as tractors, harvesters and others. Even if you have a pickup truck at home, you will find this tool very useful.
You may also use these wrenches in the construction industry. For example, heavy-duty bolts are used in the construction of bridges, buildings and other similar applications. This tool is used on fasteners in limited spaces where long levers cannot fit easily.
Torque multiplier lug wrenches are also used for tightening fasteners accurately. You are supposed to divide the manufacturer recommended torque of the fastener by the multiplication factor to find the right input torque.
Use the torque multiplier to apply high torque without using an impact gun or an air compressor. You will find it easy to do heavy-duty jobs with minimal effort and time.
Buying Guide for Torque Multiplier Wrench
To choose the right torque multiplier wrench, you'll need to know its important features. Here, we'll talk about them so that it gets easier for you to make the right pick.
Type
In one of the preceding sections, we saw the three different types of torque multiplier wrenches. If you are looking for something to tighten and loosen light to medium-duty fasteners, the manual multiplier wrench will do nicely. For the heaviest fastening jobs where you need torque of more than 600 ft.-lbs, a pneumatic wrench would be best.
Performance
This boils down to how well a multiplier wrench can perform over time. First, it should be easy to use and secondly, it should do the job that you buy it for. What we mean is that if it is rated for 1900 ft.-lbs, it should be able to reach and even exceed that if need be.
Sometimes, you may have to break stuck-on bolts. This requires a tremendous amount of torque and the torque multiplier should be able to help you achieve that.
If you have an automotive shop, you need a torque multiplier lug wrench that can be used on light, medium and heavy-duty bolts and fasteners. That way, you do not have to buy too many torque multipliers.
Still on performance, it would be better to get a reversible torque multiplier. If you have an RV, you will find that it may have ordinary wheel lugs on one side and then have left lugs on the other side.
Build Quality
From many torque multiplier lug wrench reviews, you will find that they mention the build quality. With the kind of heavy duty fastening and loosening that these tools will do, it is very important that they have a strong build and construction. Most of them come with a powerful all-steel construction. Oxide finishing ensures that they are corrosion-resistant.
The Package
This is more about what the multiplier wrench comes with. There is the lug nut wrench itself, and then there is the drive, and a couple or so pieces of impact sockets (different sizes). It should also have a user manual and a high quality case for traveling and storage. These things may seem so obvious, but it is always good to make sure that the whole package contains such items.
Input vs Output Torque
This is determined by the gear system. But what should you be looking for? The lower the input torque and the higher the output torque the better.
The input torque is determined by the multiplier factor. For example, when you get a torque multiplier of 5, the input torque for a fastener with a maximum torque of 600 ft.-lbs will be 120 ft.-lbs. This means you will apply minimal force and get a lot of torque to tighten or loosen a fastener.
If the input torque is too high, it will require you to use more force to generate enough force that can fasten nor loosen stuck-on bolts.
High output torque is better so that you can be able to tighten medium and heavy-duty fasteners in wide range of torque values.
Price
The best thing is to get a high-quality torque multiplier wrench at an affordable price. However, never compromise quality because of the price. Consider the features and the parts/components that the package comes with first, before you look at the price.
Since the general lifespan of a torque-multiplying wrench is about ten years, you can see that you will get good value for the money. With good care, the wrench should give high quality service in its tenth year the same as it did when you bought it.
Alongside the cost consideration, there are other factors. These include the after sale service and repair. For example, you may need to calibrate your torque multiplier. Thus, you need to know whether there are repair centers that work with the brand name that you bought.
Suitability
Suitability of the tool will depend on the type of service that you offer. Some torque multipliers are great for heavy-duty jobs while others are ok for light and medium-duty jobs.
Check the maximum torque output because that is what determines the kind of work that the torque multiplier can do. Motorhomes may require a different kind of torque multiplier lug wrench from what a semi would need. Also check if the multiplier wrench is compatible with your split beam torque wrench.
Accuracy
Many people forget this very important factor. When you have set the input torque correctly, the wrench should be very accurate. It will not click when the desired torque value has been achieved, but it will just stop. While multipliers are mostly known for their power to loosen bolts, you can also use them for tightening fasteners.
FAQs for Torque Multiplier Wrench
Q: How hard is it to use a torque multiplier on wheel lugs?
A: It is actually very simple. You just need to remove the wheel cap if you have one, attach the right socket to the lug nut that you want to start with. Attach the brace rod on the wheel cap for security and then attach your handle and turn it in the right direction – can be clockwise or anticlockwise.
Q: How do I know the correct input torque to apply?
A: On any torque multiplier lug wrench, you will find a multiplication factor. For example, if the multiplication factor is 6 and your fastener's torque value is 400 ft.-lbs, then it means that you will divide the fastener's maximum torque with the multiplication factor of 6.
Thus, you would need input torque of 66 ft.-lbs. So, simply divide the manufacturer recommended torque for the fastener with the multiplication factor of the torque multiplier.
Q: What are the benefits of using torque multipliers?
A: If you get the best torque multiplier wrench, you will increase productivity at the workplace. A job that should take you hours or days and a few broken tools can take you a fraction of the time.
Another benefit is that you will be able to do a clean job. If there are stuck-on bolts and fasteners, you can break them cleanly by over-torquing them. Frozen-on bolts need not be an issue anymore.
The third benefit is that of safety. Because of the handle extension, you will no longer suffer from bruised knuckles even when you are working in squeezed spaces. The handle is also not so long such that you cannot use it in constricted spaces. It is just the right size.
Finally, when tightening fasteners such as semi, motorhome, truck and RV lugs, you will be able to tighten them to the right torque. However, please note that this can be more complex than using a regular click wrench, because you have to get the input torque just right.
Q: This is my first time to use a torque multiplier. What should I do?
A: Assuming you are using it to remove or fasten your wheel lugs, that is what these tools are mostly use for anyway, here is what you should do:
Remove lug nut covers/caps if you have them.
Connect socket with wrench (size of socket determined by you lug size)
Brace the brace rod against a lug nut or wheel hub.
Attach your handle to the wrench and loosen the nut.
Use the bar to spin the lug nut out.
You are done!
Final Verdict
If you have stubborn stuck-on fasteners that you need to break, if you drive a semi, have a tractor, a motorhome or any other heavy vehicle, you need the best torque multiplier wrench. With so many brand names in the market and all of them claiming to be the best, it can be hard to choose one. However, after reading our torque multiplier lug wrench reviews, we believe you can buy one with confidence knowing it will serve you for a long time.