There is very little that is worse than when your car unexpectedly breaks down. Sometimes it will just cut out and refuse to go again, but more often than not it will give a warning that something isn't quite right.
One of these warnings is something called 'hydrolock' which happens when too much water gets into your vehicle's engine, and it can be very dangerous to your car's health.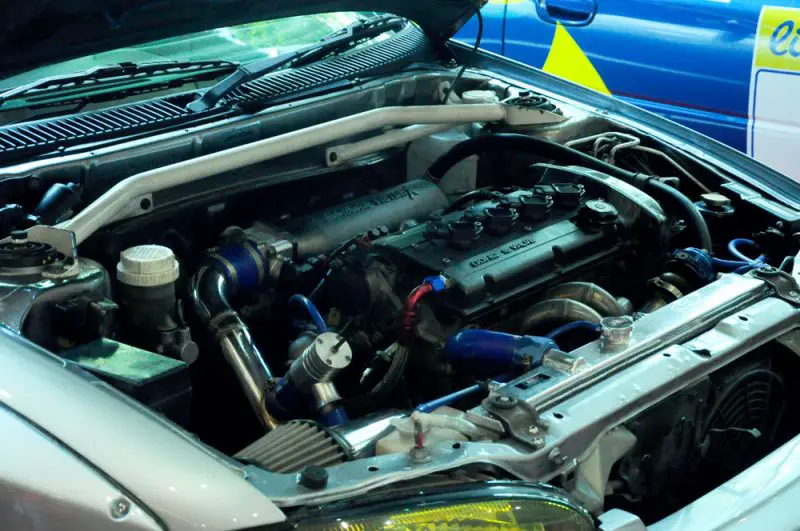 A hydrolocked engine can be extremely dangerous as the pistons in your car's engine are designed to work solely with air and fuel, not water. So when water enters the engine's cylinders, it can stop them from moving which kills your engine.
Hydrolocking is dangerous, but it isn't always fatal, that small factor will depend on the speed at which the water entered your engine.
But there's no need to worry because in this guide we're telling you all about hydrolocked engines, including how to fix them.
What Causes a Hydrolocked Engine?
As we have said, a hydrolocked engine is caused by too much water entering the engine cylinder, and in turn the combustion chambers. The combustion chambers are designed to only work with air and fuel, so the addition of water to them can cause them to stop working almost immediately.
Hydrolock is the shortened term for 'hydrostatic lock' which will occur if the volume of water is greater than the amount of space left in the piston chamber when the piston reaches its top travel range.
Water isn't compressible, like air and fuel, so when the piston attempts to compress it, it will instead cause all of the cylinders to shut down.
The first sign that this has occurred is usually a banging noise inside of the engine which will persist for several seconds before your engine shuts down completely.
Sometimes hydrolocking can be caused by other liquids, such as coolant or oil, but more often than not it is water causing this issue.
Is Hydrolocking Harmful?
You have probably already guessed this, but yes, hydrolocking is incredibly harmful to your vehicle's engine. In a lot of cases, a hydrolocked engine might require an entire replacement.
But as we have said, the true extent of the damage depends on the speed that you were driving when the water entered the engine.
Quite often, hydrolocking occurs from driving through puddles at high speeds. Water might seem harmless enough, but it can be very dangerous if you hit it fast.
If you move slowly through a puddle of water then it is likely only a very small amount of water will enter the engine, allowing you to quickly remove it before it causes any damage.
But, if you hit the water at a high speed then the damage will be a lot more significant. High speeds will increase the force, allowing more water to enter the engine and cause huge amounts of damage, including a bent valve, crankcase damage, piston ring damage, and lots more.
As well as hydrolocking, water entering the engine also raises the risk of corrosion. Hydrolocking is harmful, but rust can render an entire engine useless, so if water enters your engine you must work quickly to remove it.
How to Fix It
Fixing a hydrolocked engine will only be an easy task if you were driving at a slow speed when your car collided with the water. This is because the two main factors in fixing an engine that is hydrolocked are how much water, and how long the water has been there.
If you were moving at a slow speed then the chances are that you will be able to fix the problem yourself, as long as you move quickly. Cleaning water out of the engine immediately after it enters reduces the chance of corrosion, so you should do this straight away if possible.
To clean water out of the engine, you will need to remove the spark plugs, then start the engine. With the car in park, you should then rev the engine for a few minutes. As the engine revs, water should come out of the cylinders and clear them so that they no longer contain any water.
Once that is done, you can then refit the spark plugs. In an ideal world, you should fit new spark plugs as the old ones will likely have become damaged by the water. But, if you are clearing water in an emergency then all you need to do is dry off the old spark plugs before fitting them into the cylinders again.
Additionally, if you are clearing water out of the engine in a safe space, you should wipe down the interior walls of the engine cylinders as they will likely be damp with moisture. Even if this water isn't noticeable, over time it can cause your engine to become corroded, so it is important to wipe them dry.
But, if you hit the water at a high speed, then fixing the car will not be as easy a task. If this happens, you should take your car to a garage so that a mechanic can identify which pieces are salvageable and which are beyond repair.
This is often a pricey job, so be prepared to spend a lot of money to get your car working again. So if you see a puddle while out driving, it is best to go around it where possible to avoid the risk of hydrolocking your engine.