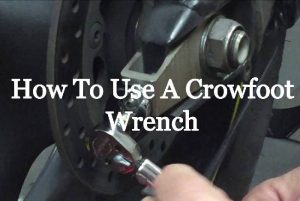 In your toolset, having something like a crowfoot wrench will be rendered useful from time to time. But in case you didn't know it's different uses, or how to use it and where to use it, then you've come to the right place.
I'll teach you all about how to use crowfoot wrench in the most efficient and effective way. Let's get right into the discussion!
| Image | Model | Rating | Price |
| --- | --- | --- | --- |
| | Grip 14 pc 1/2-Inch SAE | | Check on Amazon |
| | Neiko 03324A 3/8" & 1/2" | | Check on Amazon |
| | Sunex 97752 1/2-Inch Drive | | Check on Amazon |
What Is A Crowfoot Wrench?
A crowfoot wrench looks a bit like an open-end or box-end wrench, just without the handle or shaft. Another difference is that it has an opening at the back of the wrench mouth.
This kind of wrench is used to fit onto a nut or bolt's side instead of on top like socket sets do.
Because of this, crowfoot wrenches work perfectly in tight spaces. Some of its other uses are on power steering fittings, fuel filters, brake or clutch fittings, air fittings on OTR trucks, valve adjustments, abs modulators, etc. Mechanics of the aviary department use them almost every single day.
Some crowfoot wrenches are used with torque wrench handles or ratchets. This way of using it seems to be more preferred by some folks because it improves your work on measuring the tension that various types and sizes of bolts and nuts have.
How To Use A Crowfoot Wrench
An important detail you should know is that a crowfoot wrench works better if it works as an attachment, considerably to torque wrenches. That sort of combination works the best with a crowfoot wrench of good quality.
But in order to learn the proper crowfoot wrench use, you need to follow a few steps. And those very steps are given as follows:
Step 1:  Making proper alignment
First off, you need to place the torque wrench in alignment with the crowfoot wrenches square spacing. This is done so that you can measure the tensions of different sizes of bolts and nuts.
Always make sure to calculate everything as you use this tool so that it helps you operate efficiently. How far you want it to reach the nut or bolt depends on these very measurements.
Step 2: Attaching the crowfoot wrench
Using a ratchet attachment to the crowfoot is advantageous for making softer and multiple turns. On the other hand, using a torque wrench is mostly for bolts that are too firm, and you need to loosen it or take it off.
So, attach your crowfoot head onto the torque wrench, and you'll have a strong handle to use to get your bolt free as you turn. It acts as a type of lever, while the ratcheting action helps for swifter wrenching.
Step 3: Using snap on tools
Before you get started, make sure to get all the small accessories to make your crowfoot more versatile. Most of these small attachments will be available in a snap-on design.
Depending on the type of angle you need to reach, use these snap on tools accordingly after you've made measurements.
The crowfoots are found in a wide range of sizes in both standard and metric sizes. But to minimize cost, there's an adjustable crowfoot that can be adjusted into every possible crowfoot wrench size.
Step 4: Putting the wrench around the fastener
The next step is to put the crowfoot wrench around the fastener, which you'll be using to tighten or loosen to any adjustment you require.
Step 5: Using the ratchet
After everything is attached in place, you can start using your ratchet on the socket handle until it's locked in the place you want. Then you can start using the wrench on the bolts or nuts you're working on. You have to be careful here as you are not using an electric wrench.
Whether you want to take advantage or your ratchet and turn the wrench while adjusting your ratchet, or whether you want to reposition the wrench on the turning point, the choice is yours.
When you're using some conventional crowfoot wrenches, you have to reposition the wrench after every turn while you're trying to fasten the nuts or bolts.
But there are some modern designs that make it easier that you only need to reposition your hand to put the wrench back in the first place you start the turn.
There are also some extension bodies to go with the crowfoot wrenches, so when you combine it all with your torque wrench or ratchet, it makes the whole tool much longer with more angles so it can reach tougher spots. There's also an option to use a cheater wrench with it. 
After using the wrench use a wrench roll up pouch to store the tool.
Final Words
When you come across a fastener that's in a place that's almost unreachable, or there isn't sufficient space to get to it, the crowfoot wrench will definitely save you.
Especially when you're not willing to crawl and bend around to get to the spot with your ordinary wrenches.
These steps will come in hand for you when you need to make adjustments to various fixtures and fittings. Even if it's just DIY activities, you'll realize knowing how to use a crowfoot wrench is definitely not something to regret. If you are looking for a top-quality torque wrench, our best torque wrench reviews will help you.