There are several reasons why your brakes may be squealing and getting to the route of the problem is important to ensure that you remain safe on the road and you do not present a risk to other road users.
Some noises are fairly normal, however, in some instances, the noise can be an indicator that your brakes require immediate attention.
If your brakes have begun to squeal and you're wondering why this is, we have highlighted some of the most common reasons below.
Typically, it tends to be because there is moisture on the rotors but it can also be a problem with the metal content of the brakes or because they haven't been lubricated enough.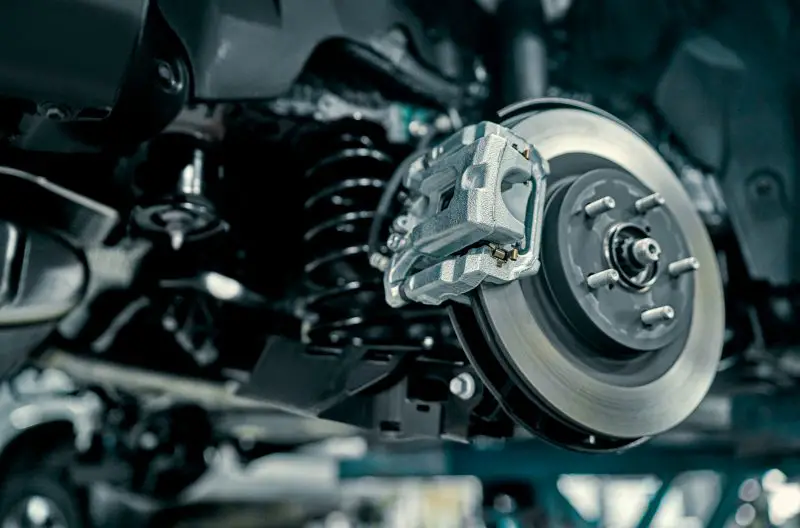 The Difference Between Drum Brakes and Disc Brakes
Understanding the difference between a drum brake and a disc brake can help determine the cause of the problem.
As implied by the name, the housing of a drum brake closely resembles that of a drum. Brakes of this kind send hydraulic acid to the wheel cylinder where two pistons are activated and sent into an outward position.
Upon interaction with the brake shoe, friction is produced and this ultimately draws the vehicle to a halt. A disc brake system also sends hydraulic acid to a piston before sending it to a calliper.
As the wheel engages in motion, the rotor starts to produce friction upon contact with the brake pads. This interaction then slows down the motion providing enhanced stopping power. The rotors are designed with small holes which allow the heat that is produced in the process to disperse rather than gather.
You will typically find that most newer vehicles are equipped with a disc braking system rather than a drum braking system. While the latter is not as costly, the aforementioned provides vehicles with a greater amount of power.
Why are your new brakes squealing?
It is important to pinpoint exactly what is producing the noise to ensure that the problem is acted upon accordingly.
Moisture
As mentioned, moisture tends to be the most common cause of brake squealing. This can typically be identified through a grating noise rather than a squeal.
When your vehicle has been left unused overnight moisture will begin to build up around the brake pads and rotor. This may be moisture from rain, ice, or snow and if left to sit for prolonged periods, a layer of rust may begin to form.
When pressure is then applied to the brakes the rust will begin to break into smaller particles that produce a squealing sound as the brakes and rotor come into contact. Typically, this noise isn't hugely concerning and will begin to wear off as you progress into your journey.
Cold Weather
You may notice that your brakes squeal the loudest following a bout of cold weather.
Although the sound may annoy you, again, it isn't a sign of a more severe issue and you should expect the noise to begin to wear off eventually.
Heavy Use
If your brakes are new, you may be questioning how heavy use can be a possible cause of this noise. Without realizing you may be subconsciously applying pressure to the brakes as you are traveling.
This constant contact can produce a squealing or chattering sound. You may have had to perform a panic stop on your journey or you may have done a lot of harsh braking.
The brakes will then often appear glossy or glazed producing a squealing sound. If glazed brakes are the issue, you will find that many auto shops while sand and resurface them so that they lose the glossy appearance.
If the sound has been caused by a constant application of pressure to the brakes during your journey, you can pull over at a safe place to give the brakes a break and prevent them from overheating.
Insufficient Lubrication
This is an issue that will affect cars with a drum braking system. Regardless of whether your vehicle is equipped with new or old brakes, a lack of lubrication can cause the pistons to squeal as they scrape against the backing plate.
Lubrication can resolve this issue. Simply apply a small amount to the backing plate at the point where the piston and shoe meets. The scraping is likely to have left some visible signs of where this issue has occurred so you know exactly where the lubrication needs to be applied.
The Metal Content of the Brake Pads
Brake pads with a high metal content can squeal as they rub against the rotor. The majority of brake pads typically contain a mixture of metals but there are alternatives available.
Ceramic, glass, rubber, or resin pads are viable options and while they may not possess the same impressive stopping power as metal pads, they aren't likely to produce the same volume of sound.
Ultimately, brake pads with metal fibers tend to stop producing this noise over time as they begin to wear.
The Brake Pads are Worn Down
As brake pads begin to wear they become thinner and although this isn't likely to affect new brakes it can affect vehicles with a replaced caliper or rotor that still have the same pads.
The longevity of brake pads can differ depending on how you drive, although they typically last between 25,000 to 65,000 miles.
When pressure is applied to the brake pedal, the caliper will then clamp around the pad. As such the wheel then begins to slow down. Each time this motion occurs the friction that is produced turns into heat.
The regularity in which your brakes are used means that over time your brake pads are ultimately going to become thinner and increasingly worn.
Eventually, your brakes will produce a squealing sound and they will need to be replaced. Failing to replace your brakes in this instance can affect the stopping power of the vehicle.
You can either take your vehicle to a professional who will replace the brakes for you or those who are confident in doing so may wish to replace the brake pads themselves.
The Quality of the Brake Pads
Cheaper brake pads do not tend to lack quality in comparison to a more expensive option. Although the affordability of the brake pads may appeal to some, as they tend to lack quality they are much more likely to deteriorate sooner.
As such you should expect them to produce more noise and they are also likely to produce more brake dust. To avoid such issues affecting your vehicle, it is worth paying a little more for brakes with a higher quality composition.
Objects From the Road Surface Have Become Lodged in the Brakes
The road surface is home to many objects and particles such as grit, sand, and stone. As you drive along the road, these materials can become lodged in your brakes. Usually, such issues can go unnoticed for some time unless the stone in question is larger.
If so, it is likely to produce more noise as it becomes embedded in the brake pad. Although this can cause some minor damage to your brakes, it is an issue that is likely to rectify itself as the objects eventually work their way out.
Final Thoughts
As you can see, there are many reasons why your new brakes may be squealing. Several of these issues can affect older brakes too.
In some instances, your brakes may need to be replaced and in others, you may be able to save yourself from a costly expense by resolving the issue alone or with professional help. Issues caused by moisture of lodged objects will often sort themselves out over time.